Garlic Roasted Zucchini with Feta
This Garlic Roasted Zucchini with feta and dill is better than I ever imagined, and I honestly can't stop making it. This recipe is quick, simple, and delicious! Jump to the Roasted Zucchini Recipe
Watch The Video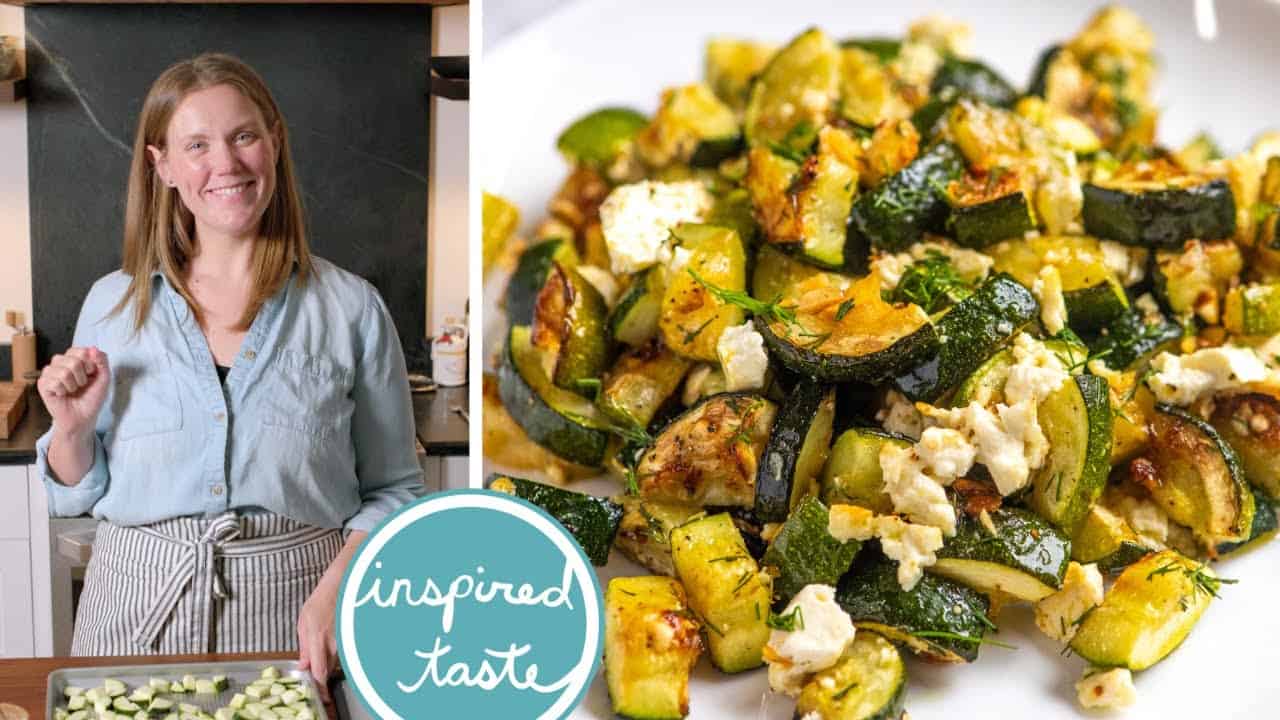 The Roasted Zucchini I Can't Stop Eating
Let me introduce you to the roasted zucchini recipe I cannot stop eating. Zucchini is cut into bitesize pieces and roasted in a hot oven with garlic until tender and golden spots appear. Then, we throw on a handful of briny feta cheese and fresh dill. This zucchini recipe is better than I ever imagined, and I honestly can't stop making it. For an equally delicious stovetop recipe, try our Garlic Butter Sautéed Zucchini!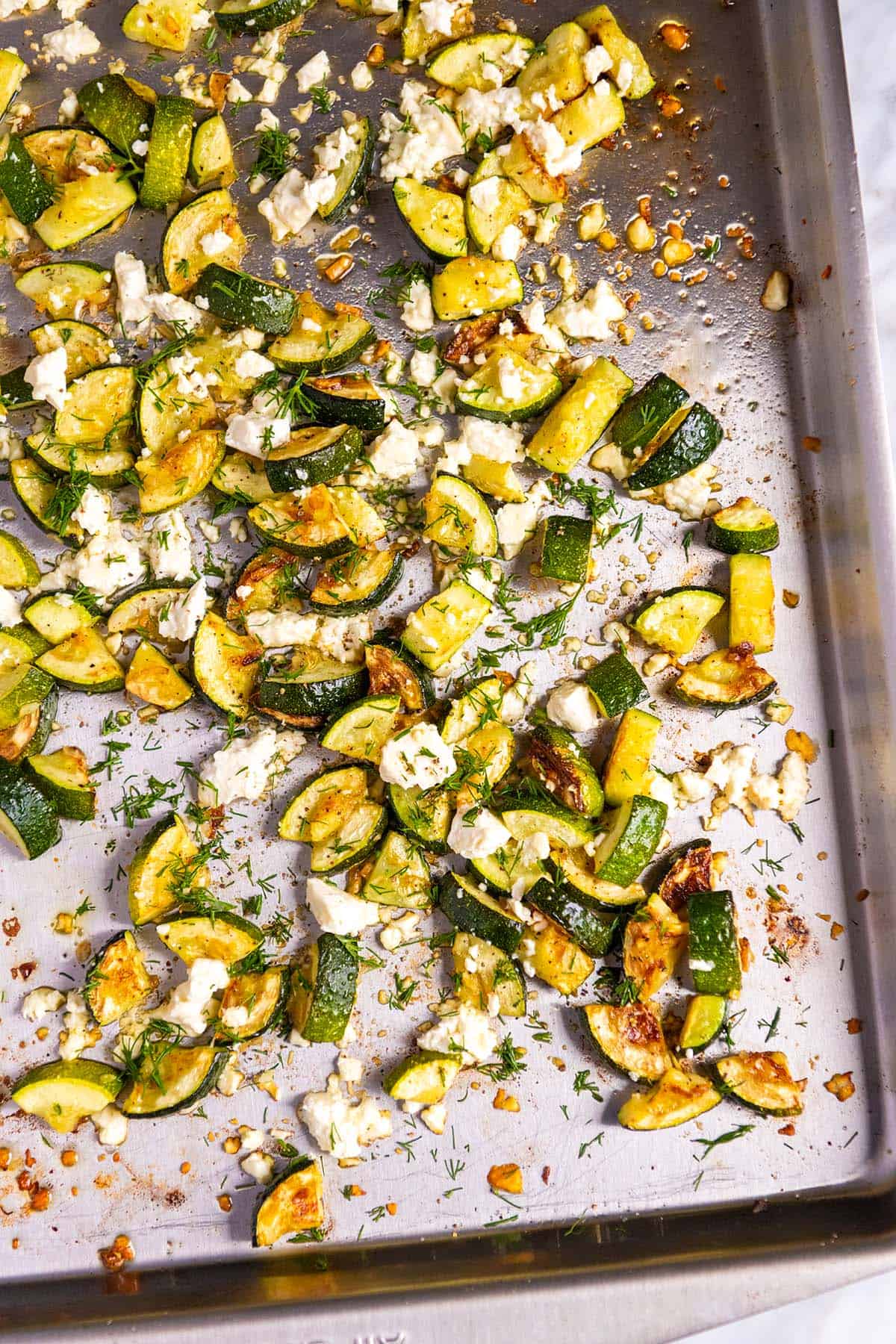 How to Roast Zucchini
When roasting zucchini, you want to keep one thing in mind: Use a high temperature! To prevent soggy zucchini, we roast our zucchini in a 425° Fahrenheit oven. Or, if you feel bold, go for 450° F and roast for a few minutes less.
If your oven has the setting, using convection is an excellent idea. We don't alter the oven temperature; instead, we watch the zucchini and assume it will take a few minutes less to finish roasting.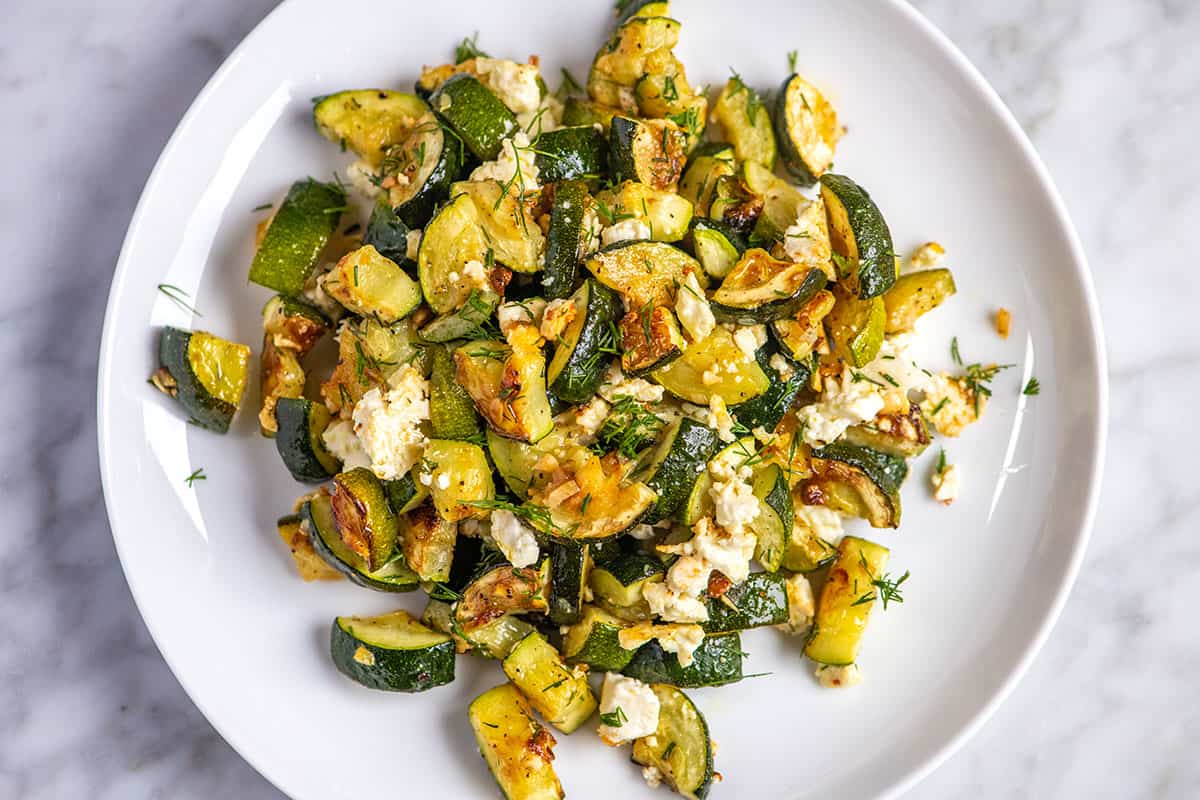 Recipe Variation: Vegan Roasted Zucchini
To make this recipe dairy free and vegan, leave the feta cheese out or swap it for vegan feta or a tablespoon of capers. Here are a few more vegan vegetable recipes for you:
My Best Tips For Roasted Zucchini
Use a hot oven. I mentioned this above, but it is an essential trick for the best roasted zucchini. Stick with a hot oven between 425° Fahrenheit and 450° Fahrenheit.
Don't peel the zucchini. Peeled zucchini turns mushy and has no crunch. We share the same tip when making our Garlic Butter Sautéed Zucchini.
Add flavor. We add flavor with garlic, salty feta cheese (yum) and fresh dill. The combination of seasoned zucchini, feta, and dill makes this dish crave-worthy.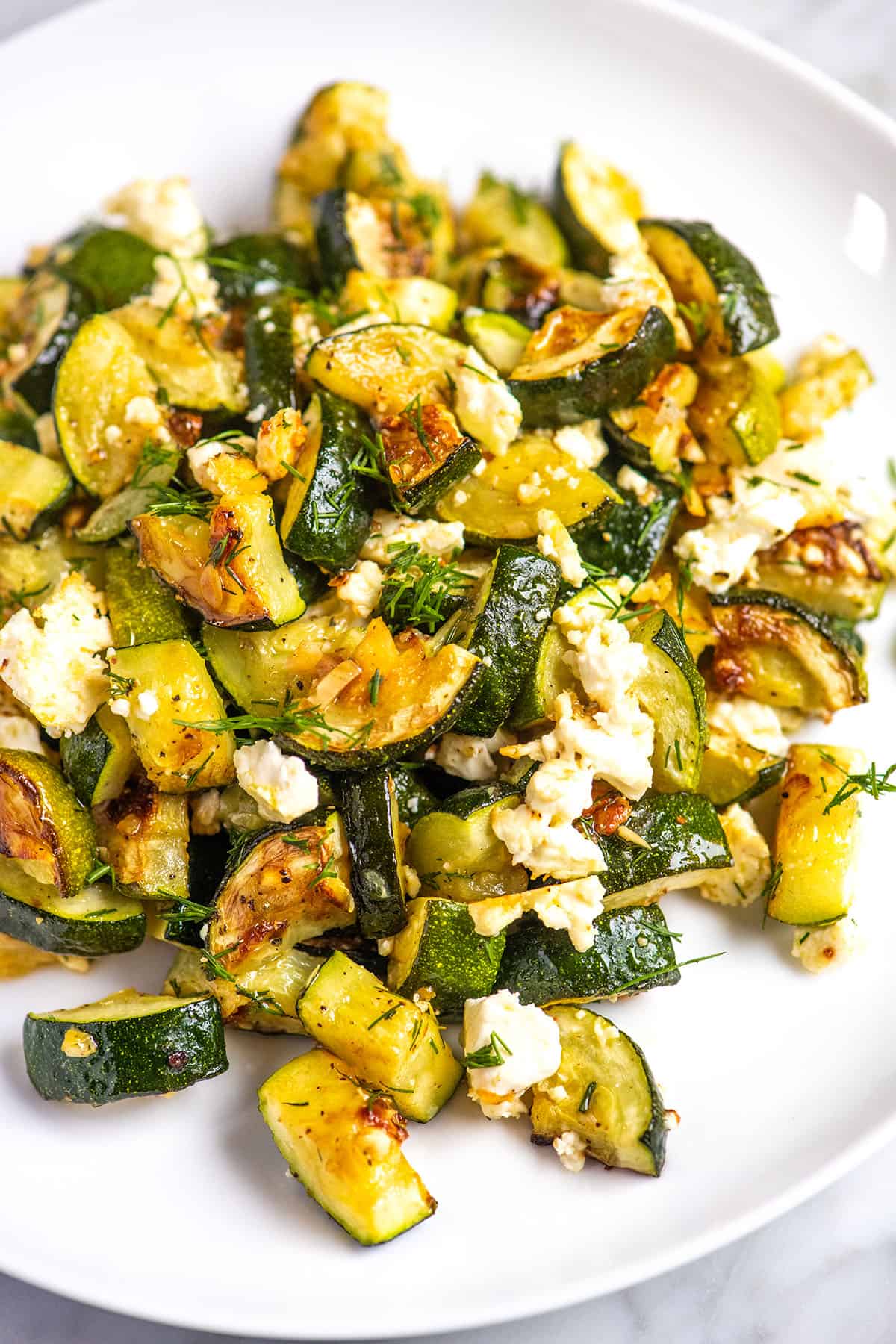 More Easy Zucchini Recipes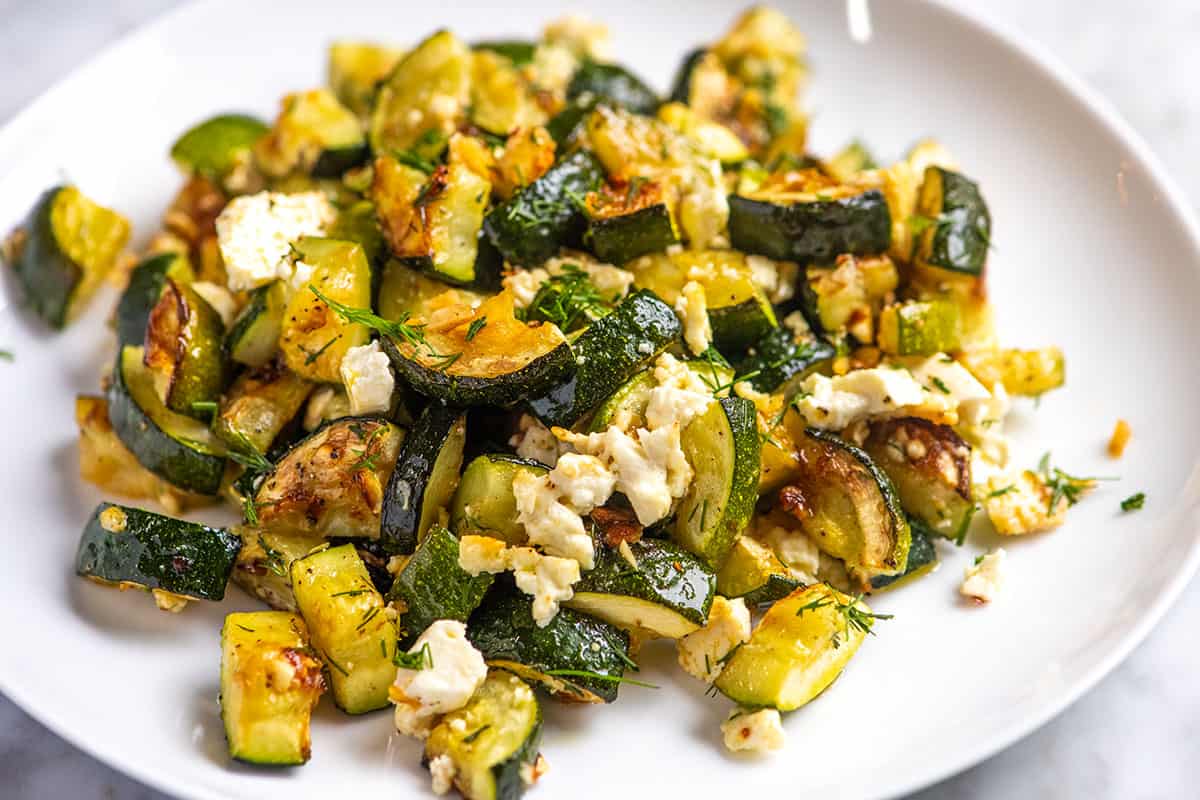 Garlic Roasted Zucchini with Feta
This Garlic Roasted Zucchini with feta and dill is better than I ever imagined, and I honestly can't stop making it. This recipe is quick, simple, and delicious!
Watch Us Make the Recipe
You Will Need
1 ¼ pounds zucchini, 2 to 3 medium
2 tablespoons olive oil
1 clove garlic, minced
1/4 teaspoon fine sea salt
1/4 teaspoon fresh ground black pepper
2 ounces feta cheese
1 tablespoon chopped fresh dill
Directions
Heat the oven to 425° Fahrenheit. Prepare a baking sheet — we roast the zucchini directly on the baking sheet, but for easy clean-up, put down a silicone baking mat or a sheet of parchment paper.

It is up to you how you cut the zucchini. You can slice the zucchini into 1/4-inch rounds, cut them into half moons, or chop them into bitesize pieces.

Add the zucchini to your baking sheet. Scatter the olive oil, garlic, salt, and pepper over it. Toss well, and then spread the zucchini into one layer.

Roast the zucchini until they are tender and have picked up some color, 15 to 20 minutes.

Remove the baking sheet from the oven, stir, and then crumble the feta cheese over the zucchini. Roast for another 5 minutes.

Serve with fresh dill sprinkled on top.
Adam and Joanne's Tips
Nutrition Per Serving:
Serving Size
1/4 of the recipe
/
Calories
103
/
Total Fat
10.1g
/
Saturated Fat
3.1g
/
Cholesterol
3.1g
/
Sodium
277.3mg
/
Carbohydrate
1.6g
/
Dietary Fiber
0.2g
/
Total Sugars
0.6g
/
Protein
2.5g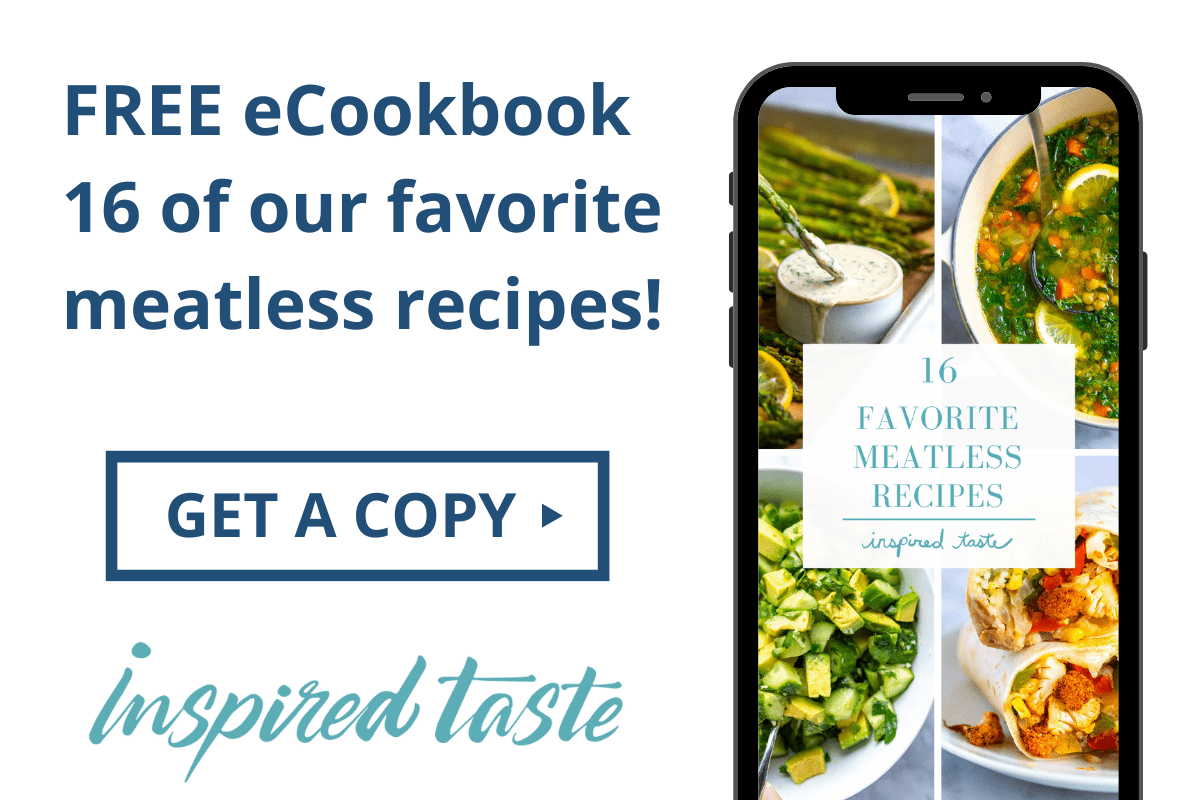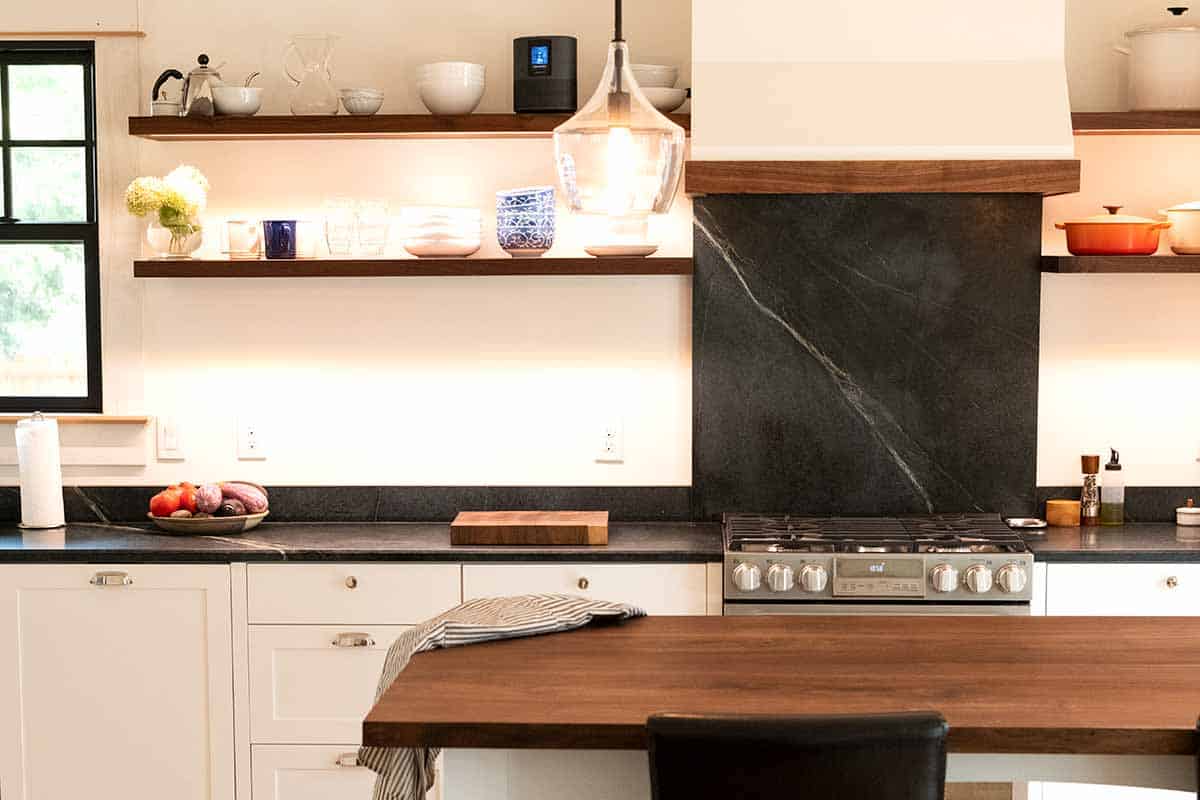 Take a look around where we create recipes and videos!
Previous Post: Juicy Tender Oven Pulled Pork
Next Post: Easy Three-Ingredient Tomato Soup