How to make the best baked cheese dip with tomato and basil. Jump to the Tomato Basil Baked Cheese Dip Recipe or read on to see how we make it.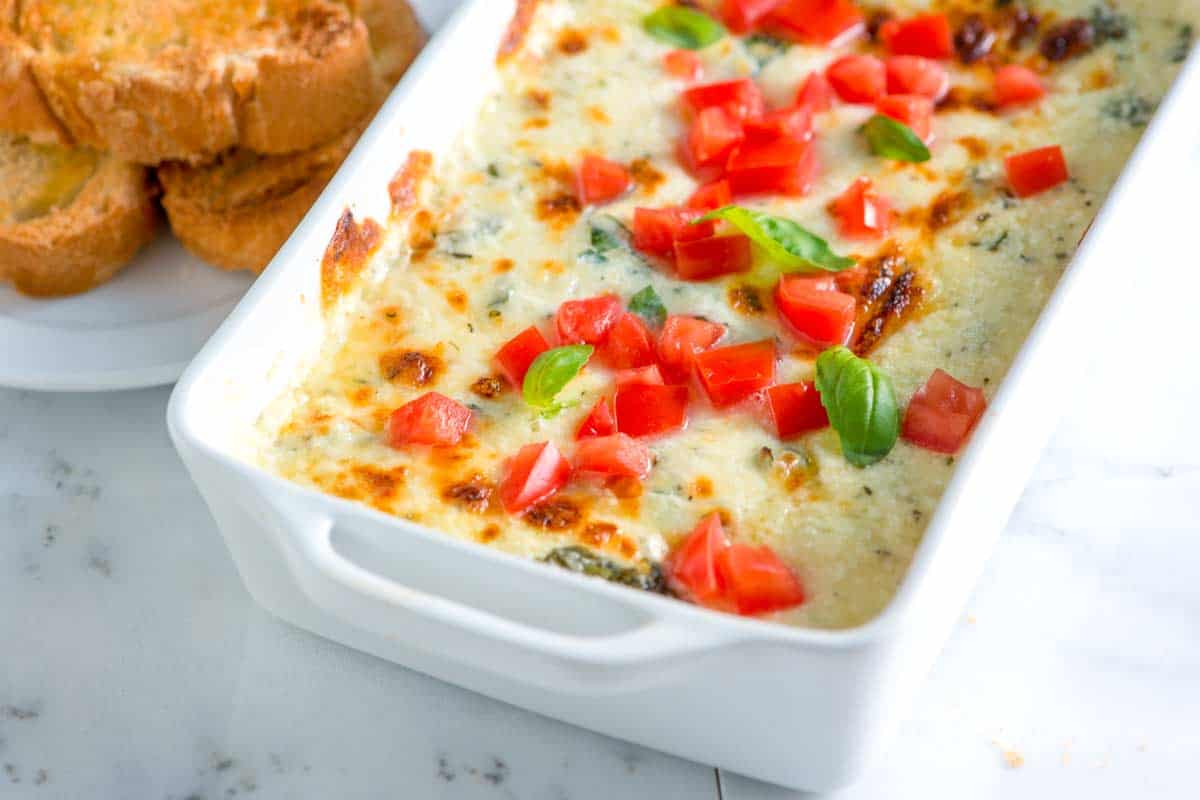 This dip is delicious. We combine sour cream, lots of cheese, and fresh basil before baking in the oven until until bubbly. Then we add more basil and fresh tomatoes on top.
YOU MAY ALSO LIKE: Three cheeses, artichokes, and fresh spinach makes this warm spinach and artichoke dip extra creamy and delicious. Jump to the Creamy Spinach and Artichoke Dip Recipe.
How to Make Baked Cheese Dip
This recipe is really simple and can be adapted 100 different ways.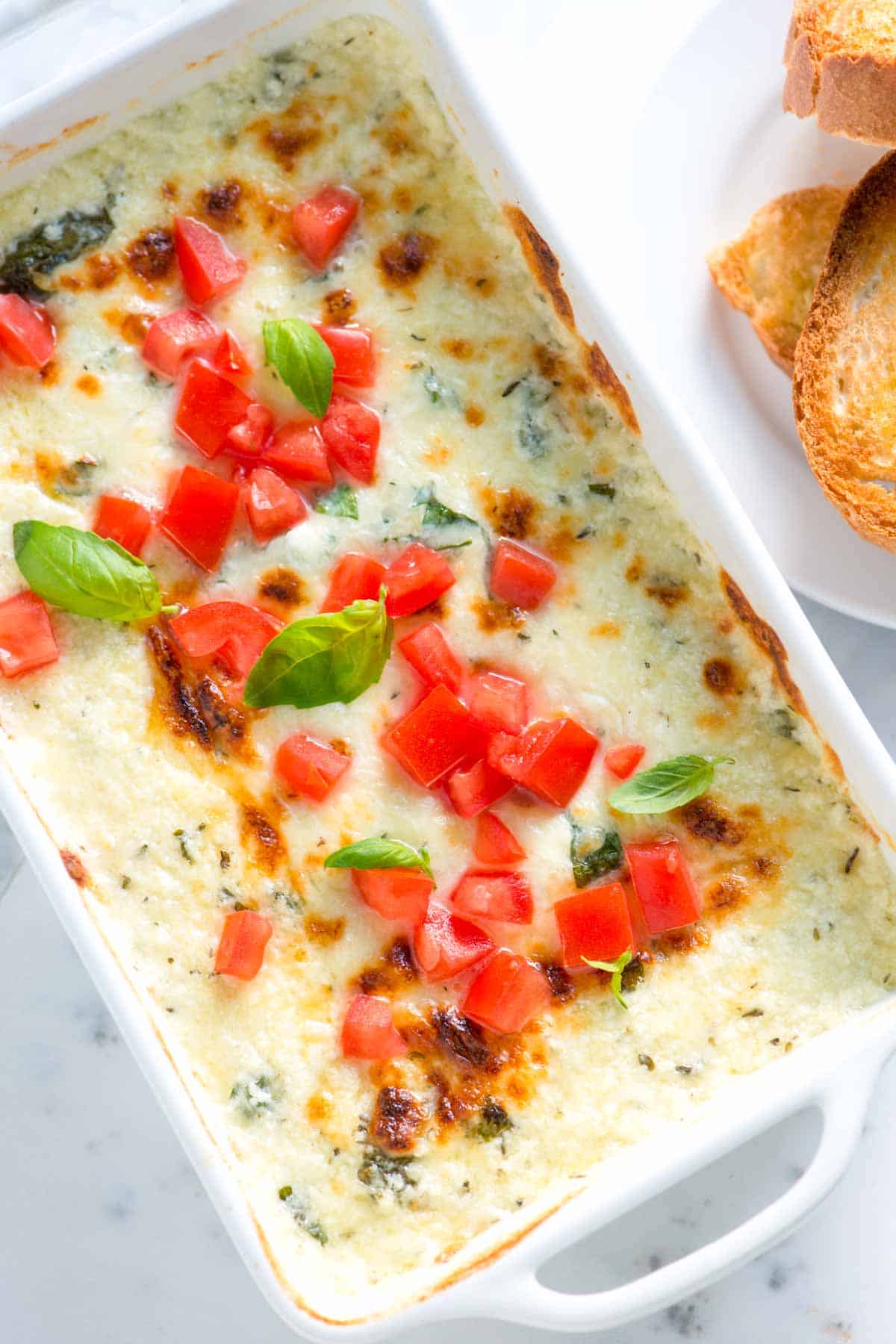 The base is sour cream mixed with spices. Then we add lots of mozzarella and Monterey jack cheese. Other cheeses would work well, too — think feta, goat cheese, or gruyère. To freshen the dip up, we add lots of fresh basil before baking. Then after the dip has baked, we top it with more basil and chopped tomatoes.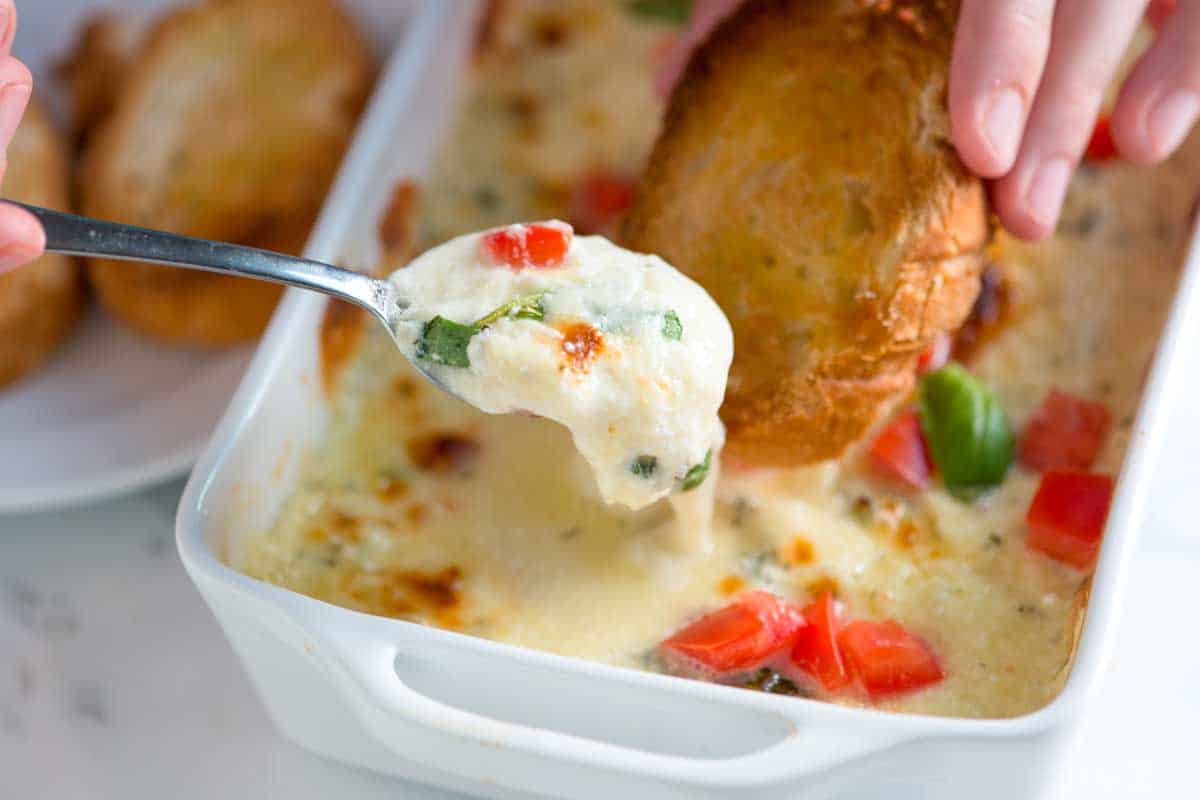 This is perfect served with sliced bread, crunchy vegetables, or chips. If you serve this to friends, don't be surprised if they all crowd around the cheese dip – that's perfectly normal!
YOU MAY ALSO LIKE: Roasted tomatoes with creamy ricotta cheese, lemon zest and mint. Serve this family style right out of the baking dish – no fuss. Jump to the Lightly Roasted Tomatoes and Ricotta Recipe.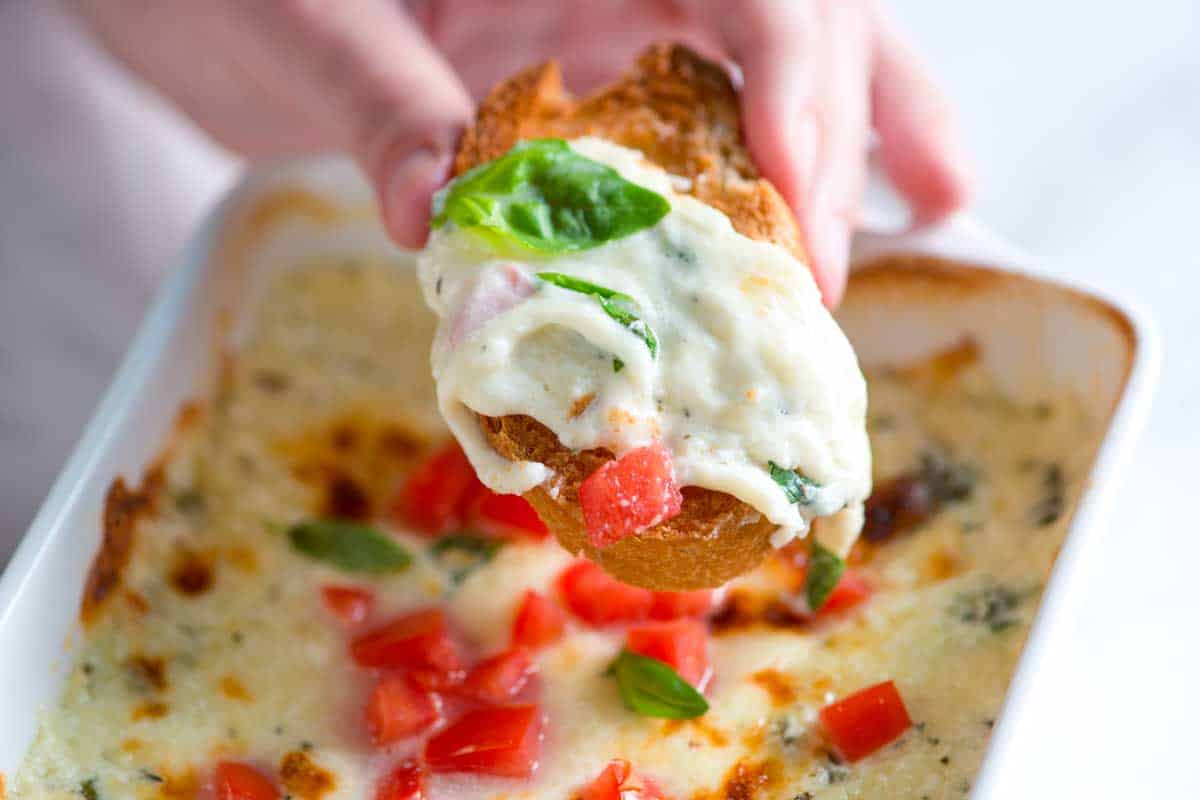 Recipe updated, originally posted October 2012. Since posting this in 2012, we have tweaked the recipe to be more clear. – Adam and Joanne
Tomato Basil Baked Cheese Dip Recipe
This basil-scented baked cheese dip is one of our favorite things to serve friends. Serve this with toasted bread slices, but you could also serve alongside crisp, cool vegetables. When the cheese melts, it turns spreadable. There will be a little water released from the cheese after baking and siting a little – don't be worried if it separated a little after baking. It is still completely delicious!
Makes approximately 6 servings
You Will Need
1 cup sour cream
1/2 teaspoon mustard powder
1 teaspoon dried thyme
8 ounces mozzarella cheese, coarsely grated (about 2 cups)
12 ounces Monterey Jack cheese, coarsely grated (about 3 cups)
1 cup basil leaves, chopped, plus more for serving
1 small tomato, diced
1 baguette, sliced and toasted
Directions
1Heat oven to 350 degrees F.

2Mix sour cream, mustard powder, and thyme in a large bowl then stir in the mozzarella, Monterey jack and the cup of chopped basil leaves. Add to a 2-quart baking dish or pie dish. Bake until the cheese has melted and is bubbling, 10 to 15 minutes.

3Meanwhile, add bread slices, in one layer, to a baking sheet. Slide into the oven and bake 6 to 8 minutes until toasted.

4Once baked, turn oven to broil and broil the cheese dip until golden brown on top, about 2 minutes. Serve warm with tomato and extra basil leaves scattered on top and alongside toasted bread slices.