These baked brie roll ups are extra easy and are the perfect appetizer or side!  Jump to the Mini Baked Brie Roll Ups Recipe or read on to see our tips for making them.
– This Recipe is Sponsored by Pillsbury –
We use store-bought crescent dough then fill it with creamy brie cheese, roll them up then top with crunchy pecans and a little salt. They bake up in no time. The dough we used is from Pillsbury. We're sure you've noticed their products in your grocery store – we used their Crescent Rolls for this. If you can't find Pillsbury's crescent rolls, feel free to use any crescent roll dough. (We have noticed that Trader Joe's has their own brand of crescent rolls).
YOU MAY ALSO LIKE: How to easily roast almonds at home with thyme and sea salt. Jump to the Roasted Almonds with Sea Salt and Thyme.
How to Make Mini Baked Brie Roll Ups
This really could not get any easier.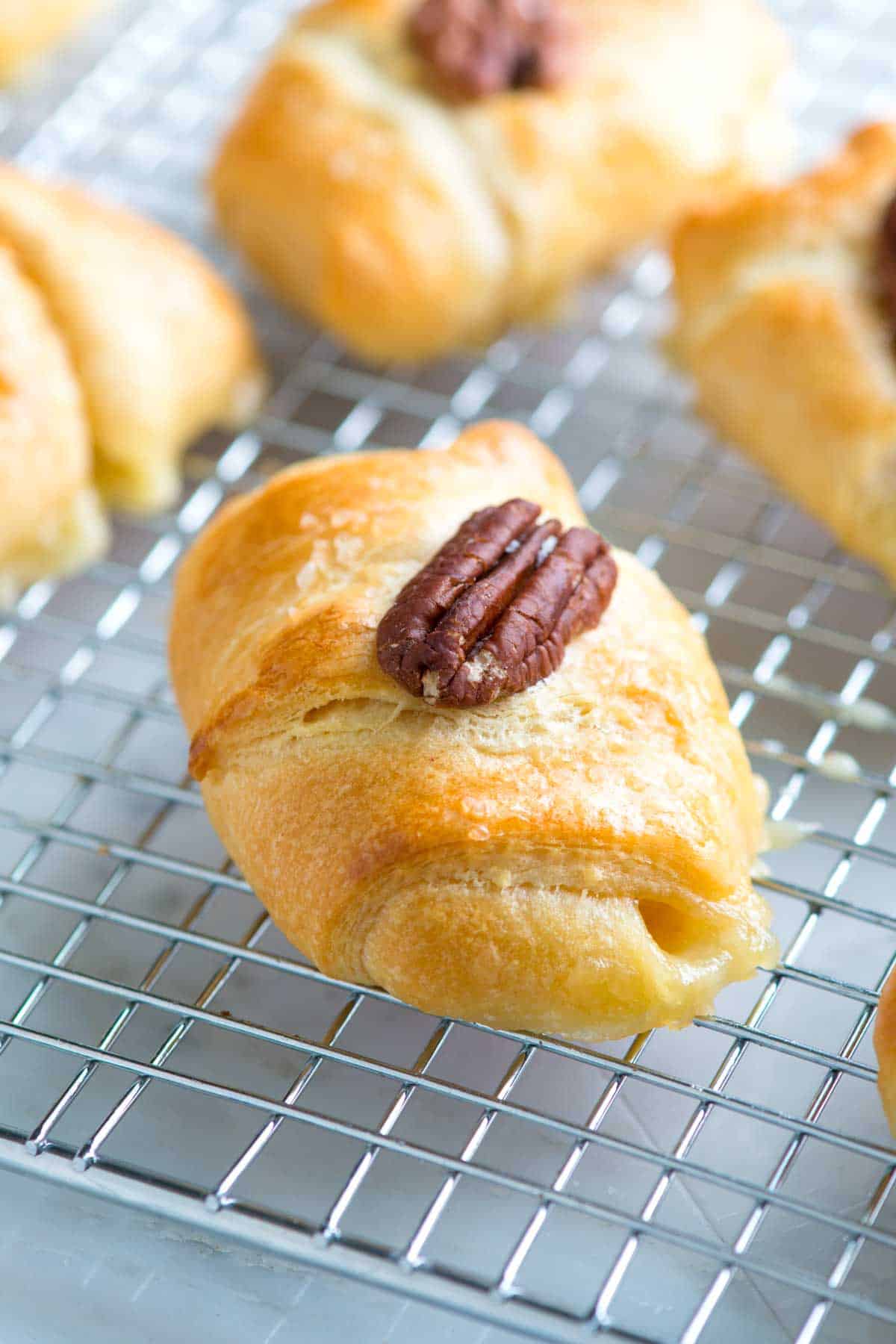 Place a big piece of brie onto the long end of a crescent dough triangle, tuck in the sides and roll up. Then brush the tops with egg wash so they turn shiny and golden brown after baking. We also add a pecan half and some sea salt on top before baking — I love the way it looks.
The rolls take about 15 minutes to bake and are perfect for parties or a side dish. The brie might escape a little during baking — that's okay, they still taste amazing. By the way, brie isn't the only choice when it comes to the filling. Most cheeses will work, in fact, a mixture of feta cheese and olives would be amazing.
YOU MAY ALSO LIKE: These cute and easy appetizer cups are filled with hummus, cucumber, and tomato. Perfect for easy entertaining! Jump to the Easy Hummus Cups With Cucumber and Tomato Recipe.
Recipe updated, originally posted December 2012. Since posting this in 2012, we have tweaked the recipe to be more clear. – Adam and Joanne
Mini Baked Brie Roll Ups
We use store-bought crescent dough for these mini roll ups. Brie is excellent here, but most cheese will work in the place of brie. Adding more fillings such as diced olives, ham or jam is also a great idea.
You Will Need
1 (8-ounce) can Pillsbury refrigerated crescent dinner rolls
6 ounces brie cheese
1 large egg
1 tablespoon water
8 pecan halves
Coarse sea salt for sprinkling on top
Directions
1Heat oven to 375 degrees F. Line a baking sheet with parchment paper.

2Separate the crescent dough into 8 triangles. Divide the brie into 8 pieces. Place one piece of brie onto the wider end of a dough triangle. Fold in the sides then roll the dough into a tight packet. Try to make sure the ends are closed so the cheese won't come out during baking. Repeat with remaining dough triangles.

3Place packets onto baking sheet. In a small bowl, whisk the egg and water then use a pastry brush to lightly brush tops with egg wash. Press one pecan half onto the top and sprinkle with salt.

4Bake until golden brown, 12 to 15 minutes. Cool on baking sheet 10 to 15 minutes before serving.