This honey drizzled brie is the perfect addition to your cheese plate or served by itself as an appetizer. Jump to the Brie with Warm Honey and Toasted Walnuts Recipe or read on to see our tips for making it.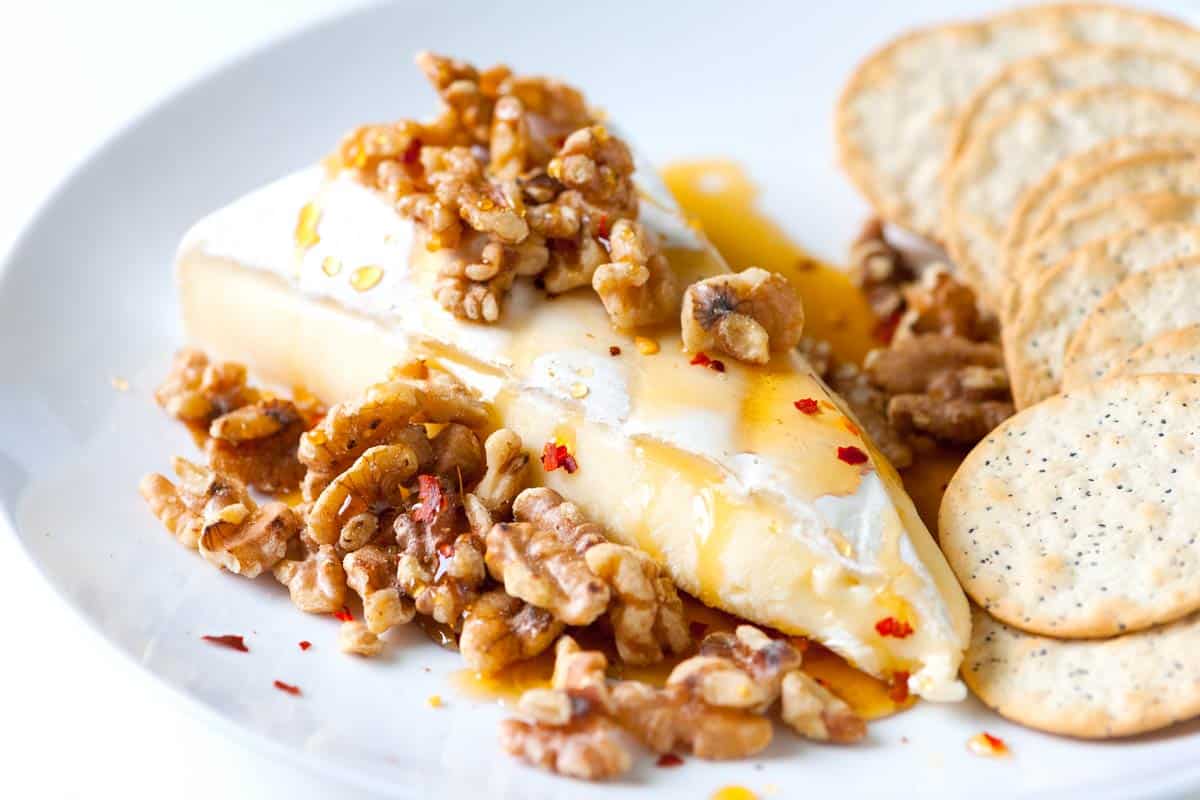 YOU MAY ALSO LIKE: These baked brie roll ups are extra easy and are the perfect appetizer or side! Jump to the Mini Baked Brie Roll Ups Recipe.
This easy recipe is practically foolproof. Start with your favorite wedge of brie cheese. Leave it out for a while so it comes to room temperature — cold brie is just not as good.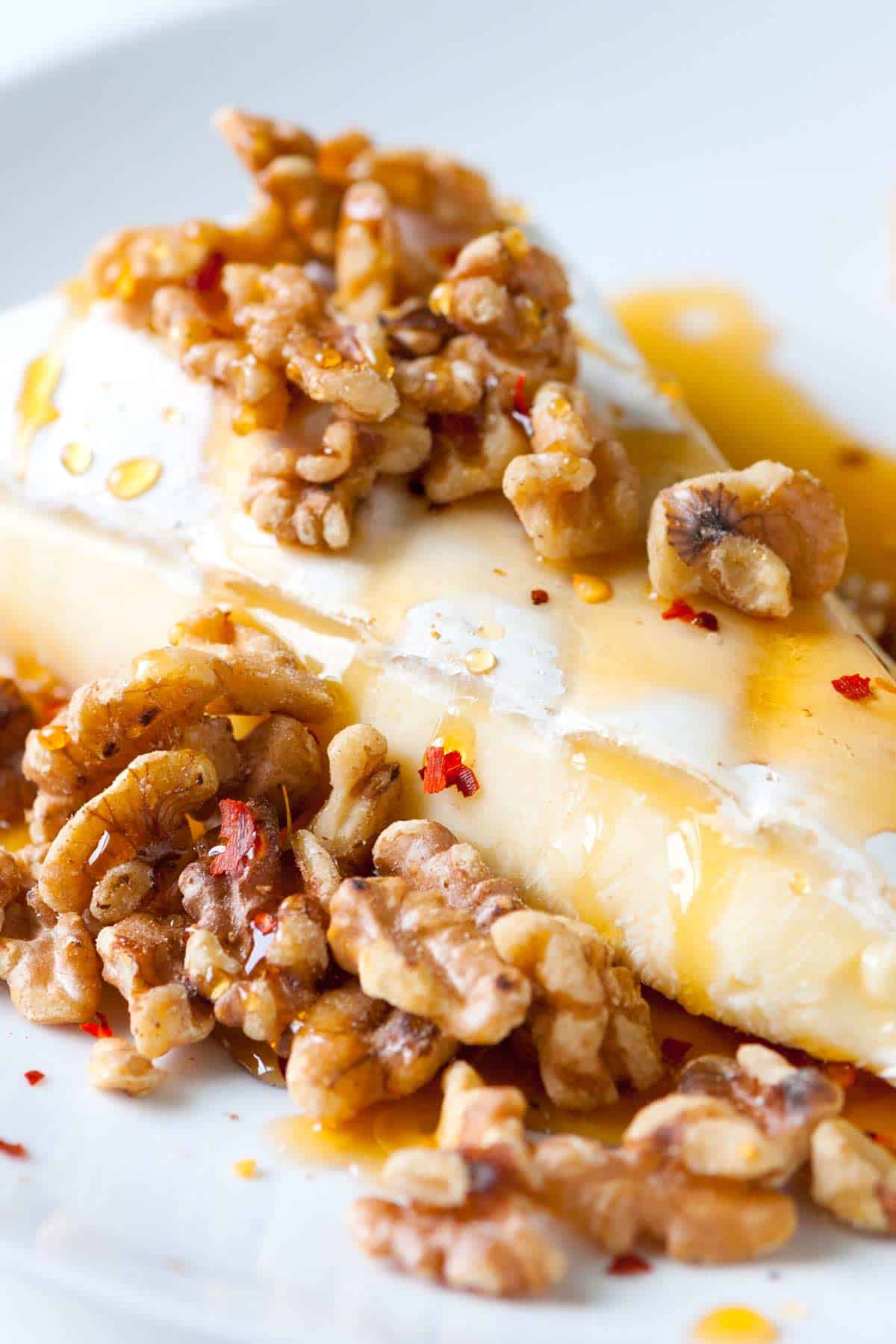 Just before serving, toast some walnuts and make the warm spiced honey. In a small saucepan, combine honey with crushed red pepper flakes and a pinch of salt. Cook until it is warmed through then drizzle over the brie cheese and top with walnuts.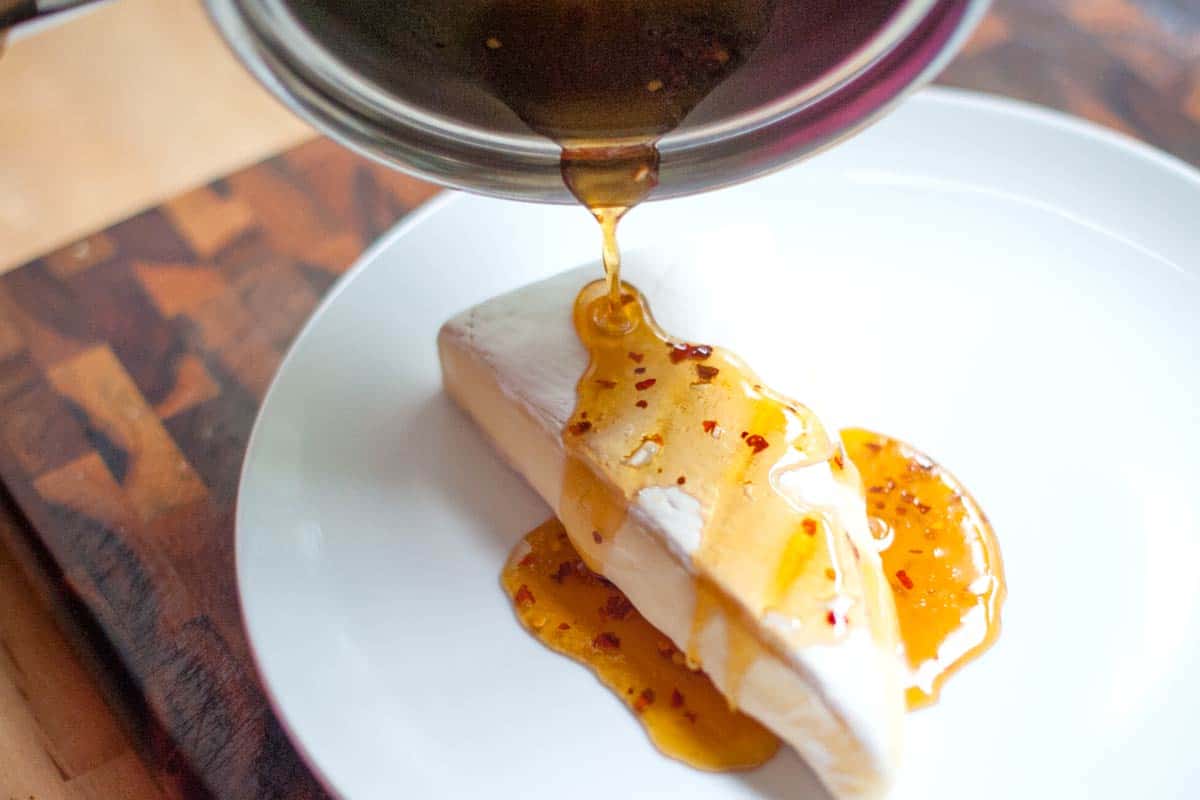 This is definitely one of my favorites — it won't last long!
YOU MAY ALSO LIKE: We've eaten these tomato sandwiches twice in the last week. They're that good. Better yet, they're so simple. Jump to the Open-Faced Brie and Tomato Sandwich Recipe.
Recipe updated, originally posted September 2011. Since posting this in 2011, we have tweaked the recipe to be more clear. – Adam and Joanne
Brie with Warm Honey and Toasted Walnuts
To toast walnuts, heat your oven to 350 degrees F. Spread the nuts  in a single layer on a baking sheet and roast for 5 to 10 minutes, tossing the nuts around occasionally to ensure even cooking. Nuts are toasted when they appear a shade darker and smell nutty.
You Will Need
1 wedge brie cheese
1/4 cup walnut halves, toasted
3 tablespoons pure honey
1/4 teaspoon crushed red pepper flakes
1/8 teaspoon sea salt
Directions
1Remove the cheese from refrigerator and place onto a serving plate. Set aside for 1 hour so that it comes to room temperature.

2Five minutes before serving, heat the honey in a small saucepan over medium heat with the red pepper flakes and salt. When the honey is warm drizzle it over the brie. Scatter walnuts on top and around the sides then serve.