How to make soft and chewy bar cookies with peanut butter cups (or your favorite candy) from scratch.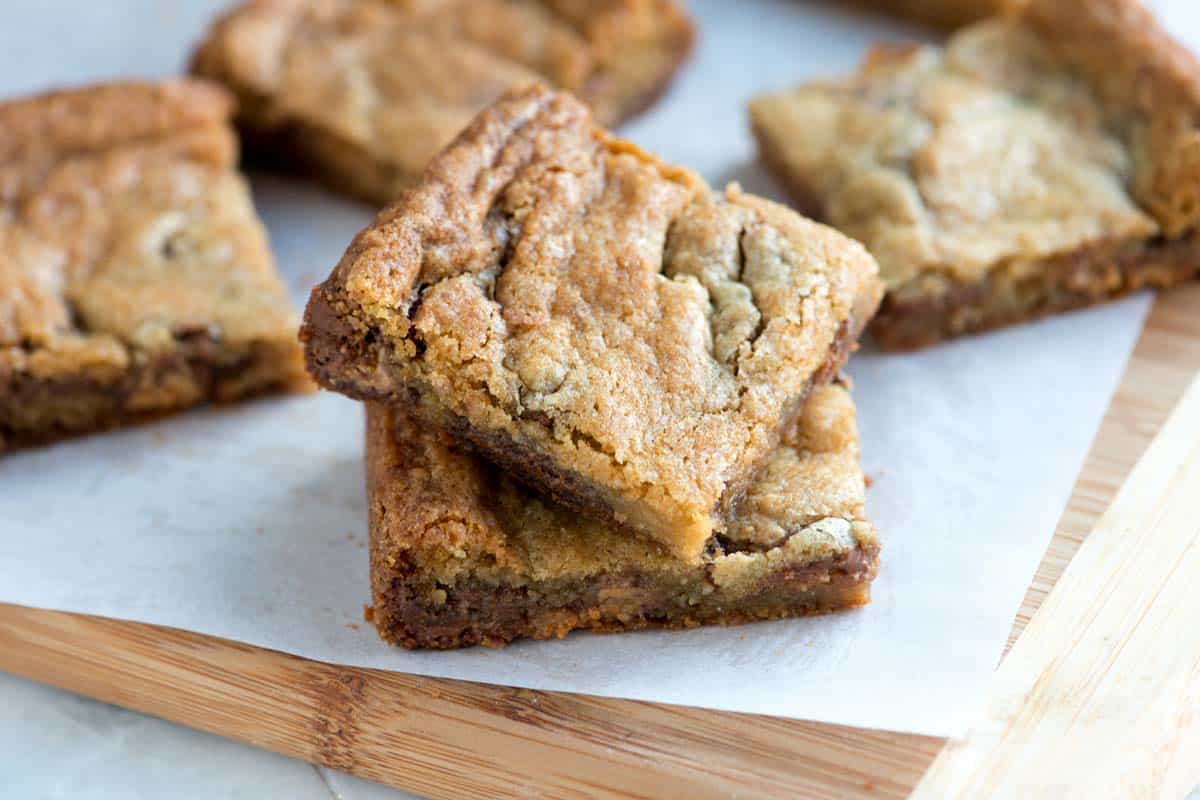 Somehow, we've collected an odd assortment of miniature candy bars. We've literally got half-empty bags pushed into every nook and cranny of our pantry. A few of those bags had one of our favorites, Reese's peanut butter cups. This soft, tender and easy bar cookie recipe was the perfect way to use them.
Our Favorite From Scratch Cookie Dough for Bar Cookies
This cookie dough is versatile and can be used 100 different ways.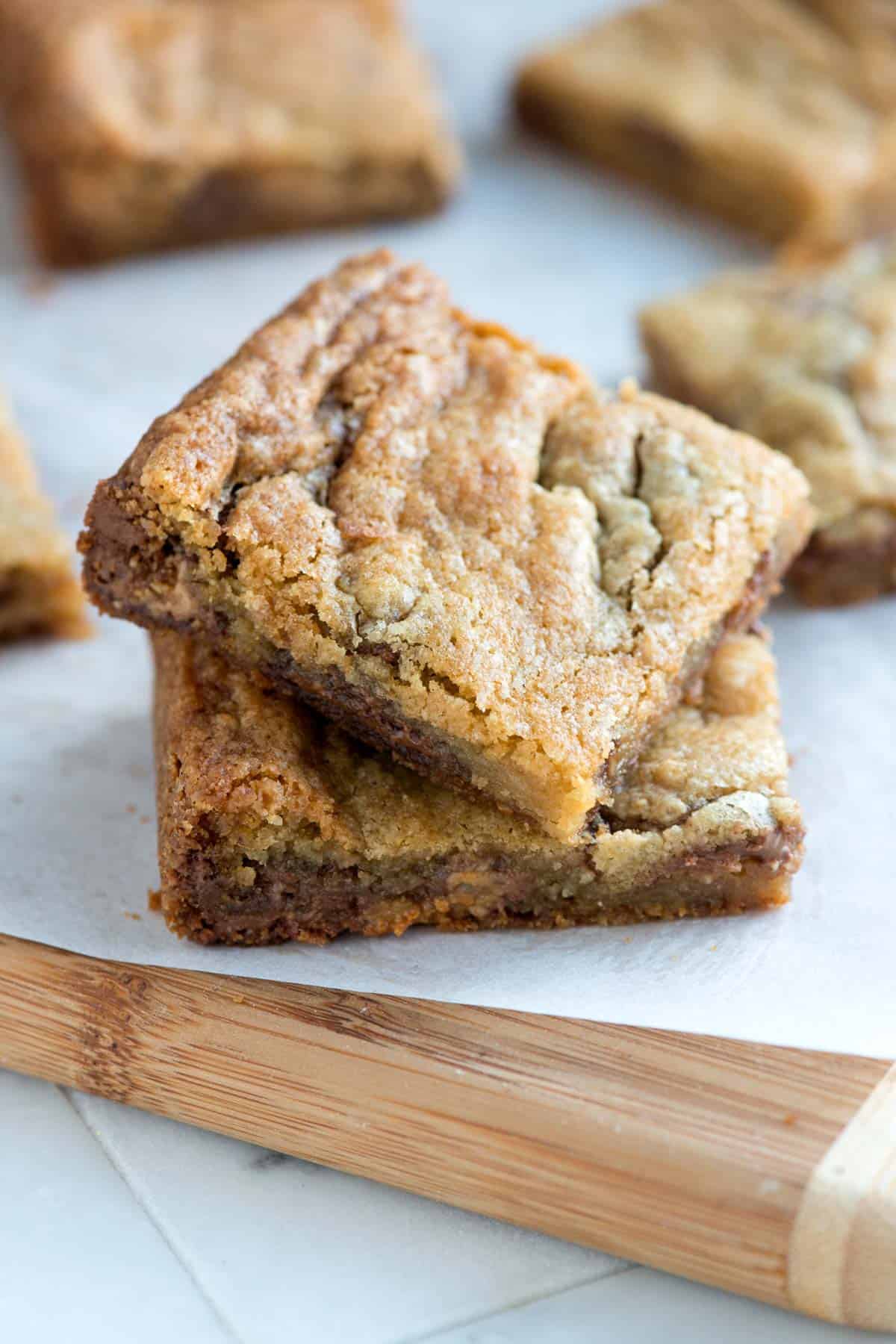 We absolutely love peanut butter cups. Especially the miniature ones — they have the perfect peanut butter to chocolate ratio for us. If you have another favorite — Snickers, Milky Way Bars, or other candy, use it. They work just as well.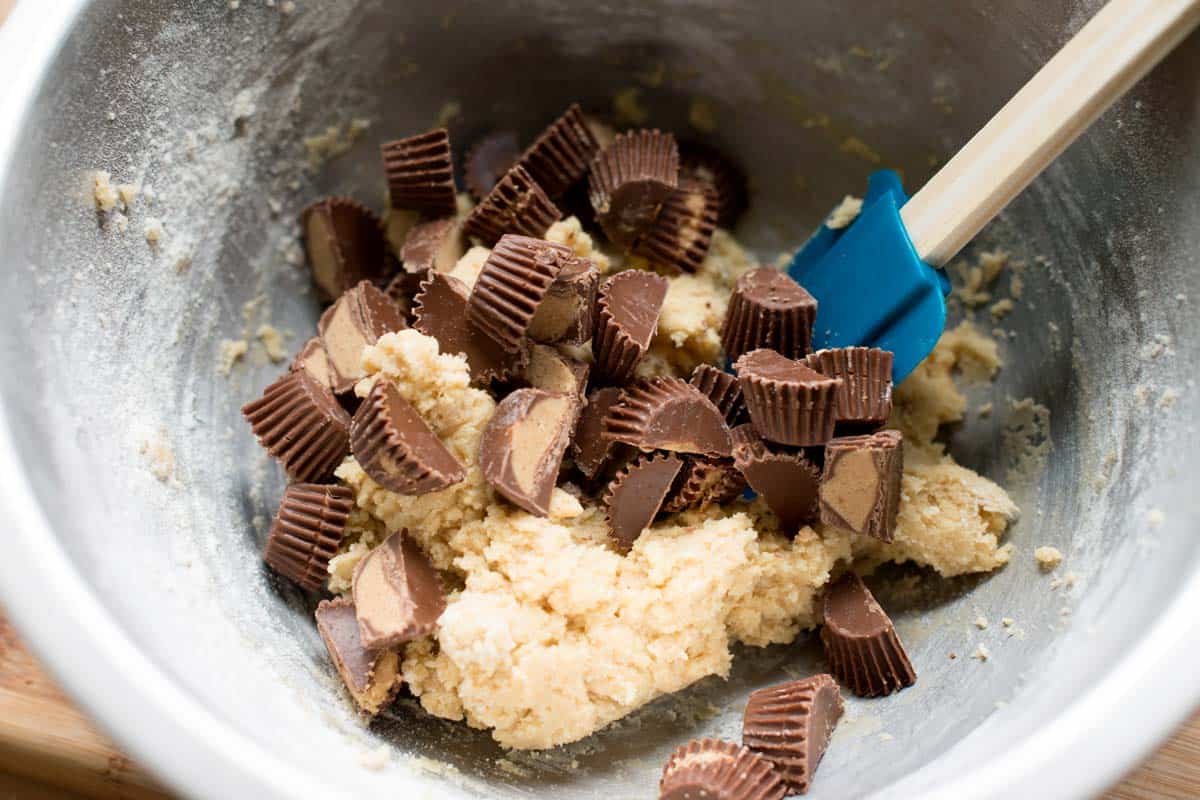 The cookie dough comes together in minutes — beat butter and sugar, add egg, and then the dry ingredients. Soft, tender, chewy bar cookies! So easy and oh, so delicious!
This post was sponsored by Gold Medal Flour.
Easy Peanut Butter Cup Cookie Bars
This soft, tender and easy bar cookie recipe is the perfect way to use your favorite candy bars. We love peanut butter cups, but most candy will work for this.
You Will Need
8 tablespoons (115 grams) butter, softened (1 stick)
1/3 cup (65 grams) granulated sugar
1/3 cup packed (65 grams) brown sugar
1/2 teaspoon vanilla extract
1 large egg
1 1/4 cups (160 grams) all-purpose flour
3/4 teaspoon baking soda
1/2 teaspoon salt
20 miniature peanut butter cups, unwrapped and halved
Directions
1Heat oven to 350 degrees F. Line an 8-inch or 9-inch square pan with parchment paper then lightly spray with non-stick cooking spray or grease with butter.

2In a large bowl, beat butter, both sugars and the vanilla extract on medium speed with a hand mixer until creamy, light, and fluffy, scraping down the sides as necessary; about 3 minutes. Add egg and beat until combined.

3In a medium bowl, whisk the flour, baking soda, and salt.

4Add the flour mixture, in thirds, to the butter mixture, beating until incorporated and scraping down the sides of the bowl as necessary. Stir in the halved peanut butter cups.

5Press cookie dough into baking pan and bake until the top is no longer wet and is golden brown, 20 to 30 minutes. Cool then cut into 12 rectangles.