How to make cherry pie from scratch with a lightly sweetened filling of fresh (or frozen) cherries, vanilla, and almond extract. It's to die for.
Watch the Video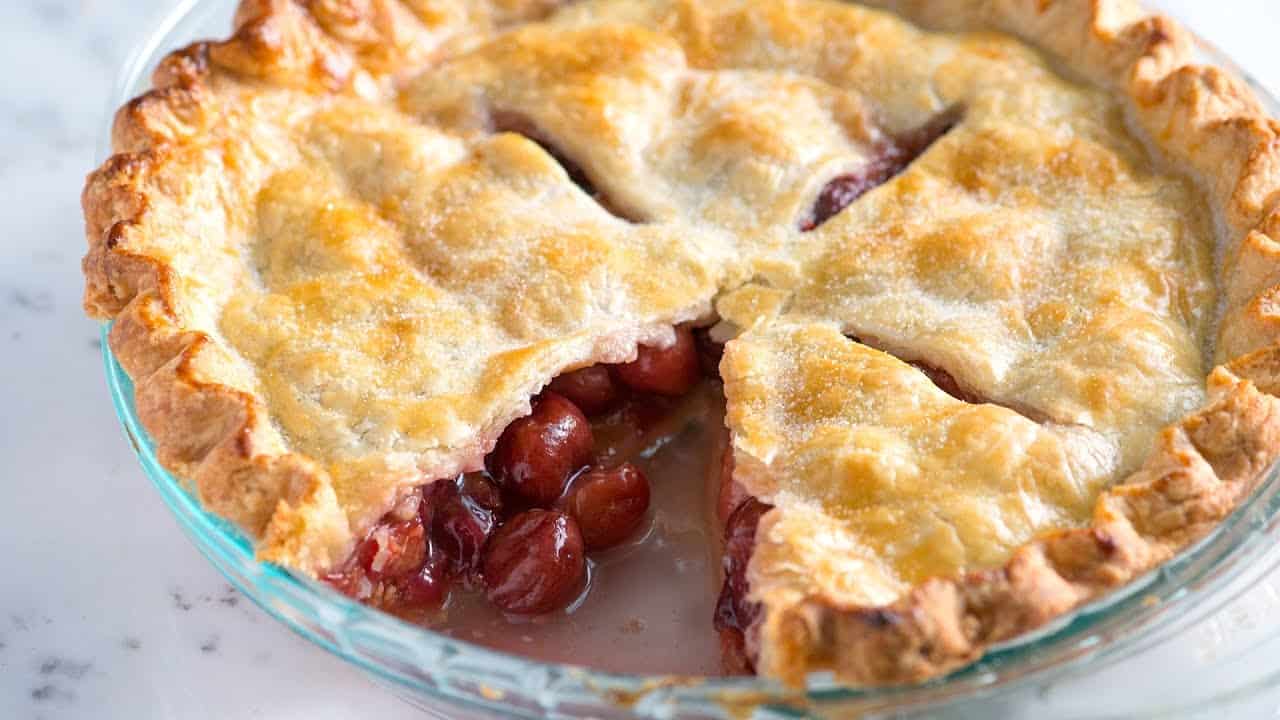 Related: We also love this blueberry pie with lattice crust.
How to Make Homemade Cherry Pie
This cherry pie recipe is so easy — All you need to do is mix, fill and bake. The hardest part is pitting the cherries. For that, you might want to buy a cherry pitter or if you're like us, cheat and use one of our suggestions below for how to pit cherries without a cherry pitter.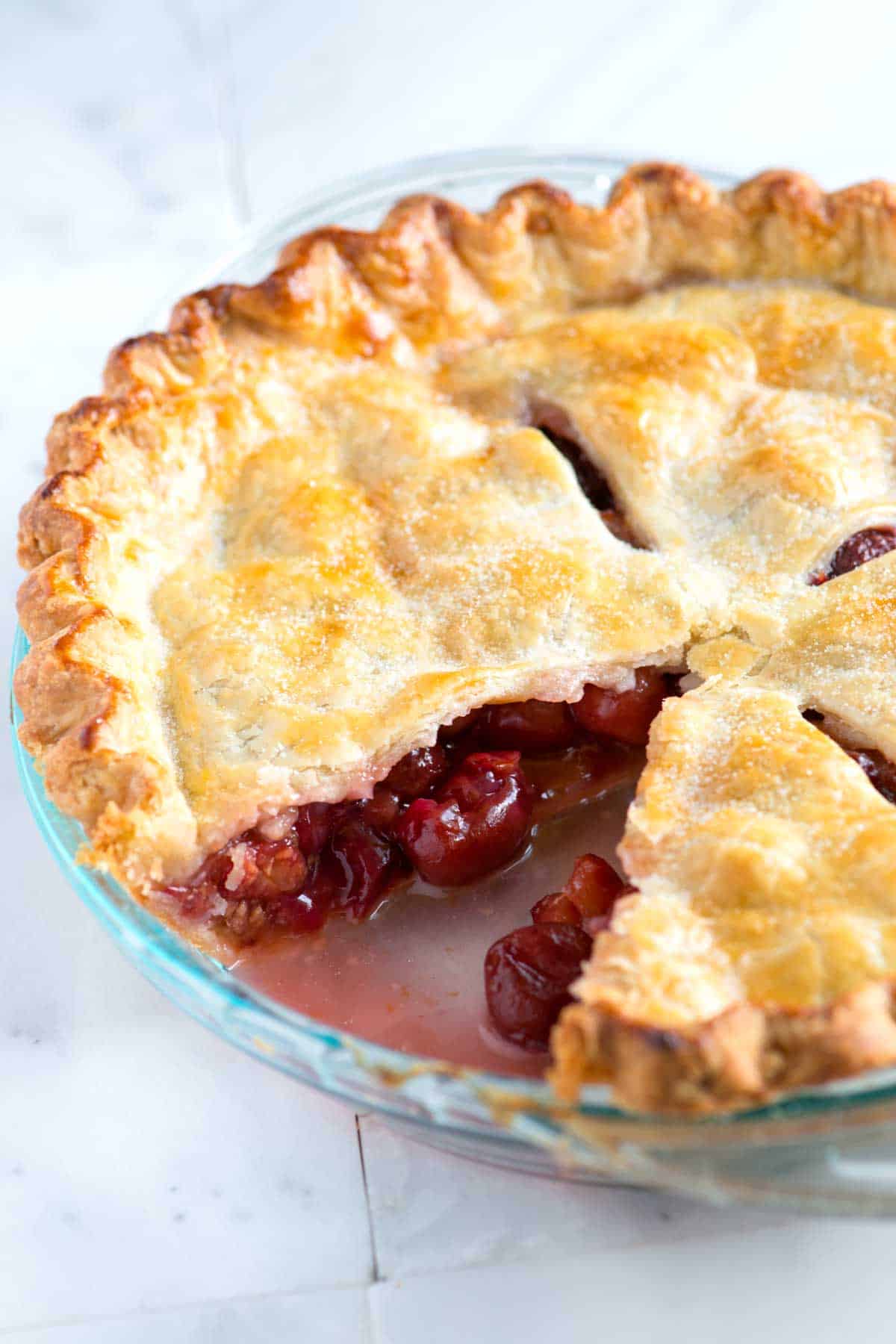 Stir cherries with sugar, corn starch, lemon juice, vanilla and almond extracts then stir. Roll out a pie crust (or use store-bought), fill then top with another crust. Bake and cool. It's that easy.
To be honest, the hardest part is actually waiting for the pie to cool — you really want to wait 2 to 3 hours before cutting into the pie. We know — it's torture!
Using Sweet or Tart Cherries
As far as the cherries go, we like to use fresh cherries, but if you need to, use thawed frozen or canned/jarred cherries. (We share notes for both options in the recipe below). Both sweet and tart cherries will work well in this pie. We usually use sweet because fresh tart cherries are almost impossible to find where we live. No matter which you use, be sure to check for how sweet they are then adjust the sugar accordingly. We love serving each slice with freshly whipped cream, but ice cream would be divine.
How to Pit Cherries Without a Cherry Pitter
We have a small kitchen. That means that we only buy what we need on a weekly basis and while we would love to eat a slice of this cherry pie every night that just can't happen. So, we don't have a cherry pitter in the house. That didn't stop us, though. We just looked around and figured out two ways to pit cherries without a cherry pitter.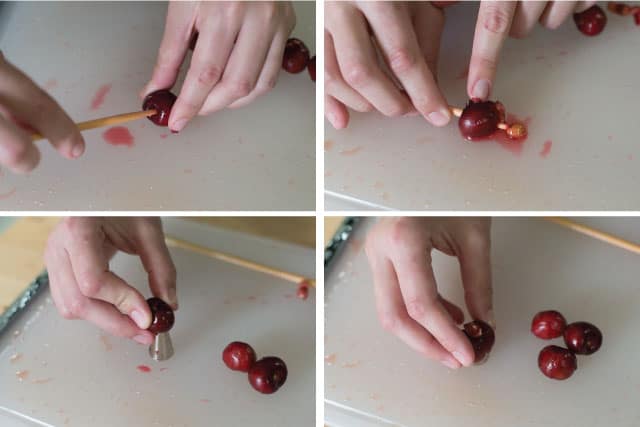 On the top, you'll see we used a chopstick. We used the thicker round end to push the pit out of each cherry. The second option was to use a small piping tip. Place it onto the work surface then push the cherry down onto the tip — the pit pops right out. Of the two, we preferred using chopsticks. Both work, but the chopsticks were a little less messy.
Easy Homemade Cherry Pie
Making cherry pie is easy – all you need is a little patience when pitting the cherries. We promise it's worth it. You can use sweet cherries, sour cherries or a combination of both, just remember to dial the sugar back or up depending on what you choose.
You can buy a cherry pitter, however, if you do not have one try using the thicker round end of a chopstick to push the pits out of the middle of each cherry. Another option is to push each cherry down onto a piping tip. The sugar amount for this recipe varies depending on how sweet your cherries are. Add to your taste. We like to use fresh cherries for this, but you can use canned (see note below).
One 9-inch pie, approximately 8 servings
Watch Us Make the Recipe
You Will Need
Chilled pie dough for top and bottom 9-inch pie (see our pie crust recipe)
4 ½ cups pitted fresh cherries, see note if using frozen or canned (2 1/2 pounds, unpitted)
1/4 cup (30 grams) cornstarch
2/3 to 3/4 cup (135 to 150 grams) sugar, adjusted accordingly to sweetness of cherries
1 teaspoon vanilla extract
1/4 teaspoon almond extract
1 tablespoon lemon juice
1/8 teaspoon salt
1 tablespoon cold unsalted butter, cut into small squares
1 egg yolk
1 tablespoon heavy or whipping cream
Additional sugar for topping crust (coarse sugar is a nice option)
Directions
Make Filling

1Heat the oven to 400° Fahrenheit.

2Add pitted cherries to a large bowl, then add the sugar, cornstarch, vanilla, almond, lemon juice, and salt.  Gently toss to combine. Set aside.
Prepare and Fill Crust

1Remove half of the dough from the refrigerator and leave it at room temperature for five minutes.

2Roll out the dough to a 13-inch (1/8-inch thick) circle on a lightly floured surface. (Occasionally, check if the dough is sticking to the surface — add a small amount of flour when necessary).

3Check for size by inverting the pie dish over the dough round. Look for a 1-inch edge around the pie dish. Then, carefully place the dough into the dish.

4Spoon cherry pie filling into the pie crust. Discard most of the liquid pooled at the bottom of the bowl (it makes the pie soggy). Dot the filling with little squares of cold butter.
Top Pie

1Roll out the second half of the dough, then top the pie. Use a knife or pair of kitchen scissors to trim dough to within 3/4-inch of the edge of the dish.

2Fold the edges of the top crust underneath the edges of the bottom crust, pressing the edge to seal it so that it creates a thicker, 1/4-inch border that rests on the lip of the dish.

3Crimp the edges by pressing the pointer finger of one hand against the edge of the dough from the inside of the dish while gently pressing with two knuckles of the other hand from the outside. (See photo, we know that was wordy — you can watch us do it in our pie crust recipe video, too).

4Refrigerate dough for at least 20 minutes or freeze for 5 minutes before baking.
Bake Pie

1Before baking the pie, make the egg wash by whisking egg yolk and cream together in a small bowl.

2Use a pastry brush to brush over the top crust. Then, sprinkle with one tablespoon of sugar. Cut three to four slits on top of the pie.

3Place the pie dish onto a baking sheet covered in aluminum foil or parchment paper to catch any juices overflowing the sides as it bakes.

4Bake in a preheated oven (400° Fahrenheit) for 20 minutes, then reduce the temperature to 350° Fahrenheit and bake for an additional 30 to 40 minutes longer, or until the crust is golden and the filling is thick and bubbling.

5Cool the pie for at least two hours, preferably three, before cutting to allow filling in the middle to set.
Adam and Joanne's Tips
For canned cherries: Use 4 cups of canned or bottled cherries, drained with about 1/3 cup cherry juice reserved for adding to the cherry filling.
For frozen cherries: Use 4 cups of thawed cherries, drained with about 1/3 cup cherry juice reserved for adding to the cherry filling.
Nutrition facts: The nutrition facts provided below are estimates. We have used the USDA Supertracker recipe calculator to calculate approximate values.
If you make this recipe, snap a photo and hashtag it #inspiredtaste — We love to see your creations on Instagram and Facebook! Find us: @inspiredtaste
Nutrition Per Serving
Serving Size
1/8 of pie
/
Calories
515
/
Protein
6 g
/
Carbohydrate
66 g
/
Dietary Fiber
3 g
/
Total Sugars
30 g
/
Total Fat
26 g
/
Saturated Fat
17 g
/
Cholesterol
91 mg
Recipe updated, originally posted May 2013. Since posting this in 2013, we have tweaked the recipe to be more clear and added a quick recipe video. – Adam and Joanne