How to make a stunning apple tart with a buttery crust, thinly sliced apples, and toasted almonds. Jump to the Simple Apple Tart Recipe or read on to see our tips for making it.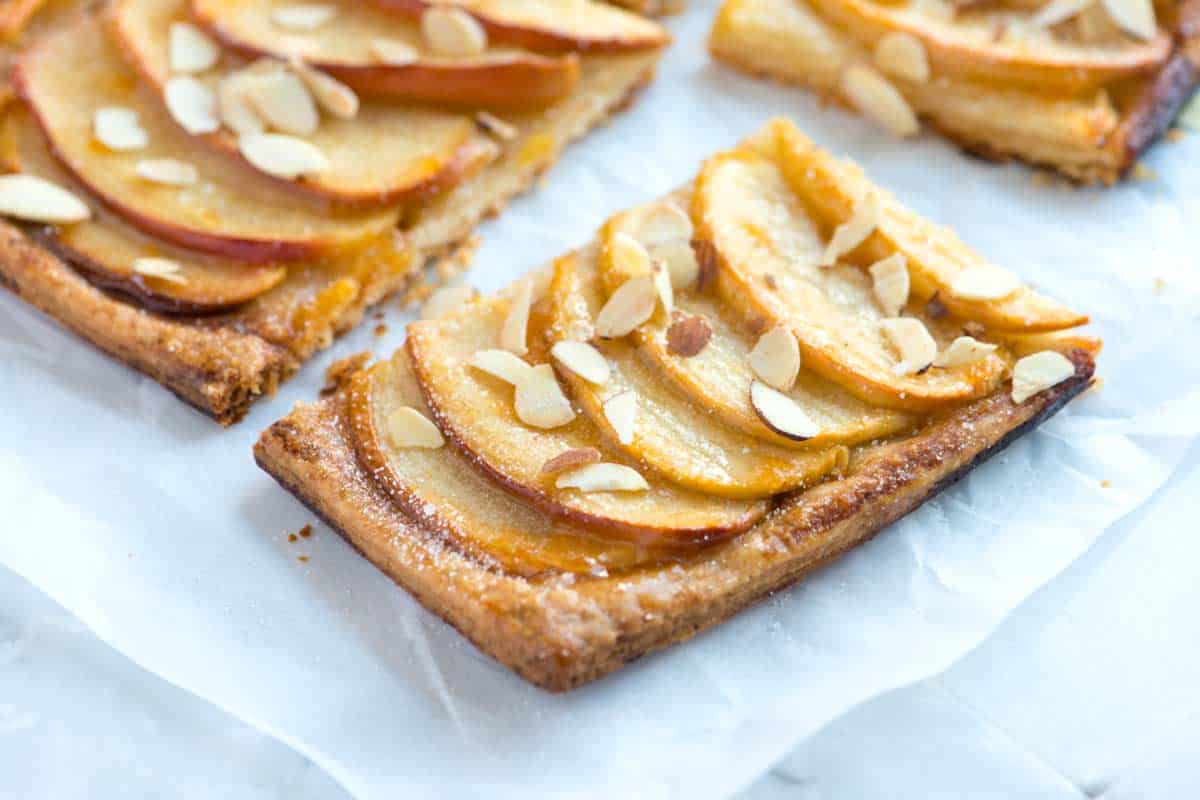 – This Recipe is Sponsored by Gold Medal Flour –
How to Make a Beautiful Tart with Apples
This apple tart looks like it came from a fancy bakery, but it's easily made at home. We'd even say it's a little easier than making apple pie. (That's not to say that we don't love a good apple pie. Here's our recipe for perfect apple pie made completely from scratch.)
There's nothing fussy, here. Just thinly sliced apples lined up on top of a buttery, flaky crust. The apples are lightly brushed with apricot jam, and then topped with a handful of sliced almonds. We love it just the way it is, but you could very easily skip the jam and go for a drizzle of caramel sauce instead. A dusting of powdered sugar is also nice.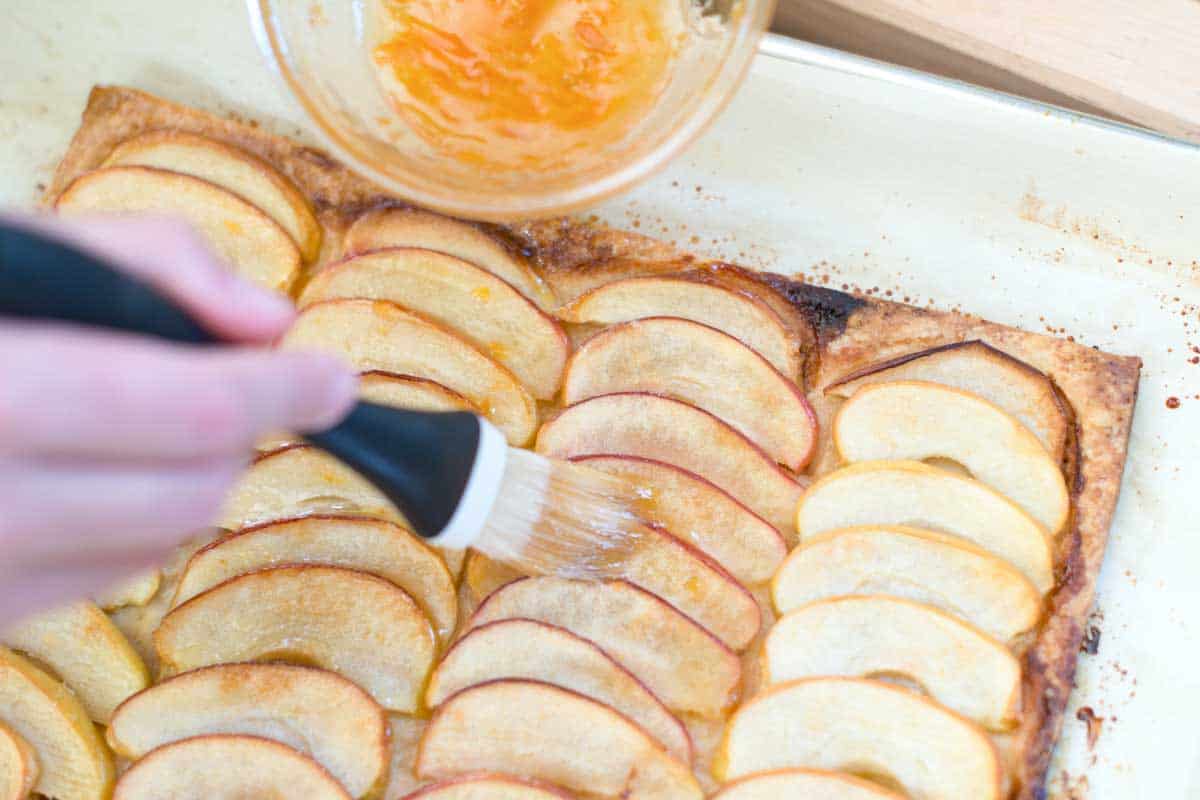 We make our own flaky crust, but a sheet of store-bought puff pastry is an excellent alternative. See our notes in the recipe below for how to make this apple tart using puff pastry.
Any baking apple will work — you'll need two. We used Braeburn apples. We just love the rosy peel around the edges. Granny Smith is also a good standby. You can even use pears or a combination of apples and pears. That would be delightful.
More Apple Desserts
Disclosure: We're sharing this in partnership with Gold Medal Flour. This recipe was part of an ongoing relationship with Gold Medal. We have also shared our vanilla peach muffins, a spin on our already popular blueberry muffins. Recipe updated, originally posted September 2013. Since posting this in 2013, we have tweaked the recipe to be more clear. – Adam and Joanne
Simple Apple Tart with Flaky Crust
This simple tart is best served warm. We love it alone, but it certainly does not hurt to add a scoop of vanilla ice cream or whipped cream. Much of the time required for this comes from the crust. To make things easier, make it ahead of time. The crust can be made and refrigerated up 2 days in advance. Or substitute the homemade crust with a sheet of store-bought puff pastry — see our notes for how to do this below.
Makes 1 tart or approximately 6 servings
You Will Need
Flaky Crust
1 1/4 cups (160 grams) all-purpose flour
1/4 teaspoon fine sea salt
2 teaspoons sugar
8 tablespoons (115 grams) very cold unsalted butter, cut into small cubes (1 stick)
3 to 4 tablespoons ice cold water
Apple Tart
2 medium baking apples such as Granny Smith, Honeycrisp or Braeburn
Juice of half a lemon
3 tablespoons granulated sugar
2 tablespoons cold unsalted butter, cut into small cubes
2 tablespoons apricot, fig, or other light colored jam
3 tablespoons sliced almonds, lightly toasted
Directions
Make Crust

1Add 3/4 cups of the flour, salt, and the sugar to the bowl of a food processor fitted with the steal blade. (See note below for making crust by hand). Pulse 2 to 3 times until combined.

2Scatter butter cubes over flour mixture and process until a dough or paste begins to form, 15 to 20 seconds. (There should be no uncoated flour).

3Scrape bowl, redistribute the flour-butter mixture then add the remaining 1/2 cup of flour. Pulse 4 to 5 times until the flour is evenly distributed. (Dough should look broken up and crumbly).

4Transfer the dough to a bowl and scatter with 3 tablespoons of the water. Using a rubber spatula, press the dough into itself. The crumbs should begin to form larger clusters. If you pinch some of the dough and it holds together, it's ready. If the dough falls apart, add 1 to 2 tablespoons of extra water and continue to press until the dough holds together.

5Transfer to a clean surface. Work the dough just enough that it comes together into a ball. Shape into a flat rectangle then wrap with plastic wrap. Refrigerate at least 30 minutes and up to 2 days.
Prepare Tart

1Adjust an oven rack to the middle position and heat oven to 400 degrees F. Line a large baking sheet with parchment paper.

2Roll chilled dough into a 13-by-9-inch rectangle. Trim edges then transfer to the baking sheet. Using a fork, prick the crust every 1/2-inch to prevent air pockets from forming while it bakes. Refrigerate while you prepare the apples.

3Cut apples in half through the stem. Remove stems and core them (a melon baller helps, here). Slice the apples crosswise into 1/2-inch-thick slices. Scatter lemon juice over apples to prevent browning.

4Place overlapping slices of the apples in four rows down the tart; 8 to 9 slices per slice should do it. To keep things pretty, it's best not to use the smaller slices from the ends of the apples). Scatter sugar over apples and dot with butter.
To Finish

1Bake for 40 to 50 minutes, until the crust is browned and the edges of the apples begin to brown. Rotate once during baking. Don't worry if juices from the apples run out onto the pan and brown. The tart will still be okay.

2When the tart is done, use a large spatula to loosen then transfer to a cutting board or platter. Warm the jam on the stove or using a microwave. Lightly brush warmed jam over the apples. Scatter almonds on top.
Adam and Joanne's Tips
Make the crust by hand: Take a look at our pie crust recipe and article. There, you will find our tips and a video showing how we make it using a food processor as well as how we make it by hand.
Instead of glazing the tart with jam, try adding a drizzle of caramel sauce or dust with powdered sugar.
To toast almonds, add to a dry pan over medium-low heat. Shake the pan constantly to prevent burning. The nuts are toasted when they're lightly browned and smell nutty.
How to make an apple tart using puff pastry: Unfold a sheet of puff pastry onto a floured surface and roll out into a 13-by-9-inch rectangle. Transfer to the baking sheet. Score 1/2 inch in from the edge, all the way around, using a paring knife. Using a fork, prick the crust every 1/2-inch to prevent air pockets from forming while it bakes. Continue with adding apples to the crust as shared in recipe above.
Nutrition Facts: The nutrition facts provided below are estimates. We have used the USDA database to calculate approximate values.
If you make this recipe, snap a photo and hashtag it #inspiredtaste — We love to see your creations on Instagram and Facebook! Find us: @inspiredtaste
Nutrition Per Serving
Serving Size
1 of 6 slices
/
Calories
359
/
Total Fat
21g
/
Saturated Fat
12.1g
/
Cholesterol
50.9mg
/
Sodium
200.3mg
/
Carbohydrate
41.2g
/
Dietary Fiber
2.6g
/
Total Sugars
17.2g
/
Protein
3.7g