Extra easy blondies recipe packed with chocolate chips or any mix-in you love! These no-fail blondies, made quickly with one bowl, are gooey and fudgy in the middle and taste like rich, buttery caramel.
Watch the video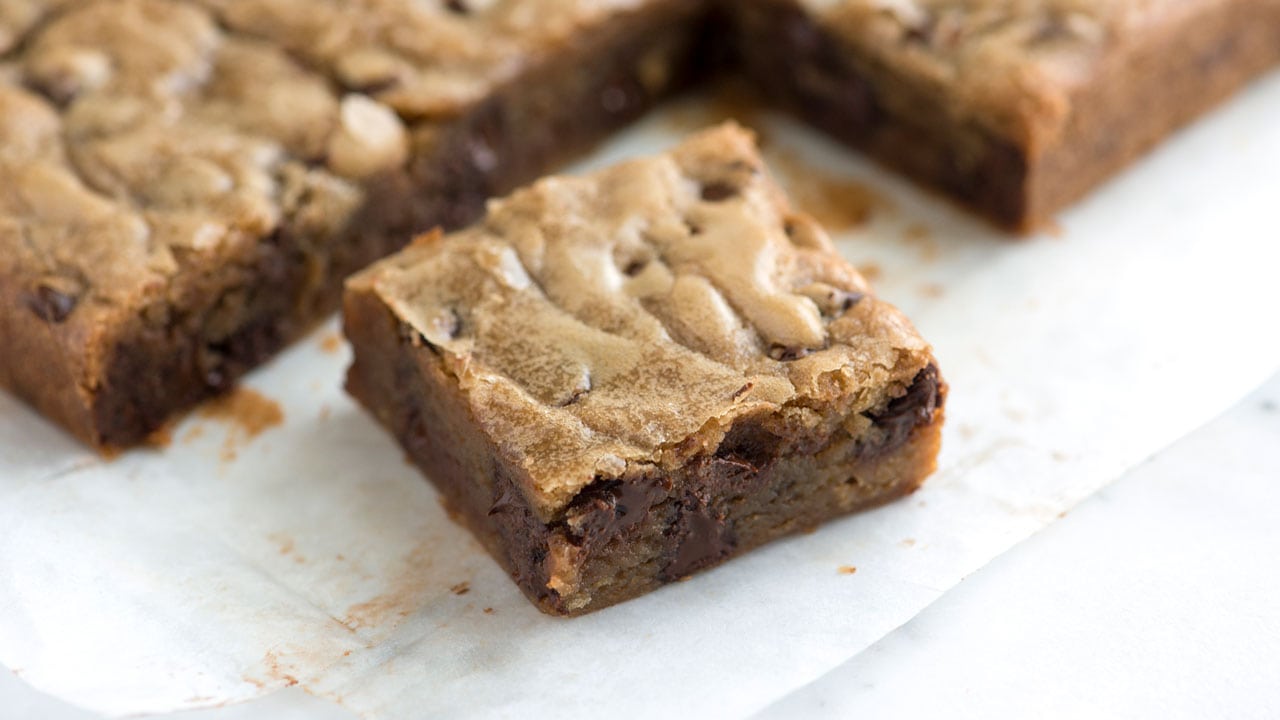 ⭐️ Try our easy, no-fuss brownies recipe made with cocoa powder, eggs, and brown sugar.
3 Reasons we love this blondies recipe!
Our easy recipe guarantees blondies that taste like deep, rich buttery caramel.
The blondies are perfectly fudgy and soft on the inside with a beautiful paper-thin crinkly top.
All the magic happens in one bowl, meaning fewer dishes to clean up.
We've fallen in love with blondies, especially when using this recipe. It's easy and practically no-fail.
What is a blondie?
Blondies are bar cookies, similar to brownies, but made with a rich vanilla batter instead of chocolate or cocoa powder. They call for brown sugar and vanilla, which gives them a lighter flavor and a more golden color. Blondies are adaptable to your favorite ingredients. Add chocolate chips, nuts, or dried fruits to the batter to make it your own.
Key ingredients for blondies
Melted butter makes these rich and delicious. For an extra toasty flavor, brown the butter like in our video. You can also see our tutorial on brown butter for some additional guidance.
Brown sugar makes the blondies taste like sweet caramel. I love using dark brown sugar when making these for even more flavor.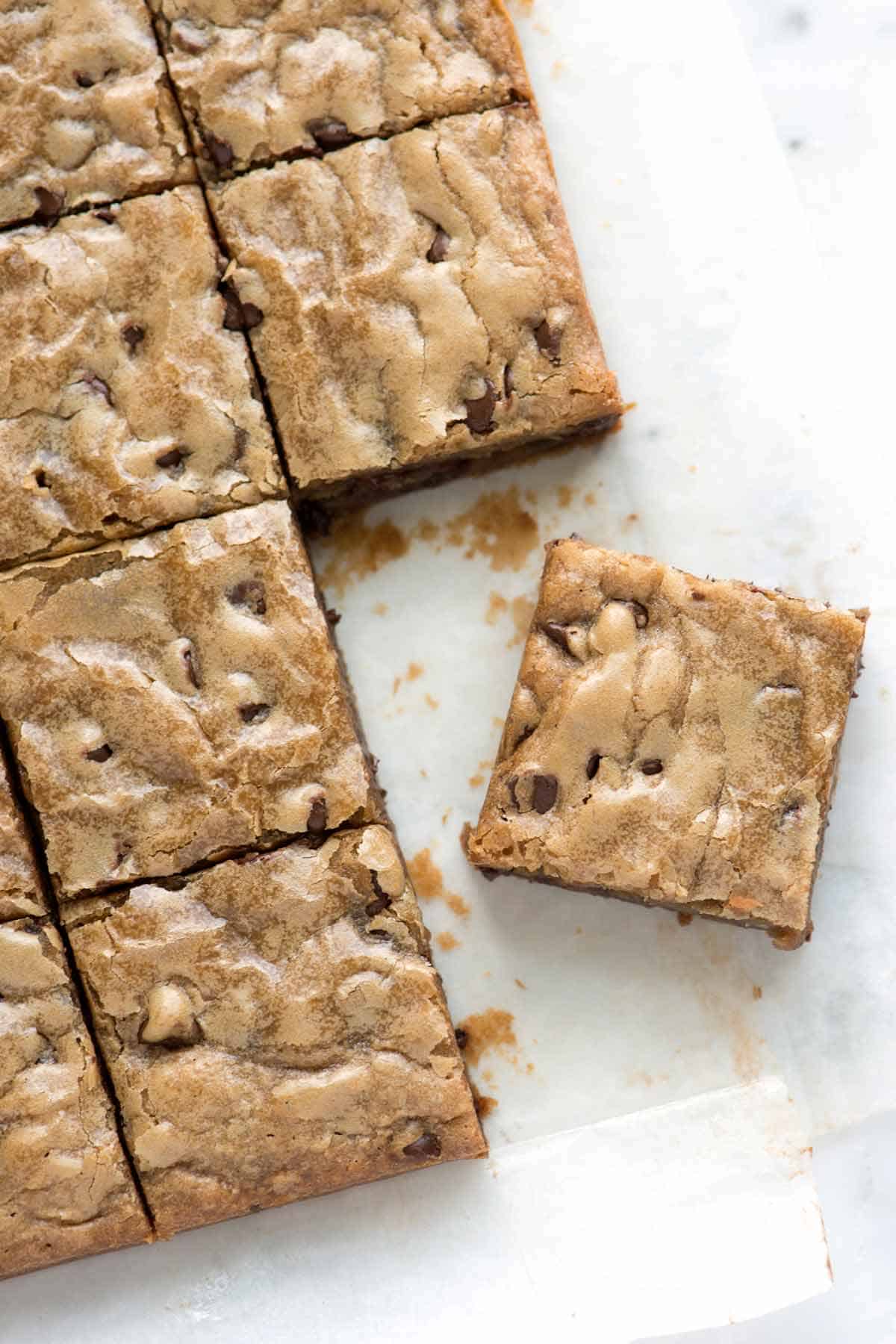 Egg provides structure and makes our blondies fudgy in the middle. Use a room-temperature egg (or close to it) for the best results. It mixes into the batter much better. To quickly warm up your egg, place it into a bowl of lukewarm water for 5 minutes before adding to the batter.
Vanilla extract and salt are essential in making the blondies taste amazing. We also add almond extract in our video, which adds a hint of almond flavor to the batter. If you love almonds or the flavor of almond desserts (like an almond croissant), try it!
All-purpose flour provides more structure, although we don't use much of it. Similar to when we make our favorite brownies, we only add a little flour to the batter. Using more flour results in a cakey, drier texture.
How to make blondies in 3 easy steps
Stir the brown sugar with warm melted butter or warm browned butter
Whisk in an egg, vanilla extract, and salt. Then fold in the flour and chocolate chips.
Bake until crinkly on top, but still fudgy in the middle.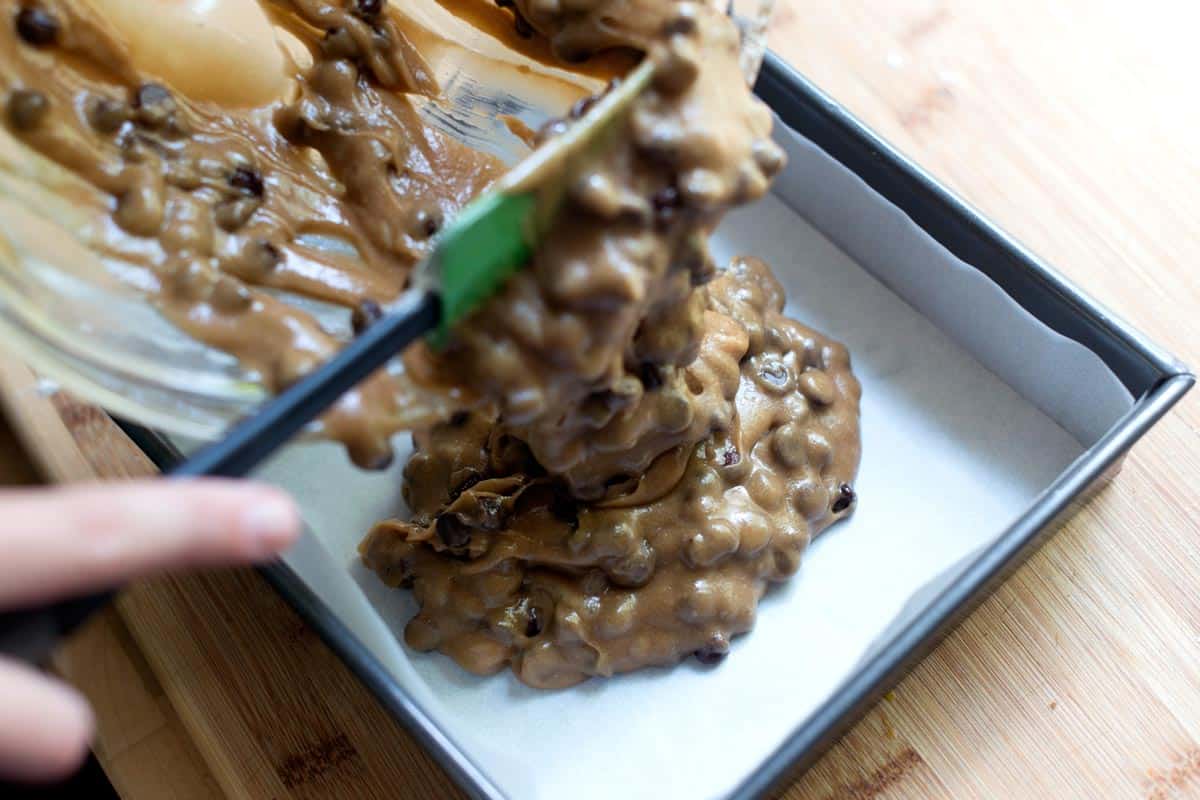 ⭐️ For another bar cookie recipe, try these bar cookies with peanut butter cups or take a look at our easy chocolate chip cookies made with melted butter.
What temperature to bake blondies?
We bake blondies in a 350° F oven for 20 to 30 minutes. You want to bake blondies until the edges look dry and the middle looks shiny and slightly underbaked. I typically find myself taking ours out around 23 minutes.
How to know when blondies are done
Remove the blondies from the oven when the edges look dry and set, but the center still looks slightly soft and underdone. If you have a toothpick, when you push it into the center, it should feel soft, but when you remove the toothpick, it should come out relatively clean.
Cool the blondies in the baking pan set on the counter before cutting them. This allows some carryover cooking and helps the middle set. We use the same tips when making our popular fudgy brownies recipe!
If your blondies are raw in the middle, it's important to consider the baking temperature and the type of pan you're using. We recommend using an 8×8-inch metal square pan (ours is from USA Pans), as it provides consistent heat distribution and baking results. Glass and ceramic pans are okay, but they may require a longer baking time due to their different heat transfer properties.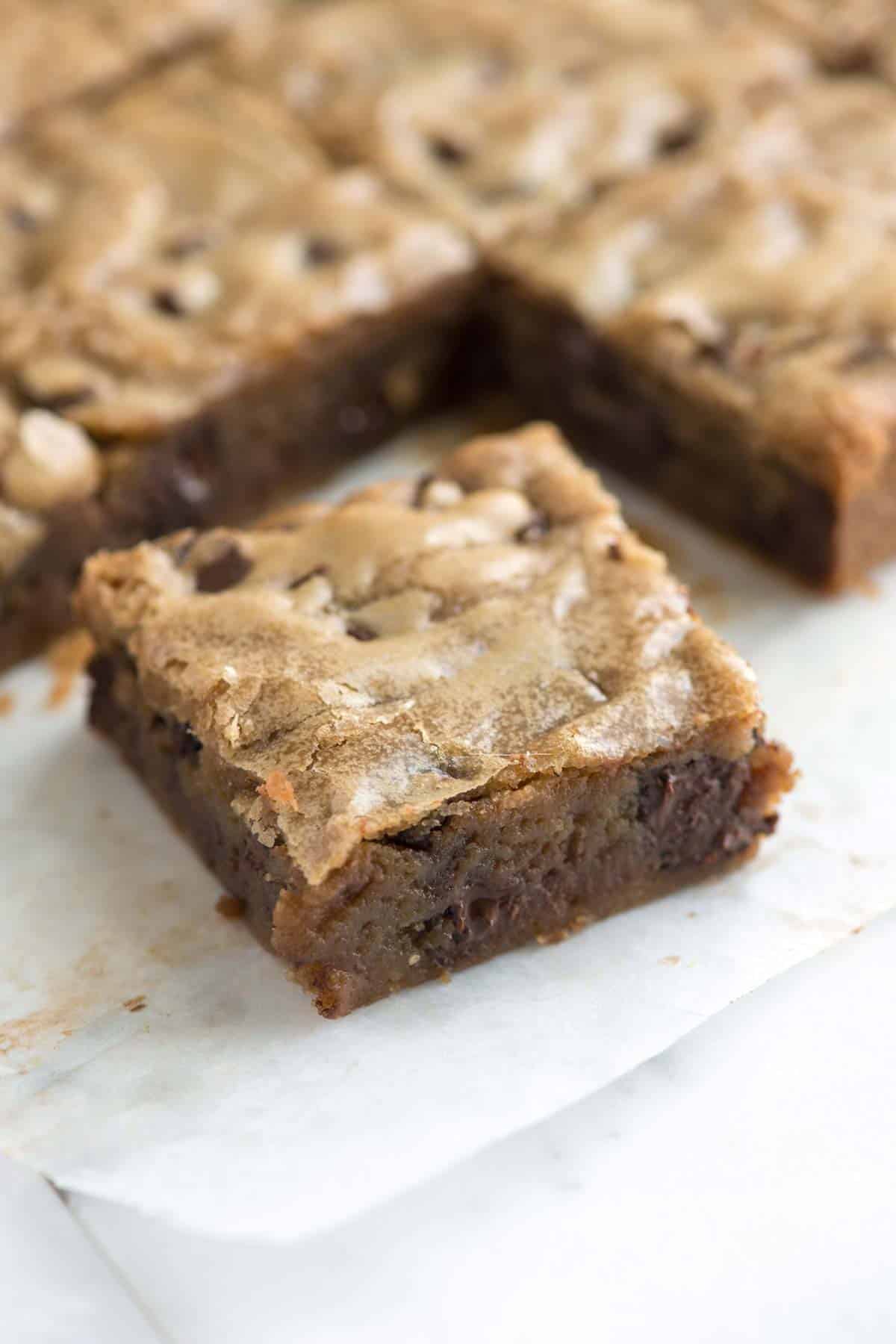 Why are my blondies thin?
These blondies are intended to be on the thinner side. When using an 8-inch by 8-inch square pan and 1 cup of chocolate chips, ours baked blondies are just over 1/2-inch thick. We love them this way.
How do I make sure my blondies are gooey in the middle?
For gooey blondies, use a recipe with a small amount of flour (like ours), and don't over bake your blondies! The center should still be a little soft when you take them out of the oven. They will continue to set as they cool.
Can I use different add-ins in my blondies?
Yes, substitute your favorite add-ins to make this blondie recipe your own. We make chocolate chip blondies in our video, but you can easily swap in your favorite nuts, dried fruit, or other mix-ins.
Do you need baking powder or baking soda in blondies?
For our blondies, we intentionally omit baking powder and baking soda to achieve a dense, fudgy, and chewy texture. However, if you prefer blondies with a slight rise, adding 1/2 teaspoon of baking powder will yield 1-inch-thick blondies with a uniform texture. Using baking soda is not recommended for this recipe, as it can cause the blondies to rise unevenly, resulting in tall, chewy edges and a thinner, fudgier center.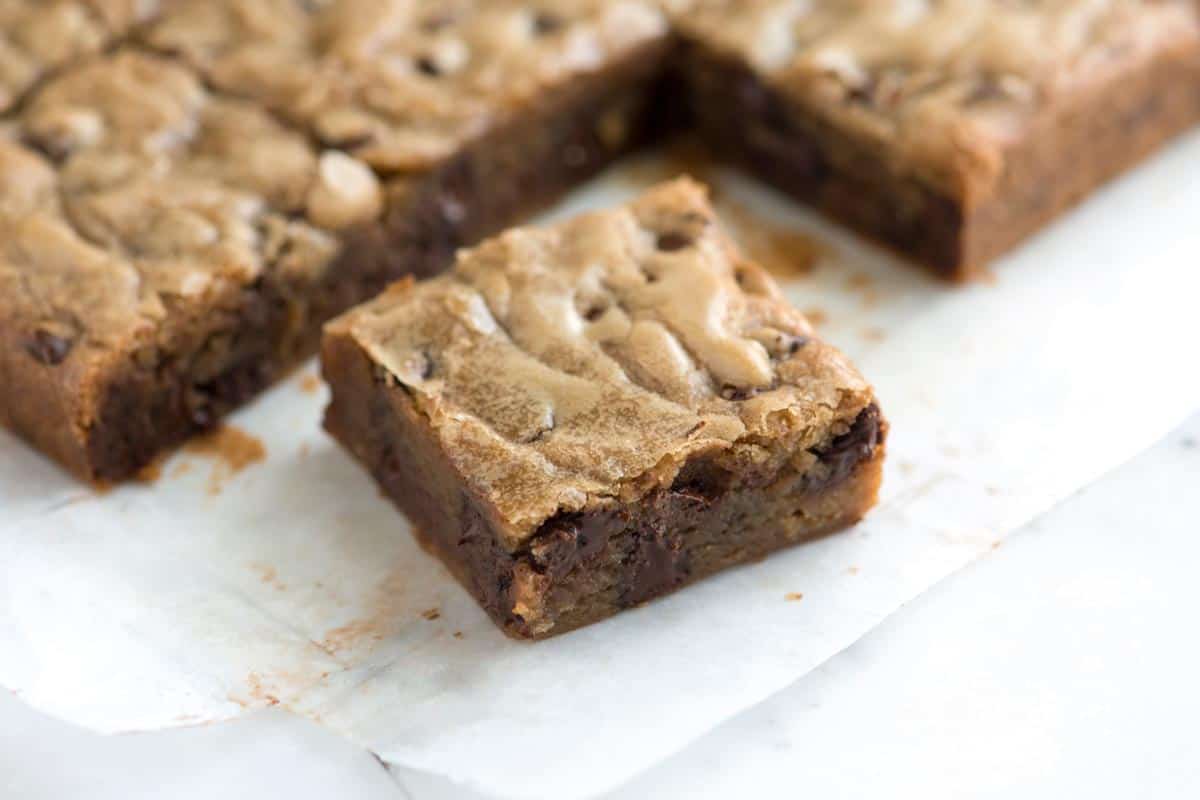 Easy Blondies
We love this recipe for blondies. It makes perfectly dense, rich, and fudgy bars with a paper-thin, crinkly top. If you have it, use dark brown sugar. In our video, we use browned butter. Brown butter is not essential but adds a lovely, toasty caramel flavor. If you do not want to use brown butter, use melted butter.
Watch Us Make the Recipe
You Will Need
8 tablespoons (115 grams or 1 stick) unsalted butter
1 cup (190 grams) lightly packed dark or light brown sugar
1 large egg at room temperature
1 teaspoon vanilla extract
1/4 teaspoon almond extract, optional
1/4 rounded teaspoon fine sea salt, decrease a little if sensitive to salt
1 cup (130 grams) all-purpose flour
1 cup (170 grams) chocolate chips
1/2 cup optional extras like toasted nuts, dried fruit, or shredded coconut
Optional: 1/2 teaspoon baking powder, see tips below
Directions
1Heat oven to 350° Fahrenheit (176° C). Lightly butter and line an 8-inch by 8-inch metal baking pan with aluminum foil or parchment paper. There is just enough batter to cover the bottom of an 8×8 inch pan.

2Melt the butter or, for a toasted flavor, make brown butter (here is our recipe for brown butter).

3Whisk the warm butter into the brown sugar until blended. The mixture will look greasy and gritty.

4When the sugar and butter mixture is warm, not hot, add the egg, vanilla, almond extract (optional), and salt. Stir until smooth and ever so slightly lighter in color.

5Add the flour in two additions, gently folding it into the batter after each addition until you no longer see streaks of flour.

6Stir in the chocolate chips and any additional add-ins like nuts or dried fruit.

7Spread the batter evenly in the prepared pan. It just covers the bottom of the pan. The batter is very thick, so gently pressing the batter into the corners helps.

8Bake the blondies until the edges look dry and the middle looks shiny and slightly underbaked; 20 to 30 minutes. We consistently achieve excellent results when baking these blondies in a 350° F oven for 23 minutes. Ovens vary, and bake time can be affected by the pan you have used. We remove the pan when the top looks shiny and light golden brown. The batter might still look slightly wet if there are cracks, but the middle should not wiggle like jello.

9Cool to room temperature before removing from the pan — this step is essential and helps the blondies set.

10Cut into 16 squares. Don't be surprised if the blondies have not risen much. These are intended to be dense, rich, and a little fudgy.

11Store covered in an airtight container for up to 3 days at room temperature or up to a week in the fridge. Freeze for up to 3 months.
Adam and Joanne's Tips
Baking powder: We leave it out. These are intended to be dense and a little fudgy. If you are looking for a taller, more risen blondie, whisk 1/2 teaspoon baking powder with the flour before adding to the batter, and use at least 1 cup of add-ins (like chocolate chips).
Can I double the recipe? Yes, double all ingredients in the recipe and bake in a 9-inch by 13-inch baking pan. They will be slightly thicker. Bake time will be similar, but keep an eye on them and use our visual cues in the recipe as a guide.
The recipe is slightly adapted and inspired by Mark Bittman's cookbook, "How to Cook Everything" via Smitten Kitchen.
The nutrition facts provided below are estimates. We have used the USDA database to calculate approximate values. The calculations include 1 cup of chocolate chips.
If you make this recipe, snap a photo and hashtag it #inspiredtaste — We love to see your creations on Instagram and Facebook! Find us: @inspiredtaste
Nutrition Per Serving
Calories
168
/
Protein
2 g
/
Carbohydrate
22 g
/
Dietary Fiber
1 g
/
Total Sugars
15 g
/
Total Fat
9 g
/
Saturated Fat
6 g
/
Cholesterol
27 mg