We love this easy, no-fuss brownies recipe made with cocoa powder, eggs, and brown sugar. These homemade brownies are fudgy and gooey in the middle and chewy around the edges. We love them! Jump to the No Fuss Brownies Recipe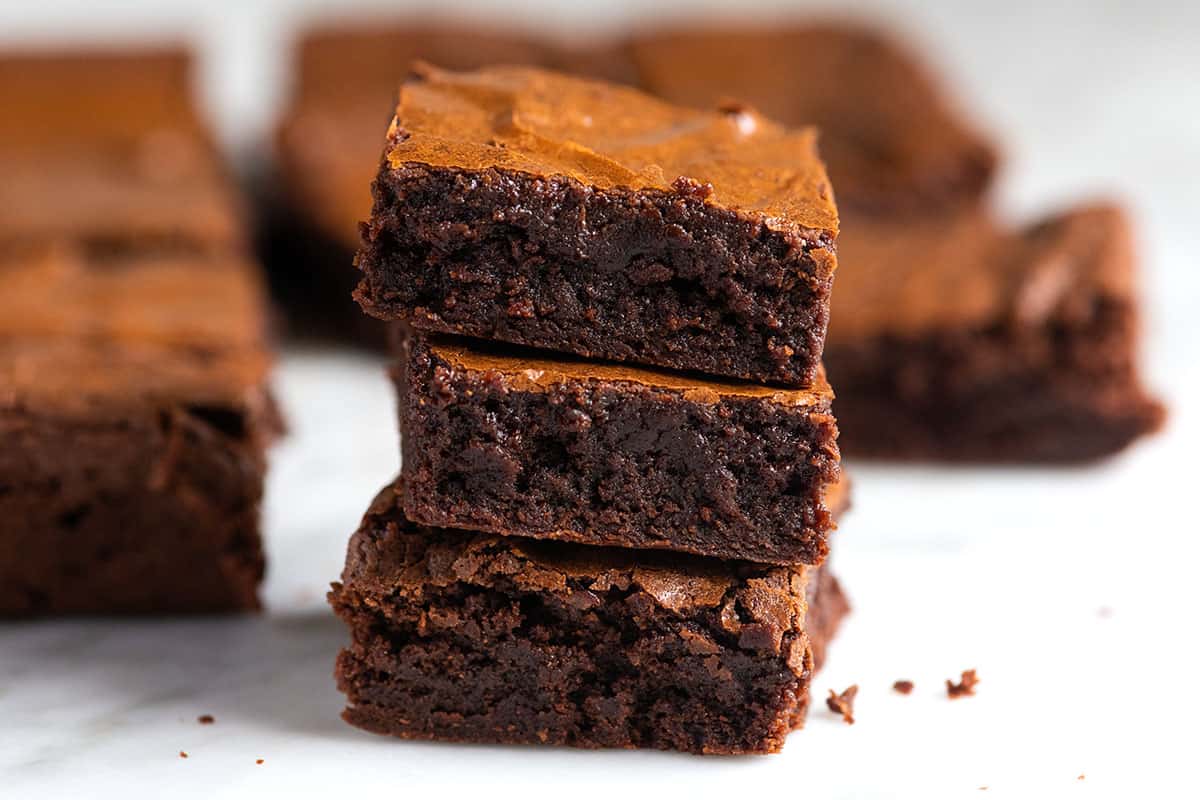 For years, we've been making our favorite recipe for fudgy brownies. It's been our go-to, and to be honest, I never really thought that I would ever need another brownie recipe. That was until we started experimenting with this simplified brownie recipe.
The other recipe for brownies on Inspired Taste is rich, fudgy, and leans towards dark or bittersweet chocolate compared to what you'd find in most box mixes. We don't mind this, but a few of our readers did. So, after hearing requests for brownies that are less bittersweet, thicker, and have more chewy edges, we went into the kitchen and came out with this simplified recipe.
This recipe makes fudgy, chocolaty brownies with chewy edges and crinkly tops. They are near perfect and extra easy to make.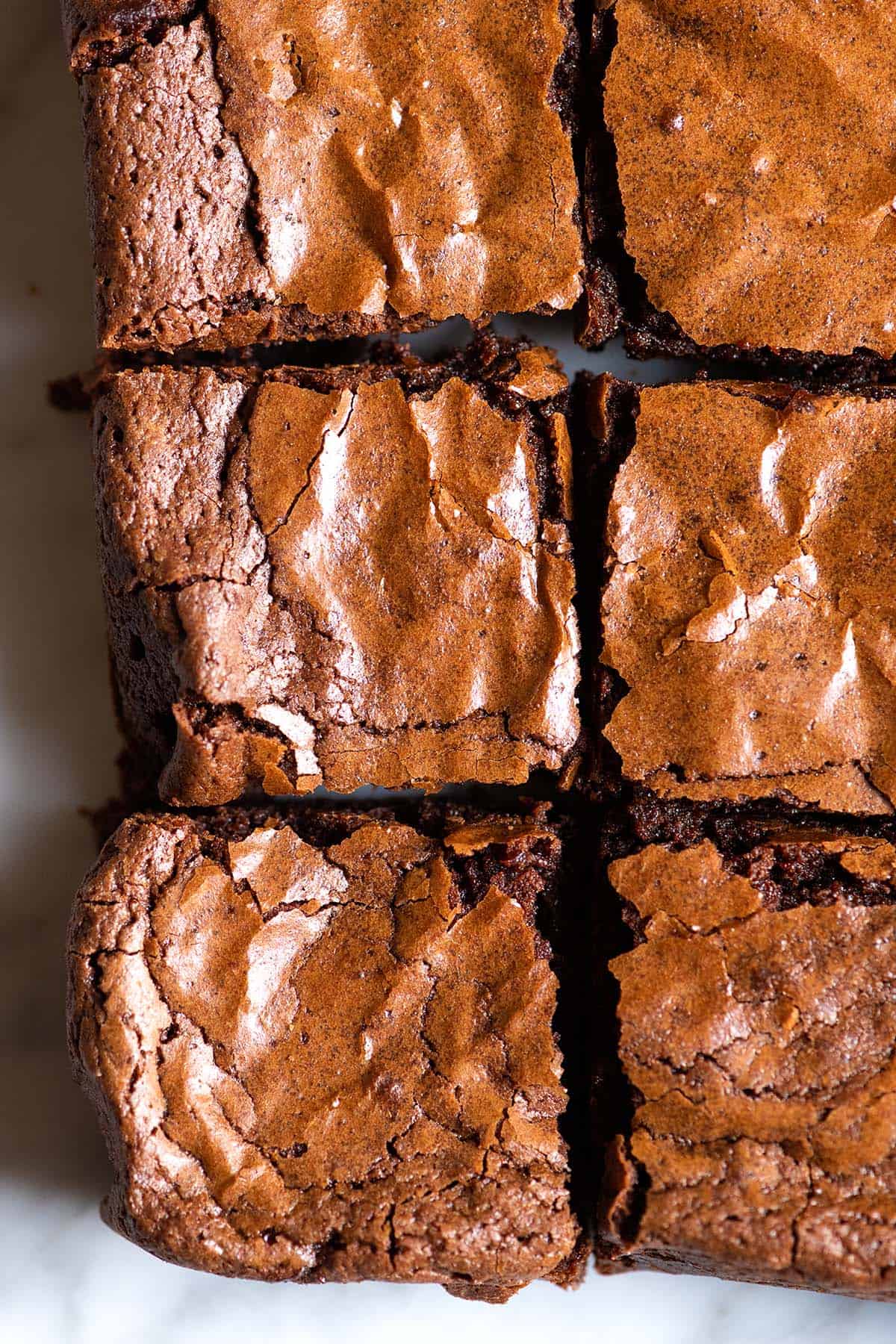 Brownie Recipe Ingredients
The ingredients list for these brownies is not all that different from other brownie recipes, but a few key ingredients make these the best. The complete ingredient list is in the recipe below. Here is an explanation of the key ingredients.
Unsweetened cocoa powder is key to making fudgy, perfectly chocolatey brownies. We love the flavor of natural cocoa powder for this recipe since it reminds us of our childhood desserts and the flavors of boxed mixes. Dutch cocoa powder is also an option, but it will slightly change the taste and texture (I find it mellow).
Unsalted butter and oil might seem unusual, but I swear by it after using this recipe a few times. The butter adds flavor, and the oil keeps the brownies gooey and moist in the centers. Try a light and fruity olive oil for a little extra flavor if you have it on hand. Neutral oil like vegetable oil works, too, if that is all you have.
Granulated sugar and brown sugar work together in this recipe. The granulated sugar blends into the batter well, while the brown sugar keeps the middle moist and the edges chewy. Using just one or the other will change the texture of the brownies. We recommend using both in this recipe.
Baking powder is our secret for a bit of lift. We only need 1/4 teaspoon, which seems like it would be pointless, but it's perfect.
Whole eggs provide the brownies with structure and lift in the center. In addition, one egg yolk adds extra fat, making the edges extra chewy. We use the same trick when making these chocolate chip cookies.
How We Make Brownies with the Least Amount of Dishes
From our testing, we have found that the best recipes for brownies make sure that the sugar is well blended into the fat (usually butter or oil), which makes the brownies fudgy and gooey in the middle and gives you that beautiful crackly top.
Some recipes beat butter, sugar, and eggs together until they are so well blended that the mixture looks like ribbons as it falls away from the beaters. This method takes time and requires room temperature butter. That's fine, but we wanted a quicker solution.
So instead of beating the sugar and butter into submission, we stir the sugar into warm melted butter and oil. Then when we add the eggs, we make sure to beat them into the batter. Our quick, easy method can all happen in a saucepan! You don't even need a mixing bowl.
Here's our no-fuss method for making brownies:
Melt the butter with oil in a wide saucepan over medium-low heat.
Remove the pan from the heat and whisk in granulated sugar, brown sugar, salt, and vanilla extract until blended.
Stir in the cocoa powder, and then set the pan aside to cool for five minutes.
Add the eggs and egg yolk and stir vigorously to blend.
Stir in the flour mixture until you no longer see streaks of flour in the batter. Unlike our other brownies recipe, there is no need to beat the mixture.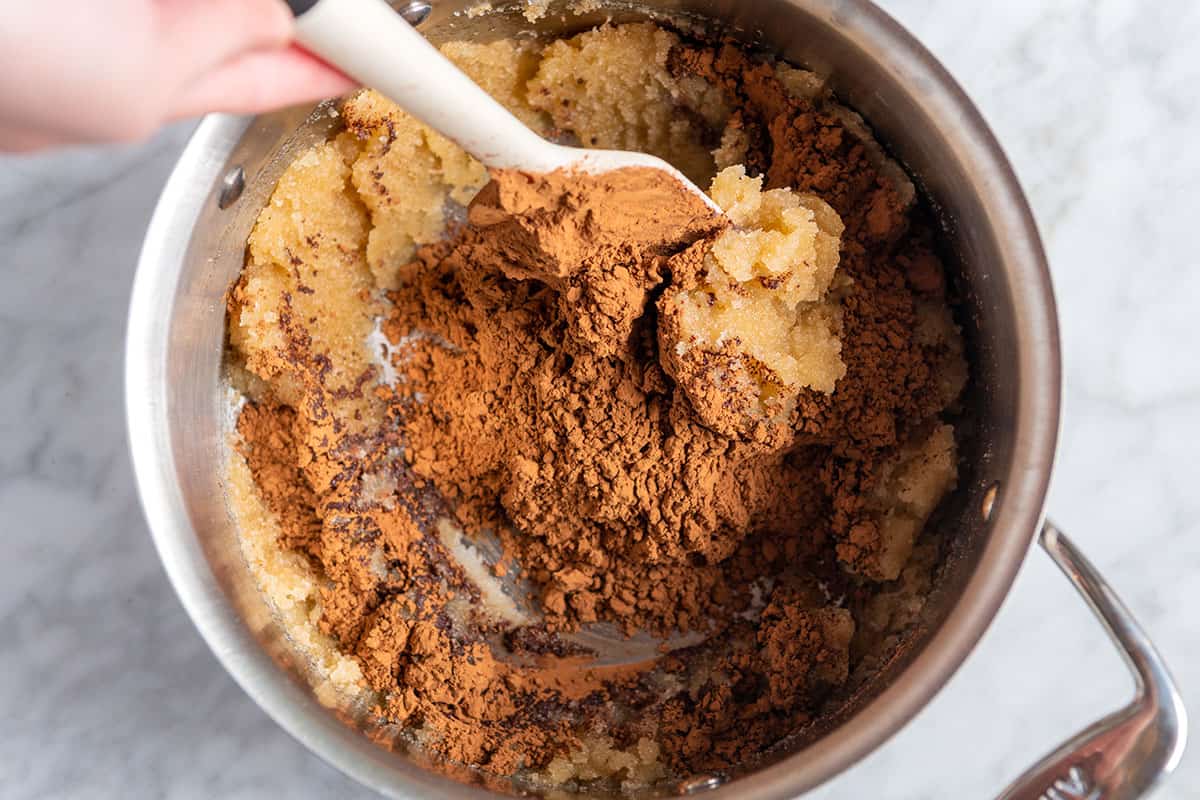 One bonus to our method is that our cocoa powder has a chance to bloom. Blooming cocoa powder is a trick to bring out as much chocolate flavor from the cocoa as possible. It's mixing cocoa powder with a hot liquid and letting it sit for a minute or two. This technique unleashes all of the cocoa powder's chocolatey potential. In our case, the hot liquid is the warm butter and sugar mixture.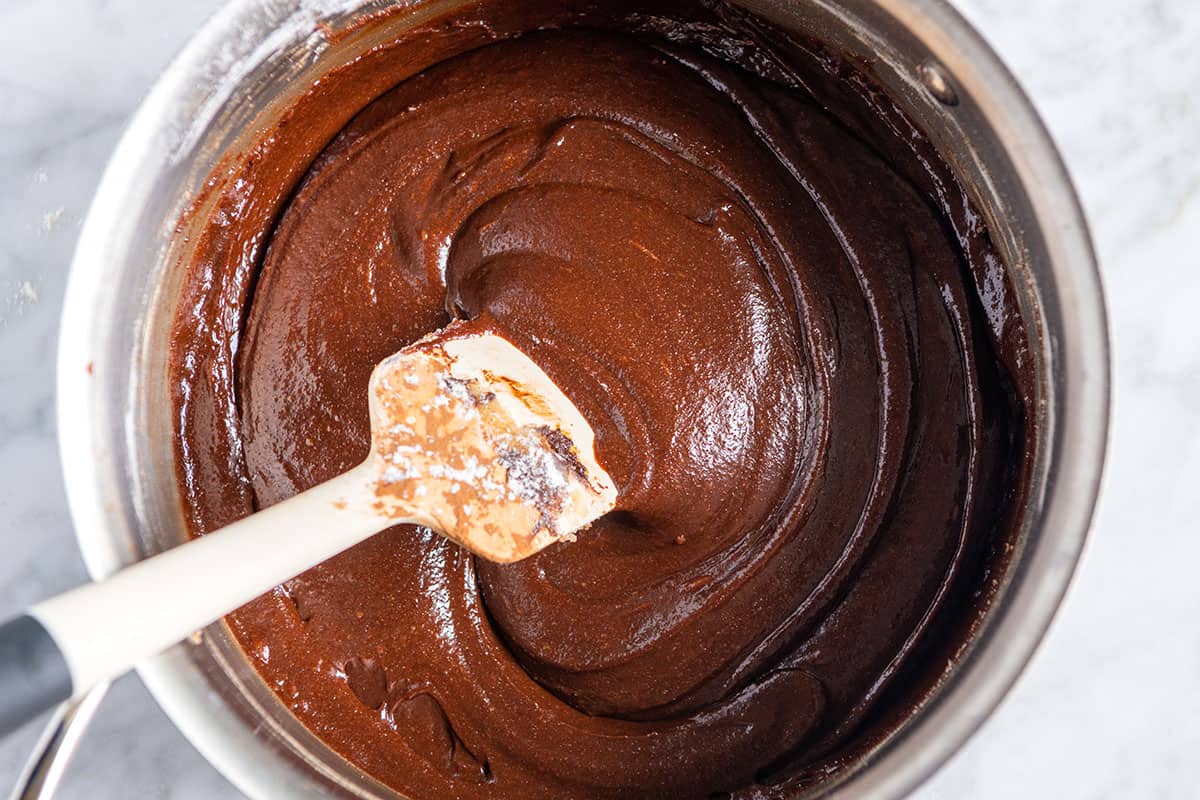 Our Brownie Baking Tips
We have found that the best temperature for baking these brownies is 325° Fahrenheit. At this temperature, they will take between 35 and 45 minutes. I realize this is a wide range, but ovens vary. The pan you use can also affect the bake time. Glass and ceramic dishes, for example, often require a longer bake time when compared to metal pans. We use an 8-inch by 8-inch metal baking dish from USA Pans for reference.
How do you tell when brownies are finished baking? Pull brownies out of the oven when:
The edges look dry, and the middle looks slightly underbaked.
A toothpick inserted into the center comes out with a few crumbs attached.
An internal thermometer inserted into the middle reads between 170° F and 210° F (brownies will be moist and fudgy when the temperature is closer to 170° F and cakey when closer to 210° F).
If you are not sure, it is better to pull brownies out early than to leave them in the oven to overbake.
Once your brownies are out of the oven, keep them in the pan and let them cool completely. Like when making blondies, the brownies will continue to cook as they cool, which helps the middle set properly.
Perfect Brownies
We love this easy, no-fuss brownies recipe made with cocoa powder, eggs, and brown sugar. These homemade brownies are fudgy and gooey in the middle and chewy around the edges. We love them! The batter is made right in the saucepan used to melt the butter. If you do not have a large enough pan, melt the butter and pour it into a mixing bowl to continue with the next step.
You Will Need
3/4 cup (98 grams) all-purpose flour
1/4 teaspoon baking powder
6 tablespoons (85 grams) unsalted butter
4 tablespoons light olive oil or canola oil
1 ⅓ cups (265 grams) granulated sugar
1/4 cup (47 grams) lightly packed brown sugar
3/4 teaspoon fine sea salt, reduce to 1/2 teaspoon if sensitive to salt
1 ½ teaspoons vanilla extract
2/3 cup (65 grams) unsweetened cocoa powder
2 large eggs
1 egg yolk
1/2 cup chocolate chips, optional
Directions
1Position an oven rack in the middle of the oven and heat to 325 degrees Fahrenheit. Line the bottom and sides of an 8-inch x 8-inch square baking pan with parchment paper or aluminum foil, leaving an overhang on two opposite sides to help remove the baked brownies from the pan.

2Whisk or sift together the flour and baking powder, and then set aside.

3Add the oil and butter to a medium saucepan. Place over medium-low heat until the butter melts, then turn off the heat. We recommend a wide, medium saucepan for making the brownie batter right in the pan. If you do not have a saucepan, melt the butter into the oil using another pan. When melted, pour the butter and oil into a mixing bowl and continue with the steps below.

4While the butter and oil are still warm, stir in the sugars, salt, and vanilla extract until blended.

5Stir in the cocoa powder, and then set aside to cool for five minutes so that the mixture is warm, not hot. The mix will be gritty.

6Add the eggs and egg yolk, and then stir vigorously to blend. The mixture turns from a gritty paste to a shiny pudding-like batter in this step.

7When the batter looks thick and well blended, add the flour and baking powder. If you are adding chocolate chips, add them now. Stir until you no longer see streaks of flour in the batter.

8Spread the brownie batter evenly in the prepared pan.

9Bake the brownies until the edges look dry and the middle looks slightly underbaked; 35 to 45 minutes. You can test doneness by inserting a toothpick into the center. The brownies are finished baking if it comes out with a few moist crumbs attached.

10Leave the brownies in the pan to cool completely. As they cool, the middle will set. Cut into 16 squares.
Adam and Joanne's Tips
Can I double the recipe? Yes, double all ingredients in the recipe and bake in a 9-inch by 13-inch baking pan. They will be slightly thicker. Bake time will be similar, but keep an eye on them and use our visual cues in the recipe as a guide.
Baking pan: We love our USA Pan 8×8-inch metal pan for this recipe. Glass and ceramic pans work, but keep in mind that they may affect bake time. Check on doneness 5 minutes early and every 5 minutes after that.
Nutrition facts: The nutrition facts provided below are estimates. We have used the USDA database to calculate approximate values.
If you make this recipe, snap a photo and hashtag it #inspiredtaste — We love to see your creations on Instagram and Facebook! Find us: @inspiredtaste
Nutrition Per Serving
Serving Size
1 brownie (16 total)
/
Calories
123
/
Total Fat
9.2g
/
Saturated Fat
3.8g
/
Cholesterol
46.2mg
/
Sodium
120.9mg
/
Carbohydrate
26.4g
/
Fiber
1.2g
/
Total Sugars
19.8g
/
Protein
2.3g