How to make our favorite homemade bruschetta with tomatoes and basil. Plus, five easy tips for how to make it best. Jump to the Tomato Bruschetta Recipe now or watch the quick video below to see how we make it.
We like things to be simple — wholesome ingredients, fresh flavors, and few ingredients. So when we find something we love, we make it often. Did you know most people have five to ten recipes they rotate throughout the year? We're no different, which is why we make this simple bruschetta recipe with tomato and fresh basil all the time — especially during the summer.
YOU MAY ALSO LIKE: Try one of our delicious, easy to make appetizers, such as Red Pepper Hummus, Lightly Roasted Tomatoes with Ricotta and Mint or our easy Asparagus Pesto Crostini recipe.
5 Tips for the Best Tomato Bruschetta
Sure bruschetta is simple, but did you know you can probably make it better? Here are five easy tips for making it best.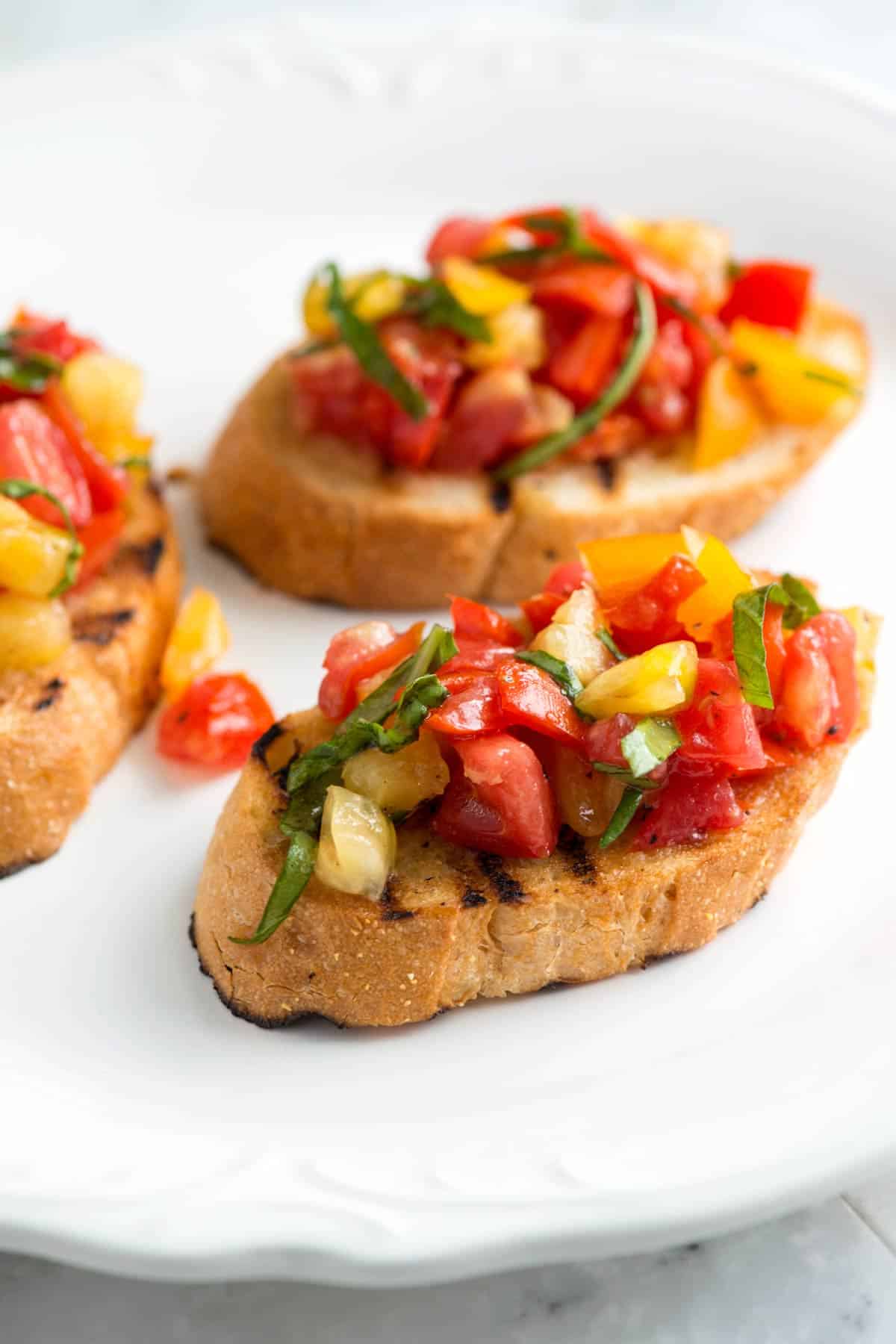 If You Can, Grill the Bread
To us, bruschetta just isn't right unless the bread has been grilled. You don't need to do this outside, although it's a great option. Since we make this so often, we'll reach for our indoor grill pan. It works beautifully and creates just enough smoke to add a little flavor to the bread itself. Grilling the bread is less about the grill marks and more about the smoky flavor you achieve.
Rub with Garlic Instead of Mincing
We're sticklers on this one. The moment the bread comes off the grill, give it a quick rub with a peeled garlic clove. The garlic practically melts into the warm bread. Not only is this the more authentic way to make bruschetta, it tastes much better than if you were to mince garlic and add it to the tomatoes. The amount you rub onto the bread is up to you — we keep it pretty light.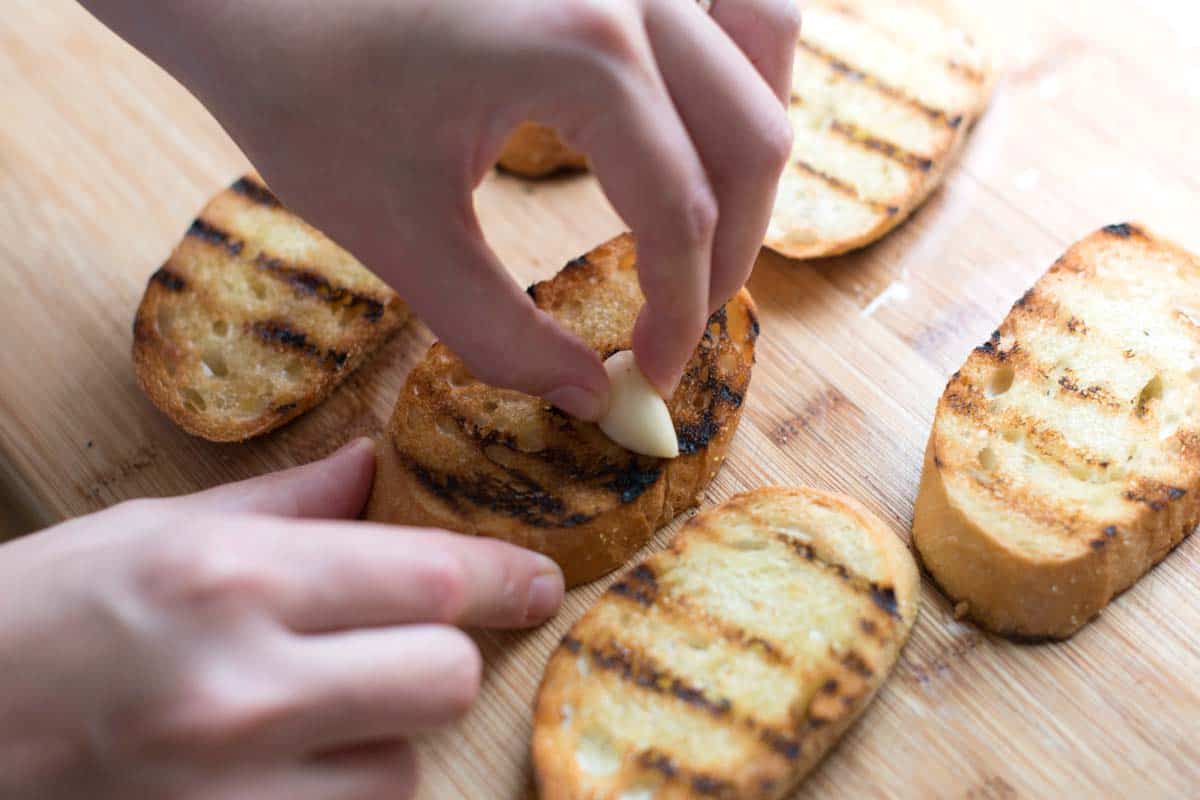 Use The Freshest, Sweetest Tomatoes You Can
This bruschetta recipe is extremely simple and only relies on a few flavors to make it amazing. Because of this, you really want to use the best ingredients you can find. During the summer, you're probably inundated with sweet, plump tomatoes. In other months though, you might need to look a little harder.
When we're in the mood for tomato bruschetta outside of summer, we do have one go-to — Look for Kumato tomatoes, we've found them to be pretty sweet and consistent all year round. They are darker, almost brown and usually come in a plastic-wrapped package. You might also get lucky with smaller, vine-ripened tomatoes.
Use Room Temperature Tomatoes
It's really important that you don't refrigerate the tomatoes you plan to use for bruschetta (or most things). Something happens after refrigerating tomatoes — they become less flavorful and less tomato-y. We just leave them out on the counter. They taste so much better this way.
Season and Walk Away
Seasoning tomatoes really takes them to the next level. Before doing anything else, we chop the tomatoes and season with salt and pepper. Not only that, but we leave them alone for about 10 minutes. As the tomatoes sit, they become extra flavorful. They also release some of their juices — this is perfect for when we're topping the bread later.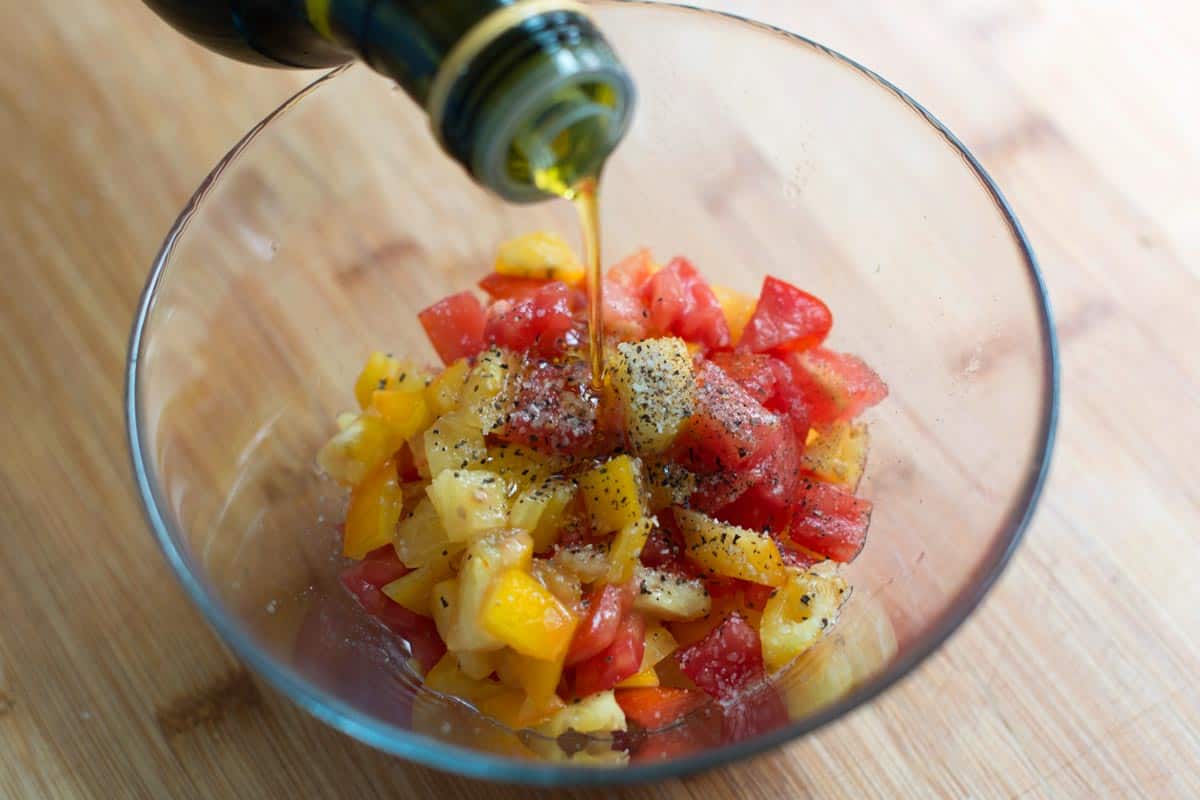 By the way, 10 minutes is the perfect amount of time for grilling bread. Score for multi-tasking. After that, add a little olive oil to the tomatoes and if you have it on hand, some fresh basil. (Parsley or even chives would work, as well).
Spoon the tomatoes onto each bread slice and make sure you spoon a little leftover tomato juice that seeped out while you were seasoning the tomatoes– that stuff is gold. Enjoy!
MAKE THIS: If you loved this recipe, you should take a look at our Baked Cheese Dip With Tomato And Basil. It's the perfect consistency to spread onto warm toast. You could dip crisp cool vegetables into it, too!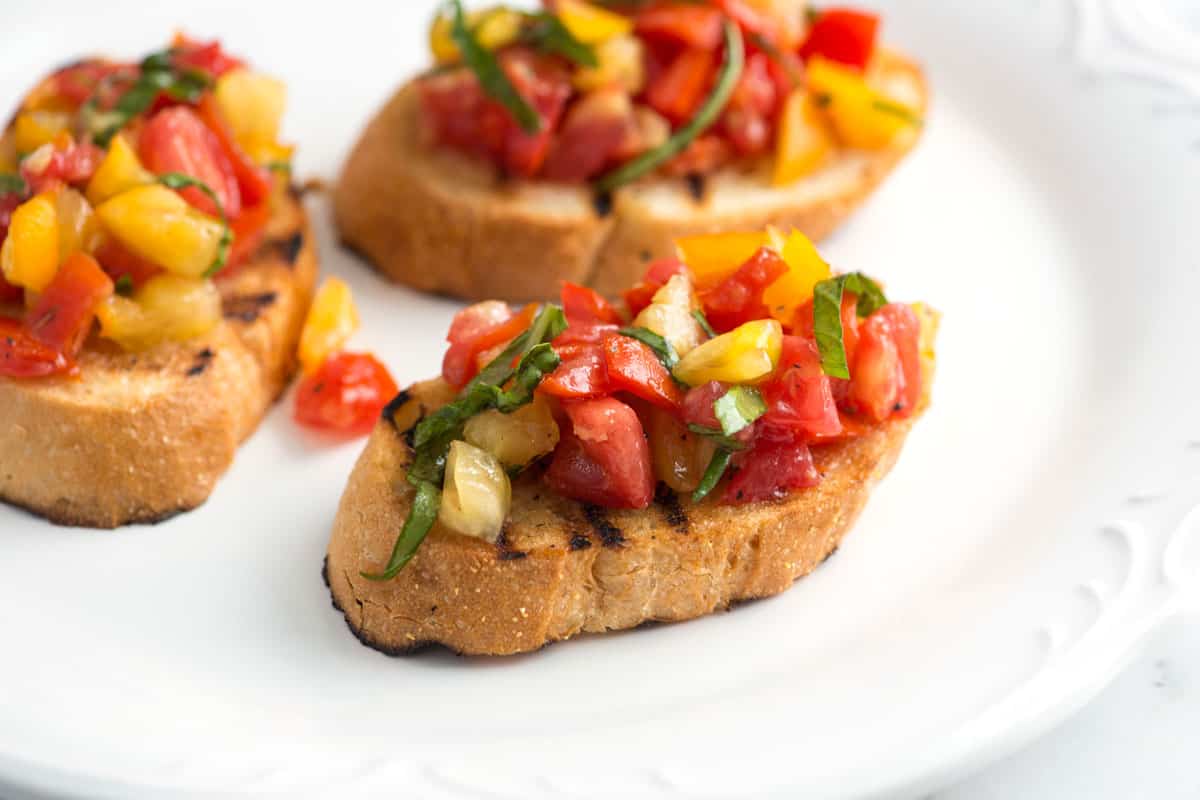 Recipe updated, originally posted August 2013. Since posting this in 2013, we have tweaked the recipe to be more clear and added a quick recipe video. – Adam and Joanne
Fresh Tomato Bruschetta Recipe
This simple bruschetta recipe with tomato and fresh basil is best when you use fresh, room temperature tomatoes. It's also important to set aside a little time to allow the tomatoes to sit with salt. As the tomatoes sit, they become extra flavorful. They also release some of their juices, which is perfect for spooning onto the bread later.
Makes 3 servings, 2 bruschetta each
You Will Need
1/2 pound ripe tomatoes, at room temperature (3 to 4 medium)
Salt and fresh ground black pepper, to taste
2 tablespoons extra virgin olive oil
6 basil leaves, thinly sliced
Six 1/2-inch thick slices Italian or French bread
2 cloves garlic, peeled and left whole
Directions
Halve tomatoes then remove and discard the majority of the seeds. Chop tomatoes into 1/4-inch chunks then add to a medium bowl with a generous pinch of salt, small pinch of black pepper, 1 tablespoon of the olive oil and the basil. Stir and let sit 10 minutes.

Meanwhile, heat a grill pan over medium heat or prepare an outdoor grill for medium heat. Drizzle bread slices with remaining tablespoon of oil and grill 2 to 3 minutes on each side until warmed though and grill marks appear.

Rub one side of the bread while still warm with garlic — two to three strokes per bread slice should do it.

Stir the tomatoes one more time, taste then adjust with more salt or pepper as needed. Spoon a generous amount onto each bread slice. Drizzle a little of the juice remaining at the bottom of the bowl over tomatoes and enjoy.
Adam and Joanne's Tips
Canned Tomatoes: If you do not have access to sweet, ripe tomatoes, use high quality canned whole tomatoes. Reserve the juice for another recipe and chop up the whole tomatoes for the bruschetta. We love San Marzano tomatoes and have also been very happy with canned Muir Glen tomatoes.
Nutrition facts: The nutrition facts provided below are estimates. We have used the USDA Supertracker recipe calculator to calculate approximate values.
If you make this recipe, snap a photo and hashtag it #inspiredtaste — We love to see your creations on Instagram and Facebook! Find us: @inspiredtaste
Nutrition Per Serving:
Calories
169
/
Protein
4 g
/
Carbohydrate
18 g
/
Dietary Fiber
2 g
/
Total Sugars
3 g
/
Total Fat
10 g
/
Saturated Fat
1 g
/
Cholesterol
0 mg