Perfectly juicy, tender grilled chicken is possible when you follow our simple recipe. With a few tricks, you can make the best grilled chicken at home! Our method works for all cuts of chicken, but it is especially helpful for grilled chicken breasts.
Watch the Video
Related: We love this whole roasted chicken.
How to Grill Chicken
Say goodbye to flavorless, dry chicken and hello to mouthwatering, succulent juicy chicken. It's easy to do at home.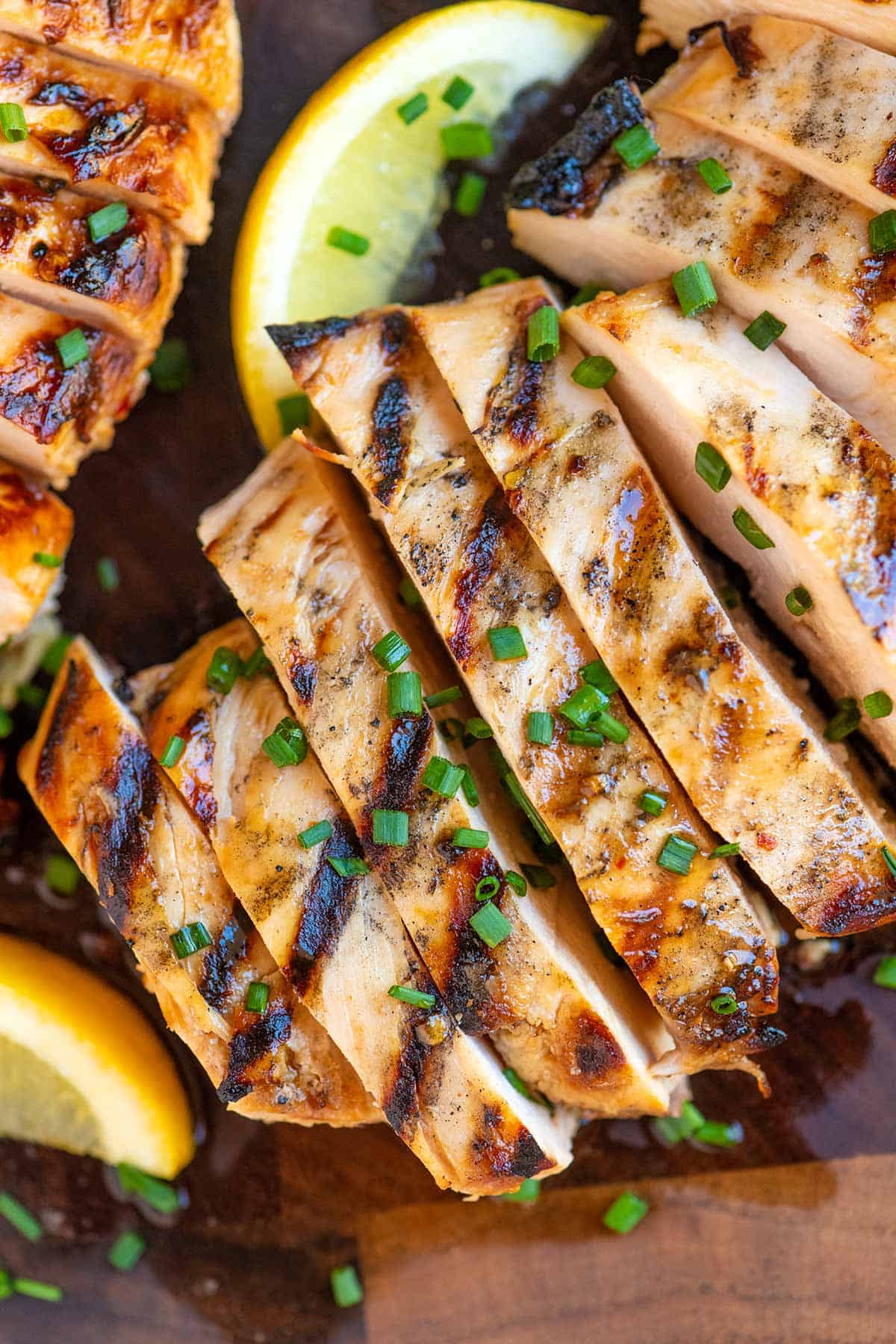 Here's what we consider to be the best way to grill chicken:
Pound the chicken into one thickness — This is especially relevant when cooking chicken breast. I'm sure you've noticed that chicken breasts are thicker on one end compared to the other. By using a mallet or rolling pin to pound the thicker end to a more similar thickness as the thinner end, you make sure that the chicken grills evenly. If you have bone-in breasts or thighs, you can skip this step.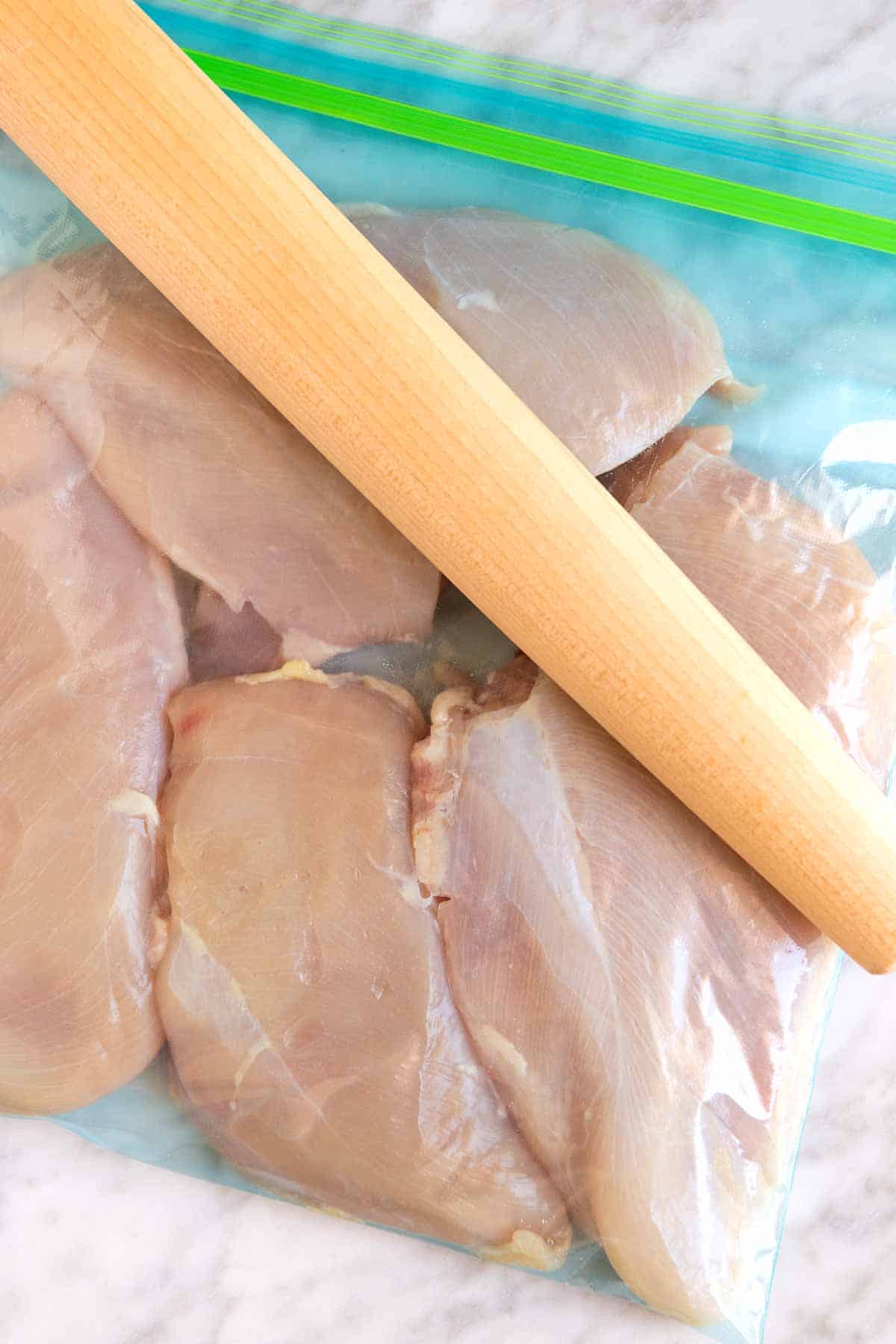 Marinate — You don't need a long marinating window for the best grilled chicken. Twenty minutes is long enough to do the trick. If you have longer, go for it. You can marinate chicken up to a day in advance.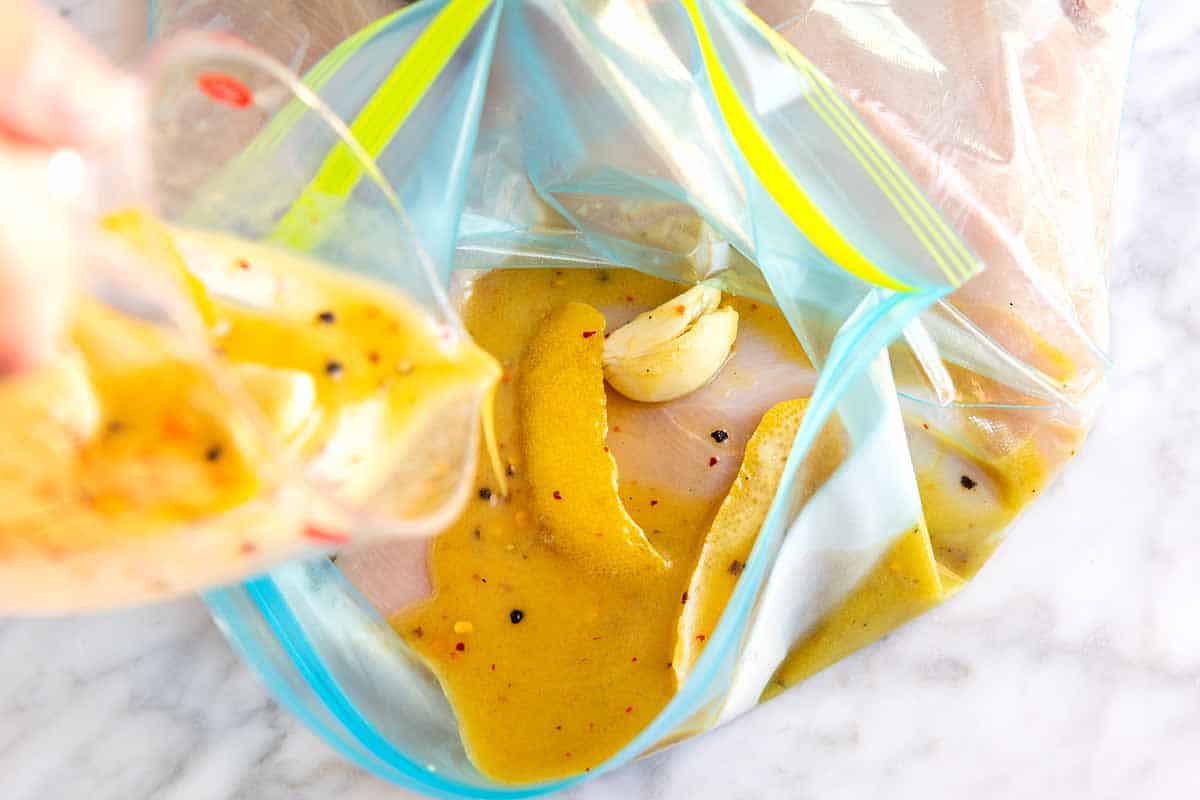 Use two grill zones — This is a great tip for grilling almost anything! Crank the heat up on one zone of your grill and leave another zone low. The hotter zone is perfect for getting a nice sear and those pretty grill marks, while the cooler zone is perfect for finishing the cooking so that the chicken stays nice and juicy.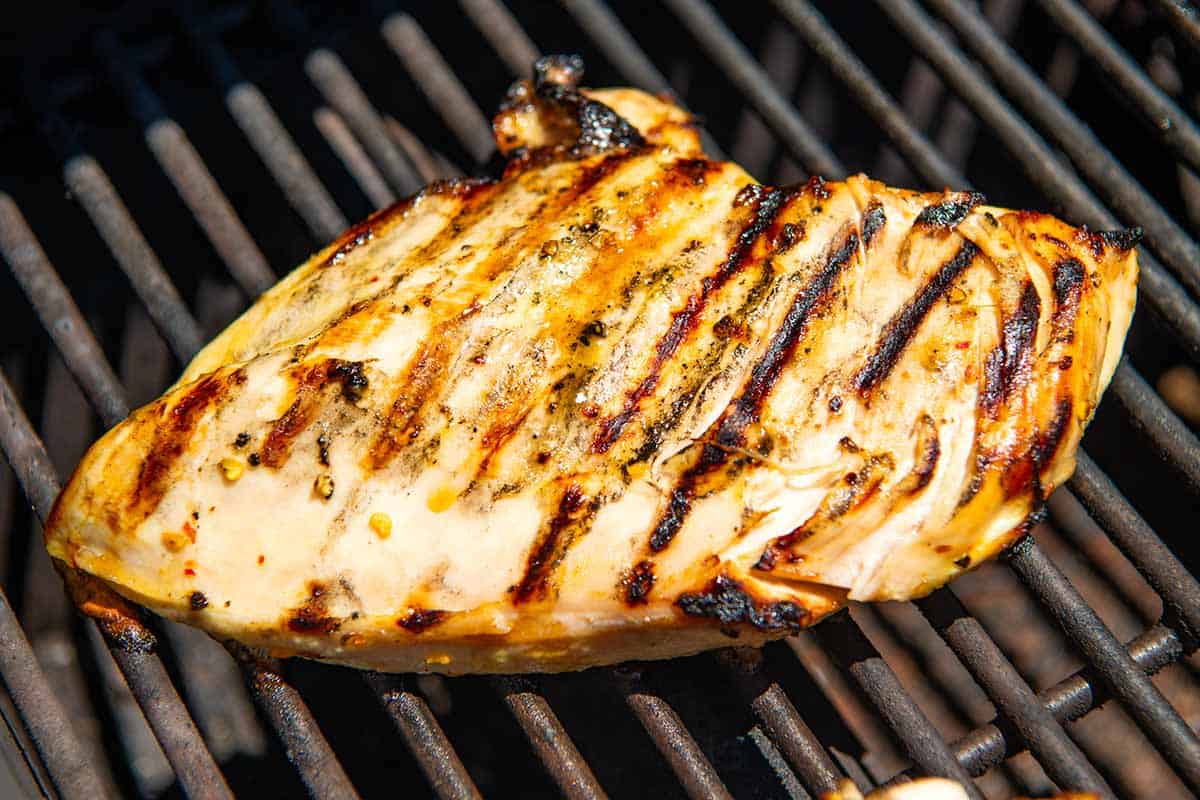 Let the chicken rest — There's some contention as to why it's a good idea to let meat rest after cooking, but here's the deal, before cutting the chicken, give it a few minutes. In this time, it will finish cooking and all the juices inside will either distribute or fall out onto your plate. If there are juices on your plate, save them! They make the best sauce. You can also slather some of our Homemade BBQ Sauce onto the chicken (so tasty!).
How to make chicken breasts in a skillet: If you want to cook your chicken inside on the stove, check out our Juicy Skillet Chicken!
Our method works for all cuts of chicken, but is especially helpful for grilled chicken breasts. We also have a recipe for grilled chicken wings, if you are interested.
Note: If your grill isn't clean or you are worried about the chicken sticking to the grates, you can always place a cast iron pan directly onto the grates and cook the chicken in that. The method is the same, but instead of using two temperature zones, heat the grill to medium high and watch the internal temperature.
What kind of chicken pieces can I grill?
This method works for all cuts of chicken. You can use bone-in or boneless chicken and the same goes for skin-on or skinless. Keeping the bone in and skin on will maximize flavor and juiciness. For bone-in chicken pieces, you do not need to pound the chicken.
Our favorite chicken marinade
As I mentioned above, you can use whatever marinade you love. Here is our favorite marinade when grilling chicken. It's light, flavorful and delicious.
It's based on this marinade recipe, but we add honey. We add the honey because we love how it caramelizes on the grill grates. You can marinate the chicken for as little as 20 minutes! It's that flavorful. Our easy (and healthy) chicken marinade has a tangy combination of lemon, garlic, red pepper flakes and mustard. This just might be one of the best marinades, ever.
We love this flavor combination so much that we've used it to make baked chicken breasts and our incredible lemon chicken thighs.
What to serve with grilled chicken
We hope you give this juicy grilled chicken a try soon. If you do, try one of these side dishes to go alongside:
Make ahead tips
Make the marinade a day in advance, and then add the chicken and marinate.
Marinate the chicken up to a day in advance.
Grilled chicken can be stored in an airtight container in the refrigerator for 3 to 4 days.
Grilled chicken can be stored in an airtight container in the freezer for up to 3 months.
More easy chicken recipes
The Best Juicy Grilled Chicken
Perfectly juicy, tender grilled chicken is possible when you follow our simple recipe. With a few tricks, you can make the best grilled chicken at home! Our method works for all cuts of chicken, but is especially helpful for grilled chicken breasts.
Serves 6 (about 6 ounces each)
Watch Us Make the Recipe
You Will Need
2 to 3 pounds boneless chicken breast or thighs, use skinless or skin-on chicken
Zest of 1 lemon, peeled or finely grated
3 cloves garlic, crushed with the side of a large knife or minced
1/4 cup fresh lemon juice, from 1 to 2 lemons
2 tablespoons avocado oil or olive oil
1 tablespoon maple syrup or honey
1 tablespoon Dijon mustard
1/2 teaspoon fine sea salt
1/4 teaspoon to 1/2 teaspoon red pepper flakes, depending on how spicy you like things
1/2 teaspoon fresh ground pepper
Fresh herbs and lemon wedges, optional, for serving
Directions
Prepare Chicken

1Make the marinade. Whisk lemon juice, oil, maple syrup (or honey), mustard, salt, red pepper flakes and black pepper together until the salt has dissolved. Stir in the garlic and lemon zest. Cover and refrigerate. Use within a day.

2If you are grilling chicken breasts, pound them first. Place the chicken into a large zip-lock bag, and then use a meat mallet or rolling pin to pound them to an even thickness, between 1/2-inch and 3/4-inches thick. Depending how many breasts you have, you might need to do this in batches.

3To marinate the chicken, add the marinade and chicken to a resealable food-safe bag or container and marinate in the refrigerator for at least 20 minutes and up to a day. We don't recommend marinating more than a day in advance since the lemon in the marinade can cause the chicken to toughen.
Grill Chicken

1When you are ready to grill the chicken, take the chicken out of the refrigerator and then prepare your grill. Clean the grates and then heat the grill so that one side is on high heat (for direct cooking) and the other side is on low heat (for indirect cooking).

2Carefully brush the grates with high-heat oil (I use avocado oil). Be careful when you do this, the oil can fall down into the flame and it can flare up.

3Remove the chicken from the marinade and shake off any garlic or lemon zest. Place the chicken down over the hottest side of the grill. Let the chicken cook, with the lid open, until the underside has grill marks (it's okay to lift one piece of chicken up to check); 3 to 5 minutes.

4Carefully pick up each piece of chicken, gently wiggling it from side to side if it is a bit stuck in places, and then place it back down, grill marks facing up, over the cooler side of the grill.

5Close the lid of the barbecue and cook until an instant read thermometer reads 165 degrees Fahrenheit, 5 to 10 minutes. Alternatively, if you are worried the chicken will overcook, take the chicken off when the thermometer reads between 155°F and 160°F, then cover with foil. After a few minutes, the chicken will finish cooking and reach 165°F.

6Allow the cooked chicken to rest on a plate loosely covered with foil for 5 to 10 minutes, and then slice into thick slices. Save all of the juices that are left on the cutting board and on the plate, and then pour it over the sliced chicken. Serve with lemon wedges and fresh herbs scattered over the top.
Adam and Joanne's Tips
Nutrition facts: The nutrition facts provided below are estimates. We have used the USDA database to calculate approximate values. We assumed 2 ½ pounds of boneless, skinless chicken breasts.
If you make this recipe, snap a photo and hashtag it #inspiredtaste — We love to see your creations on Instagram and Facebook! Find us: @inspiredtaste
Nutrition Per Serving
Serving Size
about 6 ounces of chicken
/
Calories
286
/
Total Fat
9.7g
/
Saturated Fat
1.6g
/
Cholesterol
137.9mg
/
Sodium
150.6mg
/
Carbohydrate
4.2g
/
Dietary Fiber
0.2g
/
Total Sugars
3.2g
/
Protein
42.7g