Baba ganoush is an amazing roasted eggplant dip that's really simple to make. If you love hummus, then you are going to love this baba ganoush recipe. I love serving it with veggies, flatbread, and pita wedges.
Watch the Video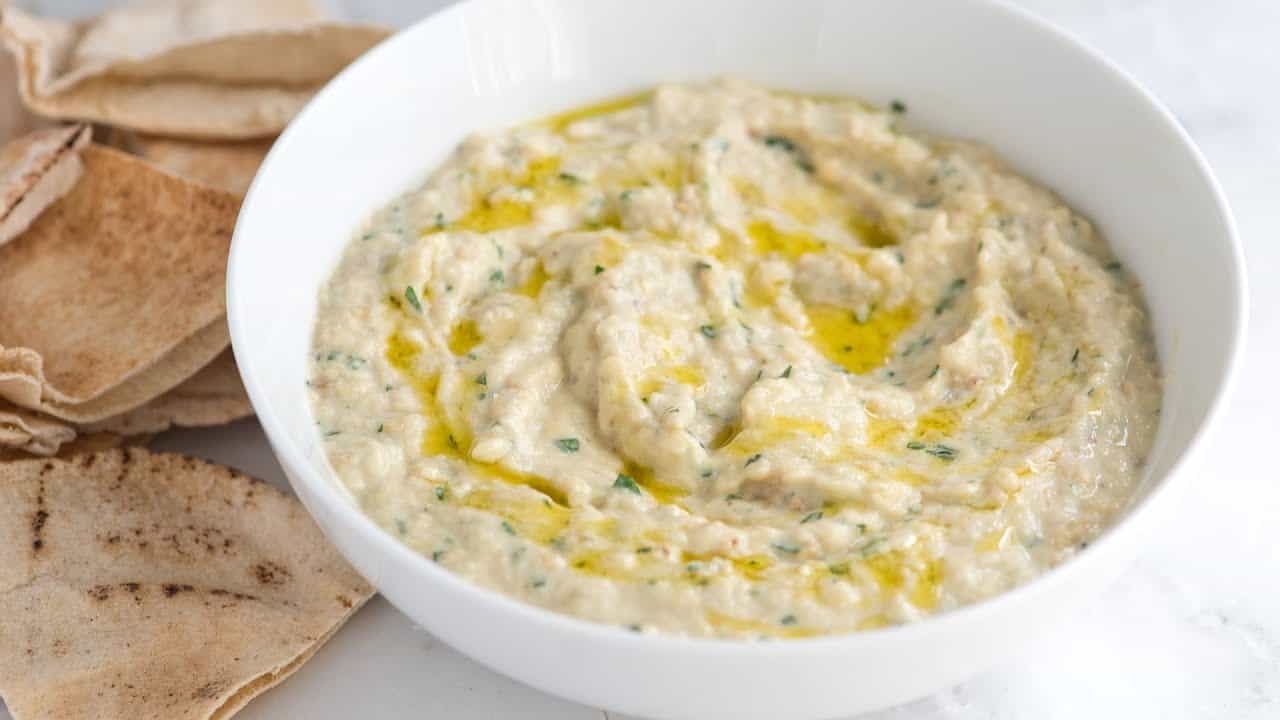 Related: You have to try our extremely popular hummus recipe!
How to Make Authentic Baba Ganoush
Whenever we're at a restaurant that serves baba ganoush (a roasted eggplant dip), we always order it. Like hummus, baba ganoush is commonly eaten in the Middle East and the Mediterranean. Not only is it one of our absolute favorite ways to use eggplant, it's easy to make at home. Making baba ganoush is a very similar to making hummus. We are basically swapping the chickpeas used to make hummus for smoky roasted eggplant.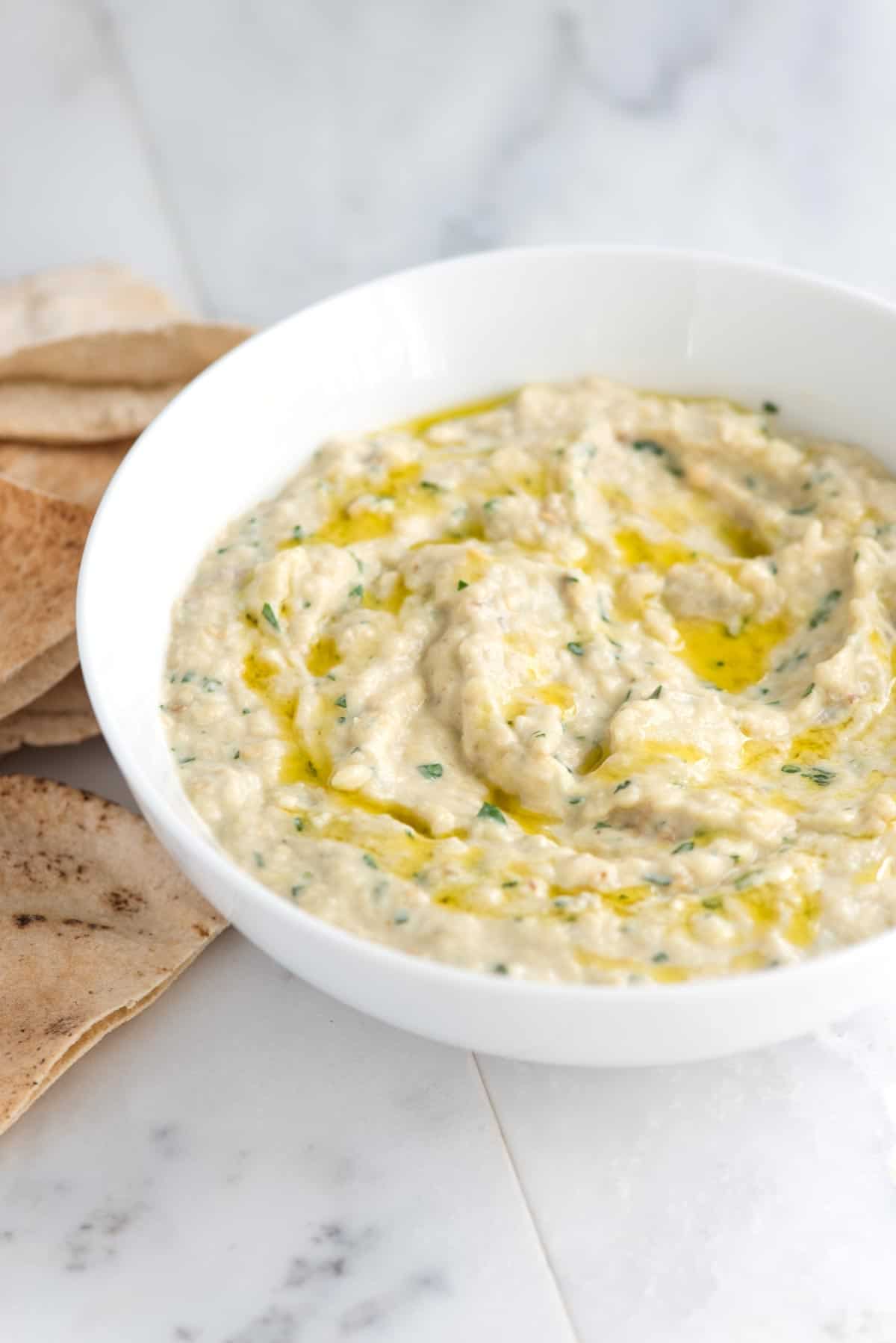 Soft, sweet, and slightly smokey roasted eggplant is combined with tahini (a paste made from sesame seeds), fresh lemon juice, garlic, and spices. It's absolutely divine! Making this recipe at home is easy, here are the basic steps for making it:
Step 1: Broil whole eggplants to char the skins. This step lightly chars the outsides of the eggplant, which adds a smoky flavor. You can also char the skin of the eggplants using a grill or even a gas burner.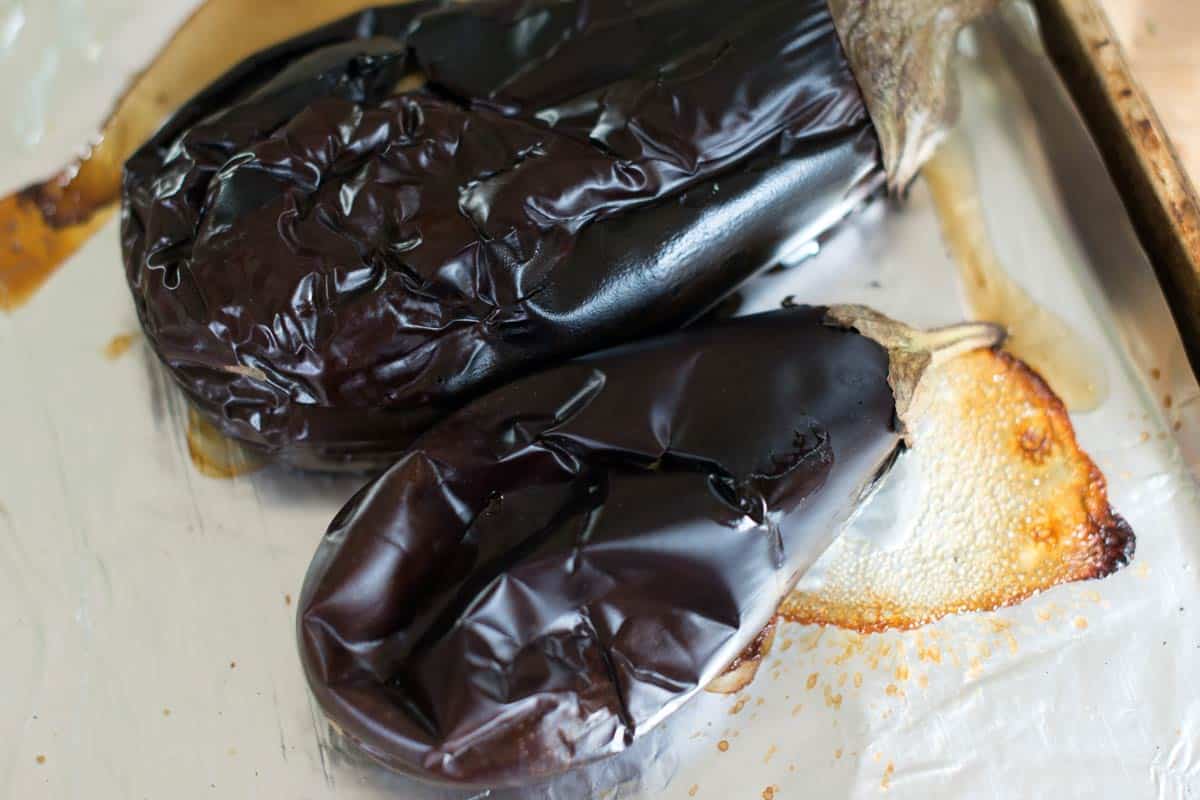 Step 2: Switch the oven to bake and roast the eggplants until very soft. For the very best baba ganoush, the flesh of the eggplant needs to be very soft. Roasting time will vary based on how large the eggplants are. I simply roast until they look like they are caving in and a fork can very easily pierce through the flesh.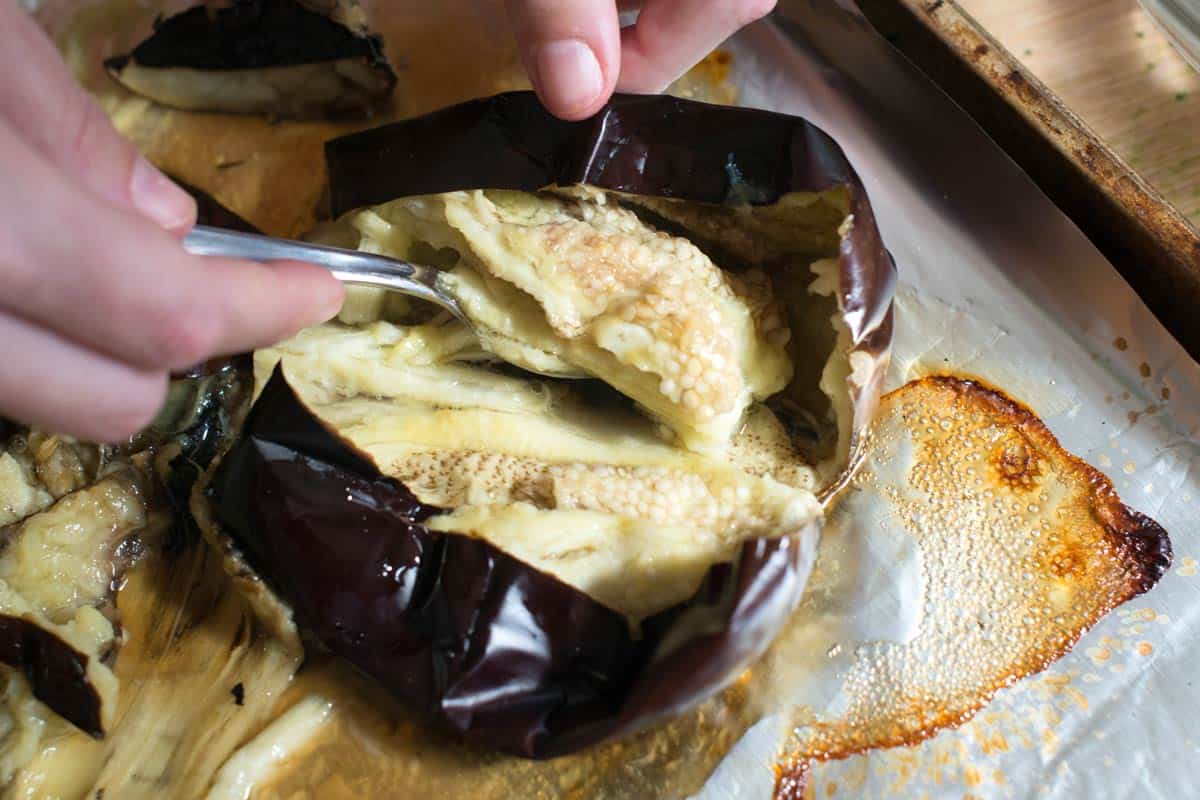 Step 3: Combine tahini with lemon juice, garlic, spices, and olive oil. These are the remaining ingredients needed to make baba ganoush. I like to mix them together early on since the mixture improves in flavor over time.
Step 4: Stir the roasted eggplant into the tahini mixture. I use a spoon to scoop out the soft flesh and then use a fork to mash it into the tahini and lemon juice mixture. I like some texture so I don't use a food processor to make baba ganoush. A fork works perfectly fine!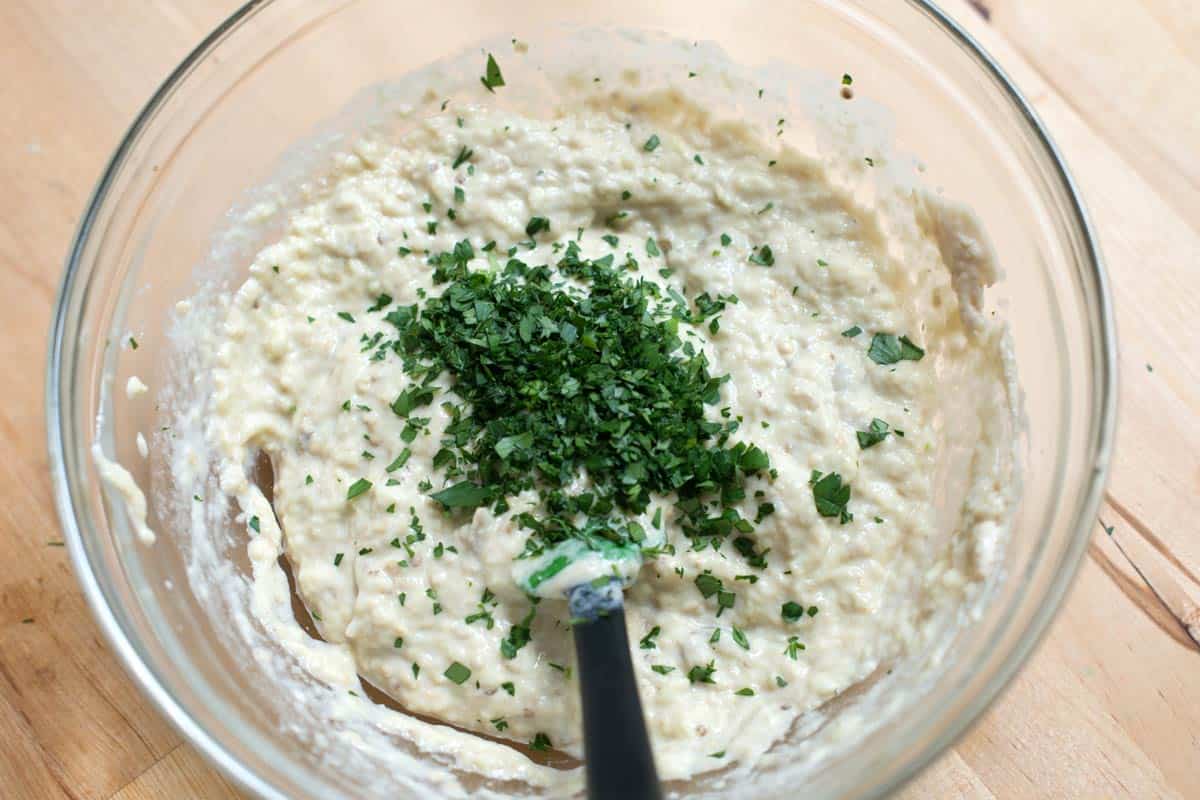 I don't use a food processor to make baba ganoush. A fork is perfect for mashing the roasted eggplant into a flavorful, somewhat chunky mixture of tahini, lemon juice, and spices.
More eggplant recipes: We love roasting eggplant since it develops so much flavor. Here's another roasted eggplant dish with a warm and toasty spice blend. I also love this roasted eggplant parmesan.
Don't Skip the Tahini
Tahini is a paste made from sesame seeds with a consistency similar to almond or peanut butter. You'll often find it used in hummus, salad dressings, and dips. It can be found in most grocery stores. Just look near the international or Mediterranean foods and we bet you'll find it. You can also buy it online.
You can also make your own tahini! It's very simple to do. Here's our homemade tahini recipe with a quick recipe video that shows you how.
While I 100% recommend using tahini to make the most authentic baba ganoush, I know not everyone is a fan of its flavor. If you are not a fan of tahini, try reducing the amount called for in our recipe below — use 2 tablespoons instead of a 1/4 cup.
Make Ahead and Storing
One of the best things about homemade baba ganoush is that while it tastes great right after making, it tastes even better after a day or two in the fridge. This is the perfect make-ahead appetizer! The dip will keep in the fridge up to 5 days.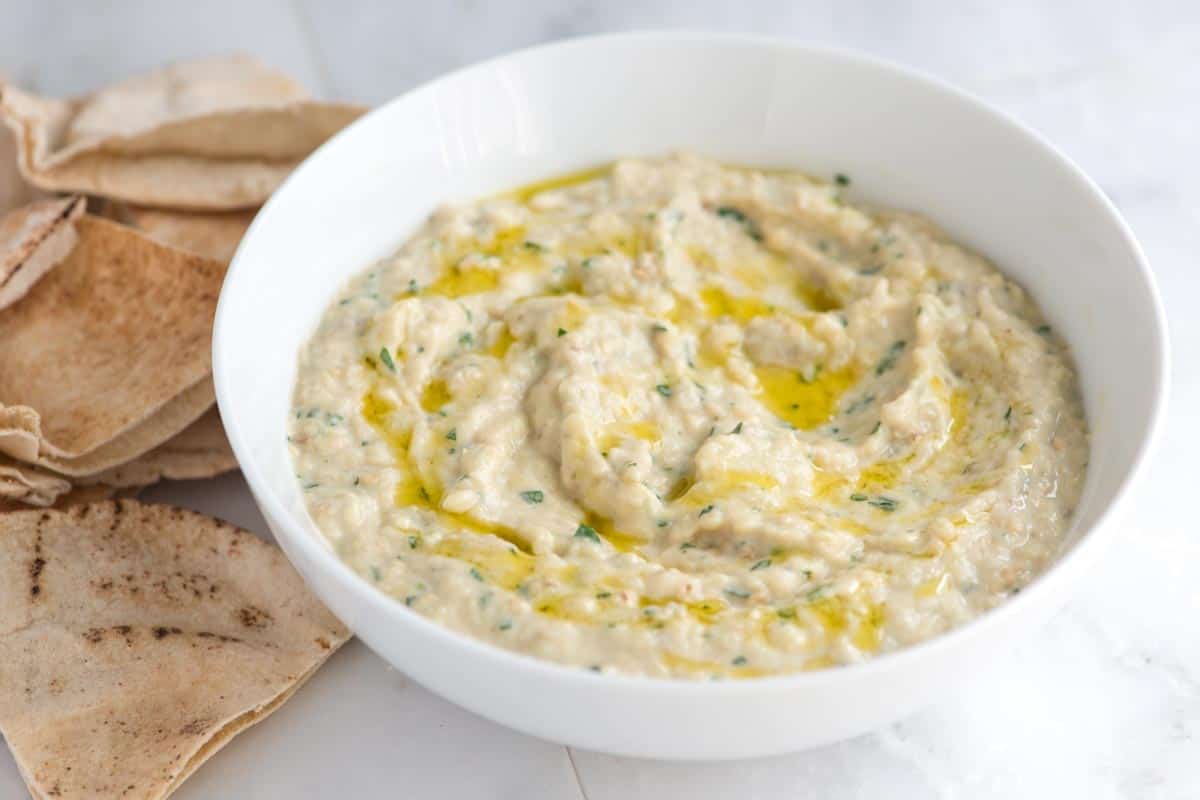 Easy Baba Ganoush
Baba ganoush is best left rustic with some texture. Because of this, simply mashing and stirring with a fork is all that's needed. You can make this in a food processor or blender. Be careful, though. It will become much smoother. This gets even better after a day or two in the refrigerator, so this is perfect for making ahead!
Makes approximately 6 servings
Watch Us Make the Recipe
You Will Need
2 medium eggplants (about 2 pounds or 900 grams)
1/4 cup (60 ml) tahini, see our homemade tahini recipe
1/4 cup (60 ml) lemon juice
2 to 3 garlic cloves, finely minced (see note)
1/4 teaspoon ground cumin
1/4 teaspoon fine sea salt
2 tablespoons chopped fresh parsley leaves
1 teaspoon olive oil, optional
Directions
1Adjust an oven rack to the middle position and turn broiler on (high heat). Line a baking sheet with aluminum foil. Place eggplants onto the baking sheet and prick in several places using a fork. This helps steam escape while the eggplants roast. Broil eggplants 2 minutes on all sides. The skin will darken a little and begin to smell smoky, adding lots of flavor to the dip.

2Turn broiler off, but do not remove eggplants from the oven. Heat oven to 375 degrees F, and then roast eggplants until very soft; 25 to 30 minutes. Cool 10 to 15 minutes until easily handled.

3While the eggplants roast, combine tahini, lemon juice, garlic, cumin and the salt in a medium bowl. Set aside so the flavors meld.

4Split the roasted eggplants, drain excess liquid, scrape out the flesh, and add to the tahini mixture. (Discard excess liquid and skins). Mash the roasted eggplant into the tahini mixture with a fork until somewhat smooth with some texture remaining.

5Cool to room temperature then stir in parsley and drizzle the top with olive oil. Store in an airtight container and refrigerate up to 5 days.
Adam and Joanne's Tips
Garlic: We enjoy the extra kick garlic gives here. The tahini stands up very well to the garlic. If you're not sure you want to use three cloves, reduce it to two or even one clove.
Tahini: Tahini is a paste make from ground sesame seeds. You can find jars sold in most grocery stores. Look where international foods are sold. You can also buy it online or easily make tahini at home yourself.
How to Make Baked Pita Chips: Cut 2 to 3 pitas into wedges. Add to a baking sheet and bake in a 375 degree F oven until lightly browned and crisp; 7 to 10 minutes.
Nutrition facts: The nutrition facts provided below are estimates. We have used the USDA database to calculate approximate values.
If you make this recipe, snap a photo and hashtag it #inspiredtaste — We love to see your creations on Instagram and Facebook! Find us: @inspiredtaste
Nutrition Per Serving
Serving Size
1/6 of the recipe
/
Calories
116
/
Protein
4 g
/
Carbohydrate
14 g
/
Dietary Fiber
6 g
/
Total Sugars
7 g
/
Total Fat
6 g
/
Saturated Fat
1 g
/
Cholesterol
0 mg