My whole family goes crazy for this roasted eggplant recipe. Here are our best tips for roasting eggplant so that it is tender on the inside and perfectly caramelized on the outside.
Watch the Video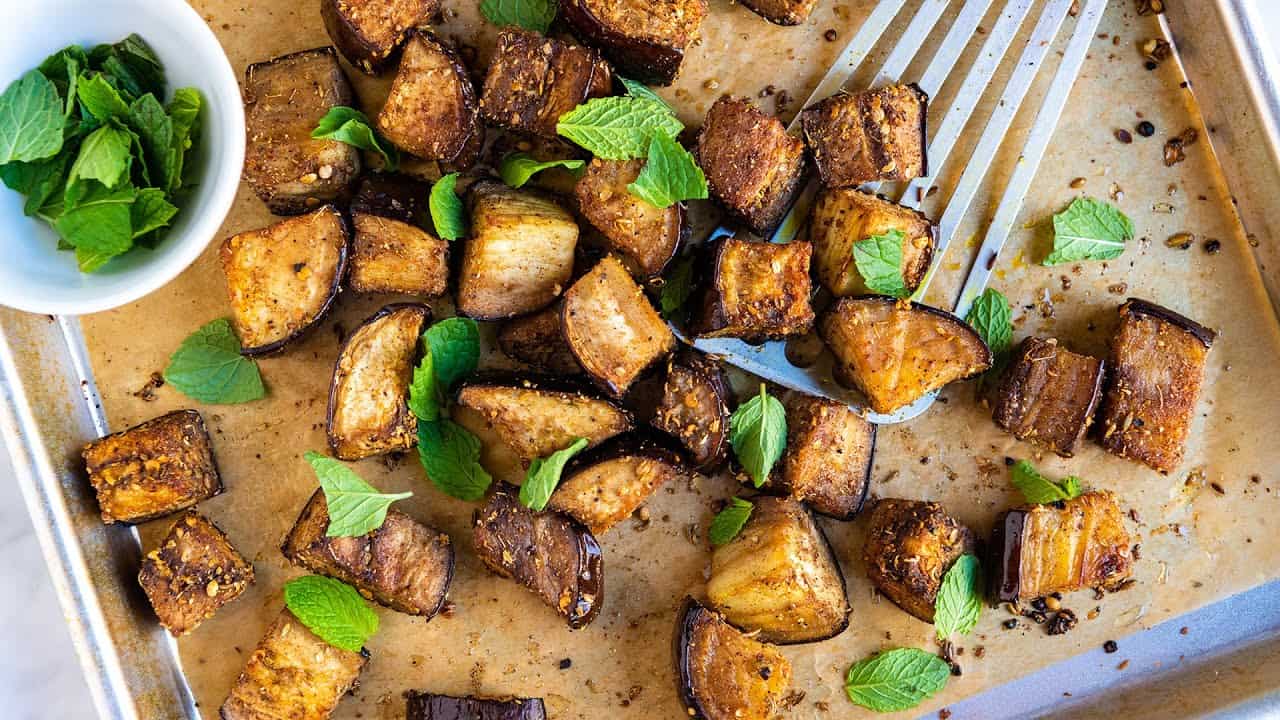 Three Tips For the Best Roasted Eggplant
After a few too many failed attempts, we believe we have stumbled onto the best method for roasting eggplant. Here are three essential tips:
Cut the eggplant into large pieces for perfect caramelized edges and a tender middle. For sliced eggplant dishes, slice them no thinner than 1-inch. For cubed eggplant dishes (like in our photos), cut the eggplant into 1-inch cubes (or even a little larger).
Roast eggplant in a hot oven; we find an oven set to 425 degrees Fahrenheit is perfect. At this temperature, the eggplant takes about 30 minutes to roast.
Be generous with the oil when roasting eggplant. We recommend tossing one medium-to-large eggplant with 1 1/2 tablespoons of oil. This amount usually does the trick, but toss in a little more oil if the eggplant looks dry while it is in the oven. The oil helps the outside to caramelize and brown.
If you keep these three tips in mind, you will be an eggplant roasting genius! With our easy eggplant recipe, the eggplant is tender in the middle and wonderfully caramelized on the outside.
Our directions below for roasted eggplant works with a simple seasoning of oil, salt, and pepper, but if you'd like to spice things up, we highly recommend our spice blend shared below.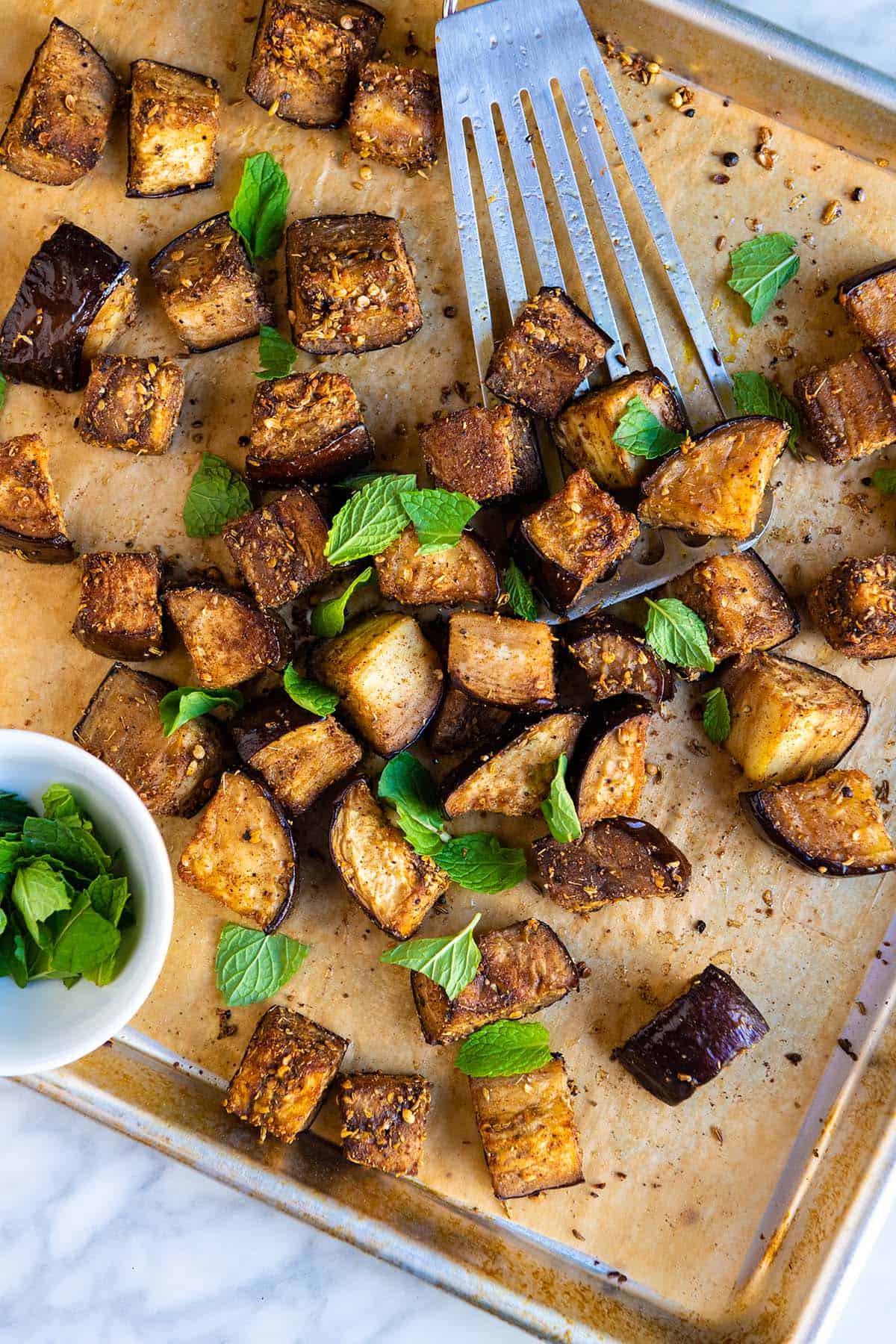 Optional Spice Blend (So Good!)
For this spice blend, we pulled some of our favorite spices out of our spice cabinet. It's toasty, savory, and earthy. This mix works beautifully with roasted eggplant and combines black pepper, fennel, cumin, coriander, cinnamon, and clove.
Depending on what you have on hand, use whole spices or ground. If you use whole spices, grind them using a spice grinder or mortar and pestle.
How to Choose Eggplant
When you are shopping for eggplant, here's what to look for:
Smooth and shiny skin
It feels heavy for its size
Slightly firm, not hard or soft
The stem end is green and free of mold
How to Serve Roasted Eggplant
I'll be honest, when we make this roasted eggplant with the spice blend I just mentioned, the eggplant rarely makes it to the plate. Adam, our son, and I go crazy for it. When we do manage to hold off on eating it straight off of the pan, here's what we love to serve it with:
More Eggplant Recipes
We roast eggplants whole in this baba ganoush recipe and then mash the roasted flesh with tahini, garlic, and spices. It's delicious. We also roast our eggplant when making eggplant parmesan. Try our simplified recipe with a simple homemade sauce, roasted eggplant slices, and cheese.
We also have many roasted vegetable recipes. Here are a few of my favorites: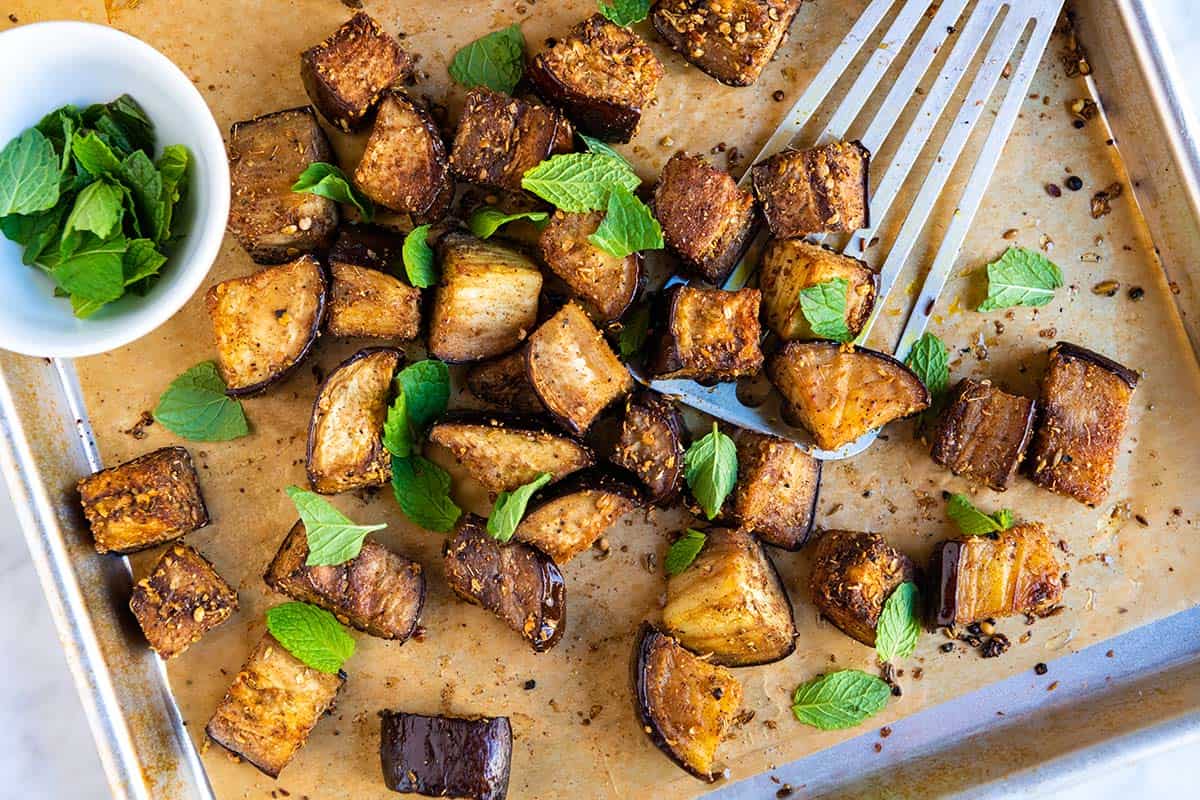 Easy Roasted Eggplant (Family Favorite!)
My whole family goes crazy for this roasted eggplant recipe. This is how to roast eggplant so that the middle is tender and the outside is perfectly caramelized. Eggplant roasted with oil and salt is perfectly delicious, but if you have the spices available, we highly recommend trying our warm and toasty spice blend. Adam, our son, and I go crazy for it. We have provided measurements for ground spices and whole spices. If you are using whole spices, grind them in a spice grinder or mortar and pestle.
When choosing eggplants, look for them to have shiny skin, feel heavy for their size, be slightly firm, and have a green stem.
Watch Us Make the Recipe
You Will Need
Simple Roasted Eggplant
1 medium eggplant
1 ½ tablespoons oil, like olive oil or avocado oil
1/2 teaspoon fine sea salt
Warm and Toasty Spice Blend (Optional)
1/2 teaspoon fresh ground black pepper or 1/2 teaspoon peppercorns
1 ¼ teaspoon ground fennel or 1 teaspoon fennel seeds
1 ¼ teaspoon ground cumin or 1 teaspoon cumin seeds
1 ¼ ground coriander or 1 teaspoon coriander seeds
1/4 teaspoon ground cinnamon
1/8 teaspoon ground cloves or 1 whole clove
Fresh mint, serving, optional
Directions
Make Spice Blend (Optional)

1For ground spices, add to a small bowl and mix well. For whole spices, add to a spice grinder or mortar and pestle and grind until a coarse powder.
Roast Eggplant

1Heat oven to 425 degrees Fahrenheit (220C). Line a baking sheet with parchment paper or a silicone baking mat.

2For cubed eggplant, cut into 1-inch cubes. For eggplant slices, slice into 1-inch-thick slices. Cutting the eggplant into thicker pieces makes sure that the inside turns tender and the outside caramelizes.

3Add eggplant to a large bowl and toss with 1/2 teaspoon of fine sea salt and 1 ½ tablespoons oil. If you are adding the spice blend, scatter it over the eggplant and toss well. (It will seem like a lot of spice mix, but eggplant loves to be generously spiced.)

4When the eggplant is well coated with the oil, tumble it onto the prepared baking sheet and spread out so that they are not touching.

5Roast eggplant for 20 minutes, stir, and then roast for another 10 to 15 minutes or until the eggplant is tender and caramelized. If the eggplant looks dry while in the oven, toss it with a little more oil (1/2 tablespoon or so).

6Serve or store in an airtight container for up to 4 days. If you have some, serve with fresh mint scattered on top.
Adam and Joanne's Tips
Nutrition Per Serving
Serving Size
about 3/4 cup
/
Calories
79
/
Total Fat
5.5g
/
Saturated Fat
0.8g
/
Cholesterol
0mg
/
Sodium
293.4mg
/
Carbohydrate
8.1g
/
Dietary Fiber
4.1g
/
Total Sugars
4.8g
/
Protein
1.3g