Fluffy pumpkin pancakes recipe with pumpkin puree and warm spices. Plus, a recipe for homemade butter pecan syrup. Jump to the Fluffy Pumpkin Pancakes Recipe or read on to see our tips for making them.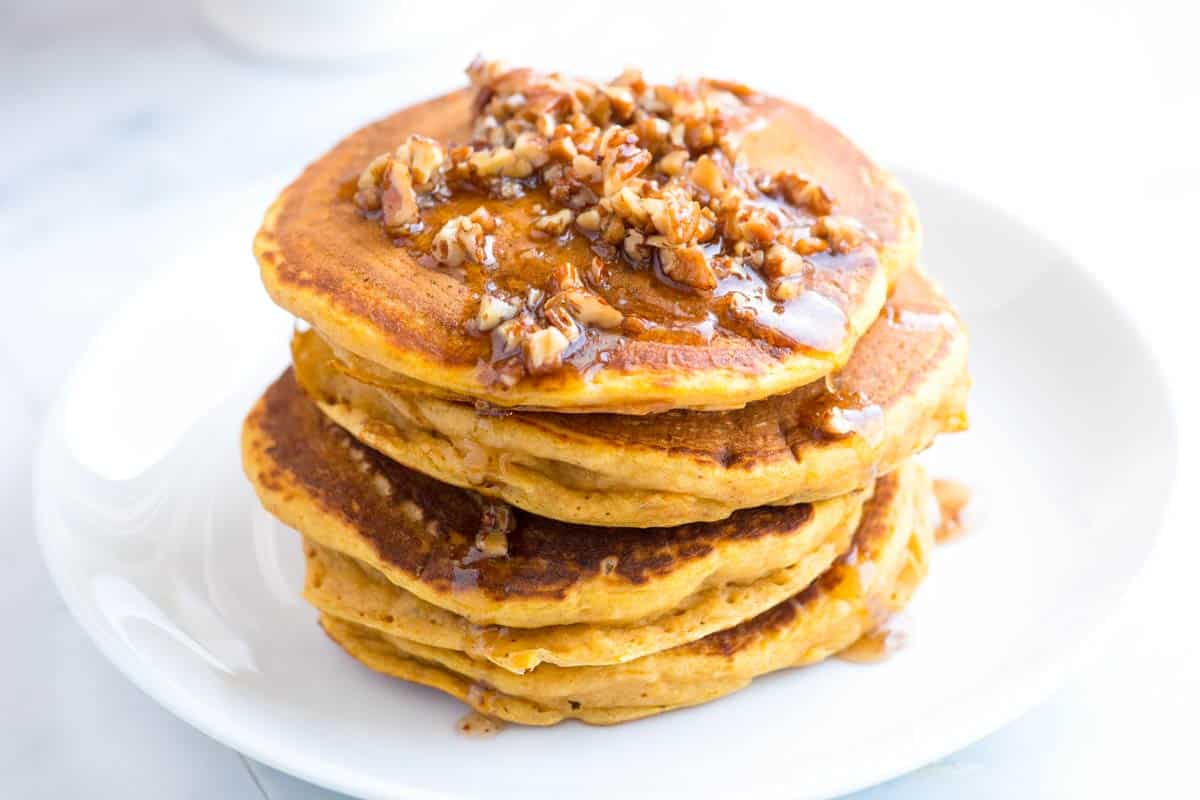 – This Recipe is Sponsored by Gold Medal Flour –
A few weeks ago, we shared our Essential Pancake Recipe? It's one of our favorite recipes, a serious go-to for weekends. We use it all the time as a base for other pancake recipes. In this recipe, we use our essential pancake recipe as a base then and add pumpkin puree, spices and top with the most delicious pecan syrup. These are a must-make.
YOU MAY ALSO LIKE: While these pancakes are a little lighter, we've also shared pumpkin pancakes before  – Take a look at our Easy Homemade Pumpkin Pancakes Recipe. They are not too sweet and have a hint of spice.
How to Make The Fluffiest Pancakes
These are quite simple to make – they've become a favorite in our home. We like to use Gold Medal all-purpose flour. We love using it for pancakes.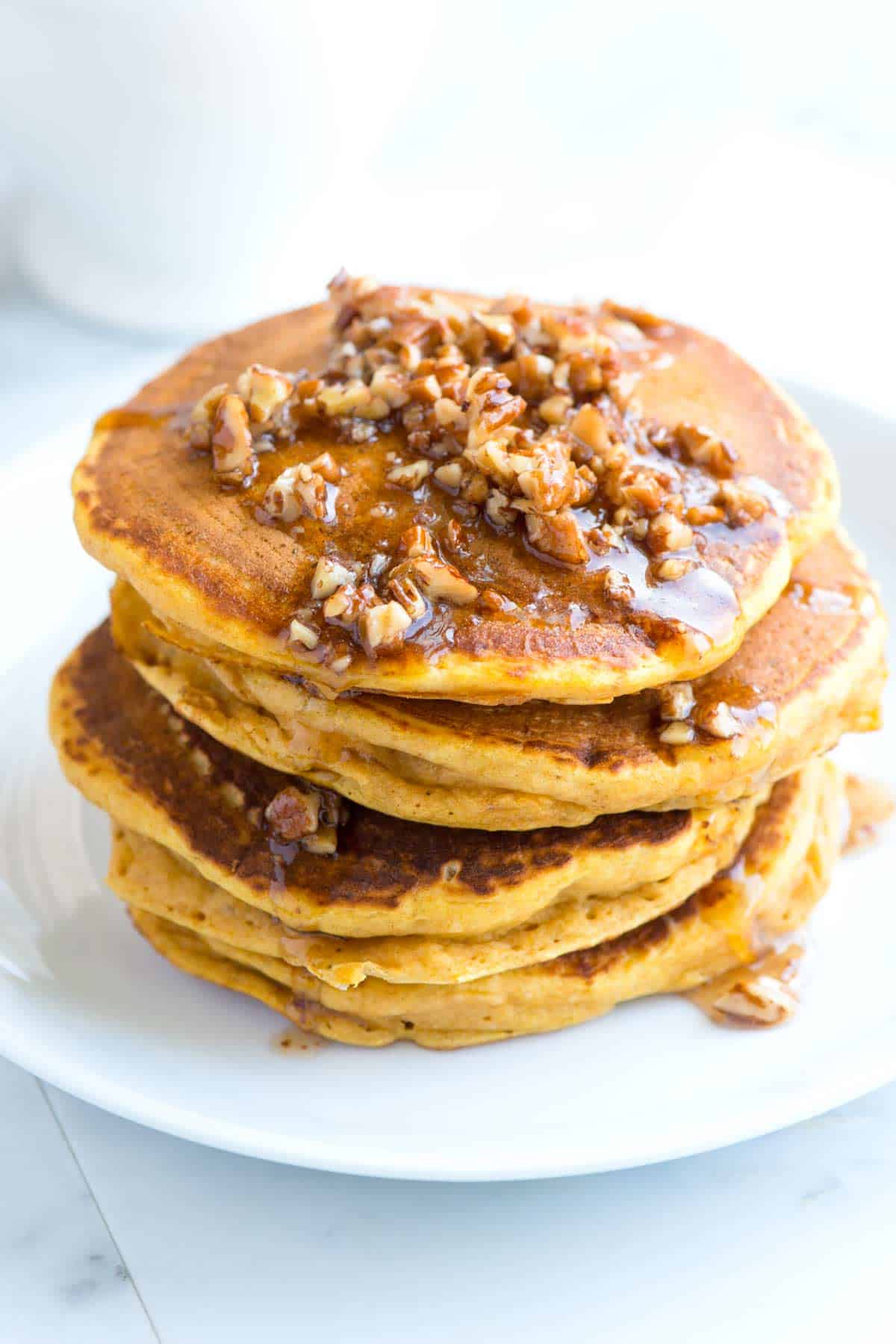 Did you know protein levels vary by flour brand? Protein content can affect tenderness of baked goods or in this case, pancakes. Since Gold Medal all-purpose flour has less protein, the flour is a little softer and makes tender, light and fluffy pancakes. (Pancakes made with other brands of all-purpose flour will still be delicious, we just love using Gold Medal).
Here's another trick: Do everything you can to not over-mix the batter. Over-mixing batter is a common pancake mistake — it makes pancakes heavy and flat. To prevent this, mix dry and wet ingredients separately at first then combine just before cooking. We use milk, melted butter an egg and vanilla extract. Once you're ready to cook your pancakes, combine the two mixes — we use a fork.
Stir until you no longer see large streaks of flour. Then stir in a whole cup of pumpkin puree until only small clumps of flour remain. The batter will be pretty thick — that's okay, you can just spread the batter in the pan to make a circle. If you think the batter is too thick, just add a dash of milk to thin it out a little. No worries!
How to Make Butter Pecan Syrup at Home
Whenever we're out for breakfast, I reach for the butter pecan syrup instead of original. I just love it. It wasn't until recently that we considered making it at home. I'm so glad that we did. Homemade butter pecan syrup is insanely good — easy, too.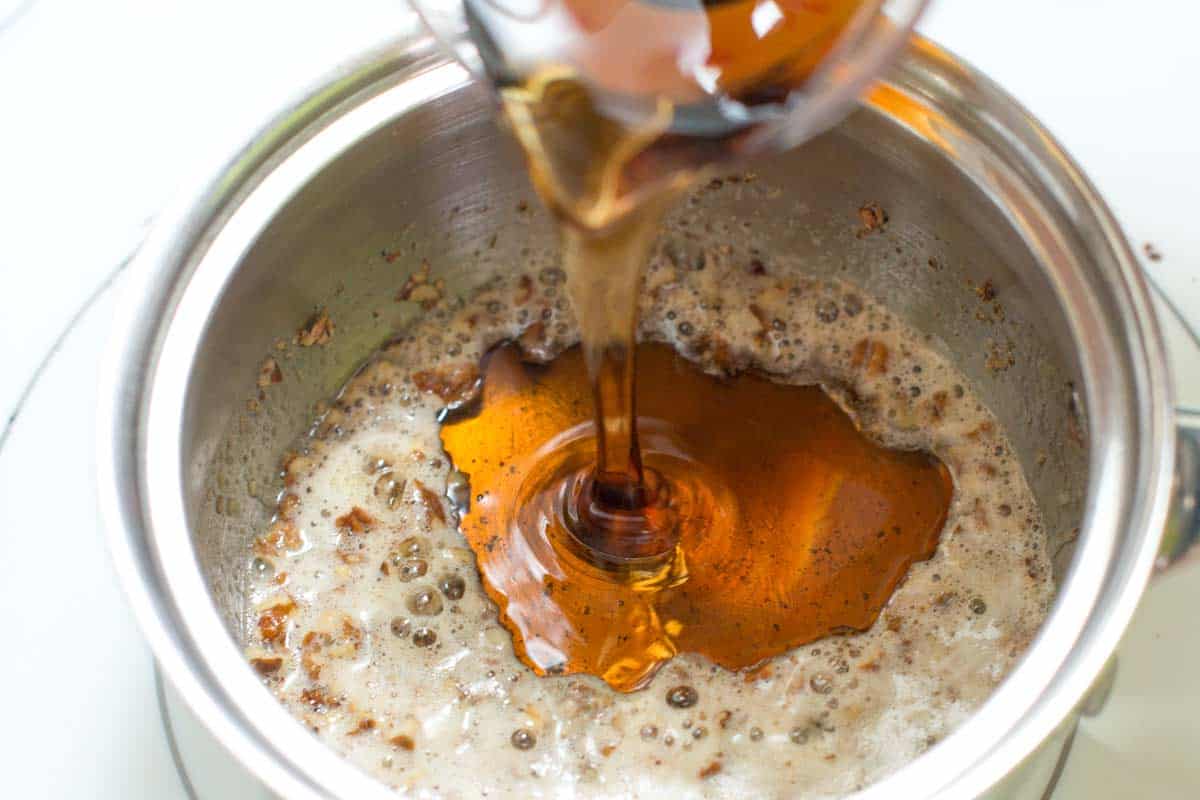 Chop up a handful of pecans and throw them into a small pan over low heat to toast. Once they are fragrant, add some butter and let it sizzle for a minute or so. Pour in some syrup, warm through and you're done. Gosh it's good.
Recipe updated, originally posted October 2013. Since posting this in 2013, we have tweaked the recipe to be more clear. – Adam and Joanne
Fluffy Pumpkin Pancakes with Butter Pecan Syrup
With a whole cup of pumpkin puree and lots of warm spices, these are perfect for cooler mornings. We love topping these with an easy butter pecan syrup. If you love syrup, you may want to make an extra batch. It goes quickly.
You Will Need
Pumpkin Pancakes
2 cups (260 grams) all-purpose flour, we use Gold Medal
3 tablespoons sugar
1 tablespoon baking powder
1 teaspoon ground cinnamon
1/2 teaspoon ground ginger
1/4 teaspoon freshly grated nutmeg
1/4 teaspoon ground cloves
1/2 teaspoon sea salt
1 1/2 cups (350 ml) milk, whole or 2% reduced fat milk are best
3 tablespoons butter, melted, plus more for skillet
1 large egg
1 teaspoon vanilla extract
1 cup (210 grams) pure pumpkin puree
Butter Pecan Syrup
1/4 cup (35 grams) pecans, chopped
2 tablespoons butter
1/2 cup (120 ml) pure maple syrup
Directions
Make Batter

1Whisk flour, sugar, baking powder, cinnamon, ginger, nutmeg, cloves and the salt in a medium bowl, set aside. Warm milk until lukewarm, not hot (you should be able to keep your finger submerged for 10 seconds). Whisk milk, butter, egg and the vanilla together until blended.

2Make a well in the center of the flour mixture. Pour milk mixture into the well and stir with a fork until you no longer see large streaks of flour. Stir in pumpkin puree until only small clumps of flour remain. Do not over mix batter. Note: The batter will be quite thick. If it is unreasonably thick, add 1 to 2 tablespoons more milk to thin it out a little.
Cook Pancakes

1Heat a large skillet (or use griddle) over medium heat. The pan is ready if when you splatter a little water onto the pan surface, the water dances around the pan and eventually evaporates.

2Lightly brush skillet with melted butter. Spoon a 1/4-cup of the batter onto the skillet and gently spread into a 4-inch circle. When edges look dry and bubbles start to appear and pop on the top surfaces of the pancake, turn over; about 2 minutes. Once flipped, cook 1 to 2 minutes or until lightly browned and cooked in the middle.
Make Syrup

1Lightly toast pecans in a small pan over medium heat until fragrant, about 5 minutes. Add butter and cook until melted and bubbling. Stir in syrup and cook until warmed.