I could eat this avocado salad with crunchy cucumbers every day. The salad could not be simpler to make and can be enjoyed all by itself, as a side, as a chunky salsa or spooned on top of larger salads. Jump to the Very Best Avocado Salad Recipe or read on to see our tips for making it.
Avocado Salad Ingredients
This salad combines fresh, ripe avocados, crisp cool cucumbers, and a light lime dressing. If you love guacamole, then you will love this easy avocado salad.
Avocados: They need to be ripe. I've shared our best tips for choosing avocados below. I love cubing them so they match the shape and size of the cucumbers, but slices are definitely an option. If you love avocado, take a look at our Avocado Toast!
Cucumber: I love using the thin-skinned varieties of cucumber in salads. Examples include hothouse cucumbers (often sold wrapped in plastic) and the mini Persian cucumbers. You can use regular garden cucumbers, too. I'd check the peel, though. If it seems thick, peel some or all of it. If there are lots of large seeds in the middle, use a spoon to scoop them out before cubing for the salad. You might also enjoy our Tangy Cucumber Salad or Creamy Cucumber Salad made with yogurt and herbs.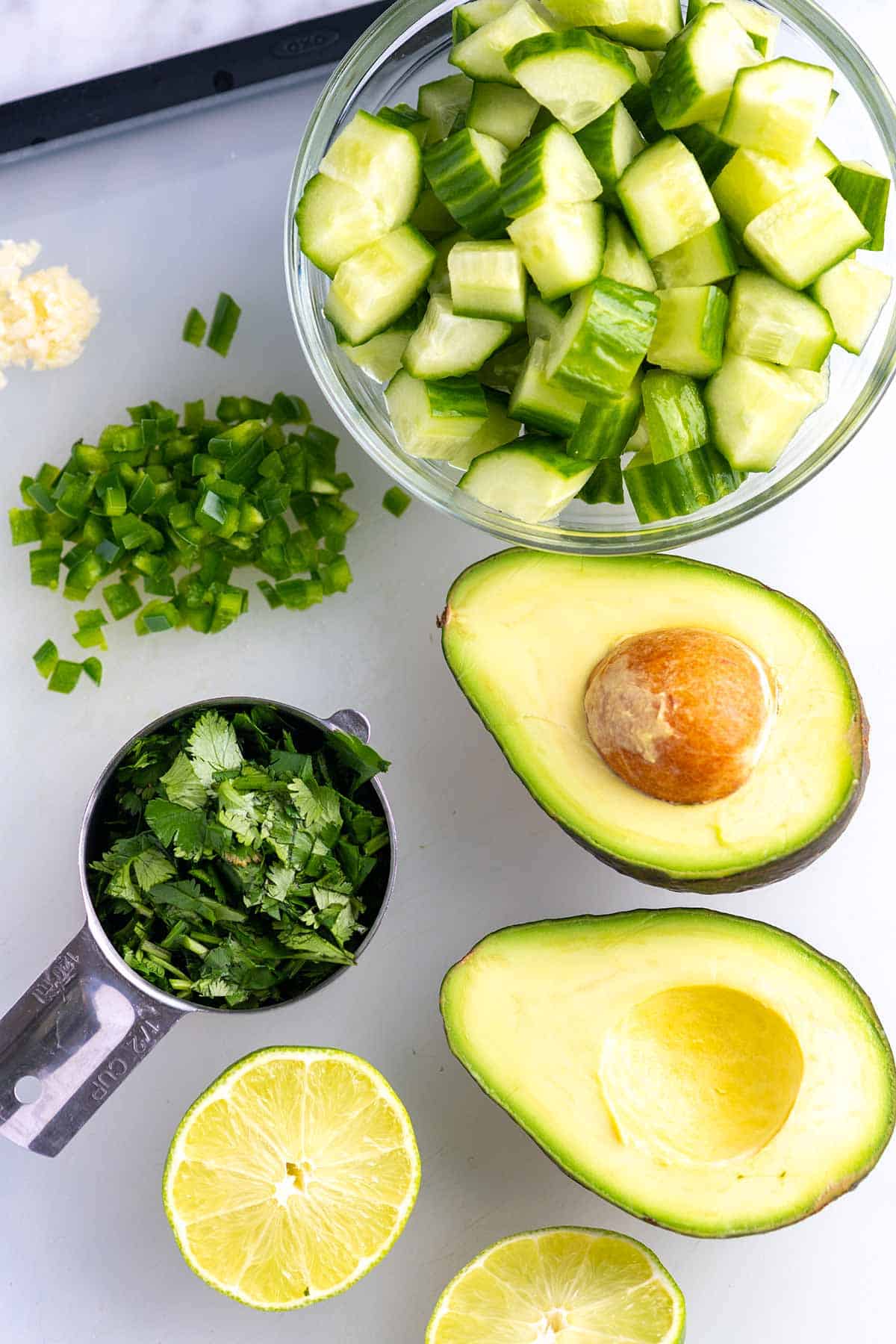 Fresh lime juice: The fresh lime dressing is what brings this simple salad together. If you don't have limes on hand, lemons would be a great substitute.
Olive oil: Before adding the avocado and cucumber, we whisk olive oil into the lime juice. It makes the salad dressing well-rounded and luxurious.
Jalapeño and garlic: These are optional ingredients, but I do recommend them. So the salad isn't too spicy, I like to remove the seeds and white membrane from the pepper. I also choose a small garlic clove for this since a large clove would likely be too overpowering (a small clove should yield 1/2 teaspoon when minced).
Fresh herbs: For a guacamole-inspired salad, use cilantro. It's also fun to experiment with other fine and tender herbs like parsley, chives, and basil.
Since you love amazing salads, when you're done with this recipe, take a look at our Favorite Watermelon Salad (it screams summer).
Making the Avocado Salad
This salad is simple to make. I like to whisk my dressing in the bottom of a salad bowl then I gently toss the avocado and cucumber into it. This way, the dressing is well blended, but I'm not forced to over-mix the avocado. By gently tossing everything together, the avocado stays intact.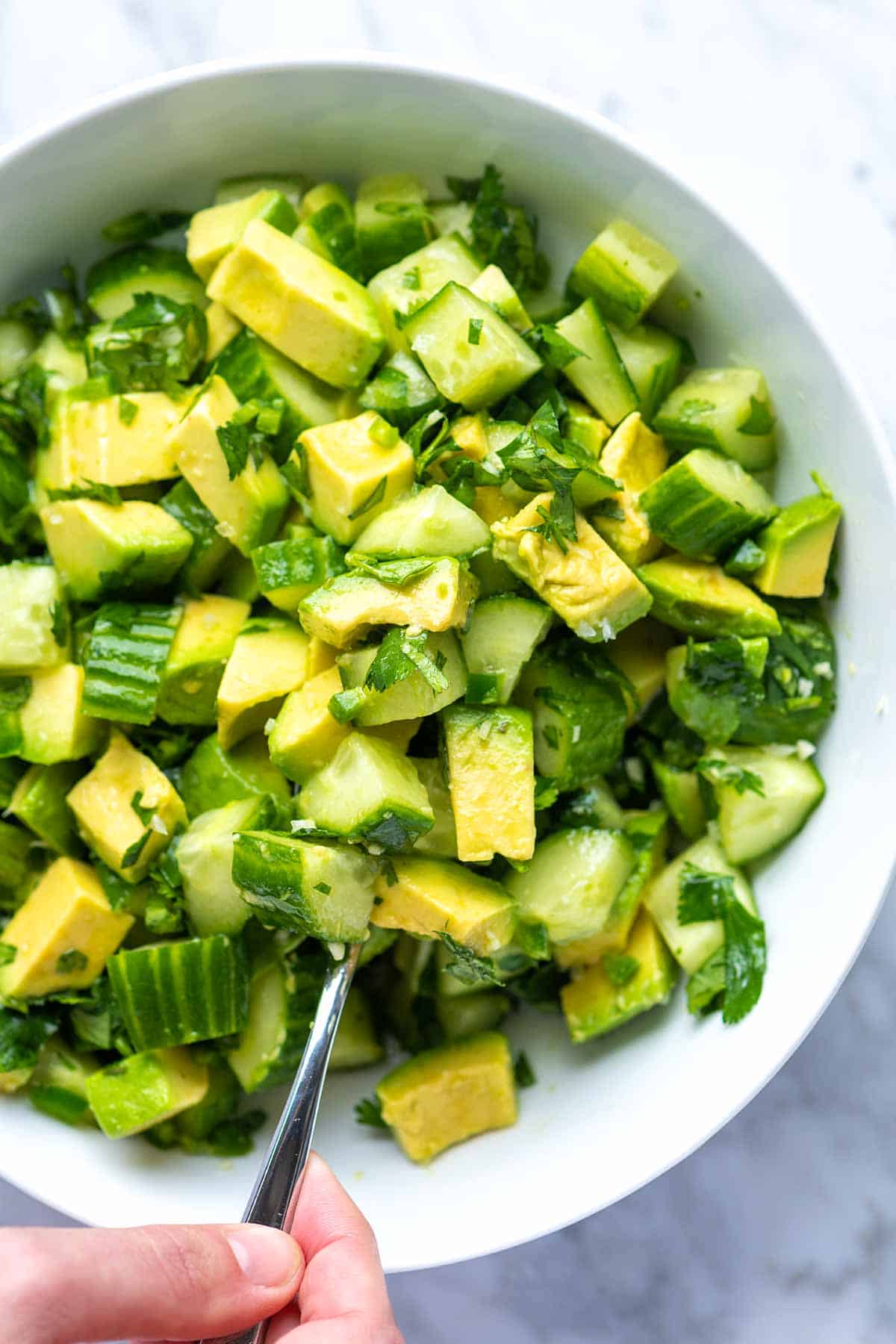 How to Choose Avocados
Ripe avocados are essential for the best avocado salad. Here's how to tell whether or not an avocado is ready:
Gently squeeze the avocado with the palm of your hand (don't use your fingertips, they will bruise it). If it yields slightly, it's ready to eat. If it doesn't yield and feels firm, it needs a day or two. If it gives easily, it's probably overripe and possibly spotty inside.
Check under the stem. Use your fingers to pull the stem at the top of the avocado gently. If, when you remove it, it's green underneath, you've found an avocado that's ready to eat. If it's hard to remove, it needs a couple of days. If it's brown underneath, the avocado is overripe.
More Avocado Recipes
We buy more avocados that I'd like to admit. If you have some leftover in your kitchen, consider making one of these easy recipes:
Very Best Avocado Salad
This easy avocado salad with cucumbers, lime, and cilantro could not be easier. Enjoy this as a side salad, as a chunky salsa or top larger salads. Since the avocado will brown over time, this salad is best eaten the day you make it. You can, however, make the salad dressing up to a day in advance.
You Will Need
2 medium Hass avocados, about 2 cups cubed
2 cups (300 grams) cubed cucumber, about 1 large cucumber
3 tablespoons fresh lime juice, from 1 to 2 limes
2 tablespoons extra-virgin olive oil
1 jalapeno, seeds and membrane removed
1 small garlic clove, omit if sensitive to raw garlic, about 1/2 teaspoon
1/4 teaspoon fine sea salt, or more to taste
1/2 cup (25 grams) chopped fresh herbs like cilantro, parsley, basil, dill or a combination
Hot sauce, optional
Directions
1In the bottom of a salad bowl, whisk the lime juice, olive oil, garlic, jalapeno, and salt together. Stir in the herbs. (If making ahead of time, cover and refrigerate up to one day.)

2When ready to serve the salad, cut the avocados in half, remove the pits, and cut into cubes.

3Add the cubed avocado and cucumber to the bowl with the dressing. Gently toss the avocado and cucumber around the bowl so that they are well coated in the dressing. Taste, and then season with additional salt and your favorite hot sauce (optional).
Adam and Joanne's Tips
I love using thin-skinned, seedless cucumbers for this like English or hothouse cucumbers or the smaller Persian cucumbers. If you are using regular garden cucumbers with tough skins, you might want to peel some or all of the skin and scoop out some of the seeds.
Nutrition facts: The nutrition facts provided below are estimates. We have used the USDA database to calculate approximate values.
If you make this recipe, snap a photo and hashtag it #inspiredtaste — We love to see your creations on Instagram and Facebook! Find us: @inspiredtaste
Nutrition Per Serving
Serving Size
1/3 cup
/
Calories
180
/
Total Fat
16.6g
/
Saturated Fat
2.3g
/
Cholesterol
0mg
/
Sodium
107mg
/
Carbohydrate
9.8g
/
Dietary Fiber
5.7g
/
Total Sugars
1.2g
/
Protein
2g