How to make shrimp salad with a dressing made of sour cream, mayonnaise and lots of fresh herbs. Jump to the Herbed Shrimp Salad Recipe on Endive Spears or read on to see our tips for making.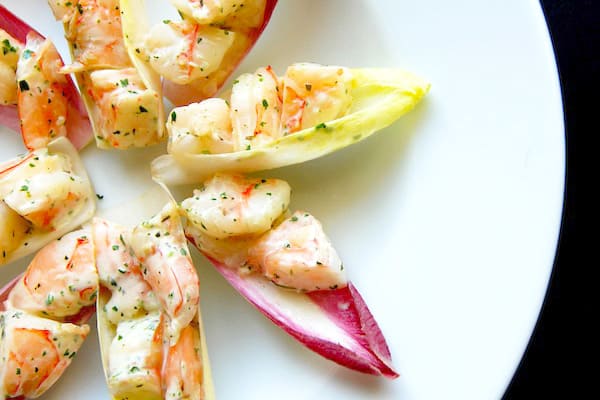 Let me start by saying the dressing recipe below is one you need in your life. It's equally delicious as a veggie dip, dressing for salads or used as a dressing for chicken. We pack in lots of fresh herbs like tarragon, mint and parsley. If you're short on one, not to worry other fresh green herbs like basil or cilantro will work nicely. The key is keeping the dressing creamy with a nice punch of fresh from the herbs and citrus.
YOU MAY ALSO LIKE: Forget poaching and try this easy roasted shrimp cocktail. Instead of poaching, quickly roast shrimp in a hot oven until sweet and tender. Jump to the Easy Roasted Shrimp Cocktail Recipe.
This shrimp salad can be served alone or on just about anything. I love the look and taste of it with endive leaves. The slightly bitter and crunchy endive works nicely with the shrimp.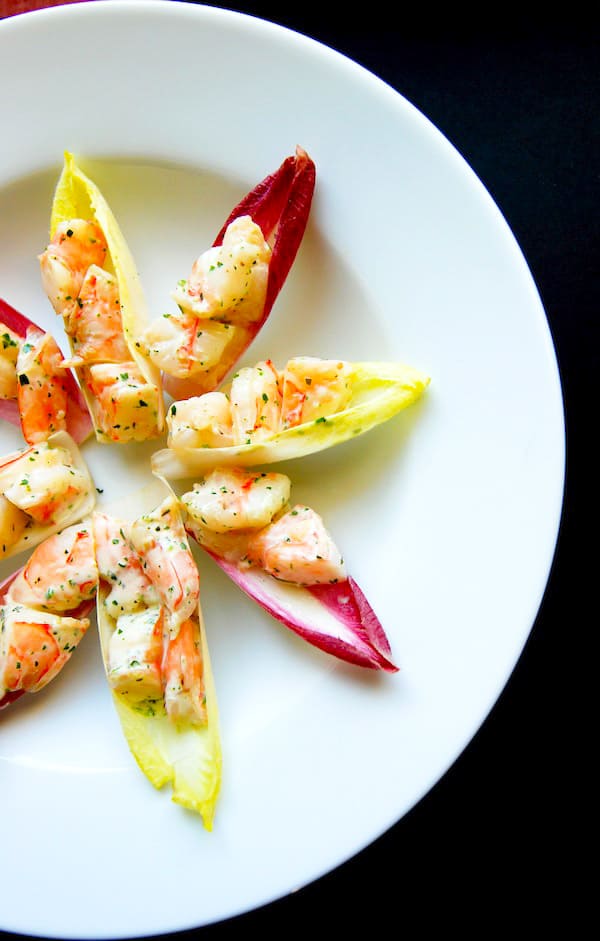 This is great for parties, but I'm kind of in love with the idea of turning these into dinner and calling them lettuce wraps. If you were to whip out a head of Boston or Bibb lettuce, sliced avocado and a few vegetables like carrot or cucumber this would be excellent as dinner.
YOU MAY ALSO LIKE: Meet your new favorite shrimp taco recipe. There's chile butter shrimp, mashed avocado and a quick and crunchy slaw. Jump to the Chile Butter Shrimp Tacos Recipe.
Recipe updated, originally posted January 2010. Since posting this in 2010, we have tweaked the recipe to be more clear. – Adam and Joanne
Herbed Shrimp Salad Recipe on Endive Spears
Shrimp is excellent, but chicken, lobster and crab will all work nicely. The dressing below is versatile, too. Use it as a vegetable dip or salad dressing. You will need lime for both the shrimp and dressing. The dressing calls for lime zest, it is best to remove the zest before juicing the lime.
You Will Need
Shrimp
1 pound shrimp, shelled and deveined
2 tablespoons olive oil
1/2 teaspoon sea salt
1/8 teaspoon fresh ground black pepper
2 tablespoons lime juice
Salad
1/2 cup sour cream
2 tablespoons mayonnaise
1 teaspoon lime zest
1 tablespoon lime juice or more to taste
1 tablespoon chopped tarragon leaves
2 teaspoons chopped mint leaves
3 tablespoons chopped parsley
Salt and fresh ground black pepper
3 medium-size endive, leaves pulled apart
Directions
1Heat oven to 400 degrees F. Line a baking sheet with aluminum foil.

2Toss the shrimp with olive oil, salt, and the pepper. Tumble shrimp onto the baking sheet and spread into one layer. Roast the shrimp for 5 to 10 minutes until pink, firm, and cooked through. Immediately toss with lime juice.

3Meanwhile, make the dressing. In a large bowl, stir the sour cream, mayonnaise, lime zest, lime juice, herbs, a pinch of salt and a few grinds of black pepper. Or use a food processor to blend. Taste then adjust with salt, pepper or more lime juice.

4Chop the shrimp into bite-size chunks then add to the bowl with dressing. Toss then serve spooned onto endive leaves.