Tomatoes, mint and feta are a power trio. Roasted tomatoes, softened onions and lots of fresh mint makes this simple meatless pasta a winner. Jump to the Pasta Recipe with Roasted Tomato Sauce, Mint and Feta or read on to see our tips for making it.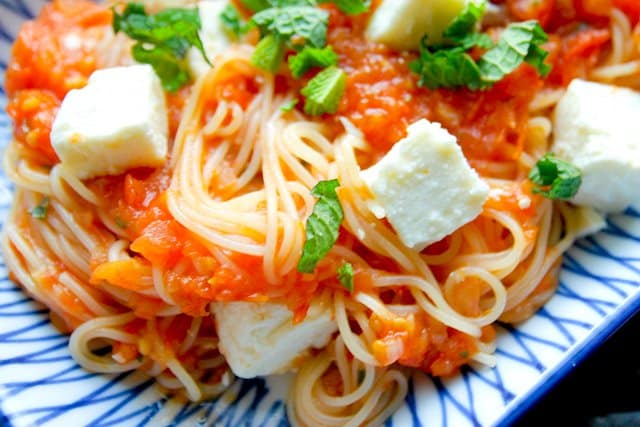 When tomatoes are in season, you'll find them added to just about everything we eat. It's our favorite time of year — Fresh Bruschetta anyone? When tomatoes are not in season, we still crave them. The problem is that they are never as sweet and ripe as they are in summer. That's okay, though, because our solution is to roast them. Roasting brings out the natural sweetness in almost anything — especially vegetables.
YOU MAY ALSO LIKE: Maple syrup perfectly balances the bitterness of endive in this simple side. Jump to the Maple Roasted Endive Recipe.
For this simple pasta sauce, we roast tomatoes with garlic and olive oil then add them to some onions softened in olive oil, a can of tomatoes and fresh mint. The can of tomatoes helps make this a thick sauce. We've made this sauce with both mint and basil with great success. Use what you have on hand or use both! I'm partial to throwing lots (and I do mean lots) of fresh green herbs into whatever we're cooking. If you are making this in the cooler months, think about adding a few heartier herbs like thyme or rosemary to the tomatoes while they roast.
Once the sauce is made, toss it with some pasta — I like slurping up spaghetti or angel hair. Then throw on some feta cheese and more herbs.
YOU MAY ALSO LIKE: How to make spaghetti and turkey meatballs tossed with an easy homemade spinach pesto. Jump to the Spaghetti and Turkey Meatballs with Spinach Pesto.
Recipe updated, originally posted October 2009. Since posting this in 2009, we have tweaked the recipe to be more clear. – Adam and Joanne
Pasta with Roasted Tomato Sauce, Mint and Feta
Roasting brings out the natural sweetness in almost anything — especially when it comes to tomatoes. Use any variety of tomato for this. A variety pack of cherry tomatoes with different colors creates a very pretty sauce. Mint is lovely here, especially with the feta, although fresh basil is an excellent substitute.
You Will Need
1 pound tomatoes
3 garlic cloves, left unpeeled
4 tablespoons olive oil
Salt and fresh ground black pepper
1 (14-ounce) can tomatoes, preferably whole peeled tomatoes
1 medium onion, chopped
1/4 teaspoon crushed red pepper flakes
1/4 cup loosely packed fresh mint leaves, chopped, plus more for serving
1 pound dried pasta such as spaghetti or angel hair
2 ounces feta cheese, crumbled (about 1/2 cup)
Directions
1Heat the oven to 400 degrees F. Toss tomatoes onto a rimmed baking sheet with 2 tablespoons of olive oil, about 1/4 teaspoon of salt and the unpeeled garlic cloves. Spread into one layer then roast until soft, but beginning to brown, 25 to 30 minutes.

2About 20 minutes before the tomatoes have finished roasting, heat 2 tablespoons of olive oil in a large pot over medium low heat. Add the onions and red pepper flakes, then cook, stirring often, until softened and sweet, about 10 minutes. Add the canned tomatoes with juices as well as a generous pinch of salt. Bring to a boil, reduce the heat to a gentle simmer and cook, uncovered and stirring occasionally, for 10 minutes.

3Add the roasted tomatoes and fresh mint to the sauce. Squeeze the softened garlic out of the papery outer layers and into the sauce. Use an immersion blender to puree the sauce until relatively smooth, but leaving some texture. Taste then season with salt and pepper as needed. (We usually need to add another generous pinch of salt). Use the sauce now or cool, cover and chill up to 3 days.

4When the sauce is done, cook the spaghetti in boiling salted water until it is tender but not mushy. Toss with some of the roasted tomato sauce, thinning with a little of the hot cooking water as necessary. Serve with more fresh mint and the feta cheese on top.