When we're craving something chocolatey, but just don't have the patience to bake, this brownie in a mug recipe is where we turn. Within five minutes, you're in chocolate brownie heaven. One mug is usually enough for the two of us to share — especially when we top it with a big spoonful of ice cream or whipped cream.
Watch the Video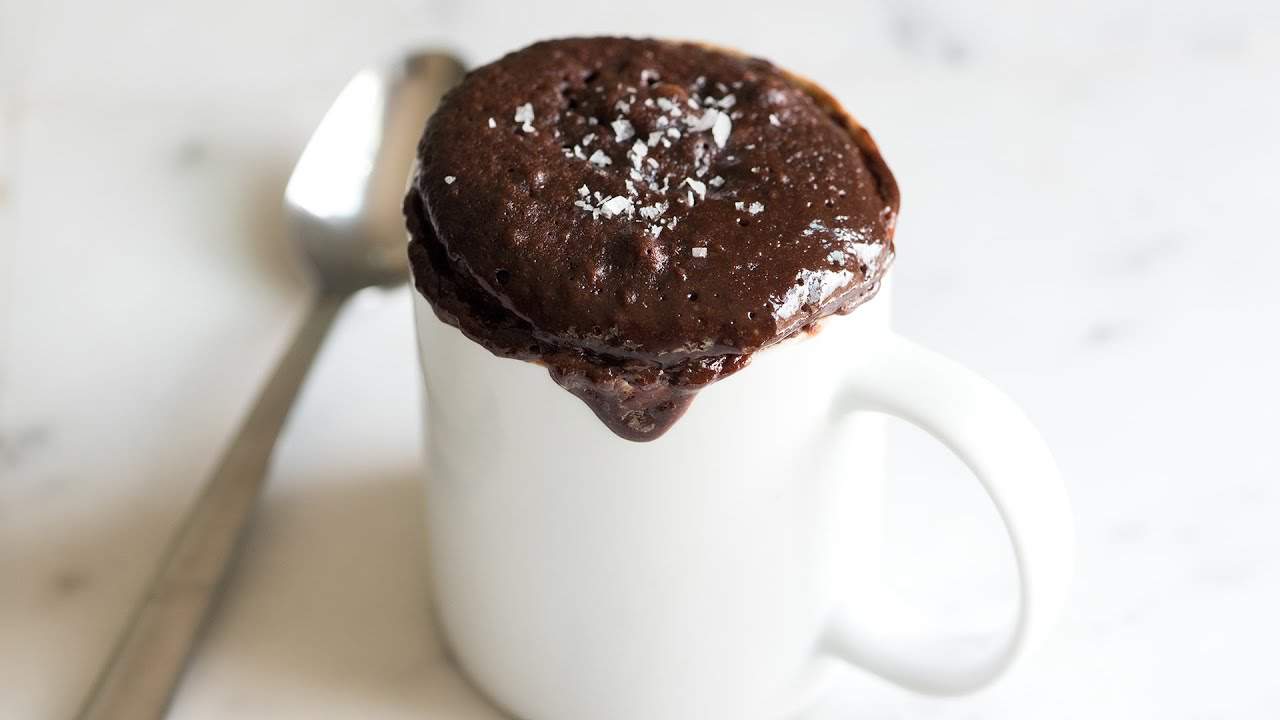 Related: If you have extra time we love these fudgy brownies!
Chocolate Brownie Quick Fix: How to Make a Brownie in a Mug
There are lots of mug cakes, mug brownies and mug cookies around the internet, so I guess we're not the only ones who need a quick fix every once in a while. This recipe for chocolate brownie in a mug is our favorite. It's easy, quick and while it doesn't rival our absolute favorite brownie recipe, it does quench our chocolate cravings.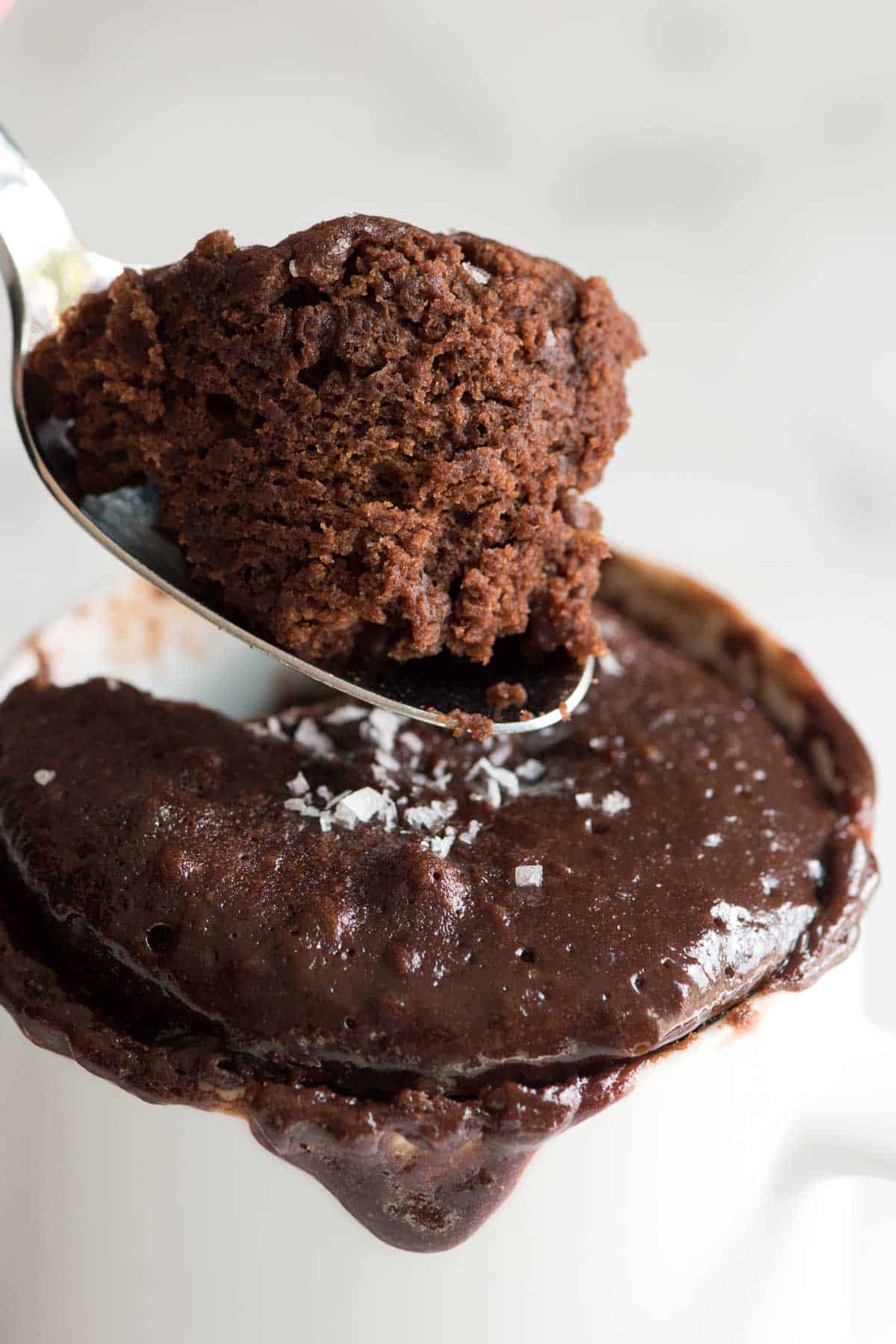 Making a mug brownie only takes 5 minutes. You can mix everything in the mug itself, but we've found that doing everything in separate bowls keeps things less messy when it comes to the sides of the mug. It's up to you, though!
We start by sifting flour and cocoa powder together — you can whisk them, but sifting really is best. Cocoa powder often has a bunch of lumps and sifting breaks them up.
In another bowl, we mix melted coconut oil, brown sugar, coffee and a little vanilla extract together. We love the flavor coconut oil adds to the brownie, but you can just as easily use butter or other oil. Keep whatever you use light in flavor, though.
Coffee and chocolate work so nicely together — the coffee seems to make the chocolate taste more chocolatey. If you don't have any on hand, simply use water or milk (dairy or non-dairy).
We love how versatile the recipe is, you really can change it to your liking. If you don't have unsweetened cocoa powder, you can try hot chocolate mix. Just keep in mind, you may need to reduce the sugar a little.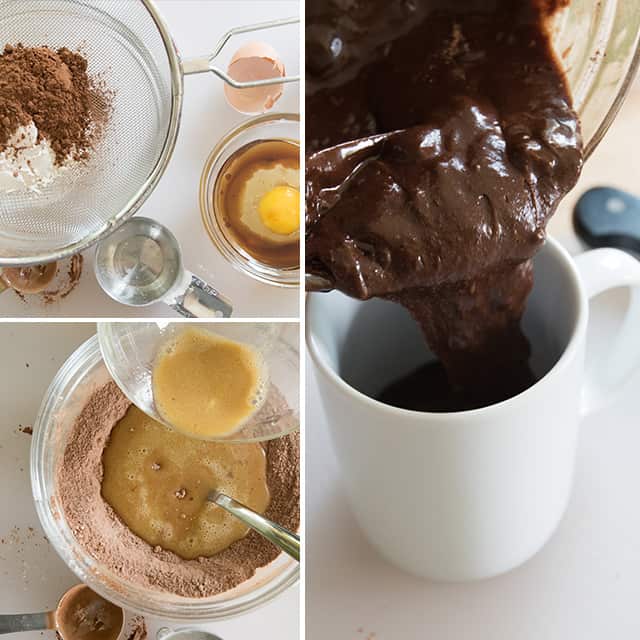 We whisk everything together until a batter forms then carefully pour it into the mug. Try your best not to drip the batter down the sides of the mug — they overcook in the microwave and make things hard to clean when you are done.
If you do drip, just wipe it clean before microwaving.
We microwave the brownie (without peeking) for 1 minute and 30 seconds. We've found any longer just dries the brownie out. You may find you need to tweak timing a little since all microwaves and mugs are going to be a little different.
How to Serve Your Microwave Brownie
You can serve it immediately and eat straight from the mug (just be careful it is really, really hot at first). Or, turn it upside down and place it onto a plate. The brownie is best enjoyed warm and is absolutely amazing when topped with a little salt and ice cream!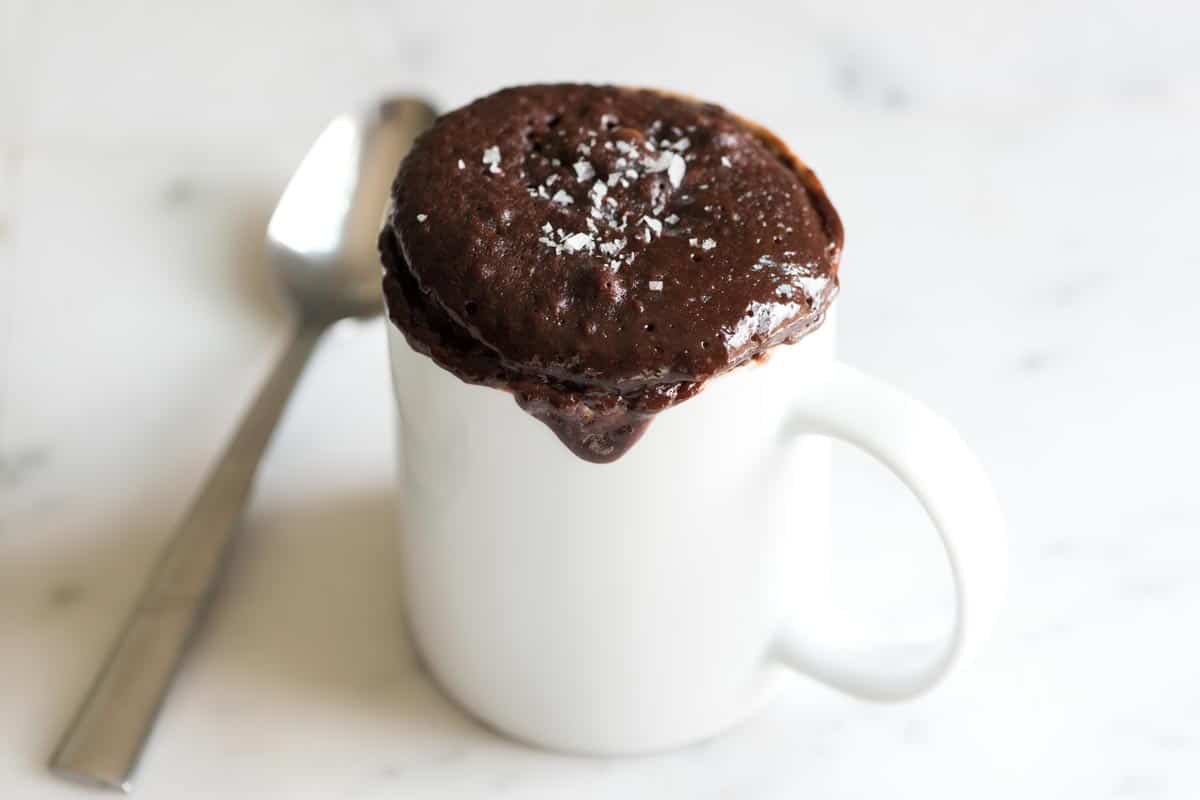 Easy Microwave Brownie in a Mug
This recipe makes one pretty generous brownie. Adam and I will often split one and enjoy it with a big scoop of ice cream on top. We love the added flavor of coconut oil in our brownie, but you can certainly use something else. Try a lightly flavored, fruity olive oil, grapeseed oil or other neutral flavored oil. Melted butter will work, too. If using coconut oil or butter, we melt them in 10 second bursts in the microwave — and actually use the mug we plan to use for the brownie. Once it is melted, let it cool for 30 seconds before mixing with the egg.
Watch Us Make the Recipe
You Will Need
2 tablespoons coconut oil, melted and not hot (melted butter, lightly flavored olive oil or neutral oil like grapeseed also work)
1/4 cup all-purpose flour
2 tablespoons unsweetened cocoa powder
1/4 cup brown sugar
1 1/2 tablespoons coffee, at room temperature (water or milk — dairy or non-dairy)
1/2 teaspoon vanilla extract
1 large egg (leave out for extra fudgy brownie, see notes below)
Salt, optional
Directions
1Sift the flour and cocoa powder together over a bowl.

2In another bowl, whisk the melted coconut oil, brown sugar, coffee, egg, vanilla and a very small pinch of salt together until blended then pour into the bowl with sifted flour and cocoa powder. Whisk until combined then carefully pour into the mug.

3Clean any drips around the edges of the mug then microwave for 1 minute and 30 seconds to 1 minute and 45 seconds. Serve with a sprinkle of salt on top, if you like. Top with your favorite brownie topping — ice cream is always a good choice.
Adam and Joanne's Tips
Egg-Free Mug Brownie: We really enjoy the structure the egg provides, but if you're looking for a fudgy, more molten brownie or don't eat eggs, you can eliminate it from the recipe. Instead of an egg, increase the liquid to 4 tablespoons (this can be coffee, water or milk).
Brown Sugar vs. Granulated Sugar: We use brown sugar in our brownie recipe since it makes the brownie more moist. Granulated sugar will still work well, in fact, the brownie will likely rise a little more in the mug.
What Mug to Use? Specialty or glazed mugs aren't your best option when it comes to this recipe. Use a plain, microwave-safe coffee cup that holds at least 12 ounces. We have also noticed the thinner and taller the mug is, the better the brownie rises (like our photos). Don't worry though, even if your brownie doesn't rise above the rim of the cup, it should still taste great!
A note about our microwave: Our microwave is a 1000-Watt microwave. If you have a more powerful microwave, you may want to consider reducing the cook time or power setting.
Nutrition facts: The nutrition facts provided below are estimates. We have used the USDA Supertracker recipe calculator to calculate approximate values.
If you make this recipe, snap a photo and hashtag it #inspiredtaste — We love to see your creations on Instagram and Facebook! Find us: @inspiredtaste
Nutrition Per Serving
Serving Size:
1 Mug brownie
/
Calories
582
/
Protein
12 g
/
Carbohydrate
66 g
/
Dietary Fiber
4 g
/
Total Sugars
36 g
/
Total Fat
34 g
/
Saturated Fat
26 g
/
Cholesterol
186 mg