Easy sautéed vegetables recipe! We love this dish with onion, zucchini, bell pepper, and garlic, but you can substitute or add your favorite vegetables. These sautéed veggies are quick to cook and easy to prepare.
Watch the Video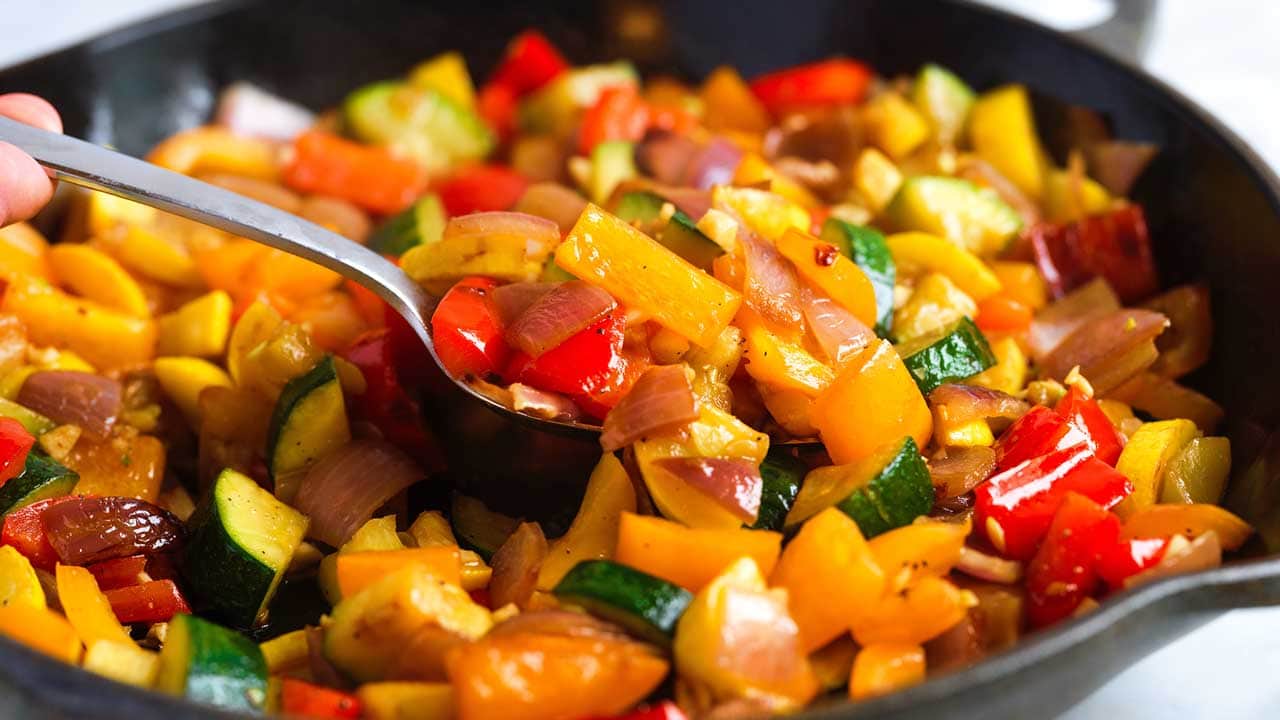 Related: We always love serving these roasted vegetables!
How We Sauté Vegetables
We love this healthy and colorful dish made with garlic, and a little butter for some richness. Keep this recipe for sides throughout the week. These veggies make a perfect side to protein. This baked tofu and our lemon dill baked salmon are my favorites.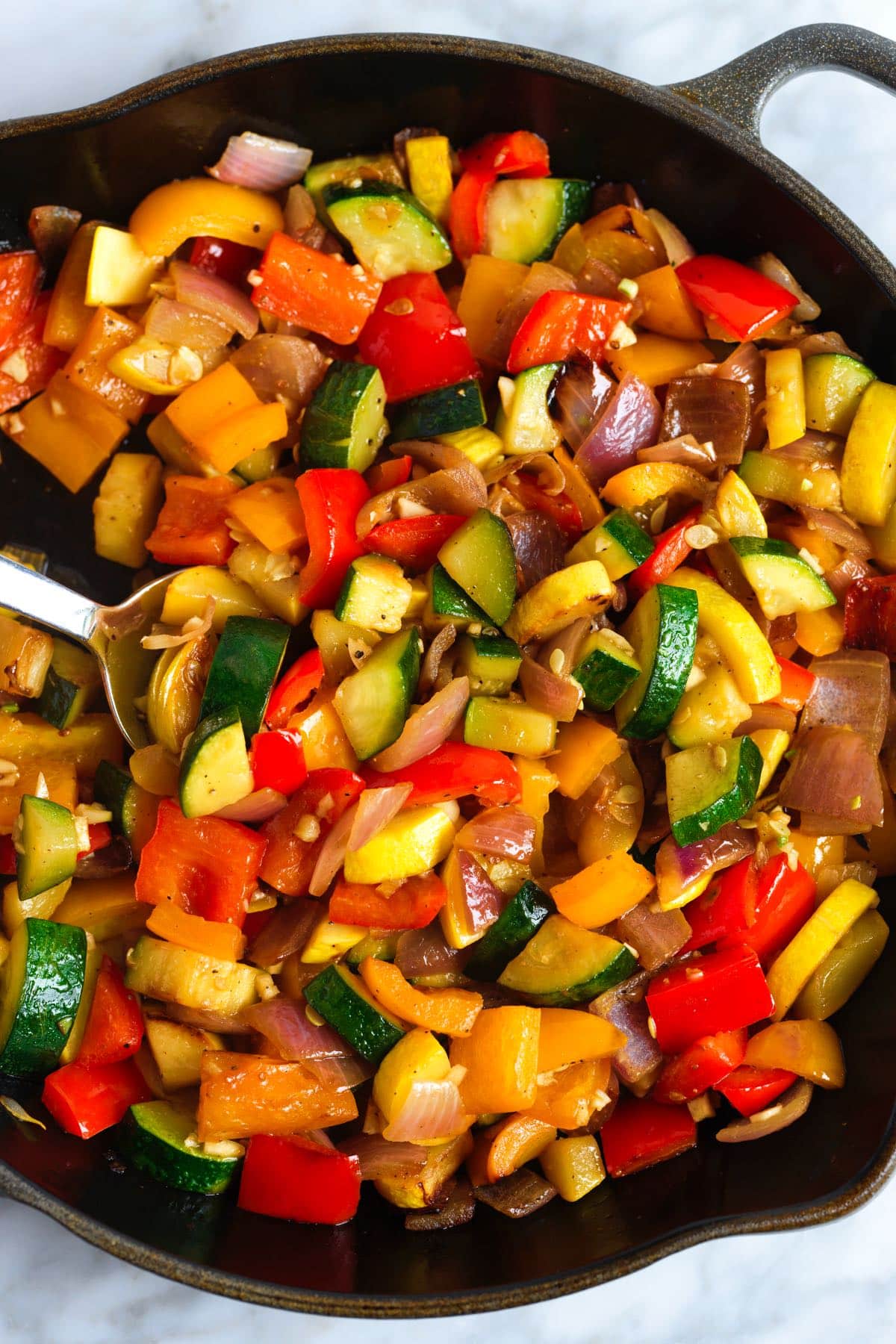 This recipe is easy to meal prep, too. Chop your vegetables at the beginning of the week and portion them out so that they are ready to prepare later in the week when you need an easy, nutritious side.
The trick for the best sautéed veggies is to season with salt and pepper towards the end. This way, they have a chance to brown. Salting them too early encourages the vegetables to release moisture, which makes the final dish soggy.
In addition to the salt and pepper, we add some butter and garlic at the end. We use this trick when making sautéed zucchini and even scallops! By adding them at the end, the vegetables are coated in a lovely garlic butter. We love it!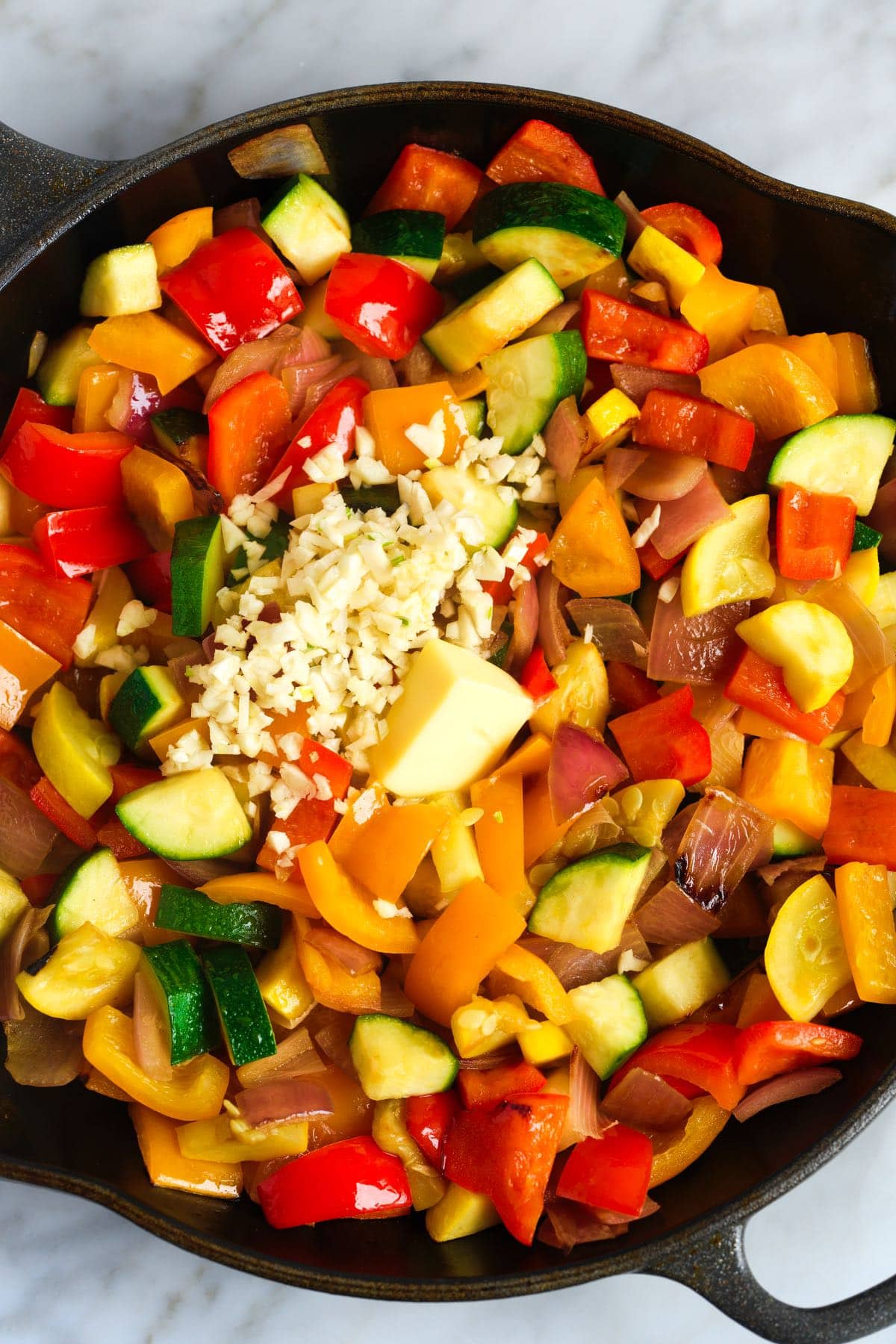 I already mentioned that this is a versatile recipe, but here are a few more vegetables that work well when making it:
Cauliflower, cut into small florets
Broccoli, cut into small florets
Snap peas
Sweet peas
Shredded cabbage
Grape tomatoes or chopped tomatoes
Sliced mushrooms
Corn kernels
Asparagus
Thinly sliced fennel
Thinly sliced carrots
When using different veggies in this recipe, consider how hearty they are. If they are on the heartier side, like broccoli, cauliflower, or carrots, we recommend cooking them with onions in the beginning. If they are more delicate, like tomatoes, or snap peas, add them towards the end.
More Easy Vegetable Recipes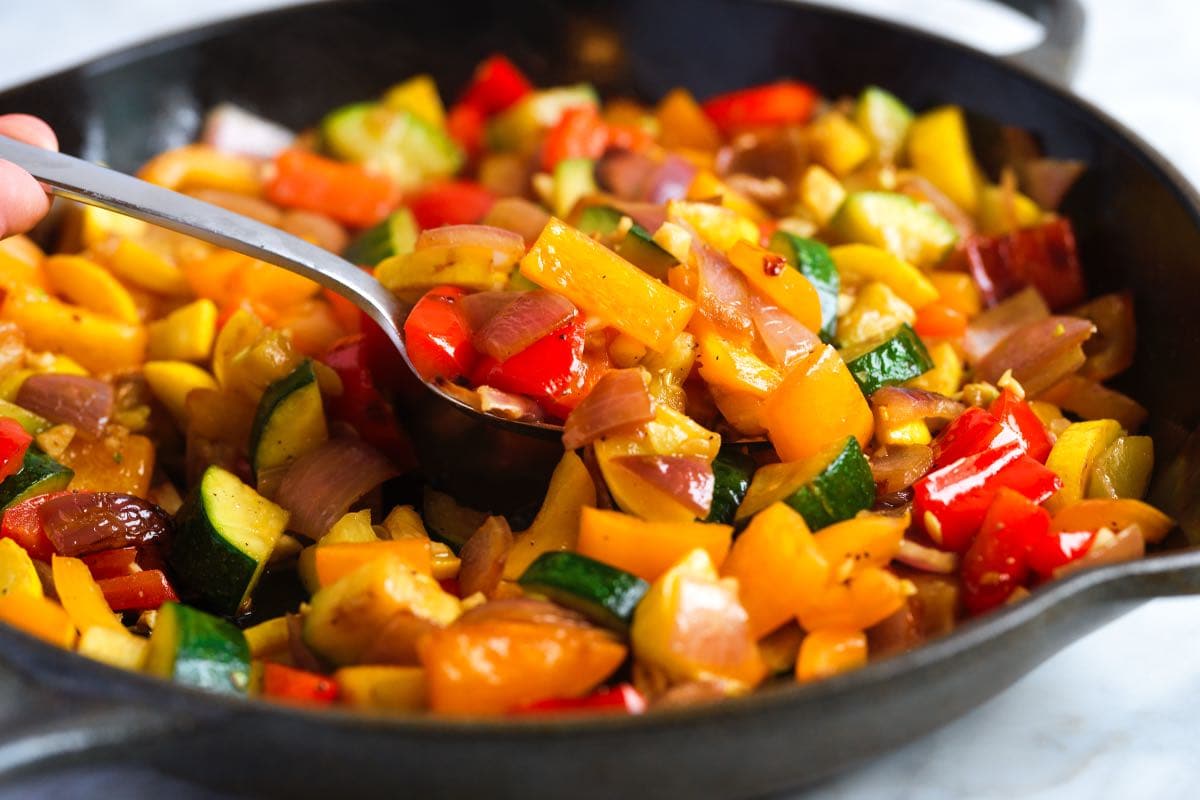 Easy Sauteed Vegetables
We love these healthy sautéed vegetables made with some of our favorite veggies, garlic, and a little butter for some richness. These are quick to cook and easy to prepare. This is a versatile veggie recipe, so look at the article for other vegetables that work well in the recipe.
Watch Us Make the Recipe
You Will Need
1 tablespoon olive oil
1 small onion
2 medium bell peppers
1 medium yellow squash
1 medium zucchini
1 tablespoon minced garlic
1 tablespoon butter, optional
Salt and freshly ground black pepper
Directions
1Cut the onion, bell peppers, yellow squash, and zucchini into 3/4-inch pieces.

2Heat the oil in a wide skillet over medium-high heat until the oil is shimmering.

3Stir in the onions. Cook, stirring around the pan, for one minute.

4Add the remaining vegetables (bell peppers, yellow squash, and zucchini). Cook, tossing occasionally, until tender, 4 to 6 minutes.

5Stir in the garlic, butter, 1/4 teaspoon salt, and 1/4 teaspoon fresh ground pepper, and cook for one minute. Serve.
Adam and Joanne's Tips
Nutrition Per Serving
Serving Size
1/4 of the recipe
/
Calories
86
/
Total Fat
6.6g
/
Saturated Fat
2.3g
/
Cholesterol
7.6mg
/
Sodium
149.4mg
/
Carbohydrate
6.2g
/
Dietary Fiber
1.7g
/
Total Sugars
3.3g
/
Protein
1.1g