Nothing says comfort to us like baked lasagna loaded with creamy sauce, chicken and cheese. Jump to the Creamy Chicken Lasagna Recipe or read on to see our tips for making it.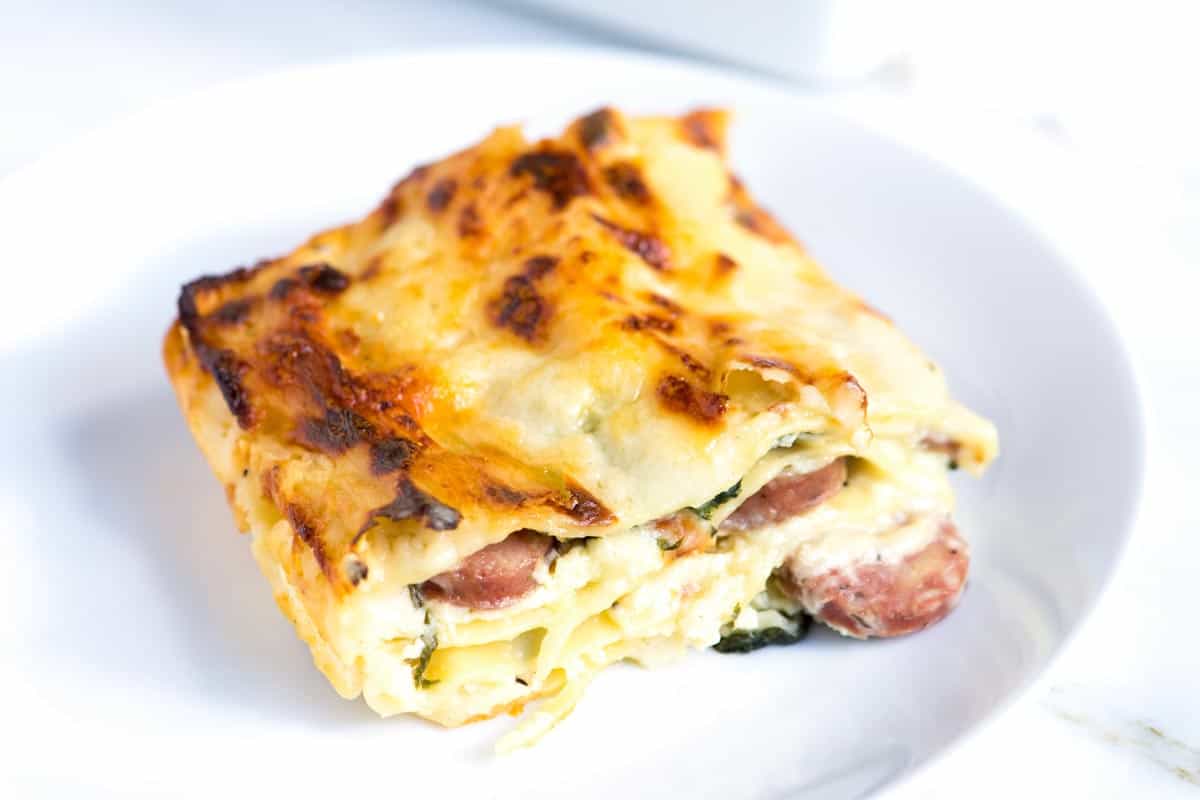 This creamy chicken lasagna recipe has everything: a luxuriously cheesy sauce, chicken sausage, spinach and no-boil noodles to makes things extra simple. It's no secret that we love lasagna and this chicken lasagna has quickly risen to one of our favorites.
YOU MAY ALSO LIKE: Our Fresh and Easy Vegetable Lasagna recipe! We start with lots of fresh vegetables like zucchini then cook them in a light tomato sauce.
How to Make Lasagna with Chicken and Spinach
The sauce is a mixture of butter, milk and cheddar cheese. Think about the creamy sauce from Macaroni and Cheese, but instead of stirring it into pasta, we layer it between sheets of lasagna noodles, ricotta cheese, chicken sausage and spinach.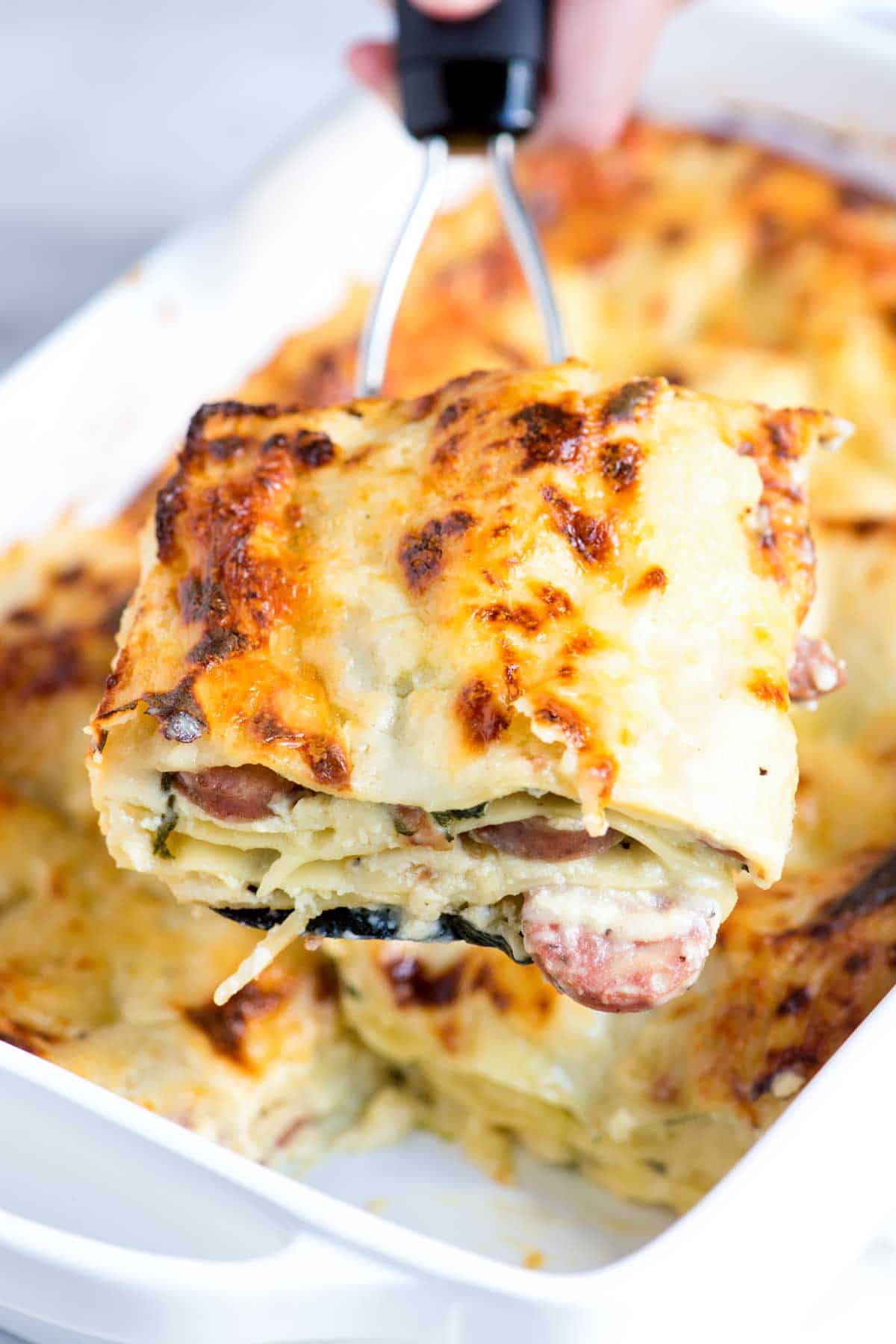 We've added a few shortcuts. No-boil lasagna noodles makes the preparation quick and easy — no big pots of water needed. Not only that, but we actually prefer the texture of them to regular noodles. That said, if traditional lasagna noodles are all you have in your pantry, use them!
Using previously cooked chicken sausage is another shortcut. There's lots of choices when it comes to which chicken sausage you use — in the photo, we went with a roasted garlic and gruyere cheese chicken sausage. There's sweet Italian chicken sausage, which would work beautifully. Or you might choose to go with something completely different — spicy, sweet apple or an herbed sausage would all be great.
This lasagna is so versatile, you can even substitute other meats or remove them all-together and layer in some sautéed mushrooms, kale or peppers. Since we've included those shortcuts I was talking about — the no-boil noodles and pre-cooked chicken sausage — putting this white chicken lasagna together is simple.
Step One: Make the Cheesy Sauce
We melt butter in a heavy medium saucepan then whisk in an equal amount of flour. The butter and flour combine to make a paste — it's called a roux and is a pretty common component in creamy sauces. It's also the secret for our thickened, smooth and creamy white sauce. After a couple minutes of cooking the butter and flour together we pour in milk and cook, whisking often until the mixture is smooth. We turn the heat to very low and let the sauce simmer, stirring often, for about 10 minutes.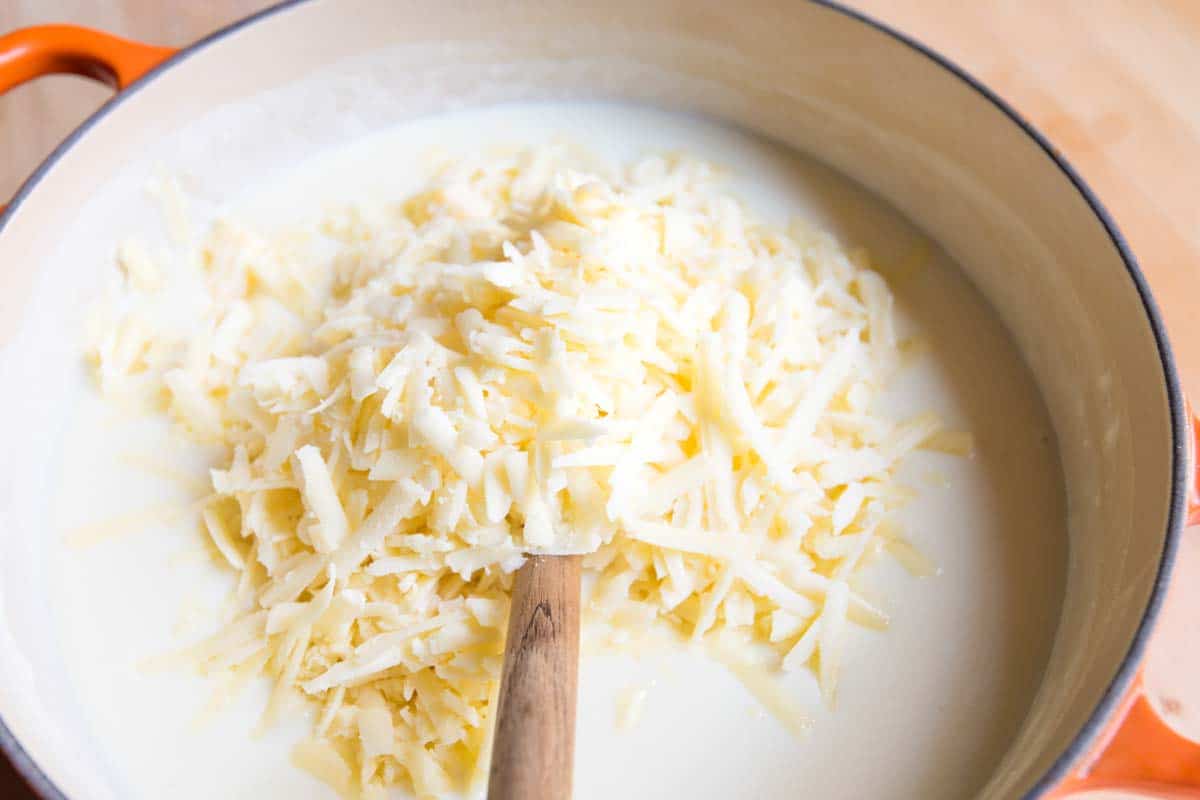 After 5 to 10 minutes, we slowly whisk in very sharp white cheddar cheese as well as a small amount of Dijon mustard. Finally, we give the sauce a taste and season with salt and pepper.
Make Ahead Tip: You can make the white sauce up to a day in advance. Store it in the refrigerator. Lay a sheet of plastic or wax paper directly on the top of the sauce (so a skin doesn't form). To reheat, whisk vigorously over medium heat. It should be as smooth as when you made it. If it seems too thick, thin it out with a little extra milk.
Step Two: Make the Sausage and Spinach Filling
Since the chicken sausage used in our lasagna is pre-cooked, we are really only looking to brown it a little, add a little garlic and wilt the spinach. We like to slice the sausage into thin discs — it layers nicely in the lasagna this way. The spinach doesn't take much time at all. We simply toss it into the pan after the sausage has warmed through and browned then let the heat from the pan gently wilt the leaves.
Step Three: Get the Ricotta Ready
We love layers of well-seasoned ricotta in our lasagna. We stir ricotta (part-skim is fine), an egg, salt and grated parmesan cheese together. The egg helps the ricotta firm up a little during baking, which keeps the layer intact.
The cheese and salt are essential — We cannot stand lasagnas with under-seasoned layers. Everything should stand by themselves.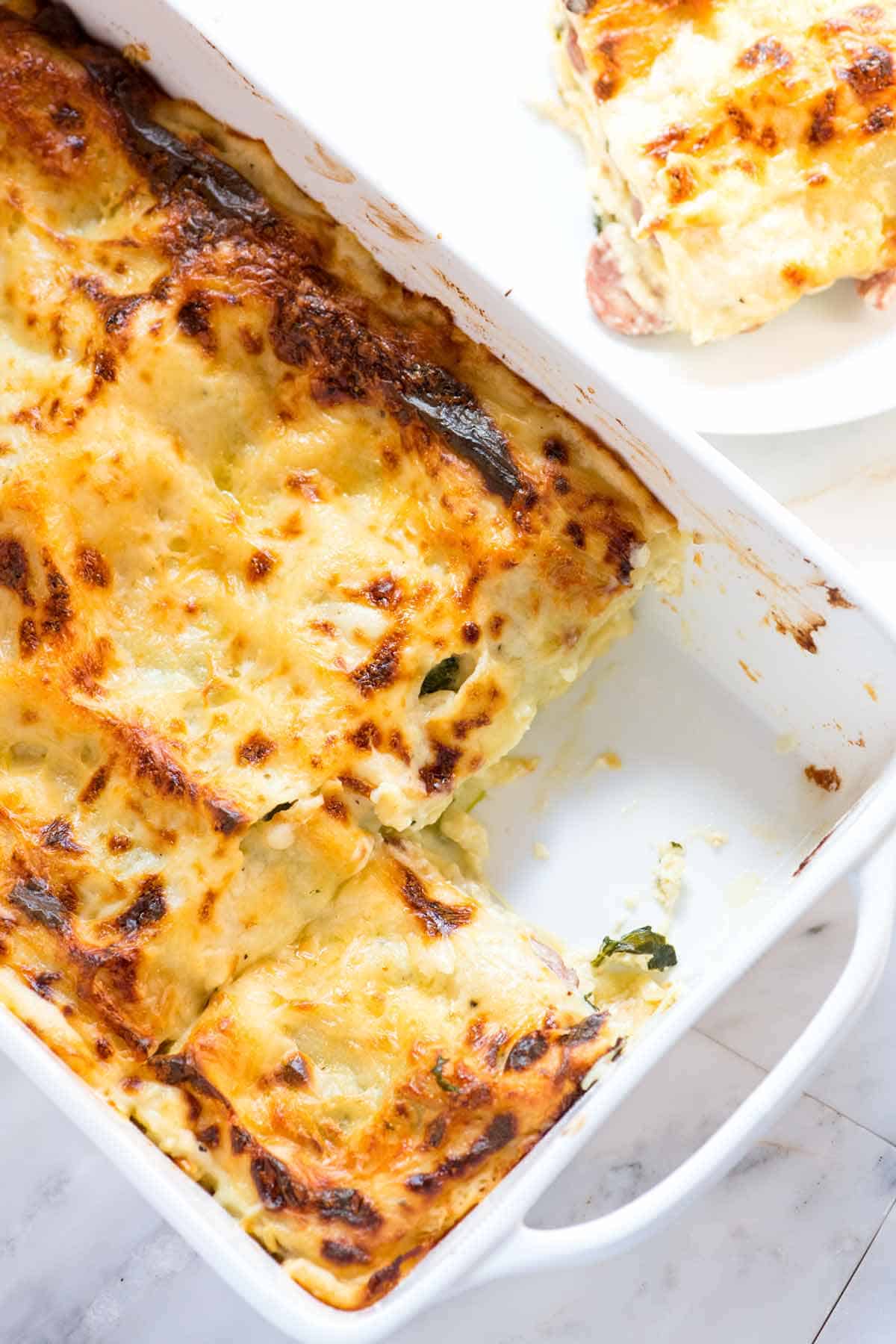 Step Four: Assemble the Lasagna
Assembling is pretty simple. We start with a thin layer of sauce at the bottom of the baking dish then add a layer of noodles, ricotta cheese, sausage and spinach and top with more sauce. We repeat this until everything has been used. We finish the top of our chicken lasagna with any remaining sauce and a sprinkle of parmesan cheese. After some time baking in the oven, the top becomes bubbly and lightly browned.
Since the darker spots on top are my favorite, we like to broil the top for deeper browning. It just takes a minute or two. Just look at that lasagna! All that cheese and sauce. The only downside to this lasagna is everyone loves it so much, there's rarely any leftovers. If there is, though, refrigerate it — it keeps very well.
Recipe updated, originally posted November 2015. Since posting this in 2015, we have tweaked the recipe to be more clear. – Adam and Joanne
Creamy White Chicken Lasagna Recipe
This creamy white chicken lasagna has everything: a luxuriously cheesy sauce, pre-cooked chicken sausage, spinach and no-boil noodles to makes things extra simple. There's lots of choices when it comes to which chicken sausage you use — in the photo, we went with a roasted garlic and gruyere cheese pre-cooked chicken sausage. There's sweet Italian chicken sausage, which would work beautifully. Or you might choose to go with something completely different — spicy, sweet apple or an herbed sausage would all be great.
You Will Need
8 tablespoons (115 grams) unsalted butter
1/2 cup (65 grams) all-purpose flour
4 cups (945 ml) milk, we use 2% reduced fat
8 ounces sharp white cheddar cheese, coarsely grated (about 2 cups)
2 teaspoons Dijon mustard
1 tablespoon olive oil
2 cloves garlic, minced
1 (12-ounce) package pre-cooked chicken sausage, thinly sliced into discs (5 to 6 sausages)
1 (10-ounce) bag fresh spinach leaves (about 6 cups)
1 (15-ounce) container part-skim ricotta cheese (about 1 and 3/4 cups)
1 1/2 ounces parmesan cheese (about 1/2 cup)
1 large egg
9 no-boil lasagna noodles or cooked traditional lasagna noodles
Salt and fresh ground pepper
Directions
Make Cheese Sauce

1In a large heavy saucepan, melt the butter over medium heat. Whisk in the flour and cook the mixture, whisking constantly, until it turns light brown in color and has a slightly toasted aroma, about 3 minutes. Remove the pot from the heat then slowly whisk in the milk. Continue whisking constantly to avoid any lumps. The mixture will become very thick at first, then should thin out gradually until smooth.

2Return the saucepan to the stove over medium heat and cook the sauce, while whisking constantly, until it has thickened enough to coat the back of a spoon, about 8 minutes. Turn the heat to very low then slowly stir in the cheddar cheese and Dijon mustard. Season the sauce with salt and pepper then set aside over very low heat while you prepare the lasagna.
Make Filling

1In a wide skillet heat the olive oil over medium heat. Add garlic and cook, stirring often, until fragrant, but not toasted. Add the sausage and cook until lightly browned on both sides. Pile the spinach on top then cook, stirring every once and a while until the spinach just begins to wilt, about 3 minutes.
Make Ricotta Layer

1In a medium bowl, stir the ricotta cheese, egg, half of the shredded parmesan cheese, and a 1/2 teaspoon of salt together until well blended.
Make Lasagna

1Heat the oven to 350 degrees F and butter or spray with non-stick cooking spray a 13-inch-by-9-inch baking dish (3 quart).

2Spoon 1/2-cup of the white sauce into the baking dish. The sauce will not completely cover the bottom. Cover with 3 lasagna noodles, making sure they do not touch each other. Spread a third of the ricotta mixture over lasagna noodles top with a third of the chicken sausage mixture, about 1/2-cup of the sauce then cover with another 3 lasagna noodles. Continue layering the lasagna in the same manner with remaining ricotta mixture, chicken sausage mixture, sauce and lasagna noodles, ending with pasta. Spread the remaining sauce over the top and sprinkle with remaining parmesan cheese.

3Bake the lasagna in the middle of the oven for 45 minutes, or until bubbling and lightly browned. For even more browning on top, when the lasagna has baked, turn the oven to broil and broil the top of the lasagna until dark golden brown.
Adam and Joanne's Tips
Make Ahead: Lasagna can be made 1 day ahead and chilled.
Baked lasagna also freezes well. Let it cool completely on a rack before freezing, and then wrap it very well with foil (we use two layers). Defrost the frozen lasagna overnight in the refrigerator and then bake at 350 degrees F for about 1 hour.
Nutrition facts: The nutrition facts provided below are estimates. We have used the USDA Supertracker recipe calculator to calculate approximate values. Values might change depending on which sausage you use. We used Al Fresco's Roasted Garlic sausages.
If you make this recipe, snap a photo and hashtag it #inspiredtaste — We love to see your creations on Instagram and Facebook! Find us: @inspiredtaste
Nutrition Per Serving
Calories
573
/
Protein
28 g
/
Carbohydrate
38 g
/
Dietary Fiber
2 g
/
Total Sugars
7 g
/
Total Fat
34 g
/
Saturated Fat
20 g
/
Cholesterol
122 mg