You'll love this ultra creamy mac and cheese recipe! With the perfect ratio of milk to cheese to sauce, this macaroni and cheese is at the top of my favorites list! Jump to the Baked Mac and Cheese Recipe
Watch The Video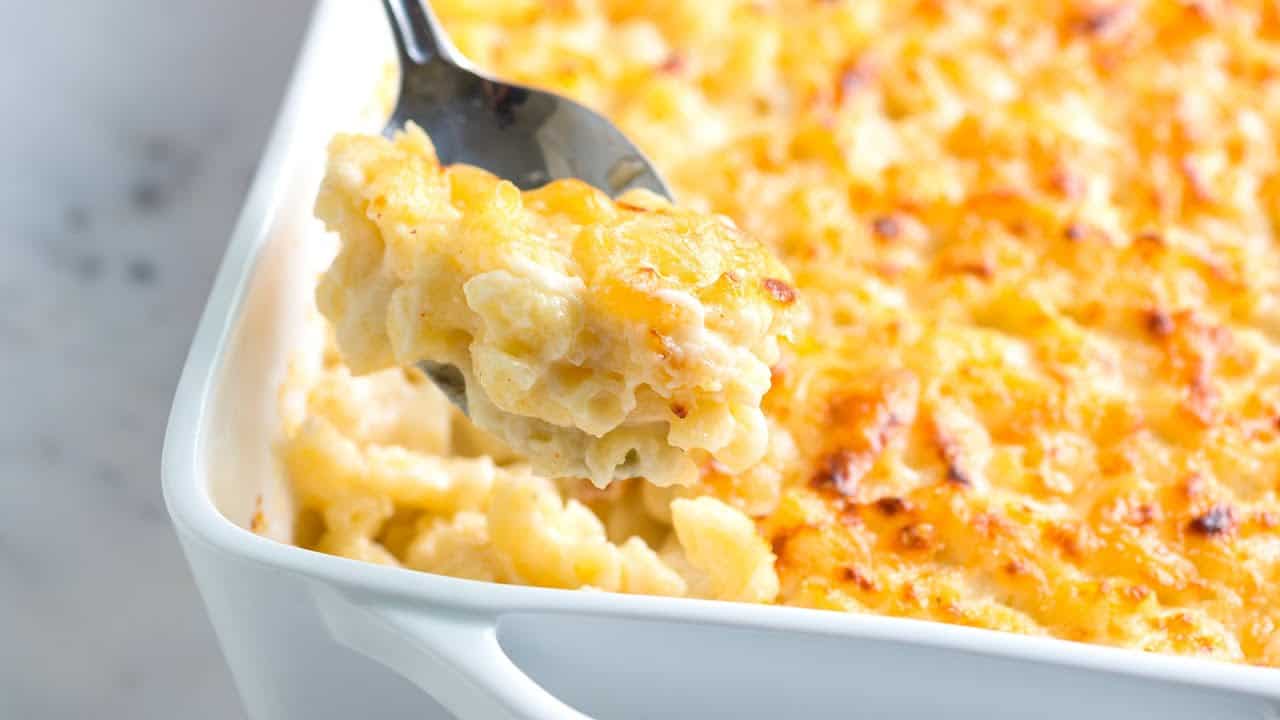 My Love Affair With Mac and Cheese
I have a mini love affair with mac and cheese. As a child, I would take it any way I could get it — out of a box or made from scratch by Mom. Wait what am I saying, I do that now 🙂 Mounds of cheese melted into a velvety, creamy sauce and tossed with pasta. Yes, please!
There are lots of recipes for macaroni and cheese in the world and to be completely honest, I'd probably love most of them. That said, I do think there are a few key elements for the best mac and cheese.
The sauce to pasta ratio is important to get right. After baking there needs to still be enough sauce that's not absorbed into the pasta so every bite is a creamy one.
No mushy pasta! We prevent this two ways (I've shared them below).
The sauce should be well seasoned — not with lots of extra spices and ingredients, just simply with salt, pepper, and maybe a tiny bit of mustard to add a touch of tang.
The Best Pasta and Cheese to Use
The ingredient list for our mac and cheese recipe isn't a long one and as you can imagine the type of pasta and cheese you use makes a big difference.
The Pasta I Use
You probably already know that most cooks will tell you to cook your pasta to "al dente," which just means that the pasta is tender with a little bite (instead of being mushy). When you're making baked pastas, it's hard to keep pasta from turning mushy. To deal with this, I do two things:
I buy a high quality pasta. De Cecco works nicely and I love Rustichella D' Abruzzo, but it is a bit pricier. Any smaller shape works.
I slightly undercook the macaroni by 2 minutes. (Check the package directions, then reduce it by 2 minutes). Then when my timer goes off, I drain and rinse the pasta before tossing it with the sauce, which stops the pasta from cooking and gets rid of extra starch that would make the cheese sauce thicker in the oven.
My Favorite Cheeses For Macaroni and Cheese
Depending on your mood, the cheese you use in macaroni and cheese can vary. Cheddar, fontina, gruyere, parmesan, and pecorino are all excellent options, but the combination of cheeses I go back to over and over again is a hearty amount of extra sharp white cheddar (I like Tilamook) and a smaller, but potent amount of pecorino-romano cheese. The cheddar turns creamy and smooth and the pecorino adds a pop of salty cheese flavor to the sauce.
Okay, now this is where I get on my soapbox for a second. No matter which cheese you use for this, if you can, grate the cheese yourself. A previously shredded bagged cheese just doesn't melt the same way as hand grated cheese. I wish that wasn't true, but for now, to make the best mac and cheese, it's best to shred the cheese yourself.
The Rest of The Ingredients
The remaining ingredients are simple: butter and flour (which makes the sauce thicken), milk, spices, salt, and pepper. For the milk, I prefer whole milk since it makes a creamier sauce, but I've used reduced fat milk plenty of times without complaint.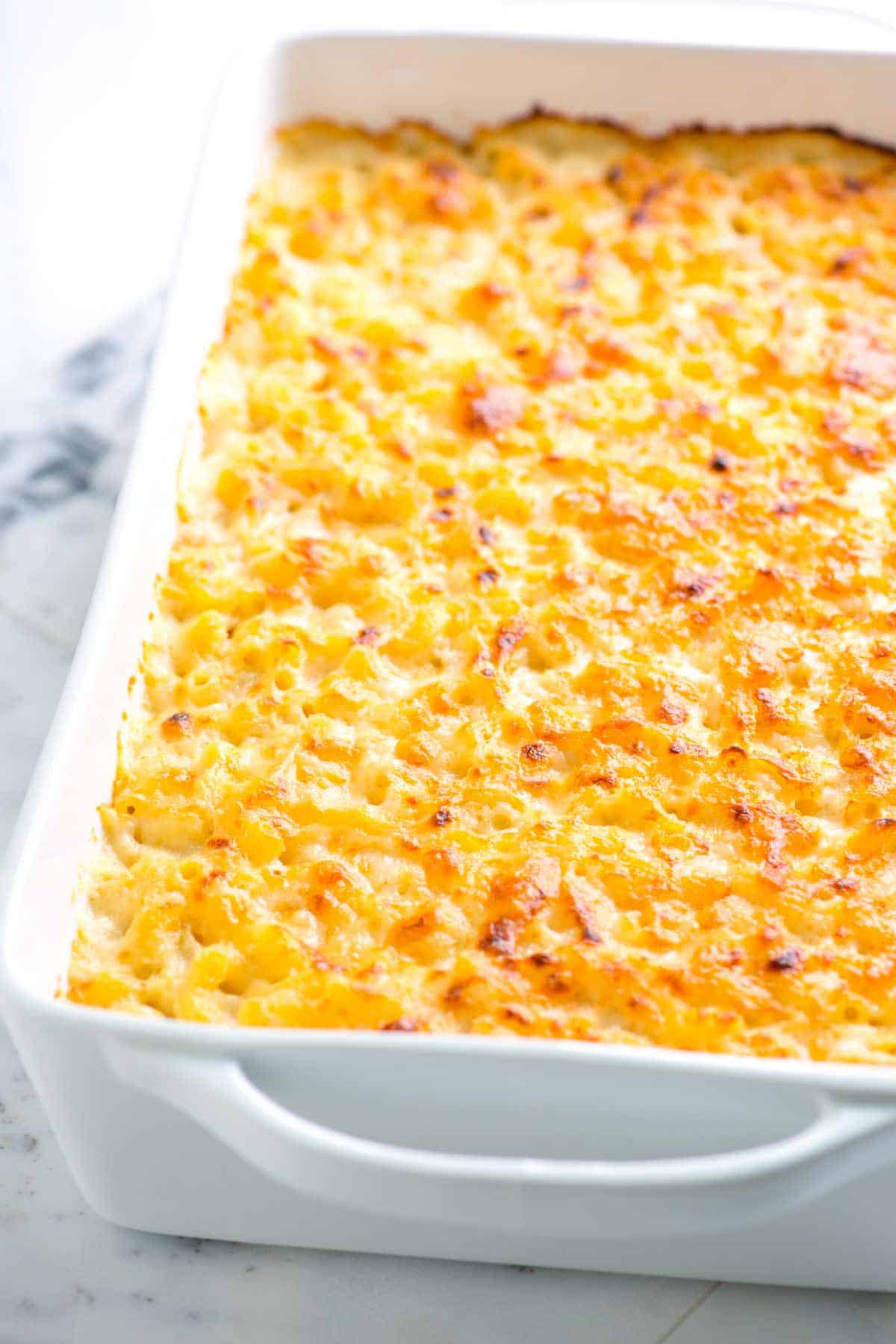 How to Make it
I'm going to walk you through how I make mac and cheese in my own kitchen. If you want to watch me do it, there's a quick recipe video above that shows each step.
Step 1, Warm milk in a saucepan or in the microwave. Warm milk helps to make the whole sauce making process go a bit quicker and according to Julia Child, warm milk prevents a lumpy cheese sauce.
Step 2, Make a roux with butter and flour. Basically a roux is a cooked paste made with butter and flour. When milk is added later in the recipe, it's this butter-flour paste that helps the cheese sauce to thicken.
Step 3, Whisk in the milk and thicken the sauce. When the roux is a golden color and smells nutty (it only takes a couple of minutes), I whisk in the warm milk. As the milk heats up with the roux, it thickens and turns silky smooth.
Step 4, Adds spices and the cheese. When the milk is a silky thickened sauce, I whisk in a few spices and the shredded cheese. When the cheese has melted into the sauce, I always taste and check for seasoning. It's likely that some salt needs to be added.
Step 5, Stir in slightly undercooked pasta, add to a baking dish, and bake. As I mentioned above, I undercook my pasta by 2 minutes, drain, and then rinse it of excess starches. This makes sure that my sauce stays creamy while it bakes in the oven. The macaroni and cheese bakes for about 30 minutes.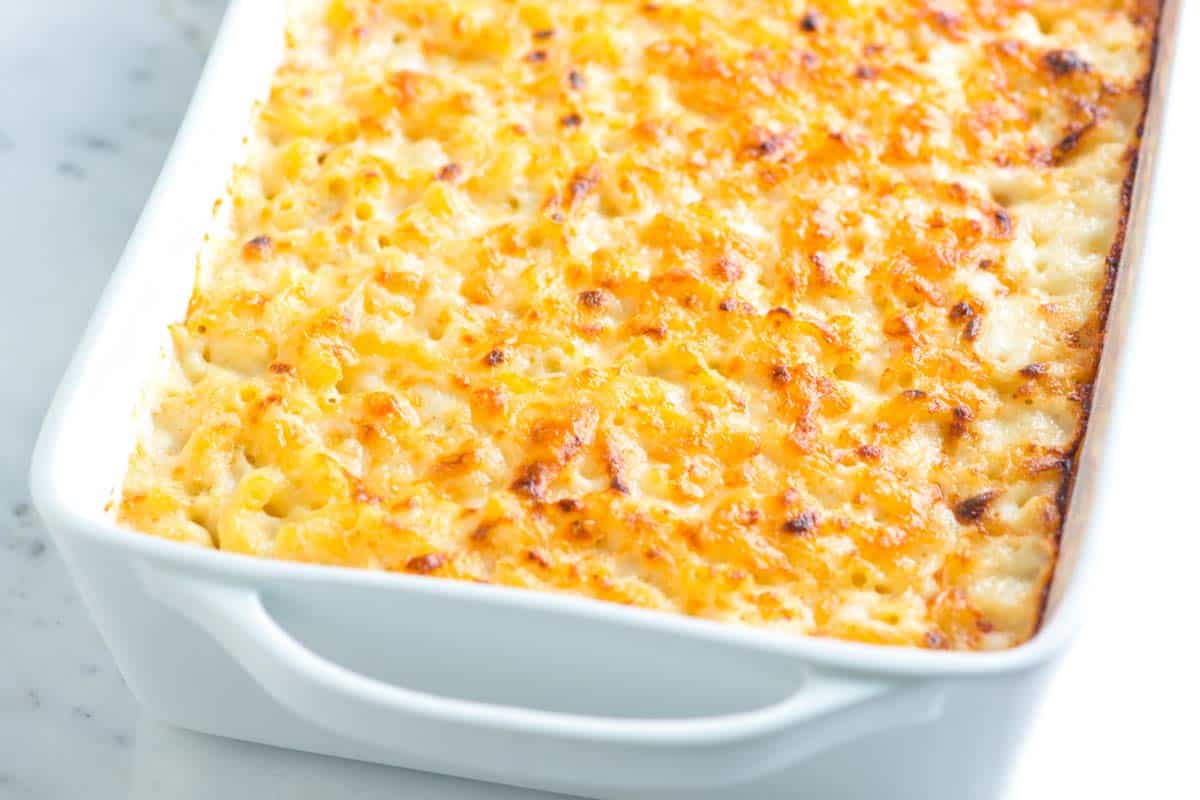 Stovetop Mac and Cheese Option
I love the golden brown edges and top that baking the macaroni and cheese creates, but you don't need to bake it if you don't want to. For a stovetop mac and cheese, simply add the pasta to the cheese sauce and then let it sit, covered for a few minutes. This time gives the pasta a chance to absorb some of the sauce. You can also take a look at this easy macaroni and cheese recipe made on the stovetop.
Making It Ahead of Time
Like most baked pasta dishes, mac and cheese is perfect for making ahead of time. Here are a few tips:
The sauce can be made ahead and stored, covered in the refrigerator, for two days. Warm the sauce before mixing with cooked pasta.
Mac and cheese can be made ahead, spooned into a baking dish and stored, covered in the refrigerator, for two days. Cold macaroni and cheese may take a little longer than 30 minutes in the oven to be fully heated and cooked through.
You can also freeze stovetop or baked mac and cheese for up to two months. To reheat, defrost overnight and bake or warm on the stove until heated through. Or bake from frozen. It will take about 1 hour.
More Baked Pasta Recipes
If you try this recipe, let us know! Leave a comment, review it, and don't forget to tag a photo #inspiredtaste on Instagram. Happy cooking!
Recipe updated, originally posted May 2013. Since posting this in 2013, we have tweaked the recipe to be more clear. – Adam and Joanne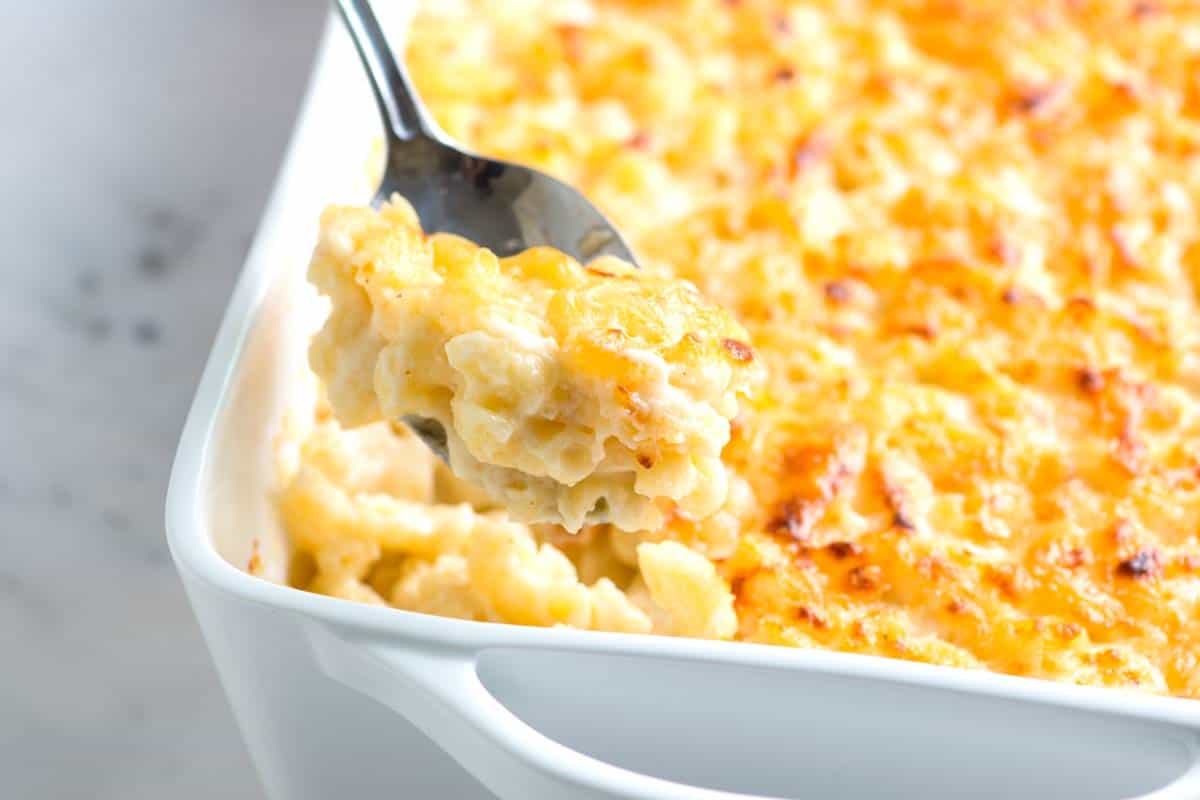 Ultra Creamy Baked Mac and Cheese
Our favorite mac and cheese recipe calls on a few smart steps to make sure the macaroni and cheese is ultra creamy and flavorful. While many cheeses can work in this recipe, the two cheeses we go back to again and again are sharp white cheddar and Pecorino-Romano cheese. The cheddar melts down to be creamy and the pecorino adds a sharp salty bite to the sauce. For the creamiest sauce, we hand grate the cheese since previously shredded cheeses don't seem to melt as well.
Watch Us Make the Recipe
You Will Need
1 pound dried pasta like elbow macaroni, shells or penne
Salt, to taste
5 cups (1180 ml) milk, whole or 2% are best
5 tablespoons (70 grams) unsalted butter
5 tablespoons (45 grams) all-purpose flour
1 teaspoon Dijon mustard
1/2 teaspoon fresh ground black pepper
1/8 teaspoon cayenne pepper, or more to taste
1/8 teaspoon fresh ground nutmeg
1 pound sharp white cheddar cheese, shredded (4 heaping cups), plus more if baking (about 1/2 cup)
5 ounces (140 grams) Pecorino-Romano cheese, shredded (1 1/2 cups)
Directions
Getting Ready

1For baked macaroni and cheese, heat the oven to 375 degrees Fahrenheit and butter a 3-quart casserole dish or spray with non-stick cooking spray. For stove-top mac and cheese, move on to the next step.

2Grate the cheeses and set aside. For baked mac and cheese, reserve 1/2 cup for topping the pasta before baking in the oven.

3Bring a large pot of salted water to the boil, add the pasta then follow package directions, but cook 2 minute less than the recommended cook time. Drain then rinse pasta with cold water and set aside.
Make Cheese Sauce

1Add milk to a large microwave-safe measuring jug and microwave 1 to 3 minutes until warm. Alternatively, you can add milk to a large saucepan over medium heat then heat milk until warm.

2While the milk warms up, melt the butter in a large saucepan or Dutch oven over medium heat. When the butter begins to bubble, add the flour. Cook, constantly whisking until the butter smells fragrant and nutty — the color of the butter-flour mixture will be light brown; 2 to 3 minutes.

3While whisking, slowly pour the warm milk into butter and flour mixture. Continue to cook, constantly whisking until the sauce bubbles and thickens. Remove the pan from the heat. and then stir in mustard, black pepper, cayenne, nutmeg, 4 cups of cheddar and all of the Romano cheese. Stir until the heat from the sauce melts the cheese.

4Taste the sauce for seasoning, and then adjust with additional spices or salt (we usually start with 1/2 teaspoon of fine salt and go from there).
To Finish

1If the drained and rinsed pasta will fit into the pan, add it to the cheese sauce. If the pasta will not fit, add both the pasta and sauce to a separate large bowl and stir well.

2For a stovetop mac and cheese, cover with a lid and set aside for 5 minutes. In this time the pasta will absorb some of the extra cheese sauce. Serve.

3For a baked mac and cheese, pour the pasta into the prepared baking dish. Top with the reserved  1/2 cup of cheddar cheese.

4Bake, uncovered, until bubbling, about 30 minutes. For browned cheese on top, turn the oven to broil, and then broil 3 to 5 minutes until the top has blistered and lightly browned. Let stand about 10 minutes before serving.
Adam and Joanne's Tips
Make Ahead: Mac and Cheese can be made two days ahead and chilled.
Baked macaroni and cheese also freezes well. Let it cool completely on a rack before freezing, and then wrap it very well with foil (we use two layers). Defrost the frozen macaroni overnight in the refrigerator and then bake at 350 degrees F for about 1 hour.
Nutrition facts: The nutrition facts provided below are estimates. We have used the USDA database to calculate approximate values. We calculated using 2% milk and 10 servings.
If you make this recipe, snap a photo and hashtag it #inspiredtaste — We love to see your creations on Instagram and Facebook! Find us: @inspiredtaste
Nutrition Per Serving
Serving Size
1/10 of the dish
/
Calories
578
/
Total Fat
28.1g
/
Saturated Fat
16.4g
/
Cholesterol
87.2mg
/
Sodium
728.9mg
/
Carbohydrate
51.1g
/
Dietary Fiber
1.7g
/
Total Sugars
14g
/
Protein
29.6g