How to make perfectly tender pork Milanese with a squeeze of fresh lemon and simple green salad on the side. Jump to the Pork Milanese Recipe with Lemon and Green Salad or read on to see our tips for making it.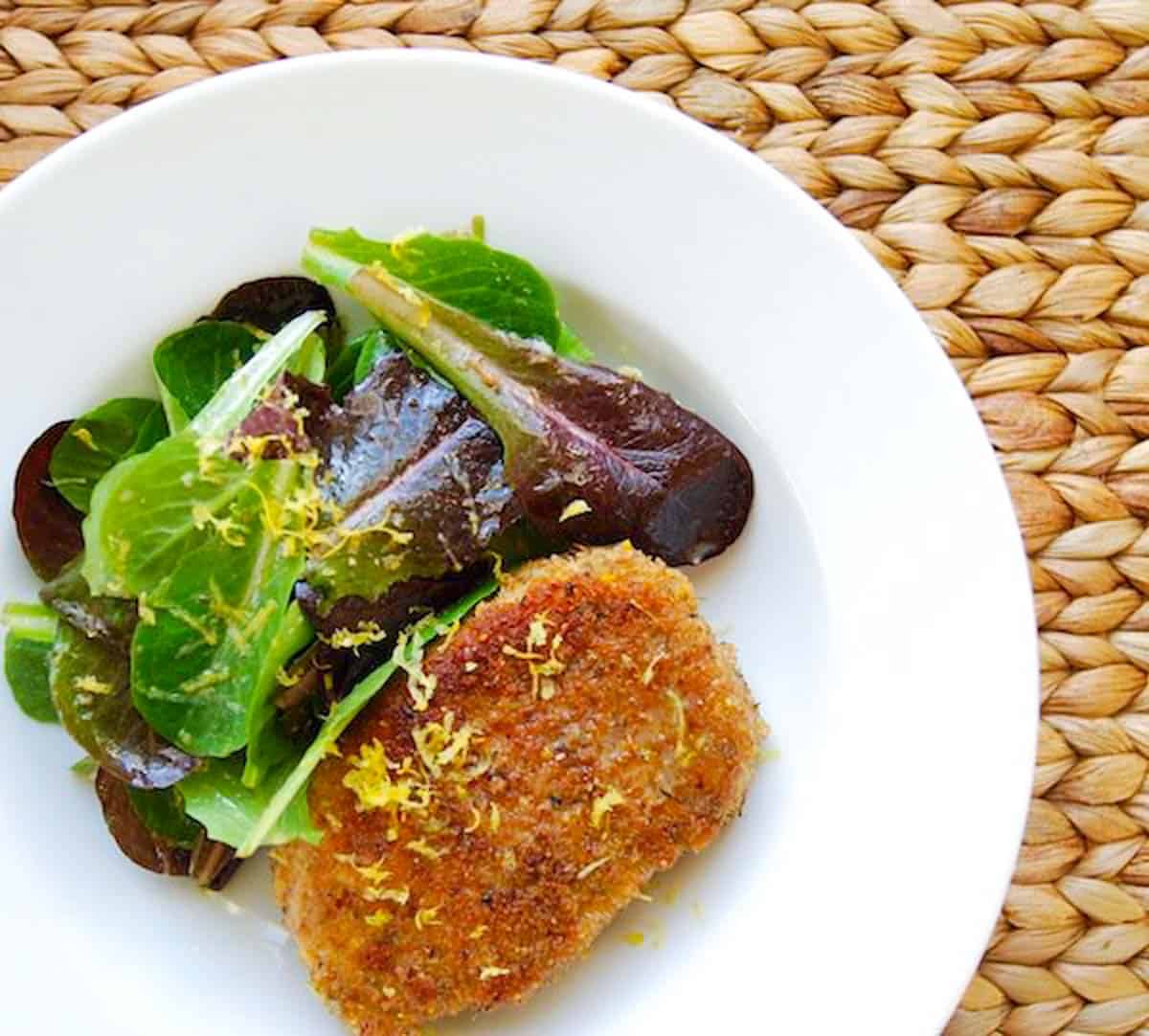 Pork Milanese is really quite simple to make. Season pork chops, dip into flour then egg and finally into seasoned breadcrumbs. After about 10 minutes in a skillet, the pork will be tender and juicy and the crust crisp and golden brown.
We love adding a generous squeeze of lemon to the pork just before serving, it livens everything up. I'm also partial to serving the pork with a simple green salad. Any green will work. If it is in season, arugula is excellent. I just whip up a simple dressing of lemon juice, zest, mustard and olive oil. It's my go-to dressing for salads.
YOU MAY ALSO LIKE: Perfect roasted pork tenderloin is juicy, it's moist and is full of flavor. That's exactly what you'll get with this easy pork tenderloin recipe. Jump to the Pork Tenderloin Recipe.
Recipe updated, originally posted February 2010. Since posting this in 2010, we have tweaked the recipe to be more clear. – Adam and Joanne
Pork Milanese with Lemony Green Salad
Traditionally, Pork Milanese should be made with pork that has been pounded thin. The pork chop becomes very tender this way. We absolutely love the pork this way, but don't always go through with the extra step. It all depends on the time we have to make dinner. If you are up to it, I highly recommend pounding the pork chops and have included the step in our recipe below.
You Will Need
Pork Milanese
4 center-cut, boneless pork chops (about 1-inch thick)
Salt and fresh ground black pepper
1/2 cup all-purpose flour
2 large eggs
1 cup bread crumbs or more as needed
2 tablespoons Herbs du Provence or Italian seasoning
1/4 cup olive oil, plus more as needed
Simple Salad
1 (8-ounce) bag baby lettuce mix (about 4 cups)
1 large lemon
1 teaspoon Dijon mustard
Extra-virgin olive oil
Salt and fresh ground black pepper
Directions
Prepare Pork

1Working with 1 pork chop at a time, place it between 2 sheets of parchment paper or plastic wrap. Use a meat mallet to pound the pork chops until they're about 1/4-inch thick. A rolling pin or the bottom of a heavy pan can also be used.

2Set up a breading station. Three baking dishes or wide bowls are helpful for this. To one dish, stir the flour with a generous pinch of salt and 4 to 5 grinds of black pepper. In the second dish, whisk the eggs until well blended. In the third dish, mix breadcrumbs with another generous pinch of salt and the dried herbs.

3Season the pork chops on both sides with salt and pepper then dip each chop into the flour, shaking off any excess flour then into the beaten egg, allowing the excess to drip off, and finally dredge the chops in the seasoned bread crumbs and place onto a clean plate.
To Finish

1Heat the oil in a large skillet over medium heat. Carefully place the pork chops into the pan in one layer — you may need to work in batches. Cook until the pork is golden brown on both sides and the pork is cooked through, about 5 minutes on each side. If you need it, add more oil to the pan.

2Meanwhile, make the salad. Use a microplane or zester to zest the lemon then add to a large salad bowl along with the juice from half of the lemon, mustard and a pinch of salt. While whisking, stream in about 3 tablespoons of olive oil. Taste then adjust with more salt. Add the lettuce to the bowl and gently toss until coated with the dressing.

3Serve pork alongside the salad with a few grinds of black pepper and a squeeze of lemon juice from remaining half of lemon on top.