How to make brown butter pasta with walnuts and a fried egg on top. Jump to the Egg Topped Brown Butter Pasta Recipe with Walnuts or read on to see our tips for making it.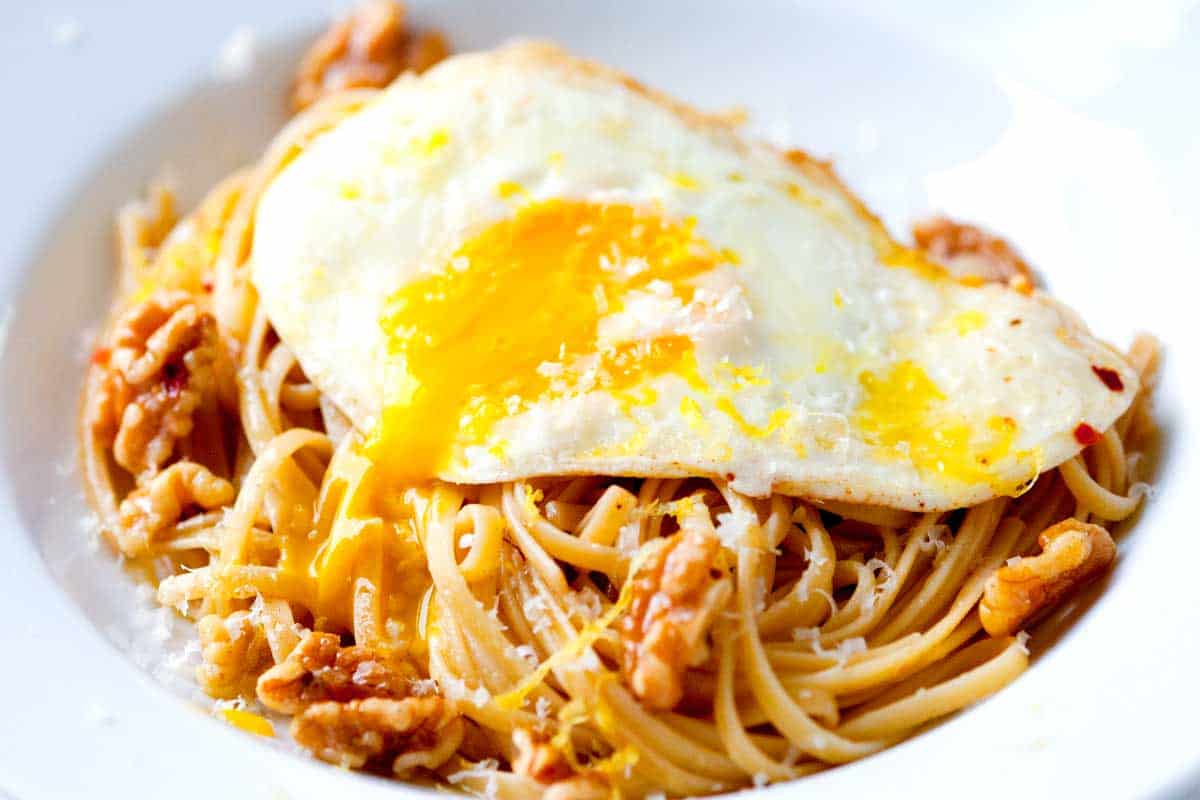 YOU MAY ALSO LIKE: Brown butter is magical and tastes toasted and nutty. Use it in both sweet and savory dishes. Jump to the Brown Butter Recipe.
How to Make Pasta with Brown Butter, Walnuts and a Fried Egg
This pasta recipe comes together quickly.
Start by cooking pasta — we like spaghetti or linguini for this, but any shape will work. Then add a good amount of butter to a pan along with a whole garlic clove and red pepper flakes. As the butter melts the garlic toasts and infuses the butter with garlic flavor.
Next add walnuts, which taste buttery themselves. As they heat in the butter, they also flavor the butter. When they are toasted and fragrant, remove them and save for later. Discard the garlic — we got all we needed from it.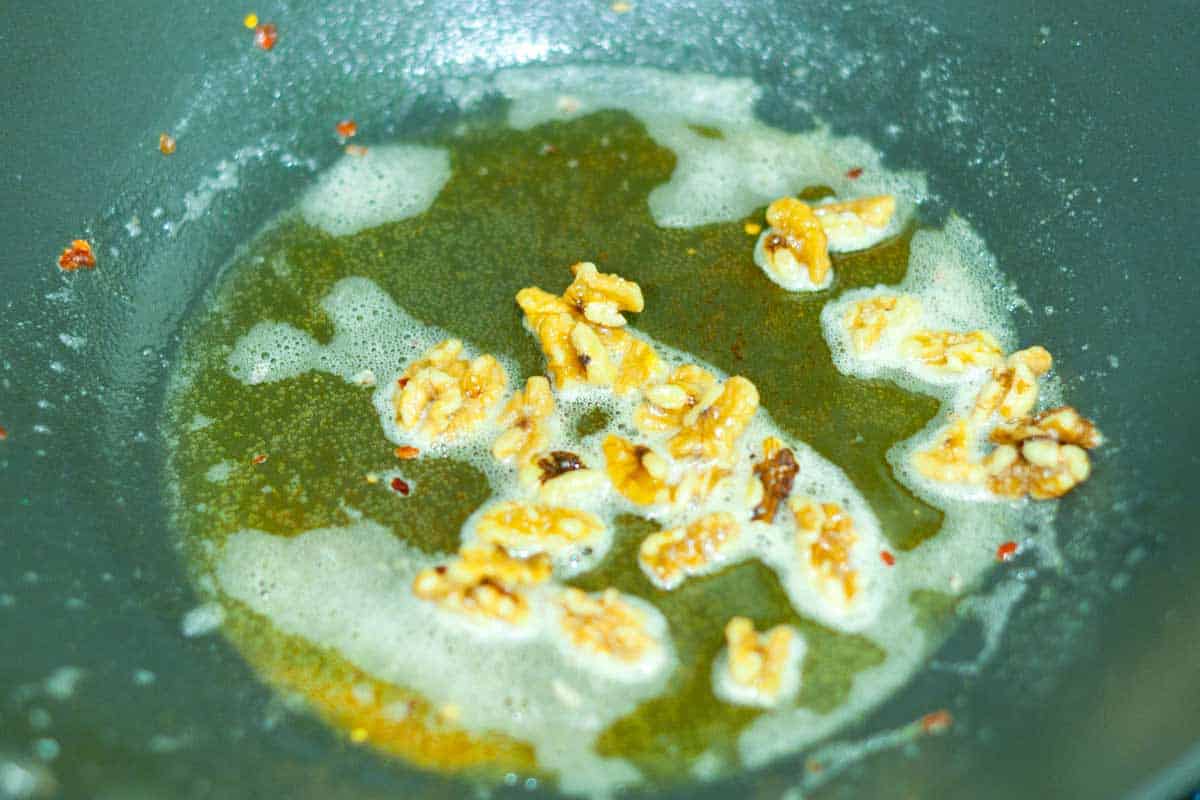 Last step is to cook the eggs — just cook them in the brown butter. You want the whites to be firm, but the yolks still runny. This way they help make a sauce for the pasta. Remove the eggs then add the pasta to the butter and toss. Serve topped with the walnuts and an egg. Grated Parmesan cheese on top doesn't hurt either!
Recipe updated, originally posted October 2011. Since posting this in 2011, we have tweaked the recipe to be more clear. – Adam and Joanne
Brown Butter Pasta with Walnuts and Fried Egg
This quick pasta recipe combines nutty brown butter with toasted walnuts and a fried egg. When you cook the egg, try to keep the yolk runny. When you break the yolk over the pasta it makes its own sauce.
You Will Need
4 ounces dry pasta such as linguine or spaghetti
8 tablespoons unsalted butter
1 garlic clove, lightly crushed and skin removed
1/4 teaspoon crushed red pepper flakes
1/2 cup walnut halves
2 large eggs
Parmesan cheese for serving
Salt and fresh ground black pepper
Directions
1Cook the pasta in boiling salted water until it is tender but not mushy. Drain.

2Add butter, garlic clove and red pepper flakes to a wide skillet over medium-low heat. As the butter melts, continuously swirl the butter around the pan. Add walnuts and cook until fragrant, about 5 minutes.

3Use a slotted spoon to transfer walnuts to a bowl and save for later. Remove the garlic clove and discard.

4Crack eggs into the butter, season with salt and pepper, and then cook until the whites are set and the yolks still runny. Transfer eggs to a plate.

5Add the pasta and walnuts to the butter and toss. Serve with the fried egg on top as well as a generous grating of Parmesan cheese.