How to make crunchy roasted chickpeas with honey, cinnamon, and sea salt. You will love this easy, almost addictive snack recipe.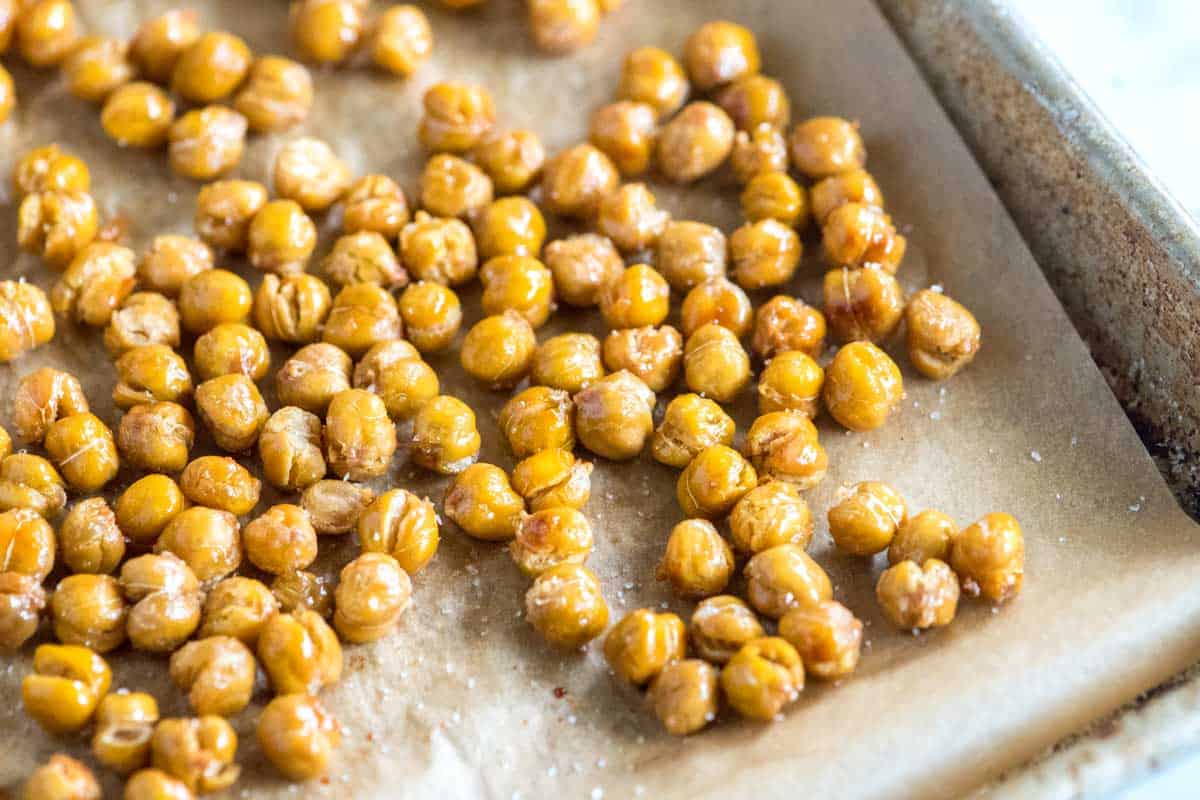 We love how easy it is to make this honey roasted chickpea snack. They are so good that once you start eating them, it's hard to stop. We like them to be extra crunchy so take a look at our tips below for how to make the crispiest, crunchiest snack possible.
How to Make Crispy Chickpeas in the Oven
Making roasted chickpeas is pretty simple — start with cooked garbanzo beans (chickpeas) and roast in a hot oven until crisp. Then toss them with whatever spices or seasonings you love. In this recipe, we use honey, cinnamon, and some sea salt.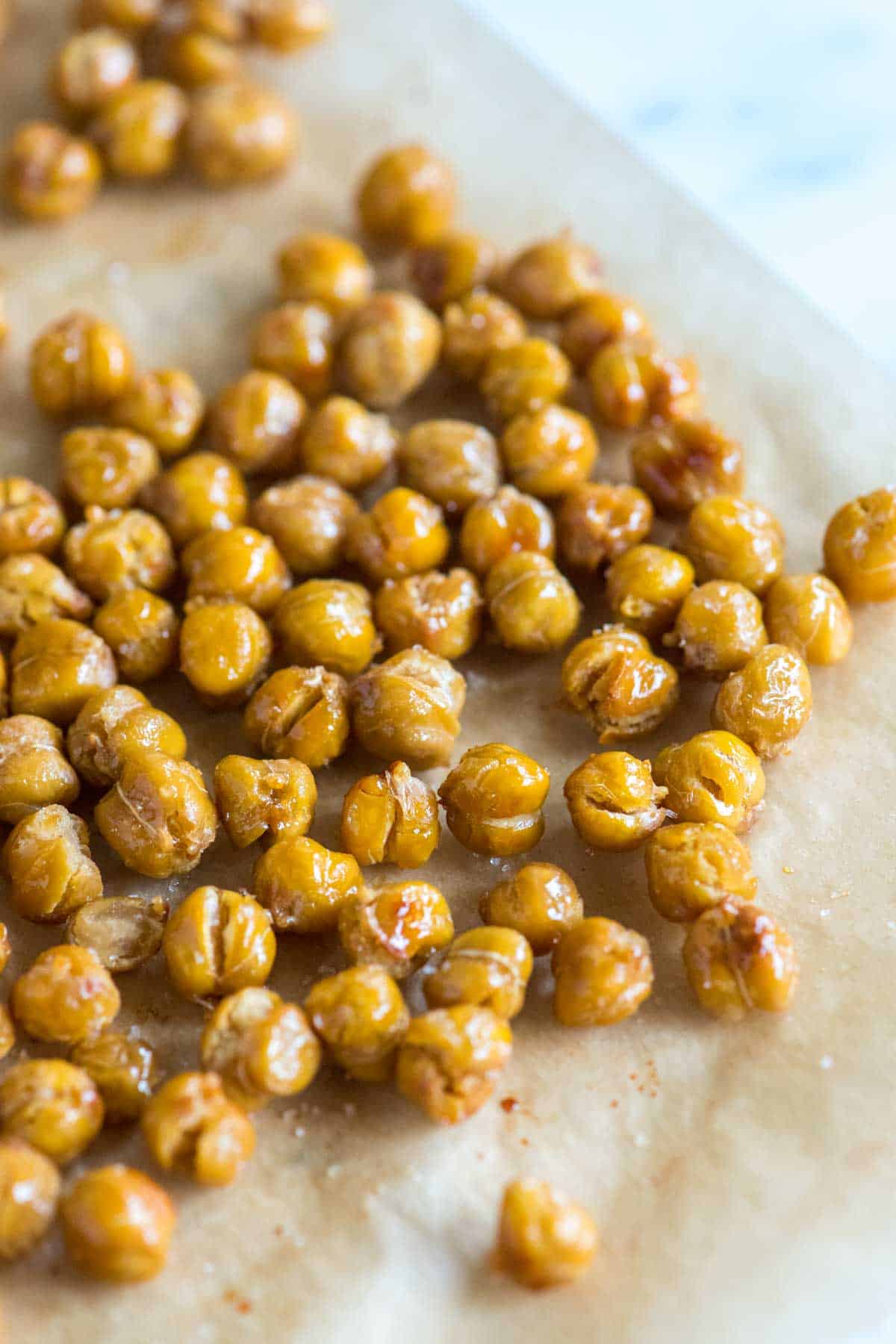 You could just as easily make them more savory and replace the honey and cinnamon with your favorite spice blend. A version using our taco seasoning or homemade chili powder is on our list to make next.
As far as the beans go, you can used home cooked or canned for this recipe. If you plan to cook your own, take a look at our straight-forward tutorial for cooking dried chickpeas three ways. We even show you how to do it in a slow cooker. If you plan to use canned beans, make sure you drain and rinse them before making the recipe.
Four Secrets for the Crispiest, Crunchiest Chickpeas
Once you have the chickpeas, you can move onto roasting them. There are four secrets to making the crunchiest chickpea snack:
Tip #1: Pat and air dry. For the crispiest result the beans must be a dry as possible before roasting. Pat the beans dry, and then leave them out to air dry for about an hour.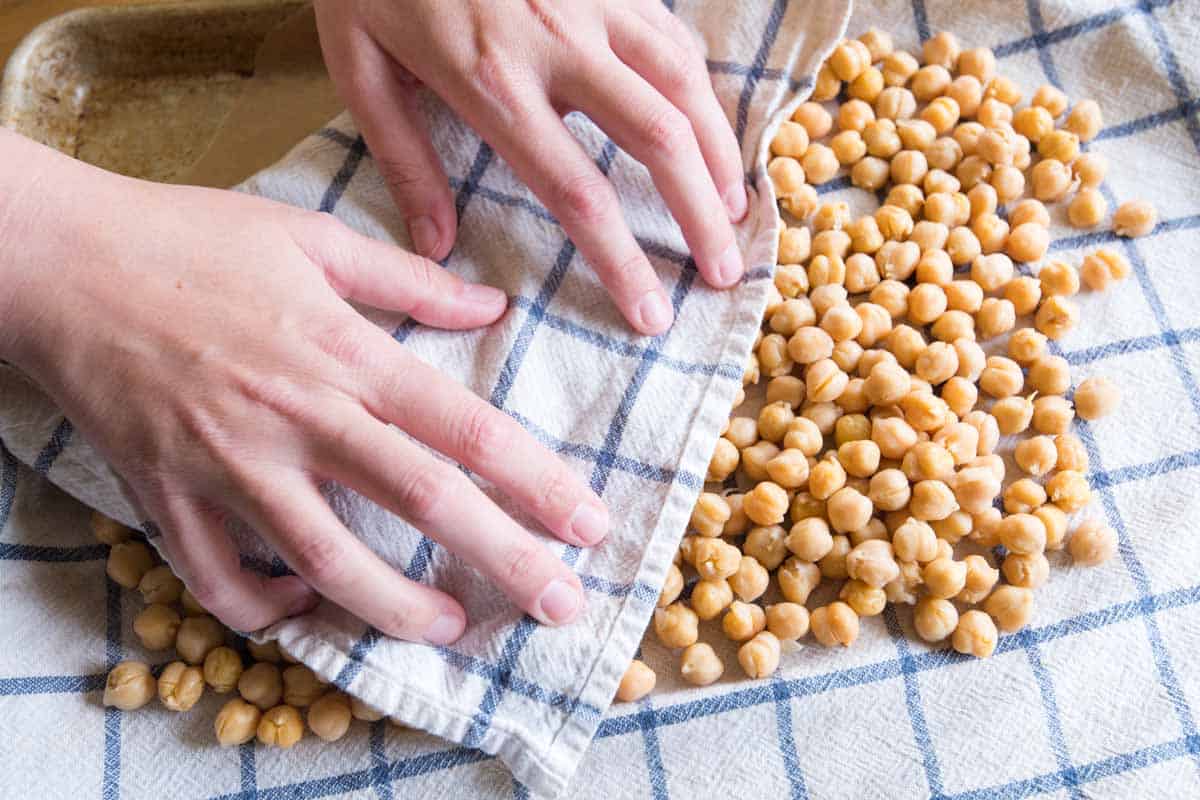 Tip #2: Roast them plain. Once the beans are dry, roast them without any oil or seasonings until crisp. This way, they dry out as much as possible in the oven without turning greasy.
Tip # 3: Season at the end. When the chickpeas are roasted and crisp, toss them with whatever seasonings you plan on using. We use olive oil, honey, cinnamon, and salt. When they are coated, slide the pan back into the oven for 5 to 10 minutes, or until the honey caramelizes onto the beans.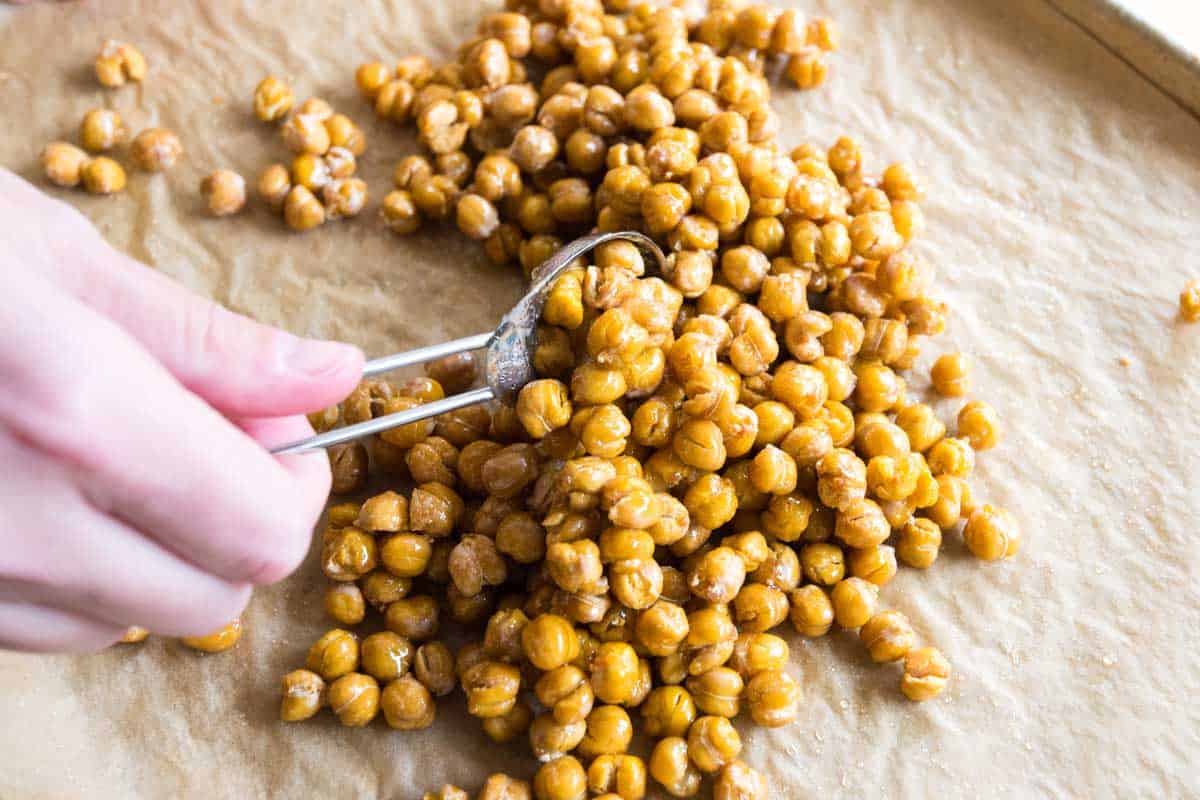 Tip #4: Let the beans cool in the oven. Just to make sure we've gotten rid of as much moisture as possible, when the beans are done, turn the oven off, open the door, and then allow them to cool down.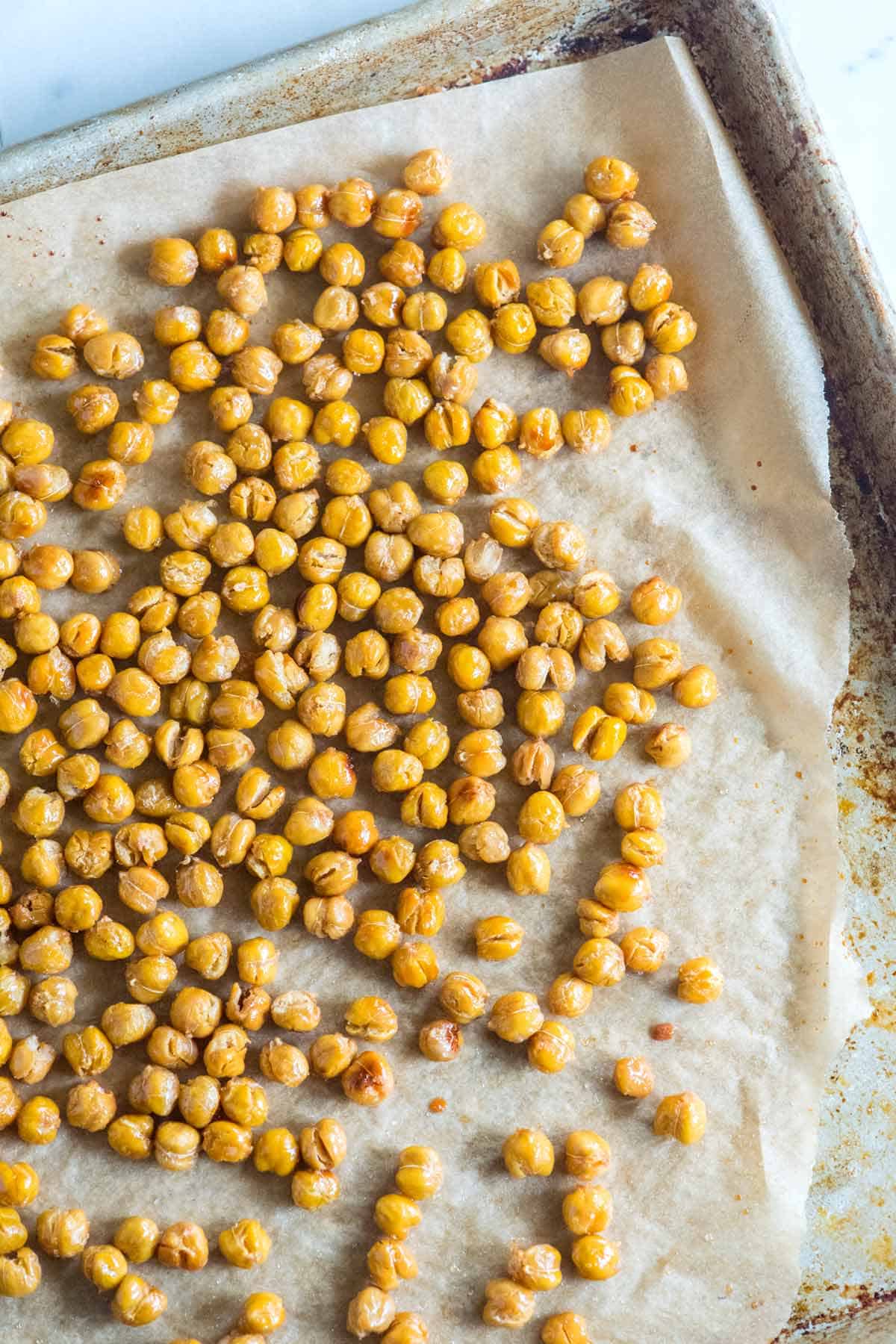 It's hard to stop once you start munching on these so get ready to make another batch. We love this easy roasted chickpea snack and cannot wait to make more batches soon.
Honey Roasted Chickpeas
Home cooked chickpeas or canned chickpeas can be used in this recipe. If using canned, there is about 1 1/2 cups of beans in each 15-ounce can. This means you will need 2 cans. When buying honey, we shop around for a local honey from a small farm. It's a bit pricier, but much of the honey found in the grocery store doesn't taste very much like honey and instead just tastes sweet.
Makes approximately 3 cups
You Will Need
3 cups cooked chickpeas, drained and rinsed if canned (two 15-ounce cans)
1 tablespoon extra virgin olive oil
1 1/2 tablespoons honey
1/4 teaspoon ground cinnamon
1/4 teaspoon fine sea salt, or more to taste
Directions
1Spread out chickpeas on a paper towel. Pat dry, then let air dry for 45 minutes to an hour.

2Heat oven to 400 degrees F. Line a rimmed sheet pan with parchment paper, and spread chickpeas in one layer, in the pan. Bake in the center of the oven until crunchy, about 30 minutes, stirring and rotating every 10 minutes. (The chickpeas will continue to get crunchy as they cool.)

3Meanwhile, in a small bowl, stir olive oil, honey, cinnamon, and the salt together.

4Take roasted chickpeas out of the oven and while they are still hot, toss them until well coated, with the honey mixture. Bake another 5 to 10 minutes. Shut off the oven, open the oven door, and let the chickpeas cool inside. (Helping to make them even more crunchy).

5Store any cooled leftovers in an airtight container for up to a week. (Do not store in the refrigerator, this causes them to loose their crispiness).
Adam and Joanne's Tips
Savory version: This recipe can easily be adapted to make a savory roasted chickpea snack. Instead of mixing the olive oil with honey and cinnamon, try your favorite spice blend or simply leave them plain and lightly season with sea salt.
If you make this recipe, snap a photo and hashtag it #inspiredtaste — We love to see your creations on Instagram and Facebook! Find us: @inspiredtaste
Nutrition Per Serving
Serving Size
1/4 cup
/
Calories
123
/
Total Fat
3.2g
/
Saturated Fat
1.1g
/
Cholesterol
0mg
/
Sodium
295.9mg
/
Carbohydrate
19g
/
Dietary Fiber
5.1g
/
Total Sugars
3.7g
/
Protein
5.6g