Light and healthy baked fish packets with tomatoes, olives and orange. Jump to the Baked Fish with Orange and Olives Recipe or read on to see our tips for making it.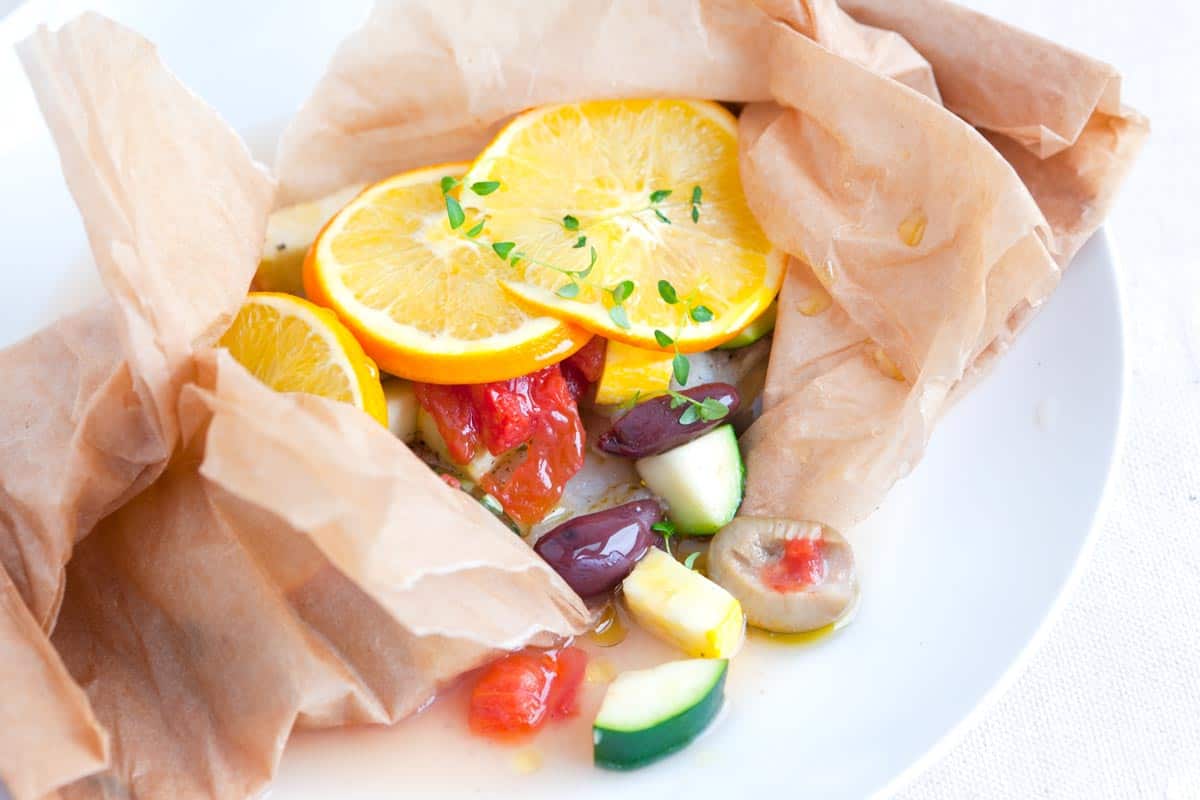 I love how easy this recipe is, plus it has everything you need in one adorable little packet.
YOU MAY ALSO LIKE: How to make perfectly baked fish with scallions and orange. Jump to the Baked Fish Recipe with Scallions.
How to Bake Fish in Parchment Packets
This recipe comes together very quickly. You will need a sheet of parchment paper. We pile everything into it then fold it up and bake in the oven until the fish is perfectly cooked and the vegetables are tender.
Season the fish with salt, pepper and a little cinnamon. I know cinnamon sounds a bit odd, but the orange-cinnamon combination is really delicious. Mound olives, squash and tomatoes on top. We used canned tomatoes, but fresh will work nicely.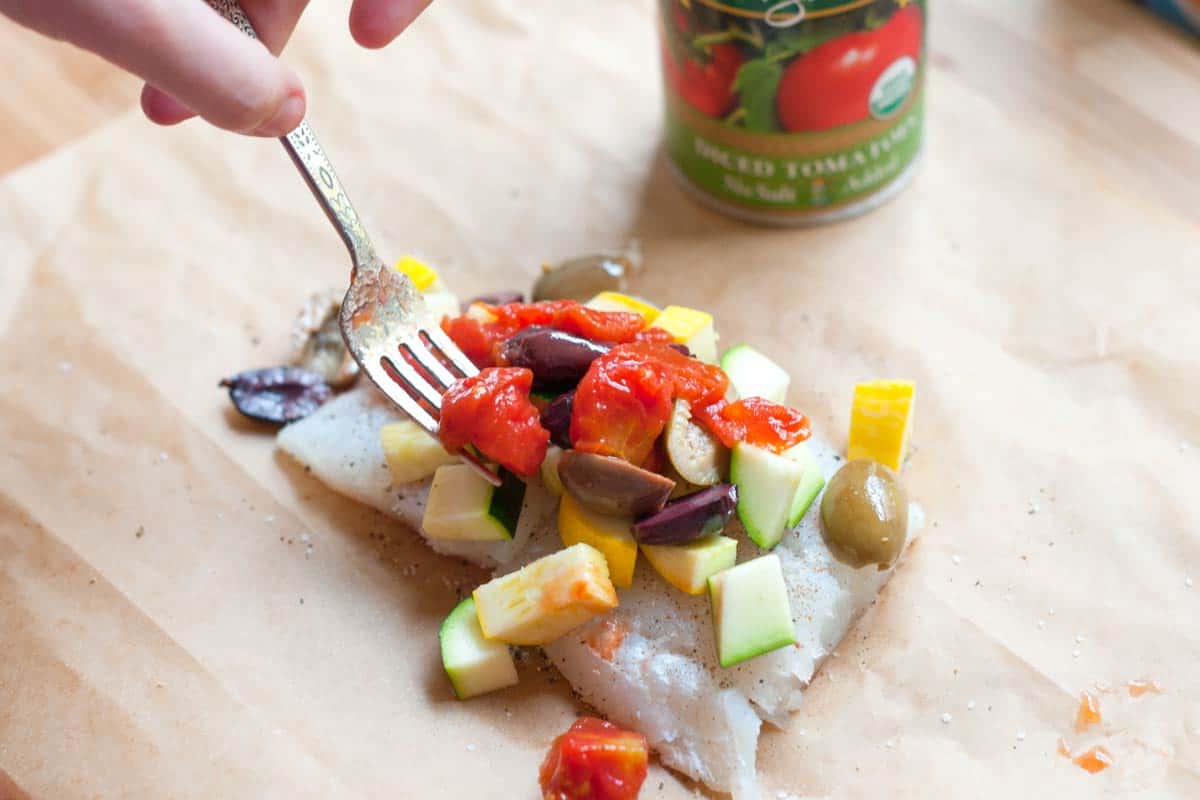 Add a tiny drizzle of olive oil, a few orange slices and some fresh thyme. Just before folding up the parchment, pour a couple tablespoons of liquid over the fish and vegetables. Chicken stock, fish stock or a dry white wine are all excellent options. This little bit of liquid helps the fish to steam inside the packet, keeping the fish from drying out.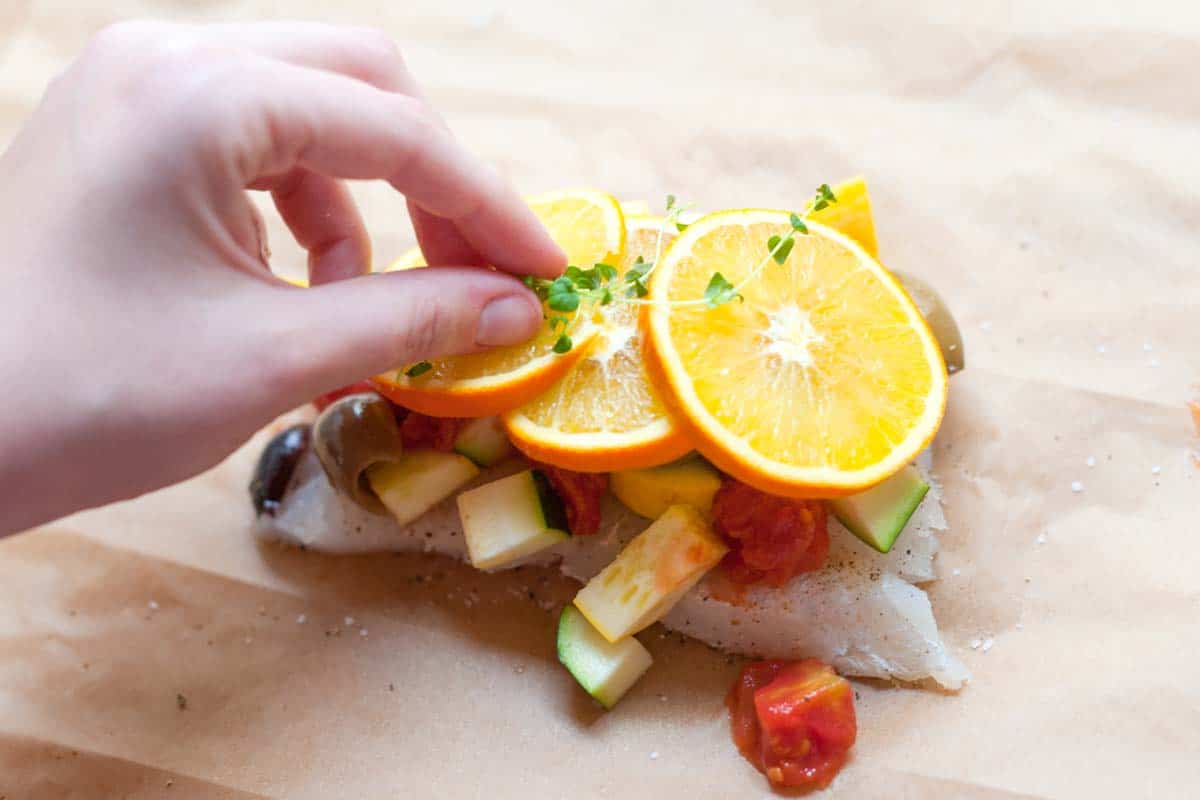 Alright, now it's time to fold up the parchment paper to make little packets. Bring two sides of the paper together and then roll and crimp the edges so that the top of the packet is completely sealed. Do the same with the ends and transfer to a baking sheet. After 12 to 15 minutes, the fish will be cooked and the veggies tender.
Back in the day we were contributors for Betty Crocker. We shared this recipe with them. We loved it so much we had to share an adapted version with you.
Recipe updated, originally posted January 2012. Since posting this in 2012, we have tweaked the recipe to be more clear. – Adam and Joanne
Easy Baked Fish in Parchment with Orange and Olives
We use fresh thyme for this, if you would prefer to use dried, use 1/4 teaspoon of dried thyme. Other fresh herbs will work, too. Basil, dill or parsley are excellent. When you serve, add the parchment packet to each plate and allow each person to slit through the parchment, releasing the aromas of cinnamon, orange and herbs.
You Will Need
2 (6-ounce) firm white fish fillets such as Pacific halibut, Pacific rockfish or Pacific cod
1/4 teaspoon ground cinnamon
Salt and freshly ground pepper
1 cup diced zucchini and yellow summer squash, 1/4-inch cubes
1/4 cup pitted olives, halved
1 tablespoon extra-virgin olive oil
1/4 cup drained canned diced tomatoes
4 tablespoons chicken stock, fish stock or dry white wine
4 thin orange slices
2 sprigs fresh thyme
Directions
1Heat oven to 400 degrees F. Cut two 16-inch squares of cooking parchment paper or use foil.

2Lay both squares of parchment out onto your workbench. Season both sides of the fish with cinnamon, salt and pepper, and then place one fillet onto the middle of each parchment square.

3Divide the olives, zucchini and yellow squash, tomatoes and olive oil between fillets, mounding them on top of the fish. Season with another pinch of salt and a few grinds of black pepper then pour two tablespoons of liquid (stock or wine) over each fillet. Top with orange slices and thyme.

4To make packets, roll and crimp opposite sides of parchment paper together over fish and vegetables, then roll and crimp ends to prevent steam from escaping.

5Place packets onto a rimmed baking sheet. Bake until the fish flakes easily with a fork, 12 to 15 minutes depending on thickness of fillets. To check for doneness, carefully open one end of a packet. Transfer packets to plates for serving.