Hi there! You found Inspired Taste's adventurous side. You probably know about us (Adam and Joanne) because of our recipes. To recharge and find recipe inspiration we love to travel. It doesn't matter how far away it is — this time, we stayed close and took a day trip.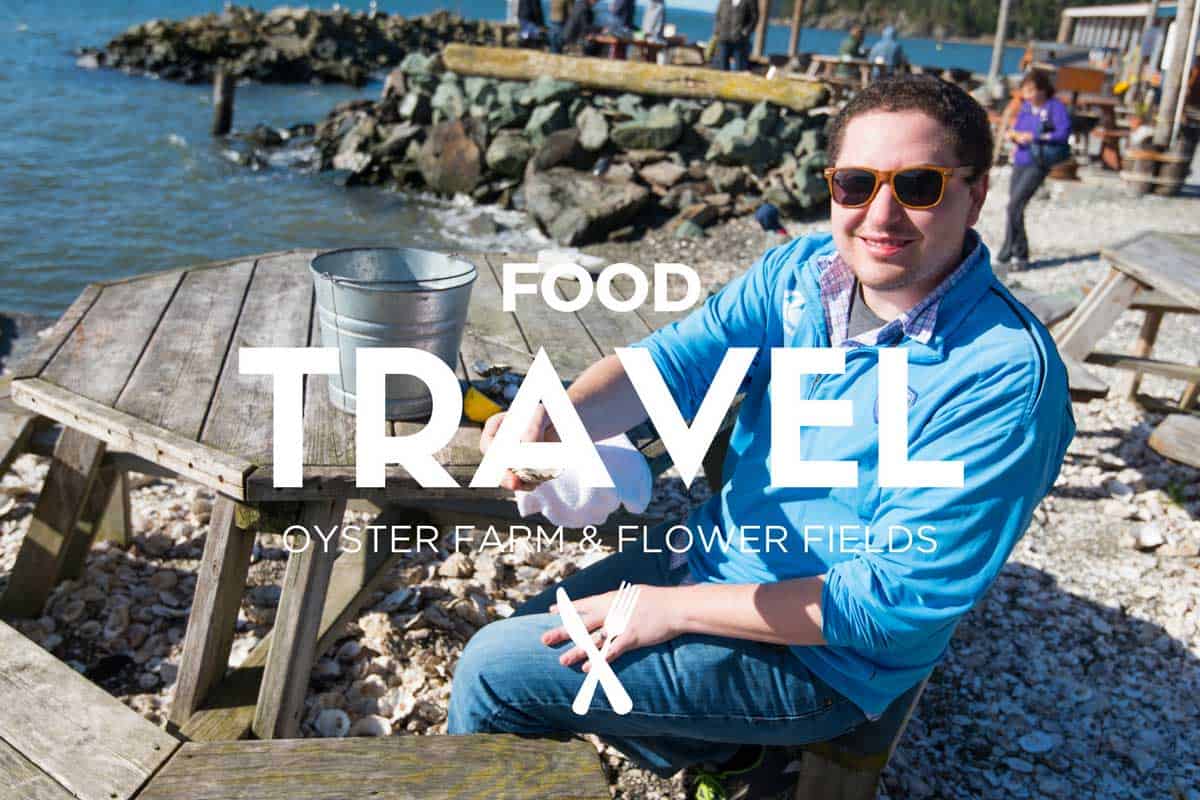 Here's where we went…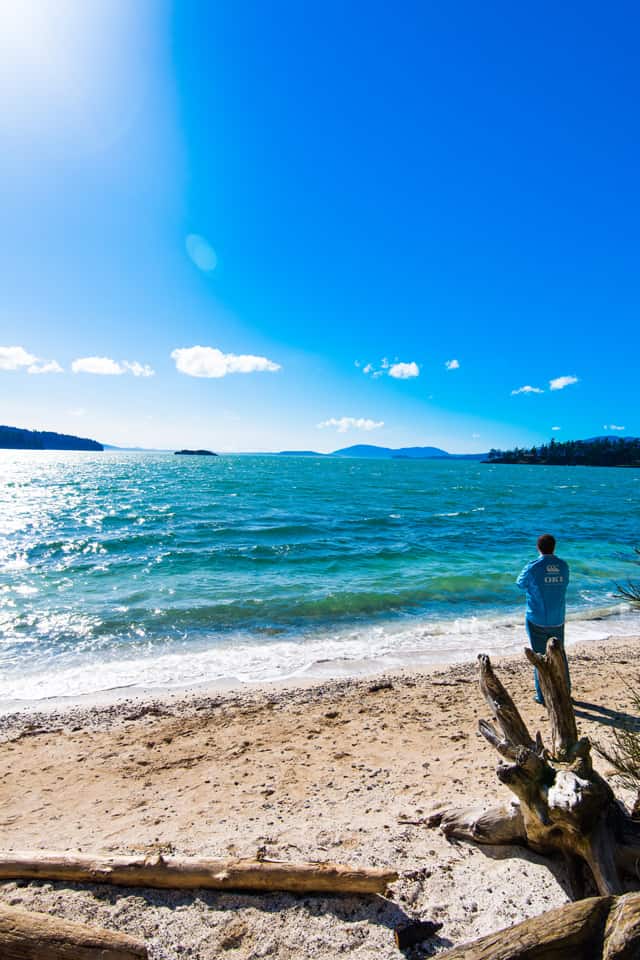 We took a drive out of Seattle (our home) towards Bellingham — a small town not too far from the Canadian border. It only took an hour or so.
Be sure to check out our nifty Google map that shows you everywhere we went so you can visit yourself. It works great on a phone. Click here or the map to check it out!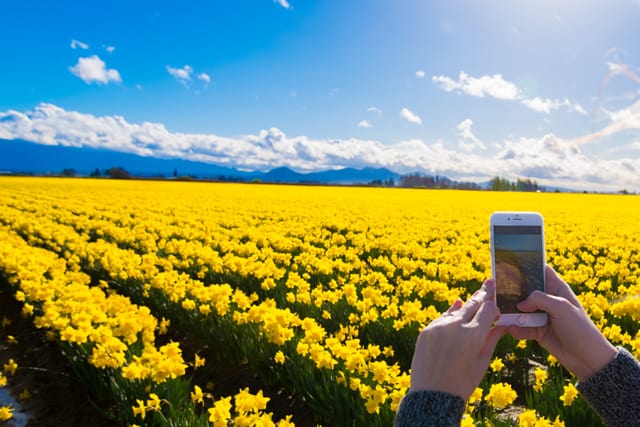 First, we stopped at the Skagit Valley flower fields. We went in March so the daffodils were in full bloom. There were so many fields of yellow. (Tulips bloom around here in April – here's a map of flower bloom times to help you plan your visit).
We were both caught up with the view. Here's Joanne taking a picture for our Instagram profile.
Let's be friends on Instagram! Follow us as we share our food travels and recipes.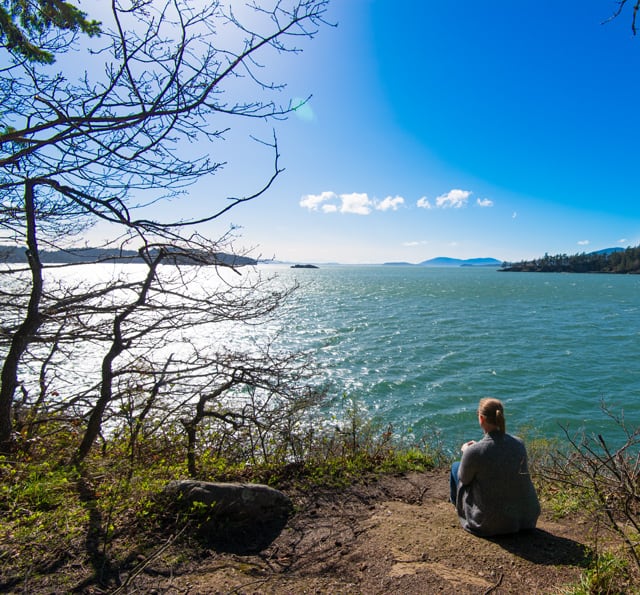 After eating a pretty amazing pulled pork sandwich at Cafe Rumba in Bellingham, we found a secluded beach called Teddy Bear Cove just outside of the city center. The photo at the top is from there, too.
There was a bit of walk down a steep bluff to get here, but it was worth it. This is a picture of Joanne having a moment taking it all in. Make sure you check out our map so you can find it!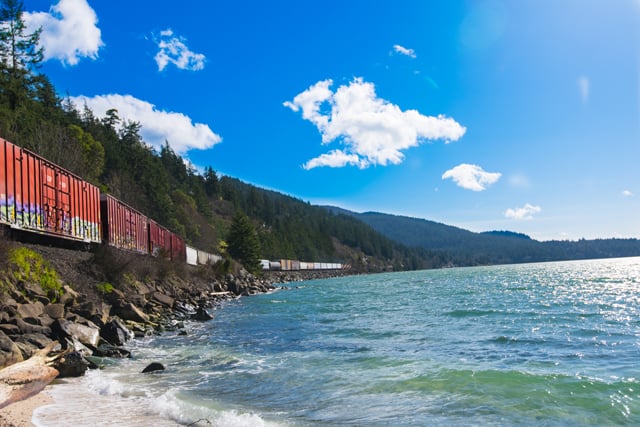 Bonus: There are train tracks right next to the beach so if you are lucky you get to watch one pass by. Next time we are thinking about bringing a picnic. Some hummus, bread, and a few muffins would do the trick.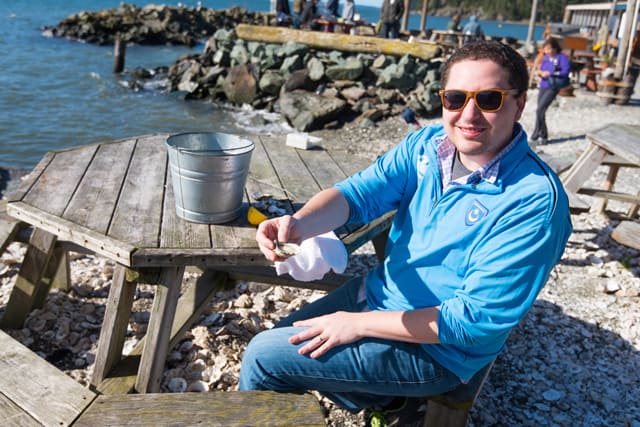 Before driving back, we stopped at the Taylor Shellfish farm store. Their oysters are amazing — we ate so many! The view is fantastic, too. They have a few restaurants in Seattle, but experiencing the oysters where they are actually farmed is pretty special. Highly recommended!
I just had to throw in one more daffodil photo — they really were beautiful. Hopefully, next time we catch the tulips!
The Camera and Equipment We Use
Just in case you were wondering, the camera we use for traveling and the recipe/video side of Inspired Taste is a Nikon 810 — it takes still photos and video. To see everything we use, click here!
Keep in Touch!
Newsletter: Sign up for our free weekly email for travel updates, hand-picked recipes, recipe videos and inspiration.
Social: Thank you so much for reading! If you loved this, you should follow us on Instagram, Twitter, Facebook, or check us out on YouTube.
Recipes: Don't forget about our recipes — we have so many!