Skip the lettuce and make this stacked roasted eggplant and tomato salad instead. Jump to the Roasted Eggplant and Tomato Stacked Salad Recipe or read on to see our tips for making it.
If you have a grill, use it. Otherwise, an indoor grill pan will do the trick. If you don't have that, you can roast the eggplant (see our recipe below for tips).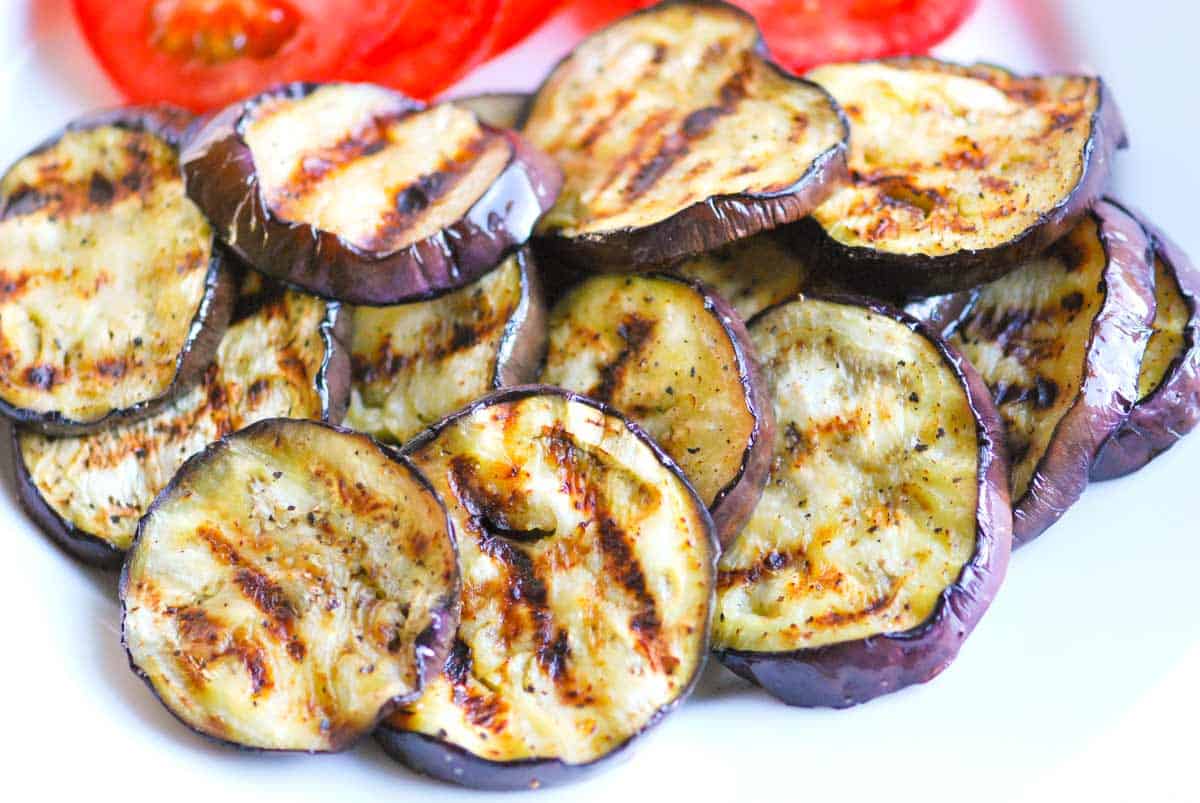 We stack the grilled eggplant slices with fresh mozzarella, basil and tomatoes. You could sneak in a few slices of grilled summer squash, too.
YOU MAY ALSO LIKE: Making this baba ganoush recipe, an amazing roasted eggplant dip, at home is so simple. Serve with vegetables, sliced bread or baked pita chips. Jump to the Baba Ganoush Recipe.
Recipe updated, originally posted June 2010. Since posting this in 2010, we have tweaked the recipe to be more clear. – Adam and Joanne
Stacked Grilled Eggplant and Tomato Salad
An indoor grill pan or outdoor grill works perfectly fine for this. If you do not have either, try roasting the eggplant slices in a 400 degree oven for 20 minutes, flip then continue to roast another 10 to 20 minutes.
You Will Need
2 medium eggplants (about 1 1/4 pounds each)
Salt
3 tablespoons extra-virgin olive oil, plus more for serving
2 to 3 medium tomatoes
8 ounces mozzarella
Handful fresh basil leaves
Balsamic vinegar
Directions
1Slice the stem end off of the eggplants, then slice the eggplant into 1-inch-thick rounds.

2Season with salt and set aside for 5 to 10 minutes. Brush the olive oil onto both sides and edges of the eggplant slices.

3Heat a grill pan over medium heat or heat a grill to medium. Transfer the eggplant to the grill pan and spread out into a single layer. Grill until the eggplant is tender and grill marks appear, about 5 minutes on each side.

4Meanwhile, slice the tomatoes and mozzarella cheese into 1/2-inch thick slices. Lightly season the tomatoes with salt.

5Make stacked salad by layering grilled eggplant, tomato, mozzarella and basil. Finish by lightly drizzling balsamic vinegar and a little olive oil on top.