An easy and flexible recipe for making vegetable stir-fry with a sauce made with ginger, toasted sesame oil and soy sauce. Jump to the Ginger Soy Veggie Stir Fry Recipe or read on to see our tips for making it.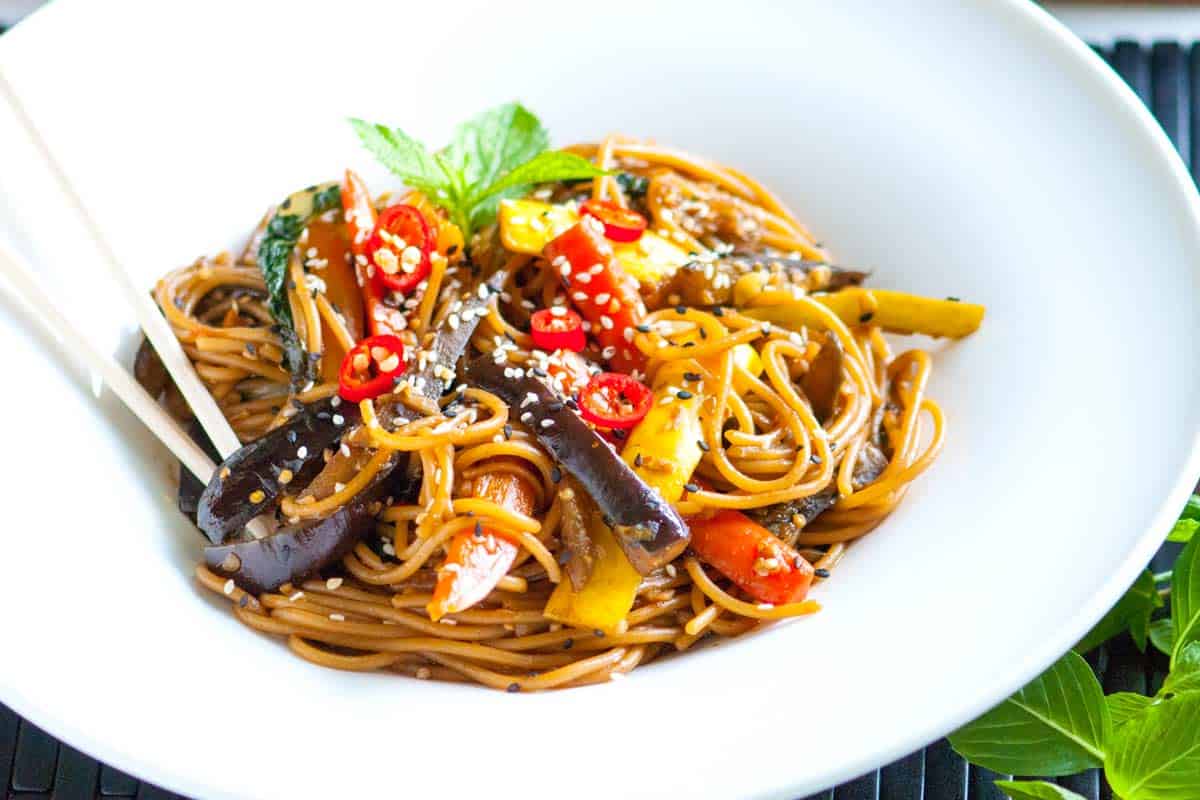 YOU MAY ALSO LIKE: This teriyaki chicken recipe can easily be made on a weekday and comes together in about 30 minutes. Jump to the Honey Ginger Teriyaki Chicken Recipe.
I love this simple veggie stir fry. You can use any seasonal produce available to you.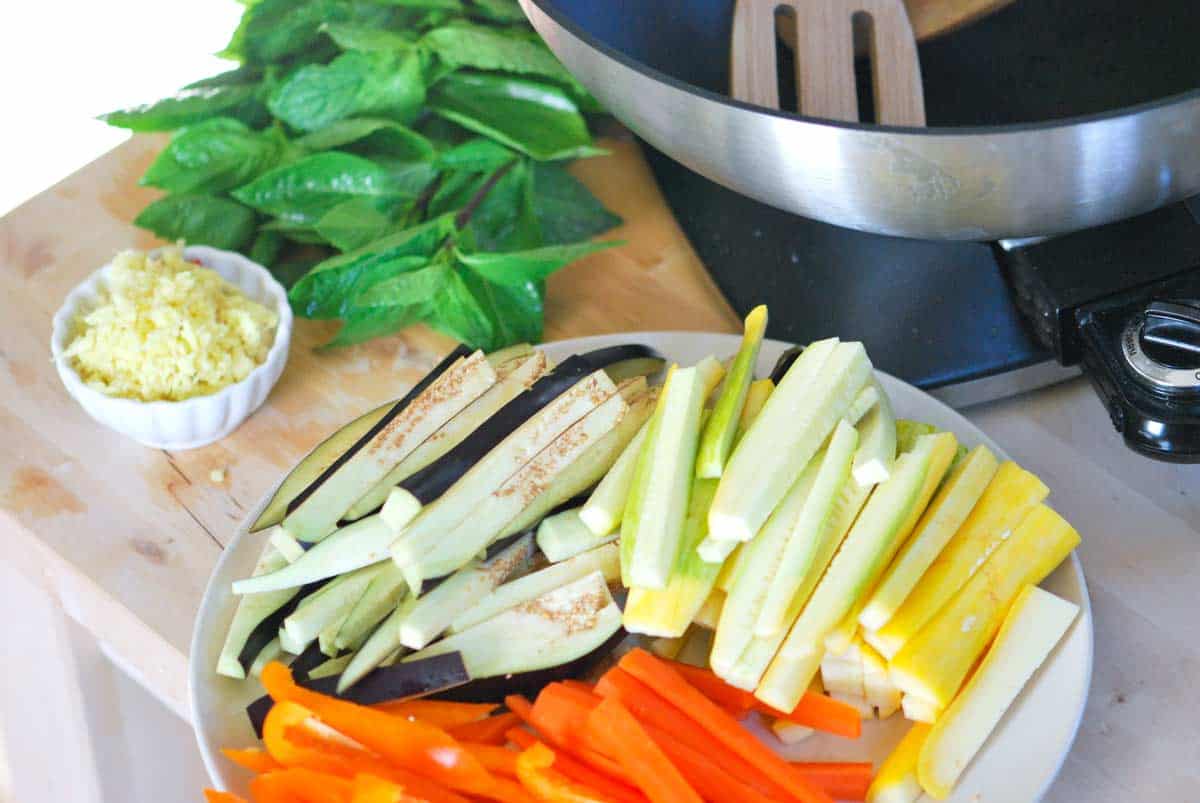 The back bone of the recipe is a ginger soy sauce. To make it, we cook a healthy amount of garlic. ginger and chili peppers. In goes the vegetables then we stir in soy sauce, toasted sesame oil and a little sugar to balance things out.
I love adding a couple handfuls of noodles or spaghetti, but you can just as easily serve over rice. Oh and if you were looking to add some protein, throwing some cubed tofu or shrimp would be wonderful.
YOU MAY ALSO LIKE: This easy veggie tacos recipe is packed full of spice-roasted vegetables and black beans for a bit of protein. Jump to the Roasted Veggie Tacos Recipe.
Recipe updated, originally posted July 2010. Since posting this in 2010, we have tweaked the recipe to be more clear. – Adam and Joanne
Ginger Soy Veggie Stir Fry Recipe
You can use any seasonal produce available to you. Adding some protein with cubed tofu or shrimp is also a really nice idea.
You Will Need
3 tablespoons of neutral flavored oil like canola or grape seed
2 pounds seasonal produce like summer squash, Japanese eggplant, carrots and bell peppers
5 cloves of garlic, minced
1 1/2 inch piece ginger, peeled and minced
2 to 3 red chili peppers, thinly sliced
1/4 cup low-sodium soy sauce
2 tablespoons sugar
2 teaspoons toasted sesame oil
2 cups chopped spinach, kale or bok choy
4 cups cooked noodles or spaghetti, al dente (firm, but not hard)
Handful fresh Thai basil and/or mint
2 tablespoons toasted sesame seeds
Directions
1Rinse vegetables then cut into thin matchsticks about 3 inches long.

2Heat a wok or wide skillet over high heat. Add the oil and tilt the pan to distribute. Carefully lay the vegetable matchsticks in one layer in the wok or pan. Let the veggies sear undisturbed for one minute, then add the garlic, ginger and chili peppers. Stir-fry with the vegetables for a few minutes until the vegetables are almost cooked through.

3Meanwhile, in a small bowl, stir the soy sauce, toasted sesame oil and sugar together. When the vegetables are almost tender, add to the pan.

4Toss in the greens and cooked noodles then stir fry one to two minutes until the greens are wilted and vegetables are crisp-tender. Finish by tearing in basil and mint then scatter toasted sesame seeds on top.