How to make individual puff pastry tarts filled with homemade lime curd and topped with whipped cream. Jump to the Individual Lime Curd Tarts Recipe or read on to see our tips for making them.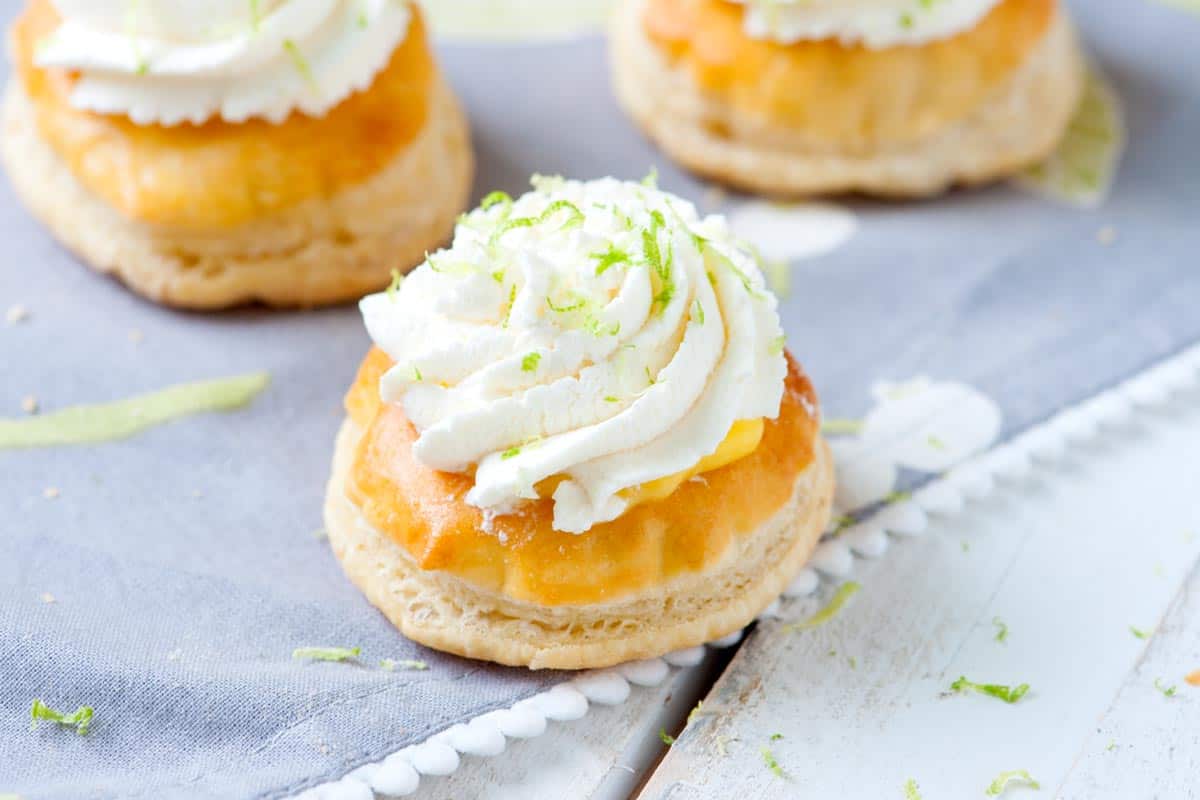 From the moment I made lemon curd in culinary school, I knew a version would be making its way onto our blog. Lemon curd is a genius combination of butter, sugar and fresh lemon — both the juice and zest. It's tart, creamy and sweet all at the same time. I love it smeared onto toast in the morning, but it also makes an excellent tart filling.
YOU MAY ALSO LIKE: How to roast strawberries with brown sugar and coriander. Jump to the Coriander Roasted Strawberries Recipe.
In the recipe below, we've swapped lemon for lime to make lime curd. It's glorious. That said, any citrus will work — think lemon, grapefruit, blood orange and so on.
The tart shells are made from store-bought puff pastry shells. You can also use phyllo tart shells or any pre-baked store-bought shell. Or skip the puff pastry and whipped cream and smear it onto toast.
YOU MAY ALSO LIKE: Just bowls, a whisk and spatula are needed to make this tender, buttery pound cake recipe. Jump to the Buttered Rum Pound Cake Recipe.
Recipe updated, originally posted May 2011. Since posting this in 2011, we have tweaked the recipe to be more clear. – Adam and Joanne
Puff Pastry Tarts with Lime Curd
For the tart shells, we buy puff pastry shells or cups (found in the frozen food section of the grocery store). Phyllo pastry shells or pre-baked shells are also great options. We like to add about a tablespoon of the curd to each baked tart shell.
You Will Need
Lime Curd
4 large eggs
2/3 cup granulated sugar
Zest from 2 limes
2/3 cup fresh lime juice (from 6 to 7 limes)
6 tablespoons butter at room temperature
Tarts
1 (9.5-ounce) box puff pastry cups, we use Pepperidge Farm
2 tablespoons sugar
1 cup heavy whipping cream
Lime zest for topping
Directions
Make Lime Curd

1In a heatproof bowl that fits over a saucepan, whisk the eggs and sugar until smooth and pale, about 2 minutes. Whisk in the lime zest and lime juice.

2Add 2 to 3 inches of water to the saucepan then bring to a simmer. Rest the bowl with eggs and sugar over the pan. (The water should not be touching the bottom of the bowl. If it is, remove some water from the saucepan). Continue to whisk the mixture until it thickens, about 2 minutes.

3Remove the bowl from the heat then whisk in the butter until completely melted and blended in. Strain the lime curd into a container and cover with plastic wrap pressed directly onto the surface of the curd. Cool then refrigerate up to 1 week.
Make Tarts

1Bake pastry cups according to the package directions then cool on wire racks. Fill cooled cups with a generous tablespoon of the chilled lime curd.

2Place a metal mixing bowl into the freezer and chill for about 10 minutes.

3Add the sugar and cream to the cold bowl then use a handheld mixer to beat the cream until stiff peaks form. Top filled tarts with the whipped cream and a few pieces of lime zest.