We've fallen in love with this delicious farro salad made with cooked farro, sweet apples, greens, and a bright salad dressing. Farro is a nutty whole grain that's absolutely perfect in salads like this one.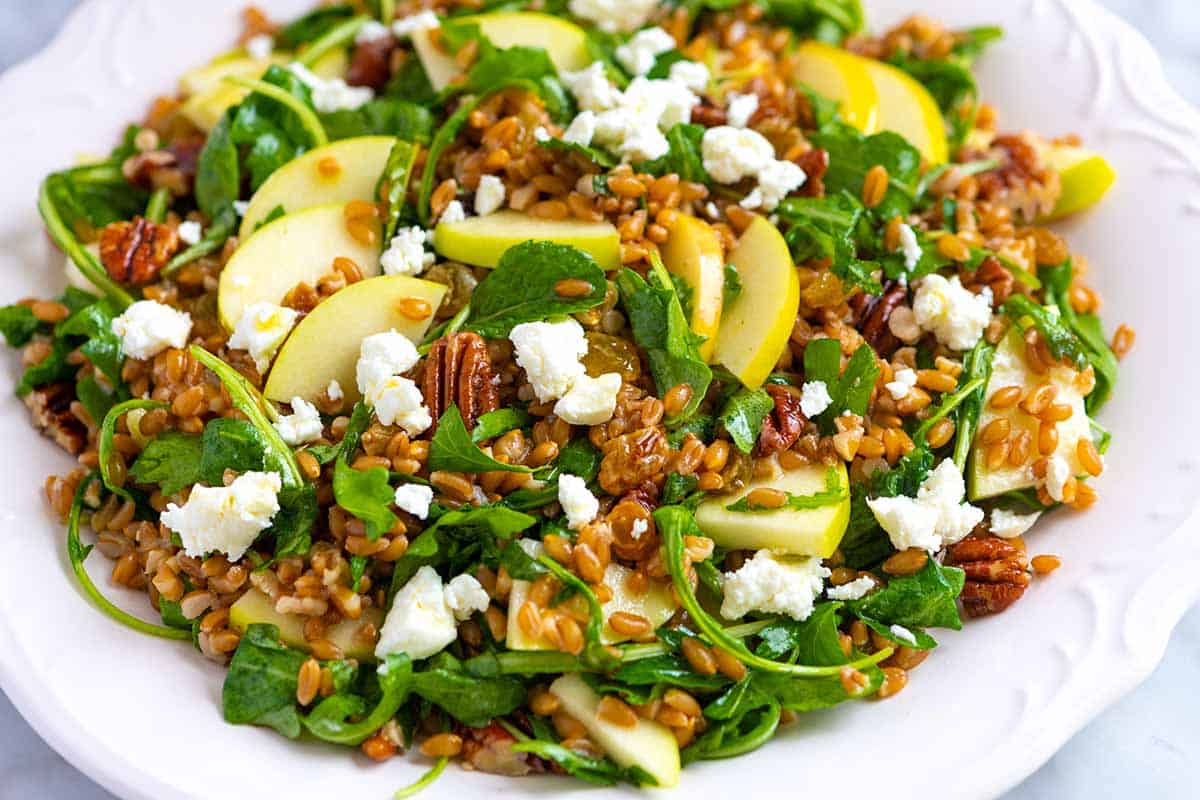 Related: We love this simple arugula salad with couscous, cucumbers, and feta!
What is Farro?
In recent months, farro has become one of our favorite grains to keep stocked in our pantry. Farro is an ancient whole grain derived from wheat. Farro is not gluten-free, however, it is a tasty whole grain that's rich in protein and fiber.
Farro tastes nutty and has a slightly chewy texture when cooked. It's a similar size to rice, but has much more flavor. It is simple to prepare and can be added to a variety of dishes including soups, sides, and salads like this recipe.
From our experience, we have seen farro sold in the following ways:
Whole farro — The grain is left completely in tact, which means when cooked, whole farro has a bit more flavor and the texture is a bit chewier. Whole farro also requires the longest cook time, about 40 minutes.
Cracked, Semi-Pearled or Pearled Farro — Some of or all of the bran has been removed, which means the cook time will be a bit less and the texture less chewy.
Whole, cracked, and pearled farro can be used interchangeably in this farro salad recipe, as well as most other farro recipes. Be sure to take note of the cooking instructions on the package of the farro you purchased in order to gauge cook time and liquid requirements.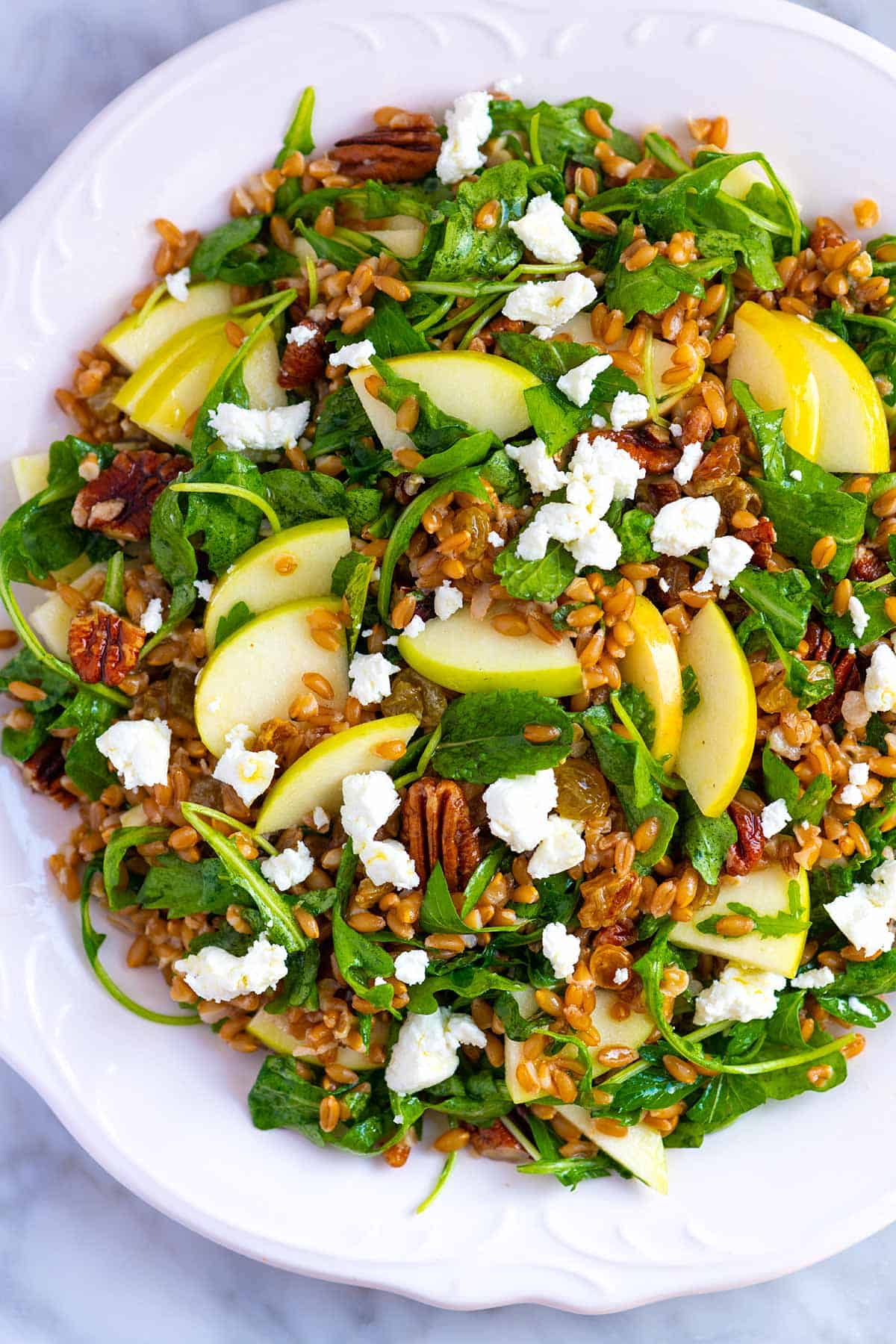 Farro Substitutes
If you are unable to find farro or would like to use a different grain in its place, try these substitutes in our salad.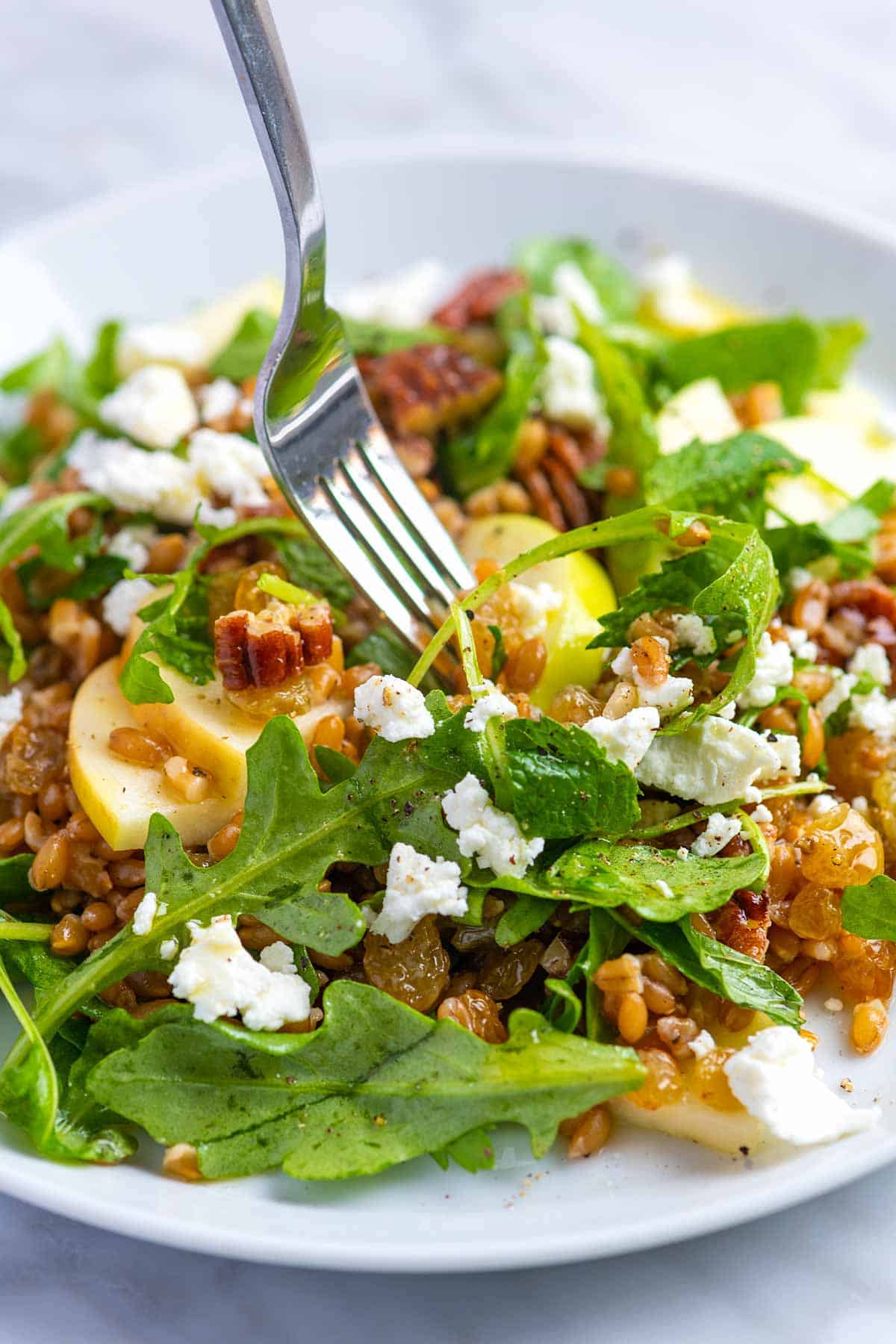 How to Make Farro Salad
We've fallen pretty hard for this simple salad with farro and apples. The dressing is fresh and bright, which works so well with the nuttiness of the farro and sweetness of the apples.
For crunch, we add nuts. I love toasted pecans or walnuts, but other nuts like hazelnuts, almonds, and even peanuts will work as well. For a little extra sweetness and a chewy texture, we add some dried fruit. It's up to you as to which dried fruit you add, but we especially enjoy golden raisins.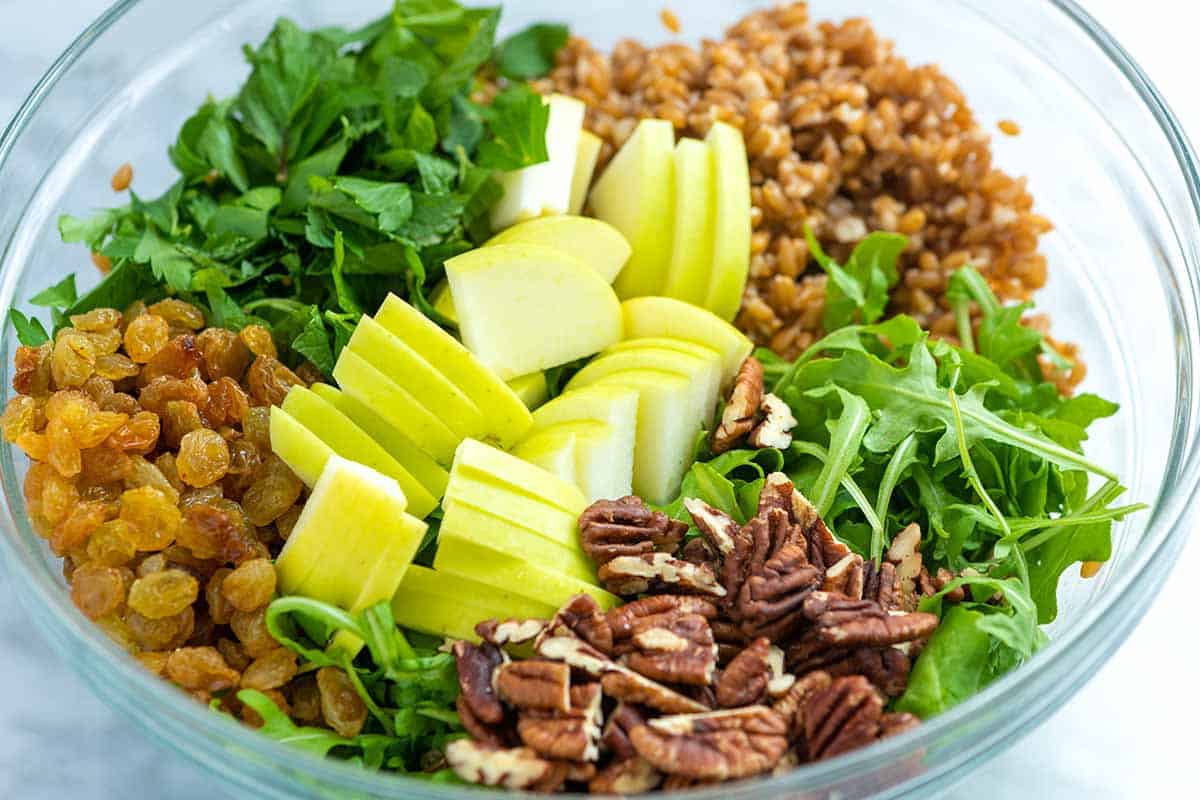 To make the salad, I start by whisking my dressing in the bottom of a large bowl. When the dressing is made, I toss in cooked farro, apples, nuts, dried fruit, lots of fresh herbs, and some greens. We added arugula to the salad pictured, but you can use any salad green. If you have any apples leftover, try making a batch of homemade applesauce!
Make ahead tip: If you are making this ahead of time, I'd go for a heartier salad green like kale or collard greens instead of the arugula. Arugula is delicious in this, but it does wilt quickly. Another option is to keep the greens to the side of the salad and mix them in just before serving.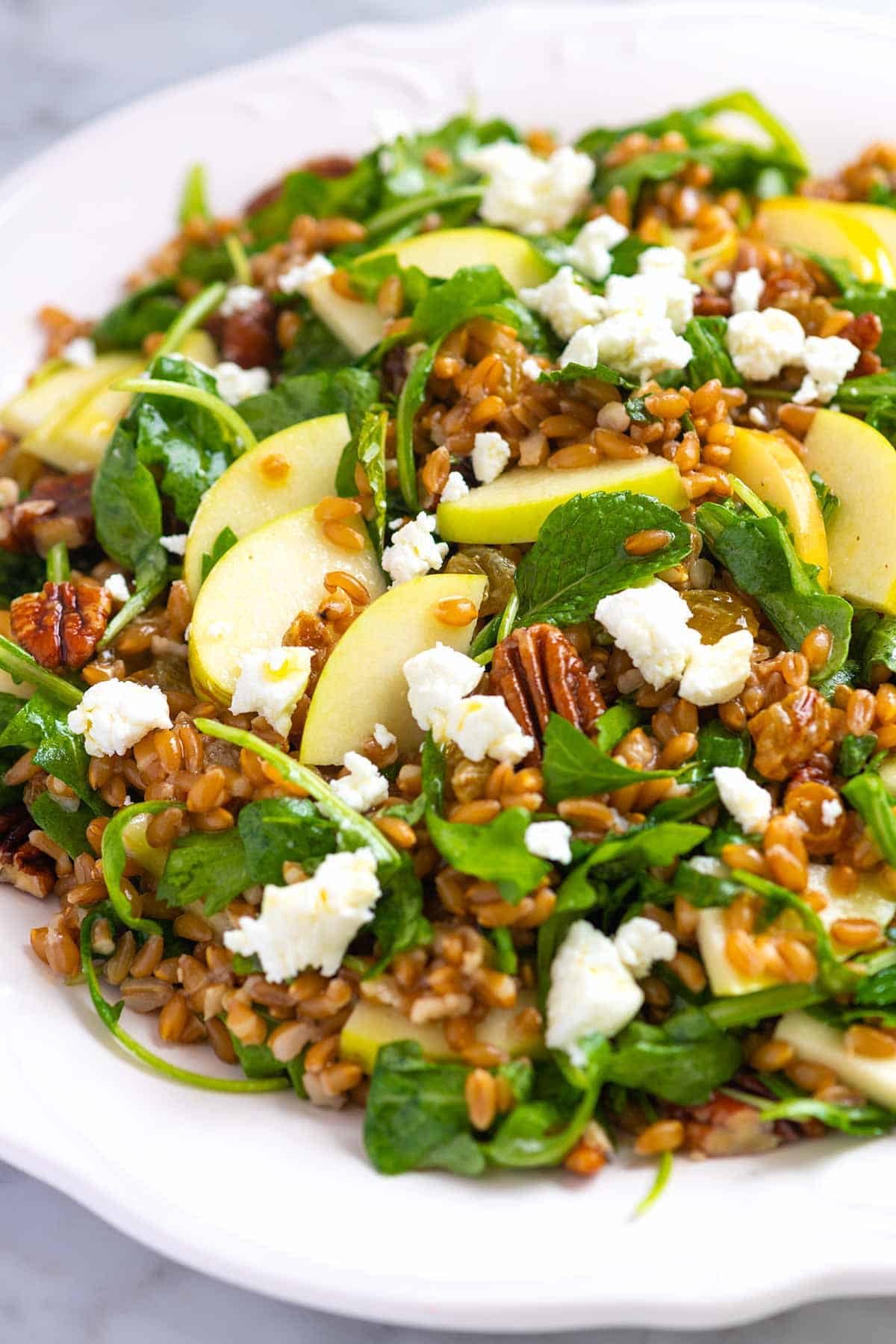 More Hearty Salad Recipes To Try
Farro Salad with Apples and Arugula
We've fallen in love with this delicious farro salad made with cooked farro, sweet apples, greens, and a bright salad dressing. Farro is sold as whole farro, cracked, and pearled farro. All will work in this salad, but the cook time will change depending on what you have. Check the package directions for guidance on actual cook time and liquid requirements.
You Will Need
For the Farro
1 cup uncooked whole farro, see notes
3 cups water or stock, try our veggie stock or chicken stock
1 bay leaf
For the Salad
2 tablespoons fresh lemon juice
1 teaspoon Dijon mustard
1 teaspoon honey or maple syrup
1/4 cup extra virgin olive oil
1 medium apple, cored and sliced into 1-inch pieces
3 cups arugula or salad greens
Handful fresh herbs, torn into small pieces, see notes for suggestions
1/2 cup pecan halves, toasted and chopped
1/2 cup golden raisins or other dried fruit
1 1/2 ounces crumbled goat cheese, optional
Salt and fresh ground black pepper
Directions
Cook Farro

1Add water or broth, farro, bay leaf, and a big pinch of salt to a medium saucepan. Bring to a boil, and then reduce to a simmer. Cook, partially covered, until farro is tender, 30 to 40 minutes. Drain the farro.
Make Dressing

1In a large salad bowl, whisk together the lemon juice, mustard, and honey or maple syrup until blended. Gradually add the oil, whisking constantly, until the dressing looks well blended and creamy. Season to taste with salt and fresh ground black pepper.
To Finish

1Add the sliced apples, cooked and drained farro, arugula, herbs, nuts, and the raisins. Toss well. Crumble goat cheese on top, and then serve.
Adam and Joanne's Tips
To toast the nuts, spread the nuts out in an even layer on a sheet pan, and slide them them into a 350 degrees Fahrenheit oven. Toast 6 to 8 minutes or until they smell toasty, shaking the pan halfway during cooking.
Fresh herbs are lovely in this salad, although, if you do not have any on hand, you can leave them out. When I have them, I love a combination of fresh mint and parsley added to this salad. Dill and basil are also delicious.
Nutrition Facts: The nutrition facts provided below are estimates. We have used the USDA database to calculate approximate values.
If you make this recipe, snap a photo and hashtag it #inspiredtaste — We love to see your creations on Instagram and Facebook! Find us: @inspiredtaste
Nutrition Per Serving
Calories
531
/
Total Fat
27.8g
/
Saturated Fat
5g
/
Cholesterol
8.4mg
/
Sodium
224.9mg
/
Carbohydrate
61.5g
/
Dietary Fiber
10.1g
/
Total Sugars
17.6g
/
Protein
11.2g