The ultimate guide for how to cook quinoa! Learn all about quinoa as well as our best tips for how to cook quinoa perfectly on the stovetop, in the microwave, using a presser cooker, or in your rice cooker.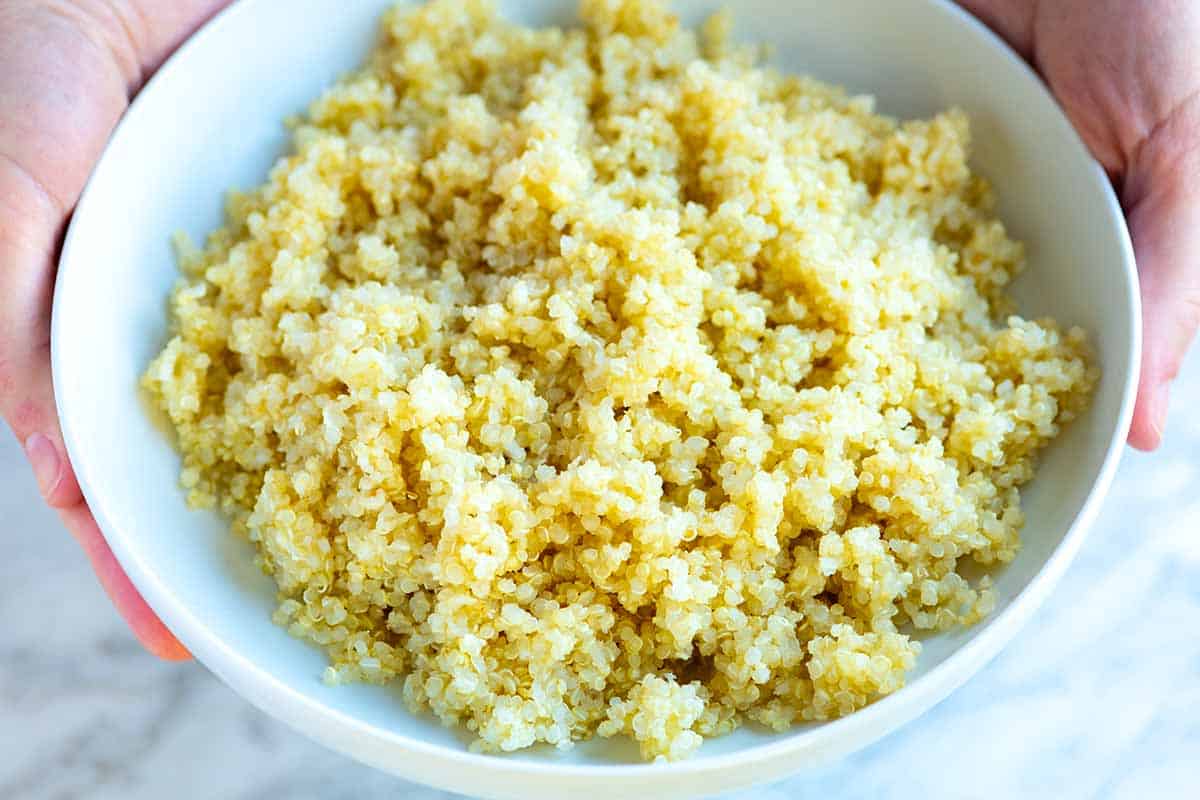 What is Quinoa?
Pronounced "keen-wah," quinoa is a nutritious seed with a nutty flavor that originated in the Andes in South America. While quinoa has been enjoyed for thousands of years, it's becoming more and more popular here in the United States.
Quinoa is highly nutritious. It's high in protein and amazingly offers all the essential amino acids we cannot make on our own. This is why quinoa has surged among vegetarians and vegans. They may be little seeds, but wow do they pack a nutrient punch. There are 8 grams of protein and 5 grams of fiber for every uncooked 1/2 cup.
There are quite a few varieties of quinoa. Here, we are showing white (or golden) quinoa, which has a tan color, but you can find quinoa in a variety of colors. Look for orange, black, red, and even purple varieties. They are all delicious and are interchangeable in your favorite quinoa recipes.
One more note: Since quinoa is a wheat-free seed, it is gluten-free. That said, if you are sensitive to gluten, it is best to check the packaging before buying quinoa just in case there was any gluten contamination during processing.
How to Cook Quinoa
Quinoa is easy to prepare. It's cooked very similar to rice but takes a bit less time. There are also a variety of ways to cook it including on the stove, in the microwave, and in a pressure or rice cooker. We'll hit all the methods below.
Before that, let's talk about how to prepare quinoa for cooking. Don't worry; it's easy!
It is best to rinse quinoa before cooking. Quinoa has a natural coating called saponin which can make cooked quinoa taste bitter or soapy. Rinsing well before cooking reduces the saponin and produces a delicious nutty flavor. Some packages are labeled with the words "pre-rinsed." Since we are pretty sensitive to the saponin, we rinse anyway.
Instead of rinsing, you can also add the uncooked quinoa to a bowl of cold water and swirl it around a few times. Drain the water, then repeat.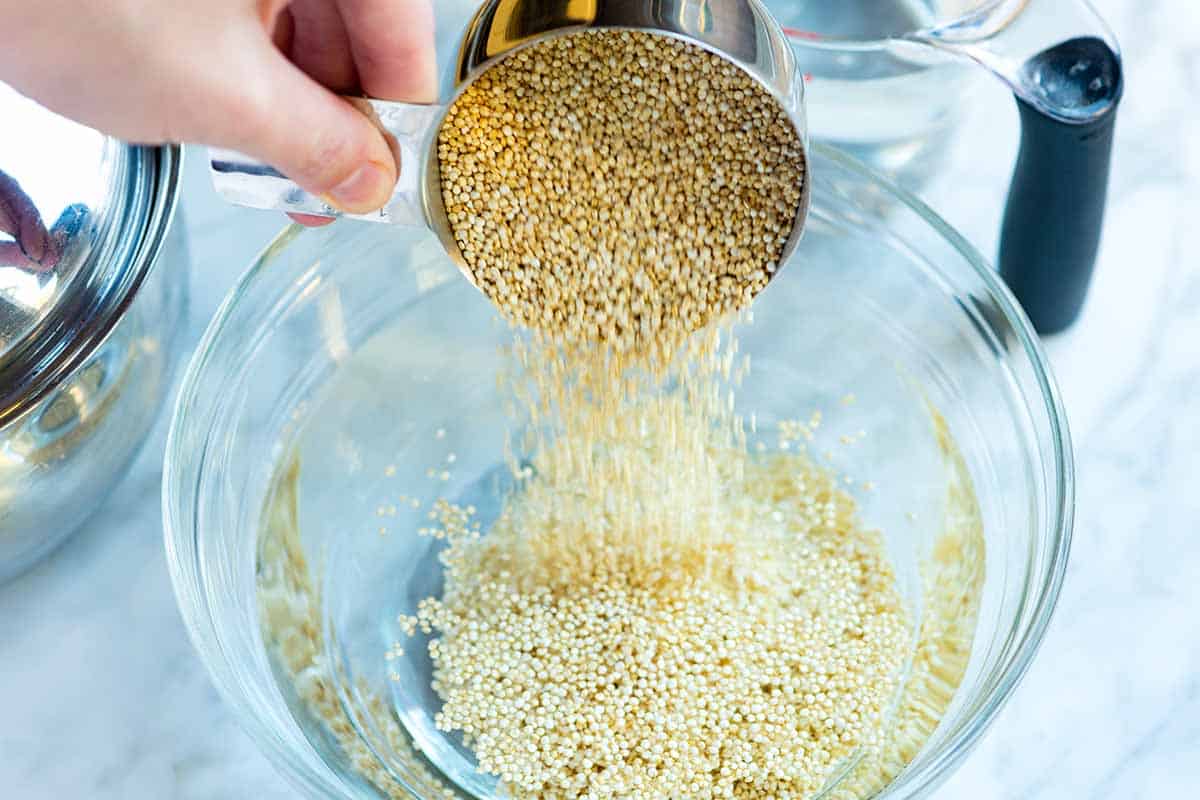 Related: You may also enjoy our tutorial for How to Cook Dried Chickpeas.
How Much Liquid Do You Need
Now you've got rinsed and ready to cook quinoa, it's time to cook.
For most cooking methods, you need two parts of liquid to one part quinoa. That means if you are cooking 1 cup of quinoa, you will need 2 cups of liquid. The liquid can be water, but try broth/stock for even more flavor. While it isn't necessary, you can also add a pinch of salt to the liquid for seasoning. We love using our veggie stock to cook quinoa.
For even more flavor, try toasting the quinoa for a minute or two in a dry pan before cooking. This enhances the nutty flavor. You can also add a little fat like butter or olive oil to the saucepan and adding a few fresh herbs to the pot is always an excellent idea. I especially love adding a bit of butter and one bay leaf.
When you're deciding how much to cook, keep in mind that 1 cup of quinoa will yield about 3 cups of cooked quinoa.
Cooking Quinoa on the Stovetop
To cook quinoa on the stove, add the rinsed quinoa and liquid (water or broth) to a medium saucepan. Bring the mixture to a boil, and then reduce the heat so that the liquid is at a low simmer.
Most packages recommend covering the saucepan at this point, but we've found that you can leave the pan uncovered and the quinoa turns out beautifully. It might even make it slightly more fluffy.
Cook the quinoa at a low simmer until all the liquid has absorbed. This will take 10 to 15 minutes. When the liquid has absorbed, slide the pan off of the heat and cover with a lid for five minutes. After five minutes, use a fork to fluff the cooked quinoa then use in your favorite recipes.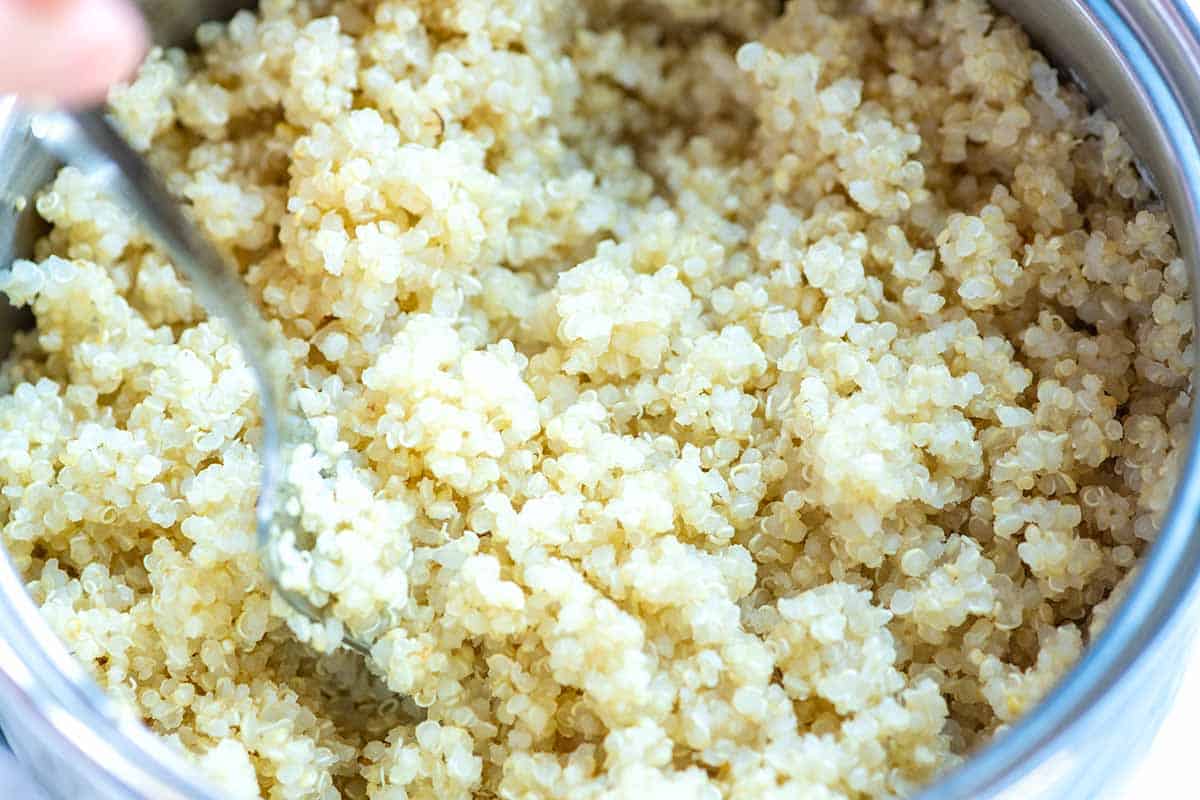 Cooking Quinoa in the Microwave
The microwave method takes a similar amount of time as the stovetop method, but I love that it's possible to cook quinoa in the microwave! This would have come in handy in my college dorm room.
To do it, combine one cup rinsed quinoa with 2 cups of water (or stock/broth) in a microwave safe bowl. Cover with a microwave-safe plate then microwave until about half of the liquid has been absorbed. This takes about 6 minutes. Remove the bowl from the microwave, stir the quinoa, and then cover again and set aside for another 5 to 10 minutes or until all the liquid has absorbed. Fluff with a fork, and then enjoy!
Cooking Quinoa in a Pressure Cooker (Instant Pot)
Just like when using the microwave, cooking quinoa in a pressure cooker like an Instant Pot isn't much quicker than when cooking it on the stove. That said, both alternative methods allow you to do other things in your kitchen since they are so hands-off.
To do it, spray or wipe the bottom and sides of the pressure cooker with a little oil (this prevents sticking). Then add 1 cup of rinsed quinoa and 1 cup of liquid like water or broth. Stir well so that no quinoa sticks to the bottom, and then secure the lid. Program the pressure cooker to cook on HIGH for one minute, and then naturally release for twelve minutes.
**You'll notice that we are using less water with the pressure cooker method than other methods. There's less evaporation in a pressure cooker, so you only need 1 cup of water for 1 cup of quinoa. If you follow this method and the quinoa seems too hard, consider increasing the liquid by 1/4 cup to 1/2 cup.
Cooking Quinoa in a Rice Cooker
When using a rice cooker, simply treat quinoa like rice.
To do it, spray or wipe the bottom and sides of the rice cooker with a little oil (this prevents sticking). Then add 1 cup of rinsed quinoa and 2 cups of liquid like water or broth. Stir well so that no quinoa sticks to the bottom, and then secure the lid. If you have the option, press the button used for cooking white rice, otherwise just press start.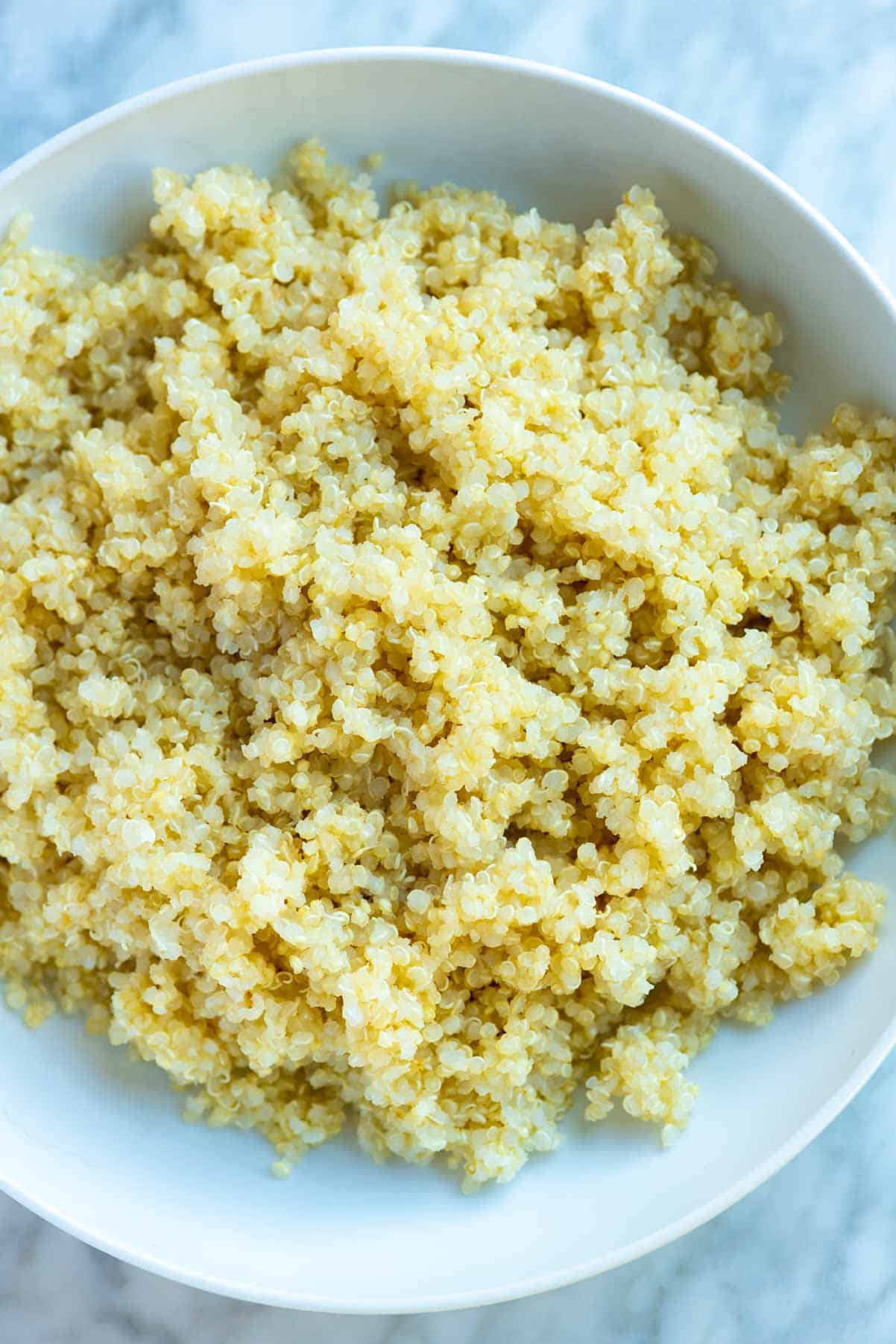 How Long Does Cook Quinoa Last?
Cooked quinoa will keep, if stored in a tightly sealed container, for 3 to 5 days in the refrigerator. It will last in the freezer up to two months.
What to do With Quinoa?
Quinoa has a variety of uses and can be enjoyed for breakfast, lunch, and dinner! When cooked it has a mild and nutty flavor. Here are some of our favorite ways to use quinoa:
How to Cook Quinoa (Light and Fluffy)
You can cook quinoa a variety of ways. We're sharing how to cook quinoa on the stovetop below, but methods for using a microwave, pressure cooker, and rice cooker are all outlined in the article above.
Directions
1Add quinoa to a fine mesh strainer, and then rinse under cool water for 30 seconds to a minute. Alternatively, add the quinoa to a bowl and cover with cool water. Move the quinoa around the bowl, and then drain the water and repeat once more so the quinoa has been rinsed.

2Shake the quinoa of any excess liquid. Combine the rinsed quinoa and water (or stock) in a medium saucepan over medium-high heat. Bring to a boil then reduce to a low simmer and cook, uncovered, until the liquid is absorbed by the quinoa, 10 to 15 minutes. If you are making a large batch of quinoa, this may take closer to 20 minutes.

3Move the saucepan off of the heat and cover for five minutes. This extra time allows the quinoa to steam and "fluff up". Uncover, and then fluff the quinoa with a fork.
Adam and Joanne's Tips
For even more flavor, stir a little olive oil, coconut oil or butter into the cooked quinoa as well as some chopped fresh herbs like parsley, chives or cilantro. A spritz of fresh lemon juice or lime juice is also nice.
Nutrition facts: The nutrition facts provided below are estimates. We have used the USDA database to calculate approximate values.
If you make this recipe, snap a photo and hashtag it #inspiredtaste — We love to see your creations on Instagram and Facebook! Find us: @inspiredtaste
Nutrition Per Serving
Serving Size
3/4 cup cooked
/
Calories
156
/
Total Fat
2.6g
/
Saturated Fat
0.3g
/
Cholesterol
0mg
/
Sodium
45.6mg
/
Carbohydrate
27.3g
/
Dietary Fiber
3g
/
Total Sugars
0g
/
Protein
6g