Our favorite quinoa salad recipe is packed with superfoods. It can be made vegan, is easy to make, and tastes incredible. We have friends who don't typically like quinoa who love this easy salad. This will become your new go-to salad, we are sure of it.
Watch the Video
Related: We also love this black bean and quinoa salad.
How to Make the Best Quinoa Salad
Quinoa is a versatile base for salads. It's nutritious, tastes nutty, and it is very easy to prepare. To make the best quinoa salad, keep these tips in mind:
Prepare and cook the quinoa properly. We've shared an entire article showing you how to cook quinoa, but here are the main takeaways. First, before you cook it, it's best to rinse quinoa. Rinsing well before cooking reduces the saponin and produces a delicious nutty flavor.
Choose lots of colorful veggies and textures to add to the salad. I'm not the biggest fan of quinoa's texture, but when you mix it with crisp veggies and crunchy seeds or nuts, I'm a very happy girl.
Use a bright and flavorful salad dressing. Quinoa is a fantastic salad base, but it doesn't have that much flavor by itself. That's why we love tossing it with an ultra-flavorful dressing. As the salad sits, the quinoa absorbs the dressing and gets more and more delicious over time.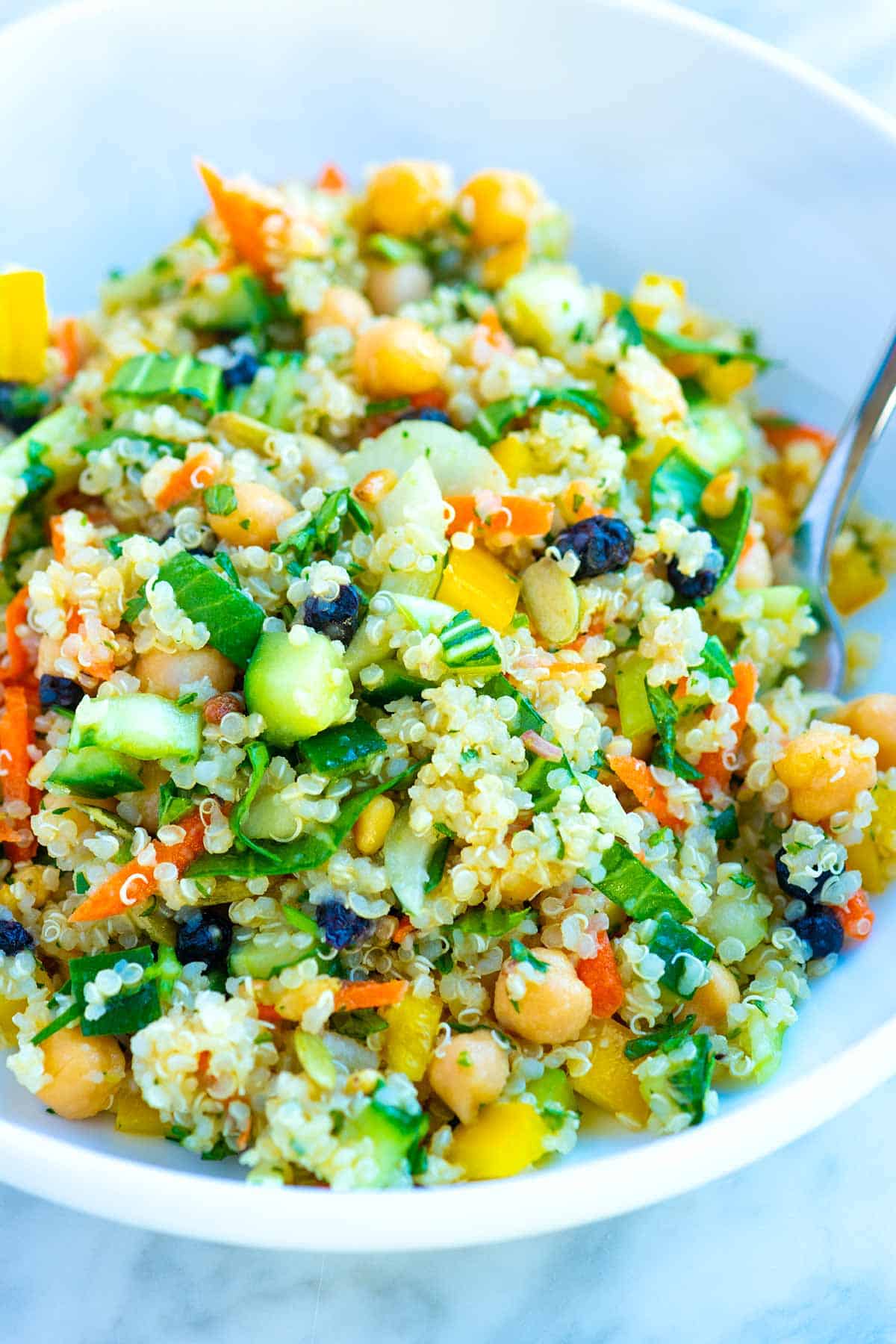 Quinoa Salad Ingredients
We like our salads packed with goodies. Add lots of colorful and crunchy vegetables, nuts or seeds, and something a bit sweet like dried blueberries or cranberries.
The vegetables you use are up to you, but here's what we've added:
Cucumber adds crunch and freshness. It's rare that we don't add cucumber to salads around here. It's a star in our lemon orzo salad as well as in our easy chickpea salad.
Bok choy is one of my favorite salad ingredients. It's a total powerhouse of nutrition and is the perfect alternative to other hearty veggies like kale, broccoli, and spinach thanks to its milder taste and crunchy texture. If you enjoy bok choy as much as we do, take a look at our 10-minute lemon garlic bok choy recipe, it's a total winner.
Grated carrots add color and are loaded with vitamin A and antioxidants. Grating them is quick, too. We use our box grater, but you can buy pre-grated carrots or use a food processor attachment.
Bell peppers add even more color to the salad — I especially love using yellow or red peppers for this. They also add crunch and sweetness, not to mention their high levels of vitamin C, B vitamins, and other nutrients.
Fresh herbs add color, lots of flavors, and even add their nutrients to the party. We love stirring in a generous amount of parsley and mint.
In addition to the vegetables, we throw in some nuts and seeds — the type is completely up to you, but we especially love buttery pine nuts and pepitas. Walnuts, pistachios, almonds, or seeds like sunflower seeds are also excellent options.
We also like to add something sweet. In the photos, we've added dried wild blueberries. Cranberries or raisins will also work. If they are in season, fresh fruit will work, too. I cannot wait until summer so I can add a handful of fresh blueberries to this salad.
As a final ingredient, we stir in chickpeas, which make the salad even more hearty and satisfying. You can use canned or home cooked chickpeas — here's our tutorial for how to cook dried chickpeas if you are interested. Other beans, like black beans, work, too. In fact, you may enjoy our black bean salad with quinoa, which has lots of veggies and a zesty lime dressing.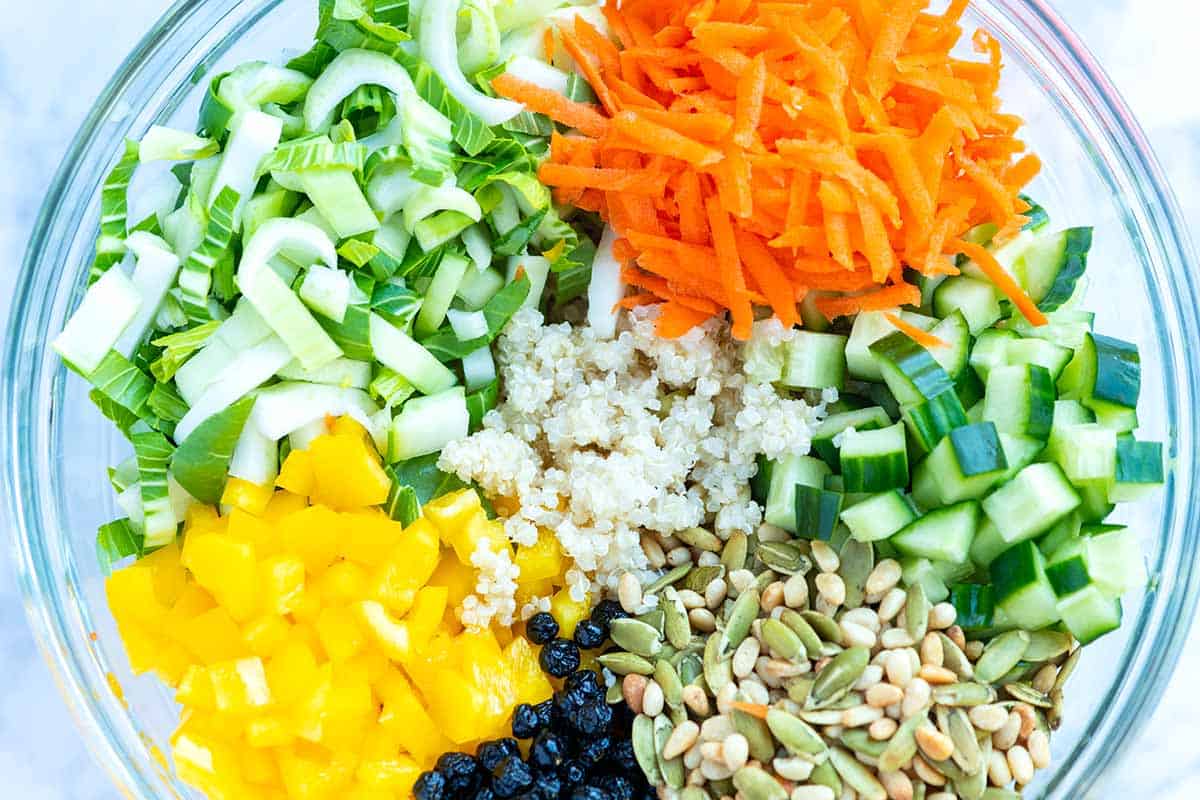 How to Make Quinoa Taste Good
As I mentioned above, it's all about bright and flavorful when it comes to the quinoa salad dressing. We keep things simple with a combination of apple cider vinegar, Dijon mustard, a touch of honey for balance, and extra-virgin olive oil. (For a vegan dressing, swap the honey for maple syrup.)
When we have them in the kitchen, we love to add a last-minute spritz of fresh lemon to the salad. It brightens everything up even more.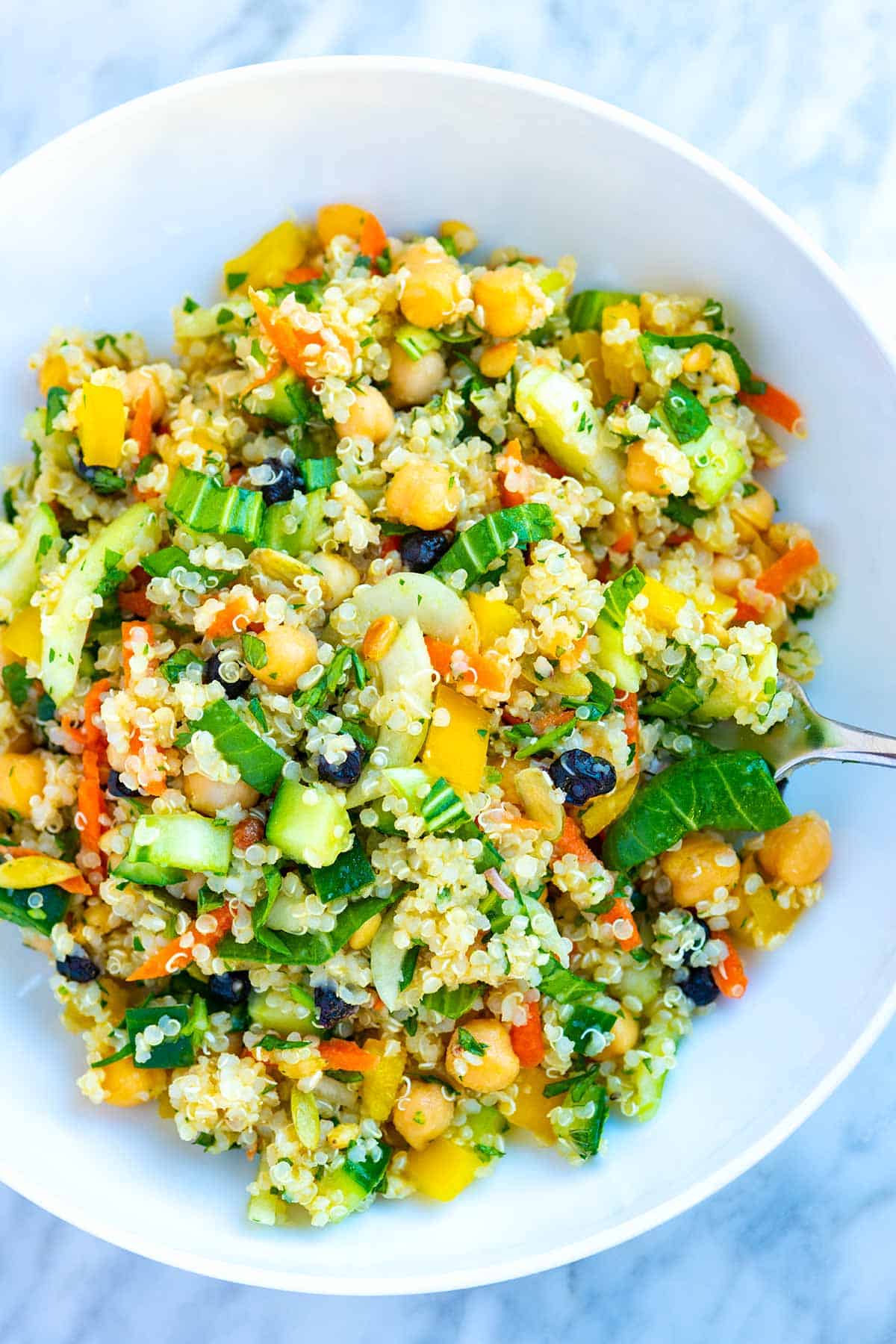 Related: Try vegetarian chili with quinoa and black beans.
Recipe Variations
As written, this is a vegan quinoa salad — it's delicious, hearty, and extremely satisfying this way. That said, there are lots of variations you can do to make this salad your own.
Serve this as a cold or warm quinoa salad.
Give it a Mediterranean or Greek spin with the addition of feta cheese and some sliced olives.
Add some creaminess with diced avocado.
Add additional protein with shredded chicken or roasted shrimp.
Use a different grain. We love farro and have shown how to cook it in this farro and apple salad recipe.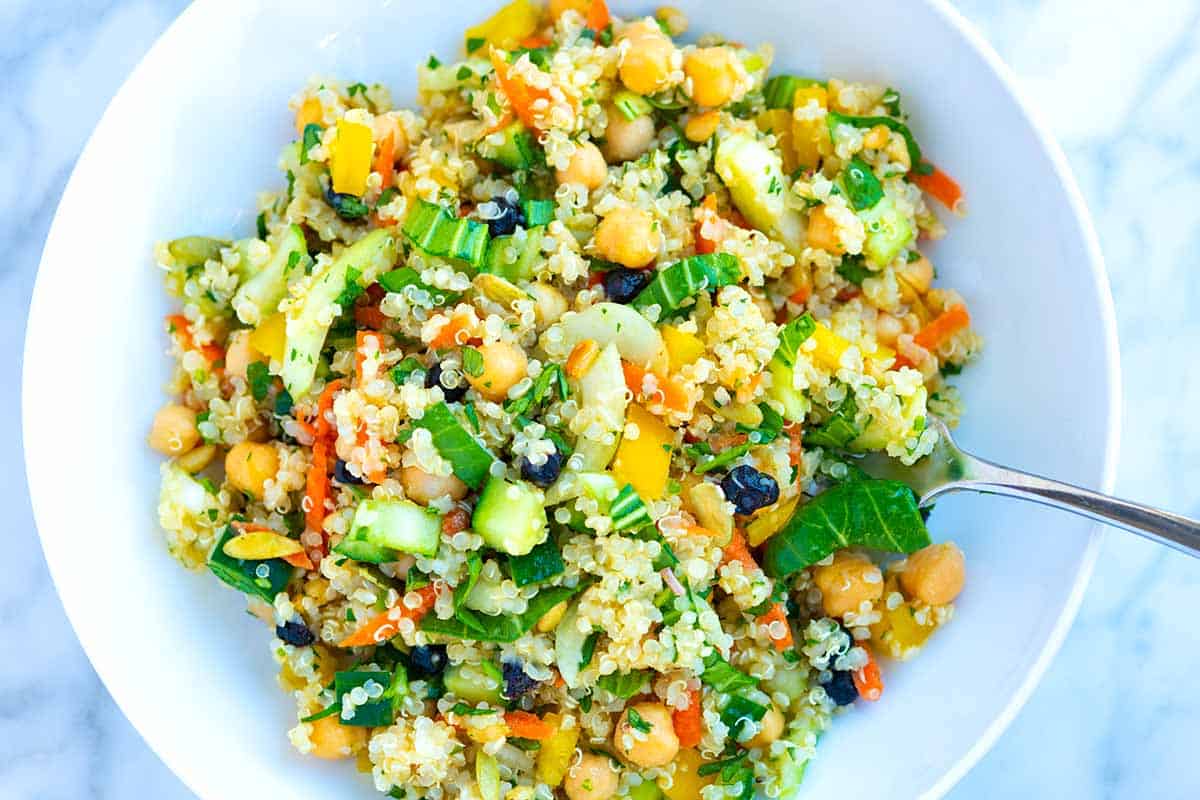 Seriously Good Quinoa Salad
Our favorite quinoa salad recipe is packed with superfoods. It's easy to make and tastes incredible. Whether you already love quinoa or don't cook it often, this will become your new go-to salad.
We share how to cook quinoa on the stovetop in the recipe, for other methods including cooking quinoa in the microwave or a pressure/rice cooker, see our article: How to Prepare and Cook Quinoa. If you are using leftover cooked quinoa, one cup of uncooked quinoa yields three cups of cooked quinoa.
Watch Us Make the Recipe
You Will Need
For the Salad
1 cup uncooked quinoa
2 cups water
1/2 medium English cucumber, diced (1 cup)
1 medium bell pepper, chopped (1 cup)
1 baby bok choy, chopped (2 cups)
1 cup additional grated or chopped veggies like carrots or broccoli stems, optional
1/2 cup (65 grams) nuts and seeds like walnuts, pine nuts, pepitas or sunflower seeds
1/4 cup (35 grams) dried fruit, blueberries or cranberries
1/2 cup coarsely chopped fresh herbs; use any combination of fresh parsley, cilantro, basil, dill or mint
1 (15-ounce) can chickpeas or 1 1/2 cups cooked chickpeas
For the Dressing
1/4 cup (60 ml) extra-virgin olive oil
1/4 cup (60 ml) apple cider vinegar
1 teaspoon Dijon mustard
1/2 teaspoon honey or maple syrup
1/2 teaspoon fine sea salt, plus more to taste
1/4 teaspoon fresh ground black pepper
Juice from 2 to 3 lemon wedges, optional
Directions
Cook Quinoa

1Add quinoa to a fine mesh strainer, and then rinse under cool water for 30 seconds to a minute. Alternatively, add the quinoa to a bowl and cover with cool water. Move the quinoa around the bowl, and then drain the water and repeat once more, so the quinoa has been rinsed.

2Shake the quinoa of any excess liquid. Combine the rinsed quinoa and water in a medium saucepan over medium-high heat. Bring to a boil then reduce to a low simmer and cook, uncovered, until the liquid is absorbed by the quinoa, 10 to 15 minutes.

3Move the saucepan off of the heat and cover for five minutes. This extra time allows the quinoa to steam and "fluff up." Uncover, and then fluff the quinoa with a fork. Set aside to cool slightly.
Make the Salad

1When the quinoa has cooled slightly, in a large bowl, combine the quinoa, chickpeas, cucumber, bell pepper, bok choy, nuts, seeds, dried fruit, and the herbs.

2In a small bowl, whisk the olive oil, apple cider vinegar, mustard, honey (or maple syrup), salt, and pepper until blended.

3Pour the dressing over the salad and toss well. Taste then adjust with additional salt and pepper as needed. For an extra pop of flavor, spritz the juice from a few lemon wedges over the salad. Serve.
Adam and Joanne's Tips
The quinoa salad will keep, tightly covered, in the refrigerator for 3 to 5 days.
As a substitute for the dried fruit, consider adding 1/2 to 1 cup of fresh fruit like blueberries, diced apple or chopped mango.
For a vegan friendly quinoa salad, substitute the honey with maple syrup.
Nutrition facts: The nutrition facts provided below are estimates. We have used the USDA database to calculate approximate values.
If you make this recipe, snap a photo and hashtag it #inspiredtaste — We love to see your creations on Instagram and Facebook! Find us: @inspiredtaste
Nutrition Per Serving
Serving Size
1 cup
/
Calories
282
/
Total Fat
14g
/
Saturated Fat
2g
/
Cholesterol
0mg
/
Sodium
274.5mg
/
Carbohydrate
33g
/
Dietary Fiber
6.5g
/
Total Sugars
7.3g
/
Protein
8.8g