This easy blueberry crumble with perfectly cooked blueberries topped with a buttery oat crumble is high on our list of favorites. There's no fancy equipment needed and you only need about 10 minutes of prep time!
Watch the Video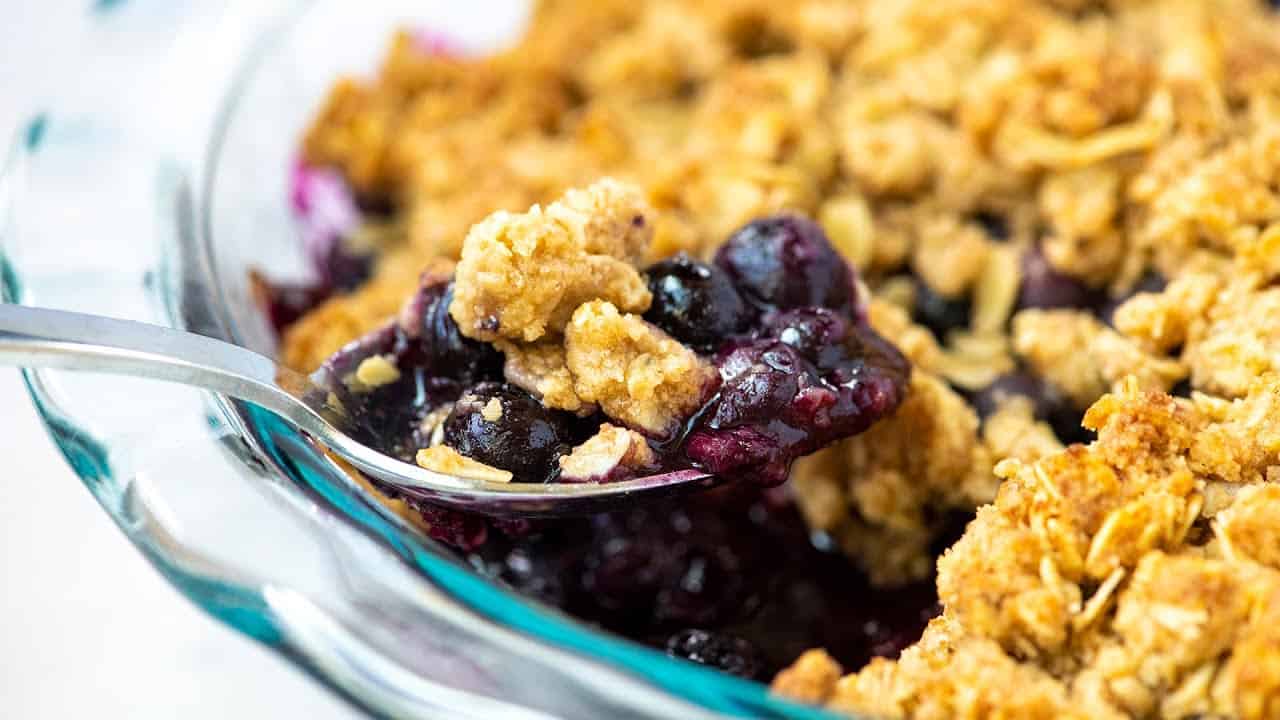 Our Secret for the Best Blueberry Crumble
The real secret to our blueberry crumble is in the topping. We use melted butter (or melted coconut oil for a vegan crumble). Most often when looking at the method for making blueberry crumble, you are asked to process or smoosh cold butter into the other crumble ingredients.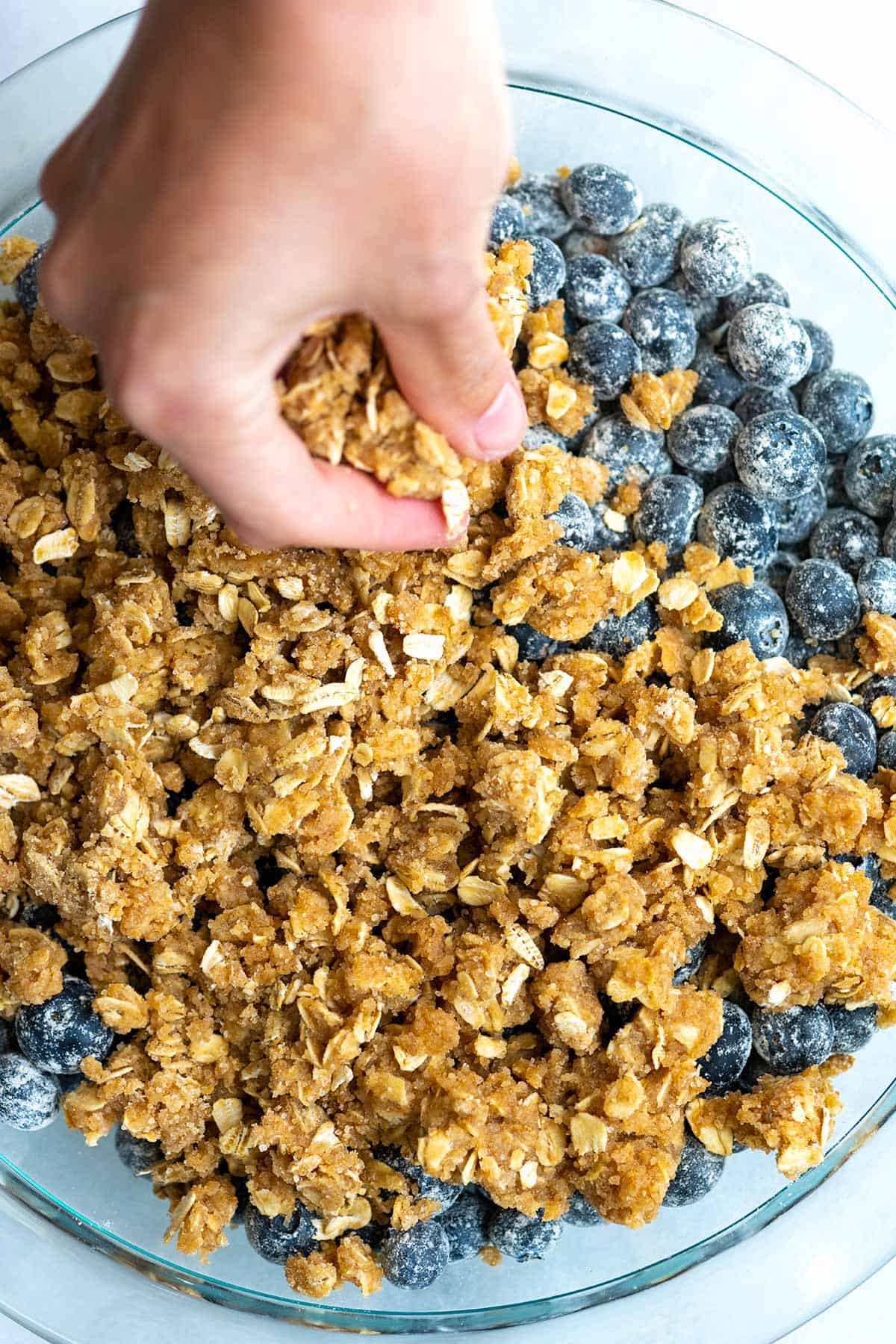 In our recipe, we quicken the process and simply stirring in melted butter. Not only is this quicker and less messy, it makes for a much better crumble topping.
By using melted butter, all of the flour and oats are coated in buttery goodness, which helps them stay put on top of the blueberries. After baking, the topping is made up of golden brown crumbles with just enough crunch to stand up to the dreamy blueberry filling below.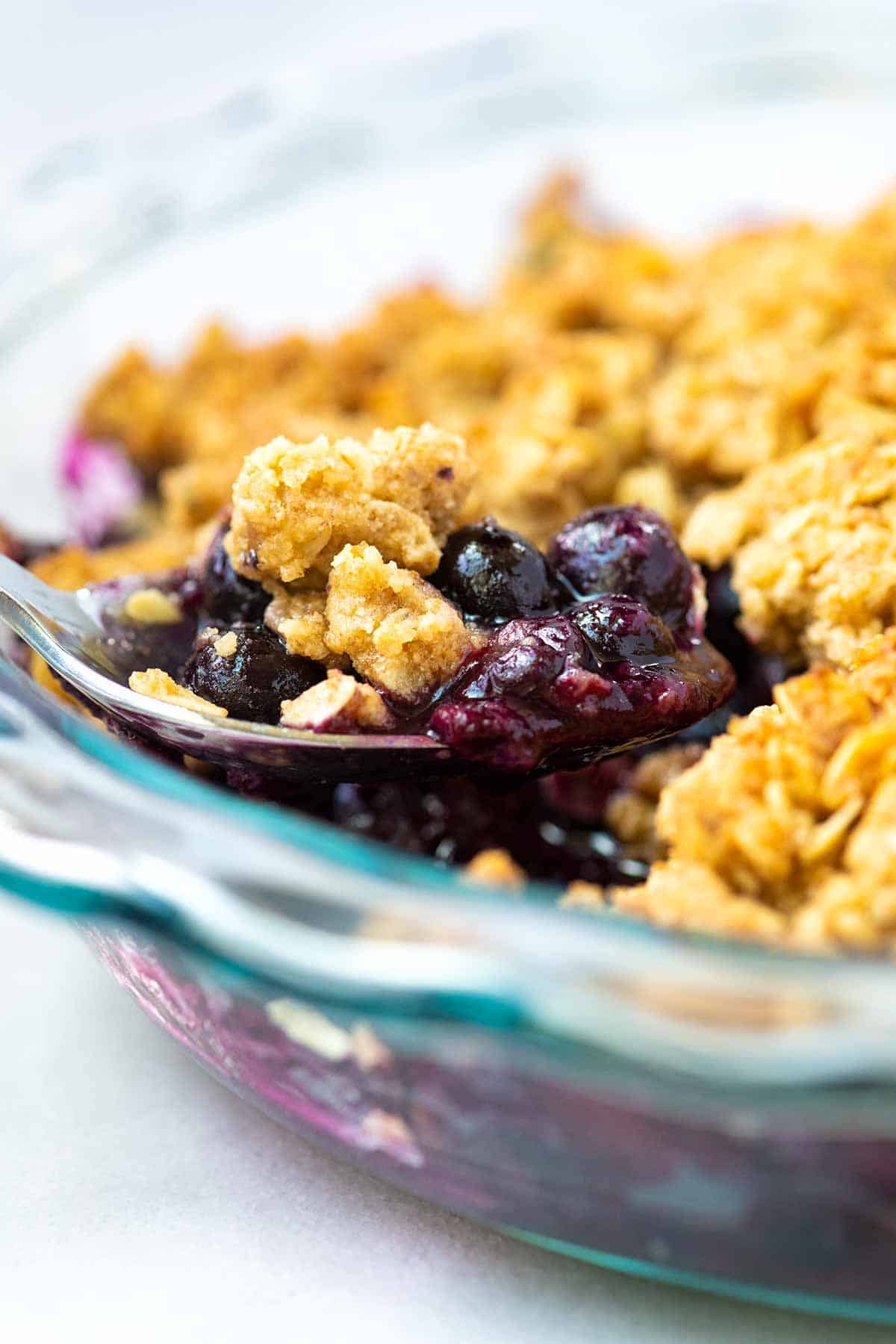 We use this same method when making these easy baked apples and our favorite apple crisp recipe.
Note: Choosing whether to call this a blueberry crumble or blueberry crisp was tricky. Both desserts are similar and from what I found online, crumbles might not always include oats (although my Mom always called this type of dessert a crumble). This topping looks like crumbles on top of the berries and crumbles when you dig in after it has been baked, which is why we went with crumble ?
Keep the filling simple
We keep the filling simple and only add a touch of flour to help thicken the blueberry juices, a little sugar, a pinch of salt, and when we have it on hand, a squeeze of fresh lemon juice.
When I don't have lemon in the kitchen, I simply add a tablespoon of water, which helps moisten the flour before baking in the oven.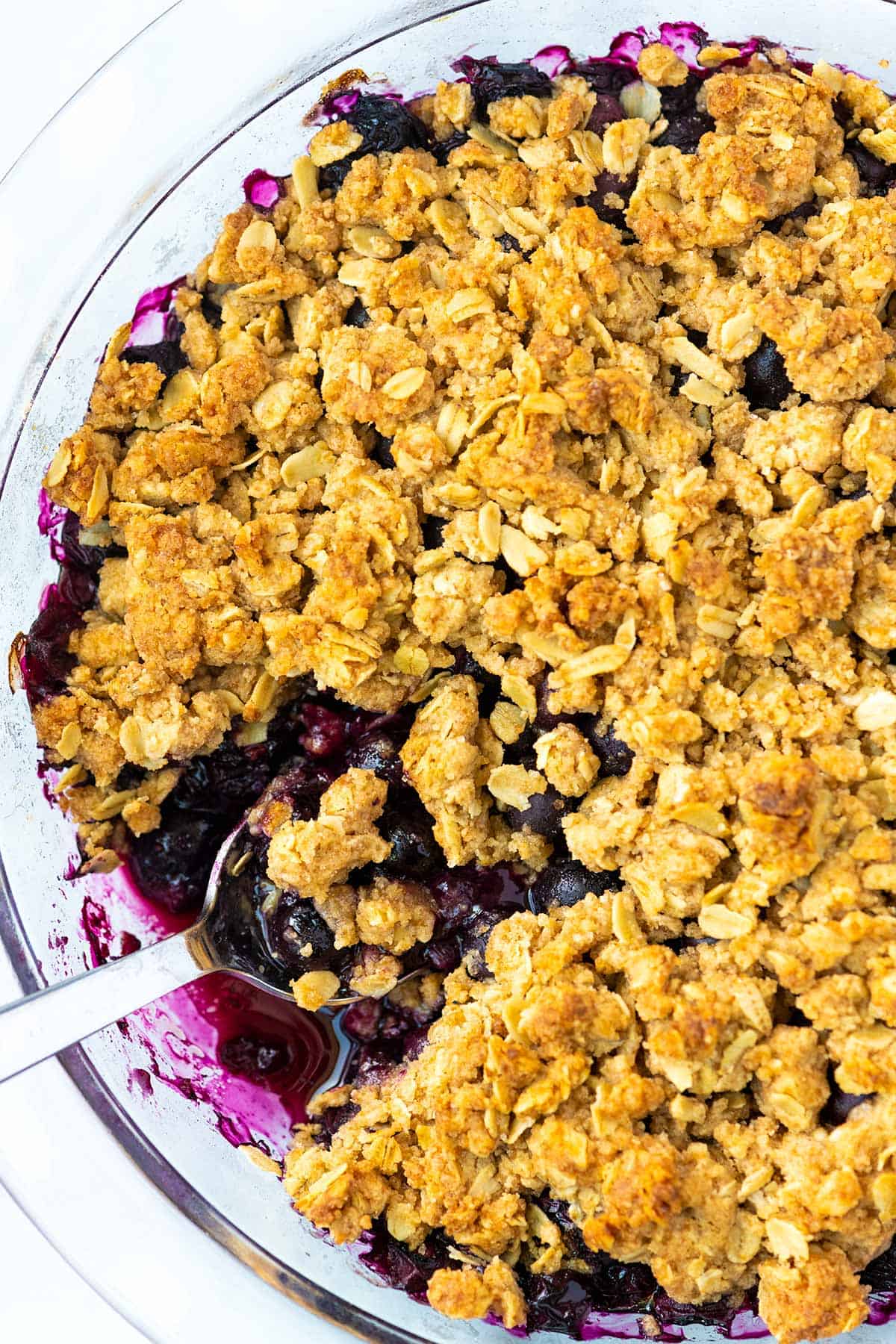 Variations
As I mentioned above, I typically keep this dessert simple, but there are some really delicious variations you can make.
Add a variety of berries to make a berry crumble.
Substitute blueberries for other berry varieties. Since they may have a different sugar content, it's a good idea to taste the berries you plan to use before adding sugar to the filling. Gooseberries, for example, are much more tart and might need a bit more sugar to balance things out.
Add other fruits like sliced peaches, apples or pears.
Make a spiced crumble topping with 1/2 teaspoon of cinnamon and a pinch of nutmeg.
Add nuts to the crumble topping. I especially love almonds and blueberries together.
Make ahead tips
Blueberry crumble will last in the refrigerator 3 to 4 days and can be frozen up to a month. I prefer to freeze the crumble before baking and then cover very well so it is airtight.
When I'm ready to bake, I simple bake from frozen until the filling is bubbling and the topping is golden brown (40 to 60 minutes). You can also freeze the crumble in small freezer/oven-safe ramekins and then bake those (these will take slightly less time to bake).
More easy desserts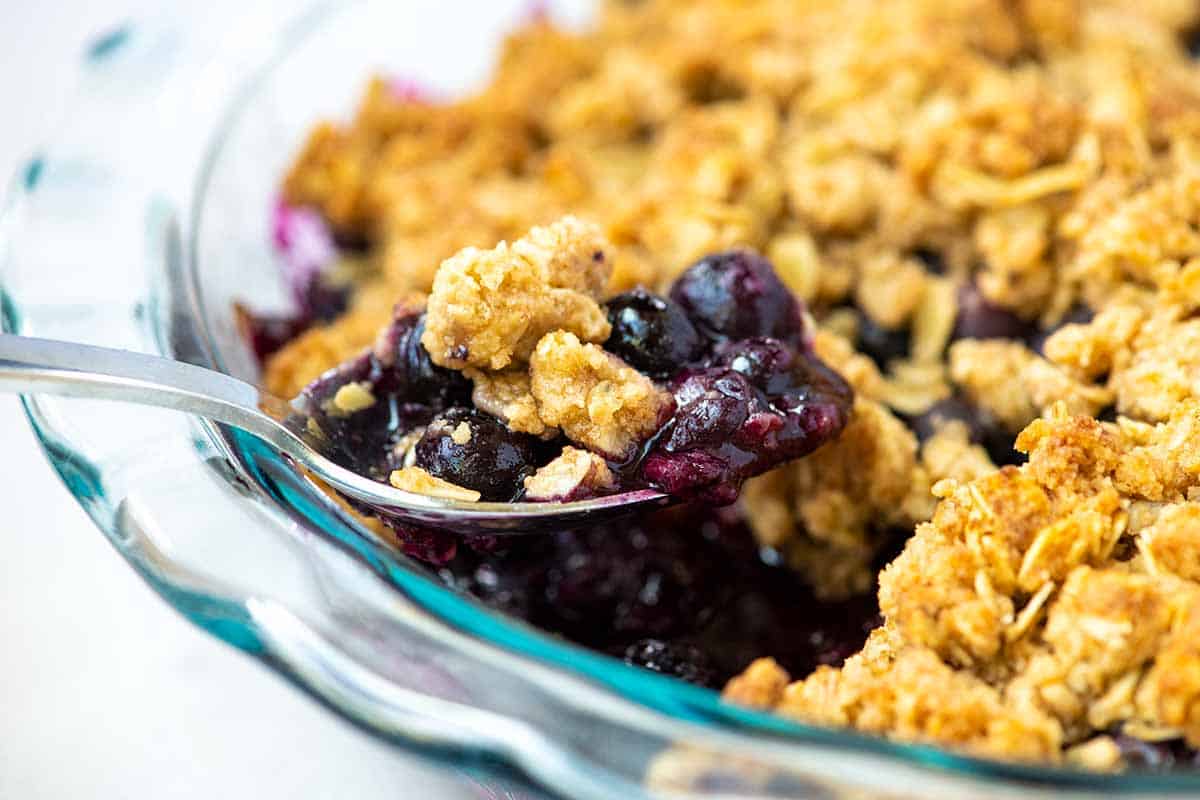 Easy Blueberry Crumble
This easy blueberry crumble with perfectly cooked blueberries topped with a buttery oat crumble is high on our list of favorites. There's no fancy equipment needed and you only need about 10 minutes of prep time. Before adding sugar to the filling, taste your berries. If they are already sweet, you might want to hold back on how much sugar you add.
Watch Us Make the Recipe
You Will Need
For the Filling
24 ounces (about 2 pints) fresh blueberries
2 to 4 tablespoons sugar, see notes
2 tablespoons all-purpose flour
1 tablespoon fresh lemon juice or use water
Pinch fine sea salt
For the Crumble Topping
3/4 cup (100 grams) all-purpose flour
3/4 cup (65 grams) old-fashioned rolled oats
1/2 cup (100 grams) sugar, try combining 1/4 cup brown sugar + 1/4 cup granulated sugar
1/2 cup (115 grams) butter, melted (1 stick) or substitute 1/2 cup melted coconut oil
1/8 teaspoon fine sea salt
Directions
Make Filling

1Heat oven to 375 degrees Fahrenheit.

2Add blueberries, lemon juice, 2 tablespoons of flour, sugar, and pinch of salt to a 9-inch pie dish (or use a 2-quart baking dish). Toss well until combined.
Make Crumble Topping

1Combine flour, oats, sugar, and the salt in a medium bowl. Add the melted butter then stir until all the flour has been moistened by the butter and topping is crumbly.

2Sprinkle over blueberry filling. (We like to use our hands to do this. As we sprinkle, we press the crumbles together to create larger clumps of topping.)
Bake Crumble

1Bake 25 to 35 minutes until juices are thickened and the topping has turned light golden brown. Cool 10 minutes, and then serve.
Adam and Joanne's Tips
Gluten-free blueberry crumble: Use you favorite store-bought gluten-free flour blend instead of the all-purpose flour called for above.
Use whole wheat flour: Replace the all-purpose flour with an equal amount of whole wheat flour or use white whole wheat flour.
Reduce the sugar: The sugar needed depends on how tart your blueberries are. We love the crumble to be slightly tart, so reducing the sugar mixed with the blueberries as well as in the topping is an option. (I usually add the smaller amounts suggested above.)
Using frozen blueberries: Thaw frozen blueberries and drain them of excess liquid before using in this recipe.
Nutrition Facts: The nutrition facts provided below are estimates. We have used the USDA database to calculate approximate values. We assumed 2 tablespoons of sugar for the filling.
If you make this recipe, snap a photo and hashtag it #inspiredtaste — We love to see your creations on Instagram and Facebook! Find us: @inspiredtaste
Nutrition Per Serving
Serving Size
1/8 of the dish
/
Calories
289
/
Total Fat
11.9g
/
Saturated Fat
7.3g
/
Cholesterol
30.4mg
/
Sodium
75.5g
/
Carbohydrate
43.6g
/
Dietary Fiber
3.2g
/
Total Sugars
24.2g
/
Protein
3.1g