How to make mini savory tarts with chorizo sausage, roasted peppers and cilantro. Jump to the Mini Chorizo Sausage and Roasted Pepper Tart Recipe or read on to see our tips for making it.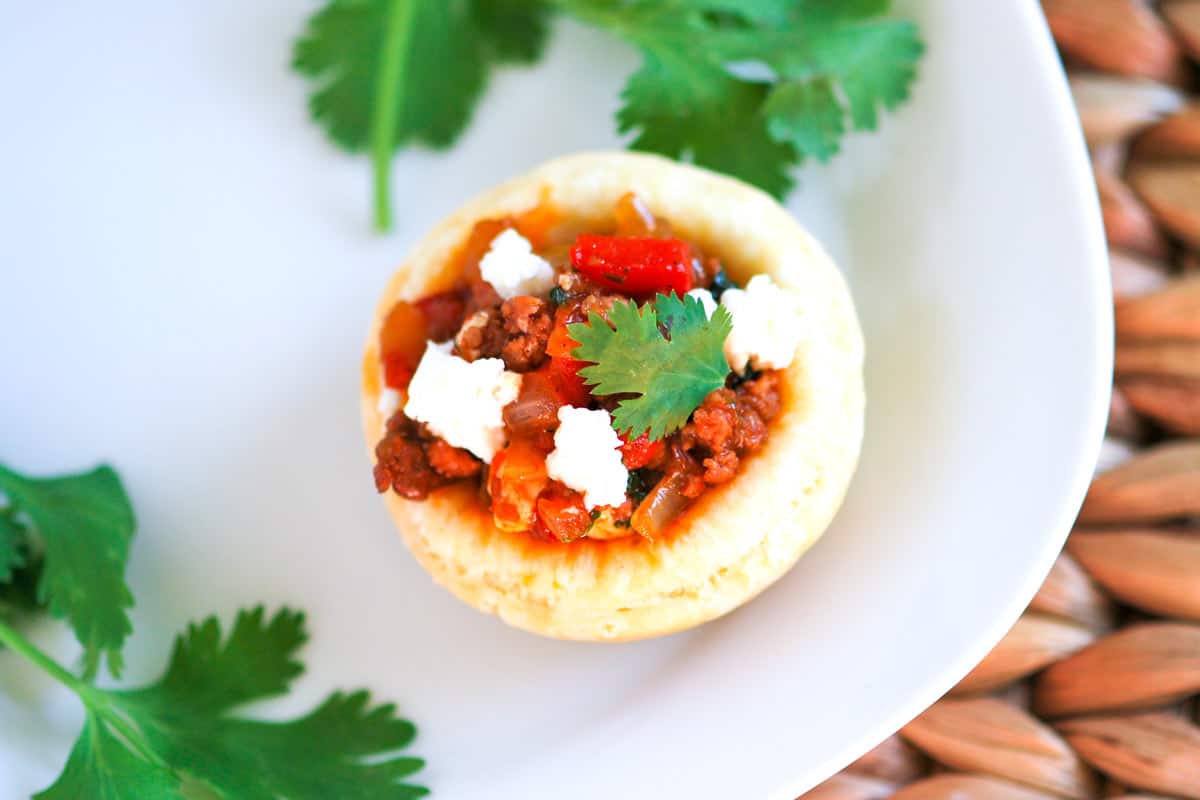 What is chorizo? Chorizo is a pork sausage that's highly seasoned. It's also one of my favorite ingredients. You can find it as fresh, uncooked (what we call for in our recipe below) or as smoked sausage. It's usually flavored with spices like smoked paprika or chili peppers.
Depending on who made it, chorizo can be pretty spicy. I like that, especially when it comes to these mini tarts. Thanks to the chorizo, we get to pack a whopping amount of flavor into the tarts even though they are miniature in size.
If you are sensitive to spicy foods, these tarts would be excellent with fresh Italian or German sausage. Whether you go with the chorizo or another type of fresh sausage, you will need to remove the sausage from the casing. To do this, simply cut a slit down the sausage and peel the casing away.
YOU MAY ALSO LIKE: If you are looking for a basic, all-butter pastry dough to use for savory and sweet dishes, you have found it. Jump to the Basic Pastry Dough Recipe.
Recipe updated, originally posted October 2010. Since posting this in 2010, we have tweaked the recipe to be more clear. – Adam and Joanne
Mini Chorizo Sausage and Roasted Pepper Tart Recipe
The filling and pastry tarts are cooked separately then we spoon the filling into the flaky tarts before serving. Chorizo sausage is spicy and can vary in heat level depending on where you buy it. If you prefer milder foods, substitute the sausage for an Italian or German sausage instead.
Makes approximately 24 mini tarts
You Will Need
Chilled pie dough for one 9-inch pie, see our pastry dough recipe or use store-bought
1 red bell pepper
1 yellow bell pepper
2 tablespoons olive oil
1 medium onion, chopped small
2 garlic cloves, minced
2 fresh chorizo sausages
1/2 cup queso fresco or feta cheese, crumbled
1/2 cup chopped fresh cilantro
Salt and fresh ground black pepper
Directions
Bake Tart Shells

1Heat oven to 350 degrees F.

2On a lightly floured surface, roll out the pastry dough so that it is 1/8-inch thick. Using a 2 3/4-inch round cutter, cut out 24 rounds.

3Fit the rounds into a 24-cup nonstick mini muffin tin. If the dough becomes too soft to work with, place it in the refrigerator to chill for 15 minutes.

4Prick the bottom of each tart shell with a fork. Fill each mini tart with dry beans, dry rice, dry lentils or pie weights then bake until lightly browned and set, 25 to 30 minutes. Remove from the oven, remove the tarts from the muffin pan and cool on a cooling rack.
Roast Peppers

1Place peppers onto the grill over moderately high heat. Cook, turning occasionally until most of the skin has blistered and turned dark brown or black. Or do this under your oven broiler.

2Transfer peppers to a bowl and cover with plastic wrap so they steam. After 15 minutes peel away the blistered skin from each pepper then remove the stems. Scrape away all of the seeds and membrane inside the peppers. Chop the peppers into small pieces ready for filling.
Make Filling

1In a wide skillet over medium heat, add the oil and onions. Cook until softened then stir in the garlic and cook for another minute.

2Remove the sausages from their casings and add to the pan, breaking up the meat with a wooden spoon. When the sausage is browned and cooked through, add the roasted bell peppers, half of the cheese and the cilantro, cook for one more minute.
To Finish

1Fill each mini tart with a spoonful of the chorizo-pepper filling. Sprinkle the tops with a little cheese and cilantro.
Adam and Joanne's Tips
Make-ahead: Mini tart shells can be baked up to 1 day in advance. Cool them then keep in an airtight container. The filling can also be made in advance. Cool it then keep in an airtight container up to 3 days. Reheat before filling tart shells.
If you make this recipe, snap a photo and hashtag it #inspiredtaste — We love to see your creations on Instagram and Facebook! Find us: @inspiredtaste