How to make chewy salted caramel chocolate chip cookies from scratch. Jump to the Salted Caramel Chocolate Chip Cookies Recipe or read on to see our tips for making them.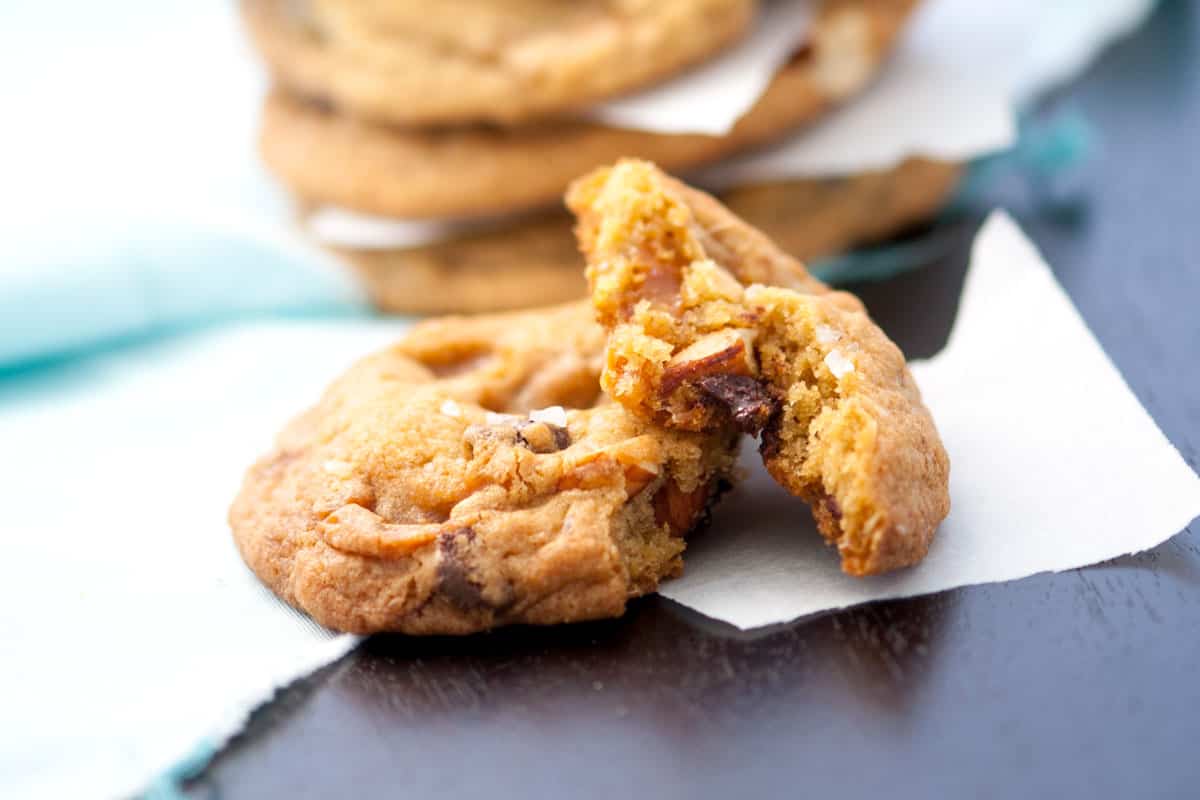 Somehow we've ended up with odd amounts of baking ingredients that are demanding entirely too much space in the kitchen. So we came up with these cookies. We had a ridiculous amount of opened, partially empty bags of chocolate chips, almonds and soft caramel chews. As you can probably guess, those were the ingredients that were thrown in.
YOU MAY ALSO LIKE: Big chewy oatmeal cookies that are packed with white chocolate chips and dried cranberries. Easy to make and so versatile. Jump to the White Chocolate Cranberry Oatmeal Cookies Recipe.
The base cookie recipe is from Nestle. After adding our extras and a generous pinch of salt, we found ourselves happily sitting in the middle of our living room surrounded in cookie crumbs.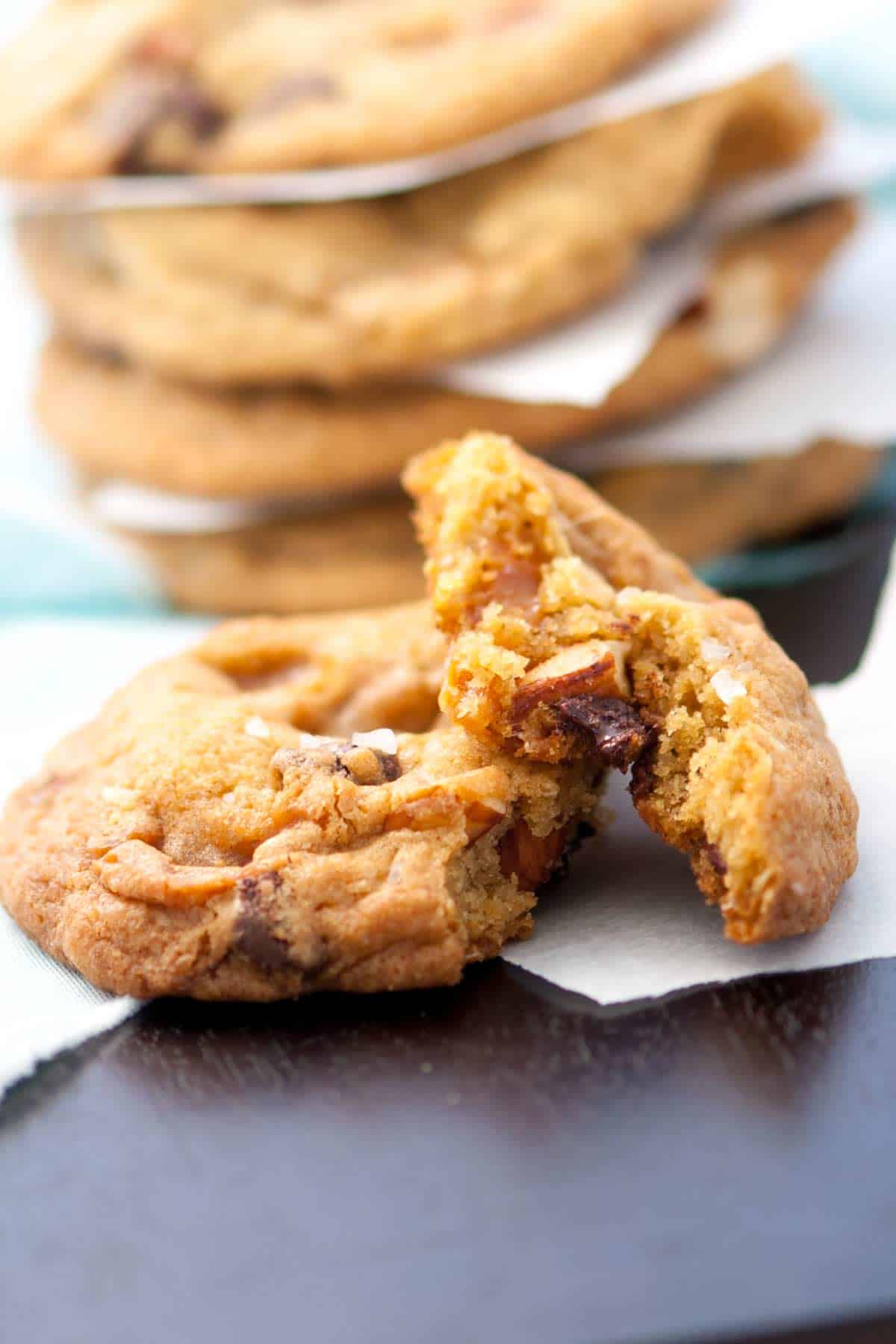 Recipe updated, originally posted September 2011. Since posting this in 2011, we have tweaked the recipe to be more clear. – Adam and Joanne
Salted Caramel Chocolate Chip Cookies Recipe
The base recipe is adapted from Nestle then we throw in chocolate chips, caramel candies, almonds, and a generous pinch of salt. These would be excellent with dark chocolate — something we plan to add the next time we make them.
You Will Need
2 1/4 cups all-purpose flour
1 teaspoon baking soda
1/2 teaspoon sea salt
16 tablespoons (2 sticks) unsalted butter, at room temperature
3/4 cup granulated sugar
3/4 cup lightly packed brown sugar
1 teaspoon vanilla extract
2 large eggs
1 cup chocolate chips
10 soft caramel candies, cut to the size of chocolate chips, store-bought or homemade, see our caramels recipe
1/2 cup sliced almonds
1 tablespoon coarse or flaky sea salt for cookie tops
Directions
1Heat the oven to 375 degrees F. Line two cookie sheets with parchment paper or silicone baking mats.

2In a large bowl, whisk the flour, baking soda, and 1/2 teaspoon of salt. In another large bowl, using a hand mixer, beat the butter, granulated sugar, brown sugar and vanilla until creamy.

3Add the eggs, one at a time, beating well after each addition. Gradually beat in the flour mixture. Stir in chocolate chips, caramel pieces and nuts.

4Drop by rounded tablespoon onto baking sheets then sprinkle each cookie with a pinch of the course sea salt. Bake until the edges are golden brown, 10 to 12 minutes.

5Cool on baking sheets for 2 minutes then carefully slide the entire sheet of cookies, still on parchment paper or baking mat, from the baking sheet and onto a wire rack to cool until the caramel firms up enough to move the cookies.