Our best meatballs recipe! I love how this recipe is easy to make and calls for a short list of ingredients. You can use any ground meat in this recipe, such as beef, pork, lamb, chicken, and turkey. These easy meatballs are juicy, tender, and packed with flavor.
Watch the Video
What Type of Meat Should I Use?
Ground beef is the most popular type of meat for meatballs, but I love to use ground turkey, chicken, and pork. You can also combine different types of meat as we did with the meatballs in this meatball soup or these Swedish meatballs. Our meatballs recipe below works with any ground meat.
My Favorite Ways to Cook Meatballs
Once you have a reliable meatball recipe, like the one we've shared below, you can choose how you'd like to cook them. I've got three favorite ways to cook meatballs:
Cook them in a skillet
Bake them in the oven
Simmer in sauce
Don't think of one method being better than another. It all depends on you and the results you are looking for.
Use a Skillet for Golden Brown and Juicy Meatballs
For perfectly cooked meatballs with an almost crunchy crust, cook them in a skillet on the stovetop. Cooking them this way allows you to rotate them in oil, adding a lovely golden crust to the outside while keeping them juicy and tender.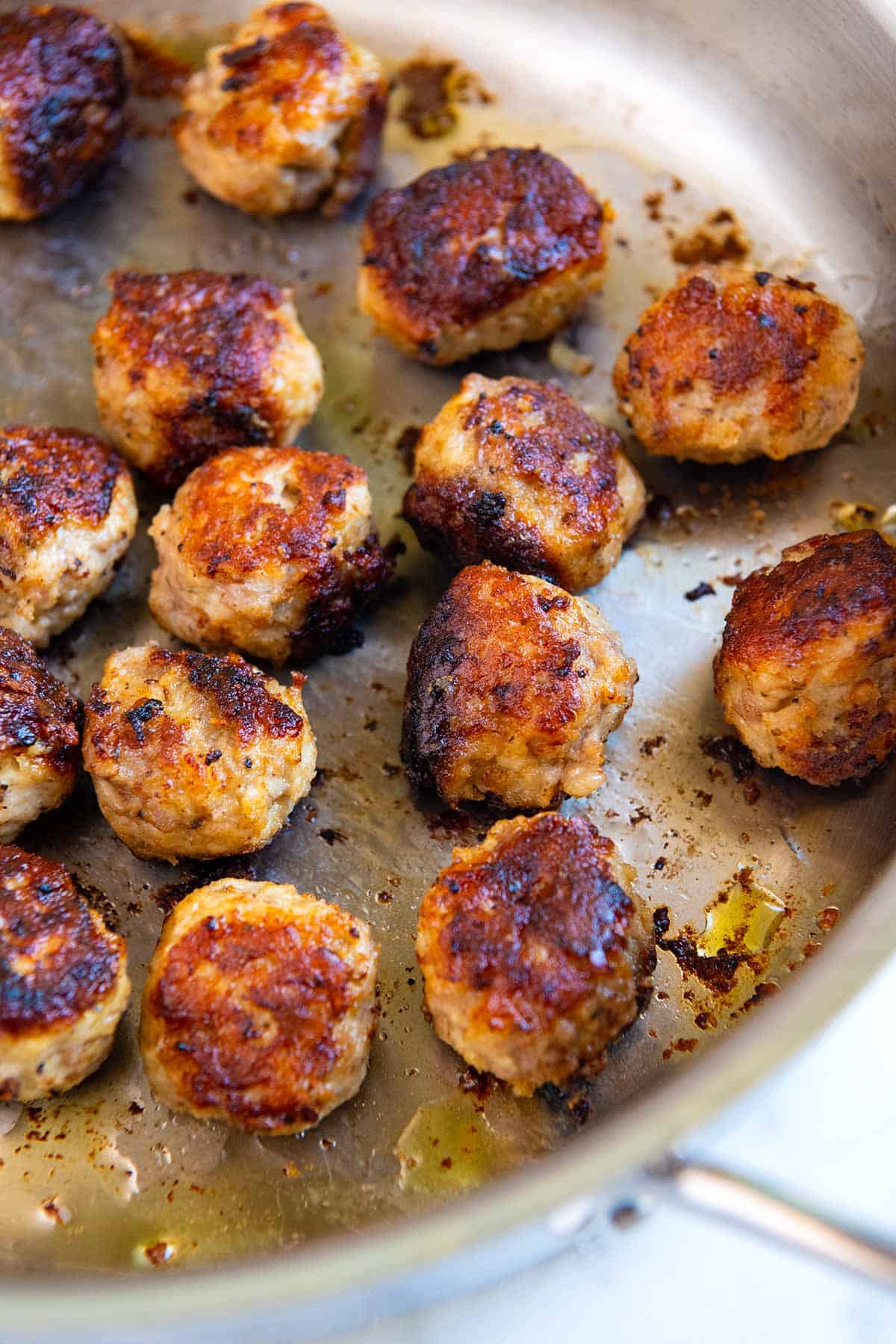 Prevent Meatballs From Sticking to the Pan
There are a few things you can do to prevent meatballs from sticking to the pan:
Make sure that the pan is hot before adding the meatballs.
Lightly grease the pan with oil. I use two tablespoons of oil and a heavy-bottomed skillet.
Cook the meatballs over medium heat until they are browned on all sides.
Bake Them for Easy Clean Up and Less Hands-On Time
To bake meatballs, line your baking sheet with parchment paper or a silicone baking mat. Preheat oven to 400°F to 425°F. Place meatballs on the baking sheet and bake for about 20 minutes, or until browned and cooked through.
Thanks to the breadcrumbs, milk, and egg in our meatball mixture, these will still be juicy and tender after baking. I prefer the crust that a skillet creates, but I love how hands-off baking meatballs can be. We bake our cheese-stuffed chicken meatballs and love them.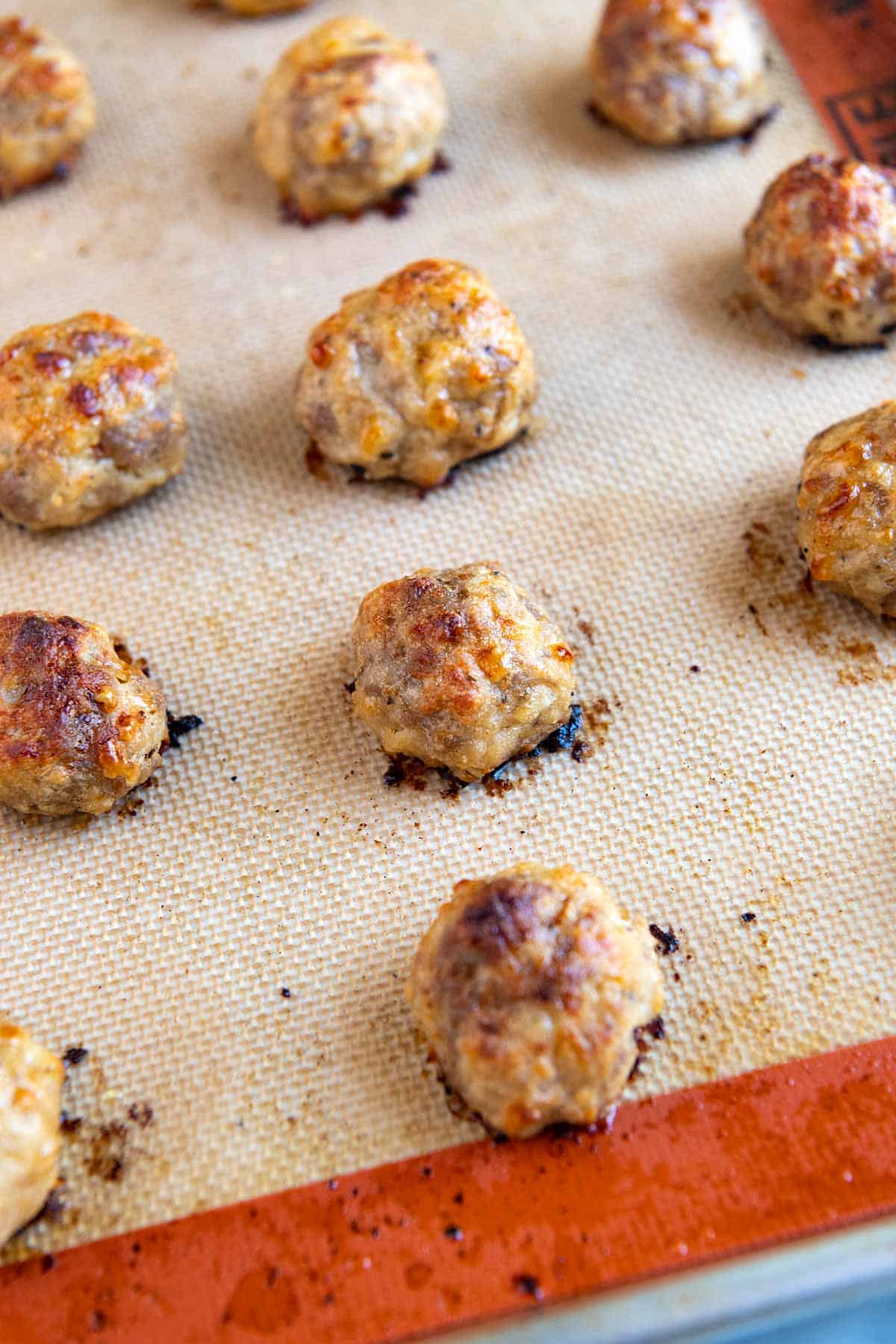 For Melt-in-Your-Mouth Tender Meatballs, Simmer Them in Sauce
Simmering meatballs right in the sauce is underrated! We use this method when making our turkey meatballs and love it.
Benefits of cooking meatballs in sauce:
It is an easy and hands-off method.
It guarantees tender meatballs.
It infuses the sauce with more flavor from the meatballs.
Basically, bring your favorite sauce to a simmer, and then gently drop formed raw meatballs into the sauce. Leave them without moving, and cover the pot with a lid. After 20 minutes of gently simmering, they are firm enough to flip in the sauce.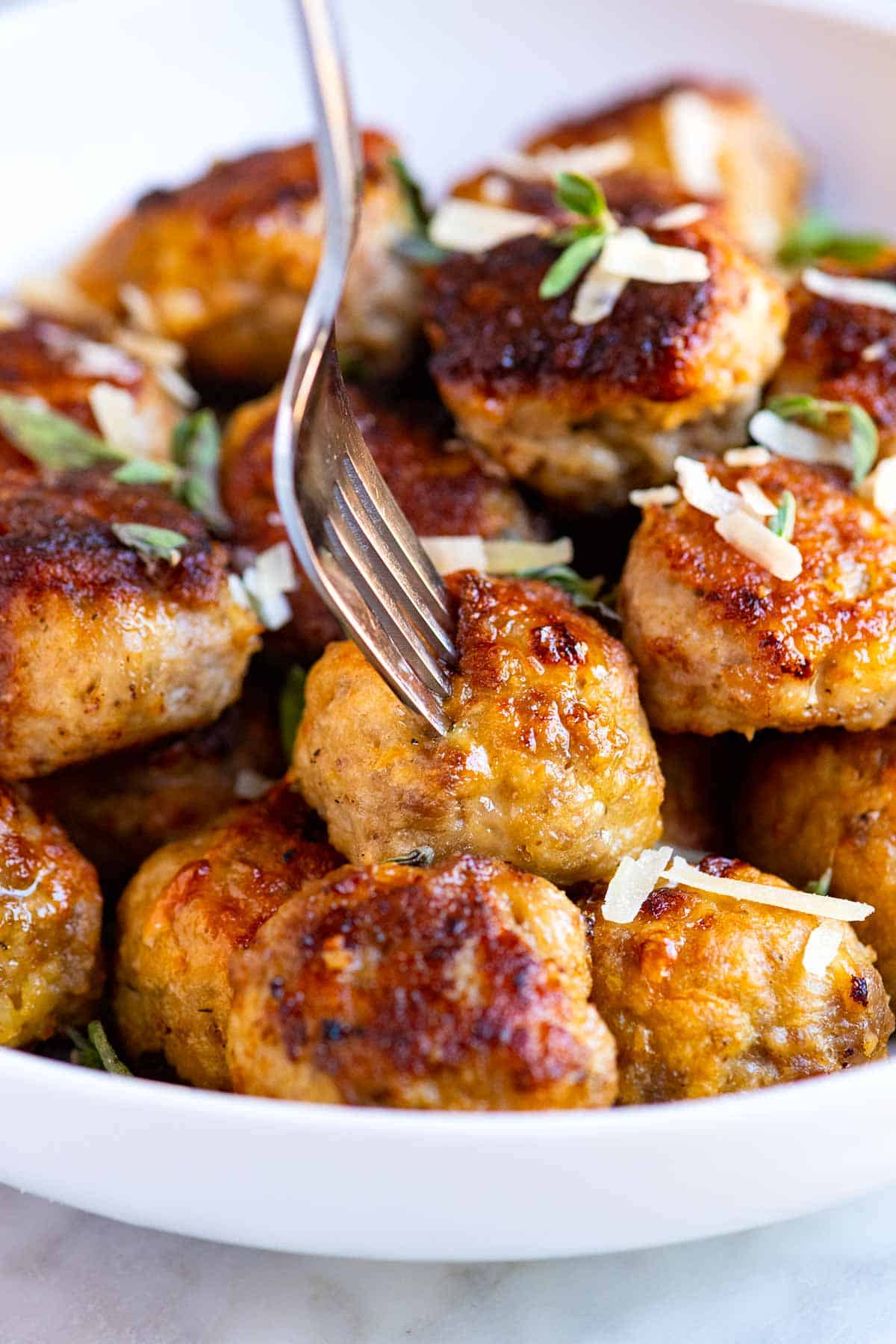 How to Cook Meatballs in a Slow Cooker, Air Fryer, and Pressure Cooker:
Since sharing our meatballs recipe, some of you have asked about cooking them in a slow cooker, air fryer, and pressure cooker. Here are our suggestions:
Slow cooker: Simmer meatballs in sauce for 4 hours on low or 2 hours on high.
Air fryer: Preheat to 375°F and cook meatballs for 12-15 minutes or until cooked.
Pressure cooker: Bring sauce to a simmer on SAUTE. Add meatballs and cook on HIGH for 8 minutes. Allow the cooker to naturally release pressure for 5 minutes, then manually release the remaining pressure.
How to Tell Meatballs Are Cooked
Meatballs are cooked through when they reach an internal temperature of 165° F. I use a meat thermometer to check the internal temperature of the meatballs.
Serving Suggestions
You can enjoy meatballs a variety of ways. Here are a few suggestions for you: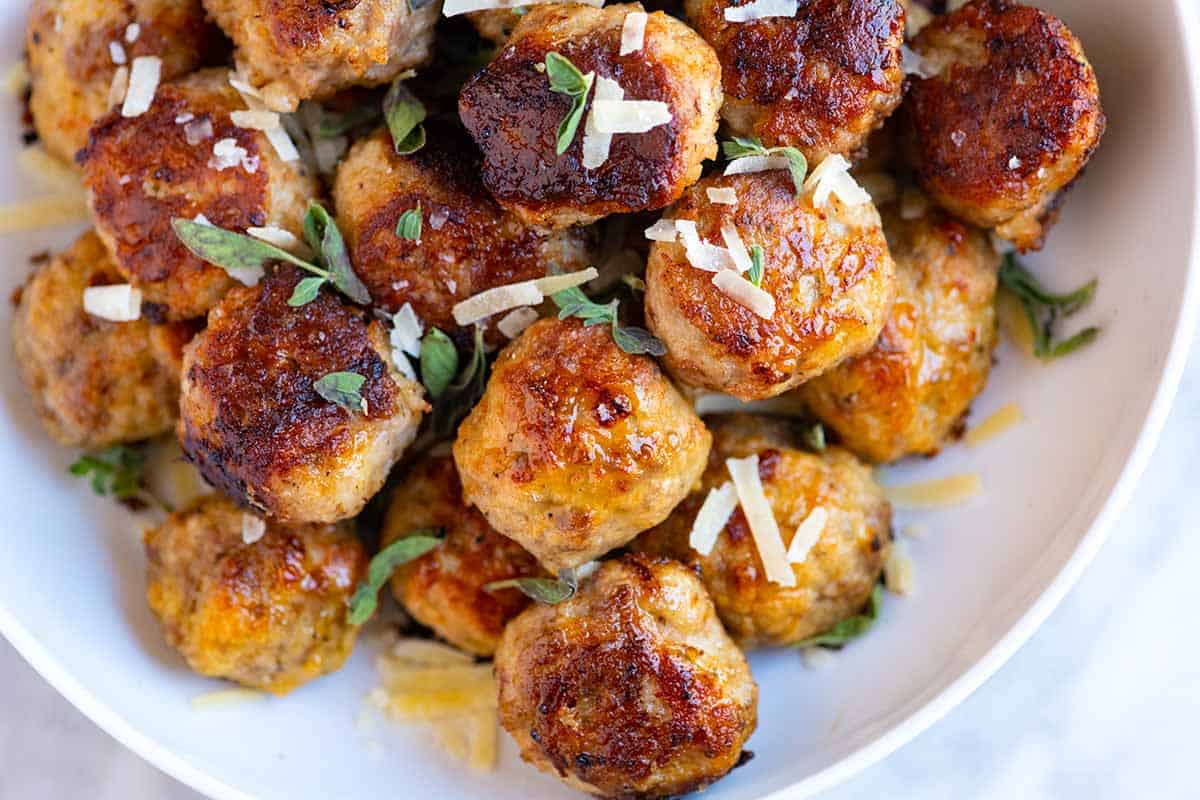 Make Ahead and Storing Tips
Meatballs are a great make-ahead meal, and they keep well once cooked. Here's everything you need to know about making meatballs in advance, freezing them, and storing them once made:
To refrigerate RAW meatball mixture: You can refrigerate raw meatball mixture overnight and bake it the next day. Follow your recipe for baking instructions.
To freeze RAW meatball mixture: You can freeze the raw mixture for up to three months. To do this, form the meatballs and place them on a baking sheet lined with parchment paper or a silicone baking mat. Freeze the meatballs until they are firm. Then, transfer the frozen meatballs to an airtight, freezer-safe container and freeze for up to three months. When ready to cook the meatballs, bake until lightly browned and cooked through — about 20 minutes.
COOKED meatballs will last up to three days in the refrigerator when stored in an airtight container or frozen for up to three months in an airtight, freezer-safe container.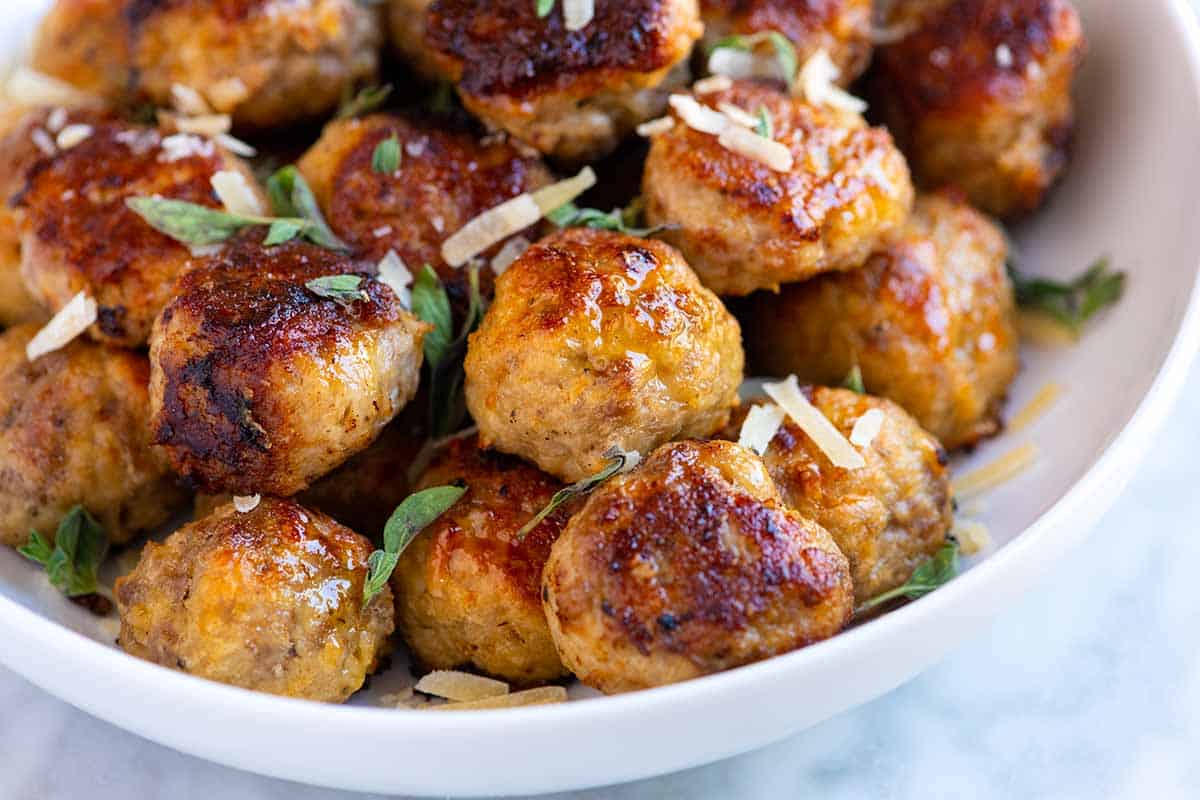 Our Best Homemade Meatballs
This is our go-to meatball recipe. It's quick to make, calls on ingredients we always have on hand and the recipe guarantees juicy, tender and flavorful meatballs. The recipe calls for one pound of ground meat. The meat you choose is up to you. We love using a combination of ground pork and ground turkey.
Watch Us Make the Recipe
You Will Need
1/2 cup (35 grams) bread crumbs, we prefer panko or homemade bread crumbs
1/2 cup milk, dairy or non-dairy
1 large egg
1/4 cup (1/2 ounce) Parmigiano-Reggiano cheese, finely grated
1/2 teaspoon dried oregano
3/4 teaspoon fine sea salt
1/2 teaspoon fresh ground black pepper
1 pound ground meat, use beef, pork, chicken, turkey or a combination; we prefer a 50-50 blend of pork and turkey
1 to 2 tablespoons high-heat cooking oil, for cooking; try avocado oil, grape seed oil and vegetable oil
Directions
Prepare Meatball Mixture

1Stir breadcrumbs and milk in a large bowl, and then let sit for 5 minutes. Add the egg, cheese, oregano, salt and the pepper. Stir until well blended.

2Add the ground meat and use a fork or your fingers to gently mix everything until combined. For the most tender meatballs, try your best not to over mix.

3Wet your hands, and then form the mixture into small balls (1-inch to 1 ¼-inch balls). You should get about 35 meatballs. A small cookie scoop is useful for portioning out the meatballs. Raw meatballs can be refrigerated overnight and baked the next day. You can also freeze the raw meatballs and store up to three months. To freeze them, form the meatballs, and then place them onto a baking sheet lined with parchment paper or a silicone baking mat. Place the baking sheet into the freezer and freeze until the meatballs are firm. Transfer frozen meatballs to an air-tight, freezer friendly container and freeze up to three months.
Option One: Bake Them

1Heat the oven to 425°F and line a baking sheet with parchment paper, foil or a silicone baking mat.

2Place formed meatballs onto the baking sheet, leaving a little space in between each meatball.

3Lightly spray the top of the meatballs with cooking spray or brush with oil.

4Bake until they are cooked through, the outsides are browned, and they register 165°F in the middle on an instant-read thermometer; about 20 minutes.
Option Two: Cook on Stovetop

1Heat 2 tablespoons of oil in the bottom of a wide Dutch oven or nonstick pan over medium heat.

2Place the meatballs down into the hot oil and cook until they are cooked through, the outsides are browned, and they register 165°F in the middle on an instant-read thermometer; about 15 minutes. Depending on the shape or size of the pot, this might need to be done in two batches.
Storing

1Cooked meatballs will last up to three days in the refrigerator when stored in an airtight container or frozen for up to three months in an airtight, freezer-safe container.
Adam and Joanne's Tips
Cooking tips for using a slow cooker, pressure cooker (Instant Pot), air fryer and convection oven are in the article.
Dairy-free: Substitute the milk for unsweetened dairy-free milk and the cheese for 2 tablespoons of nutritional yeast.
Gluten-free: Substitute the bread crumbs for crushed gluten-free cereal or crackers
Nutrition facts: The nutrition facts provided below are estimates. We have used the USDA database to calculate approximate values. We included 8 ounces of turkey and 8 ounces of pork for the calculations.
Nutrition Per Serving
Serving Size
5 small meatballs (recipe makes about 35)
/
Calories
189
/
Total Fat
11g
/
Saturated Fat
3.8g
/
Cholesterol
74.4mg
/
Sodium
396.7mg
/
Carbohydrate
6.9g
/
Dietary Fiber
0.4g
/
Total Sugars
1.4g
/
Protein
15g