Italian-American red pasta sauce that's perfect for spaghetti, chicken parmesan, eggplant parmesan, and lasagna. Make this homemade sauce with canned or fresh tomatoes.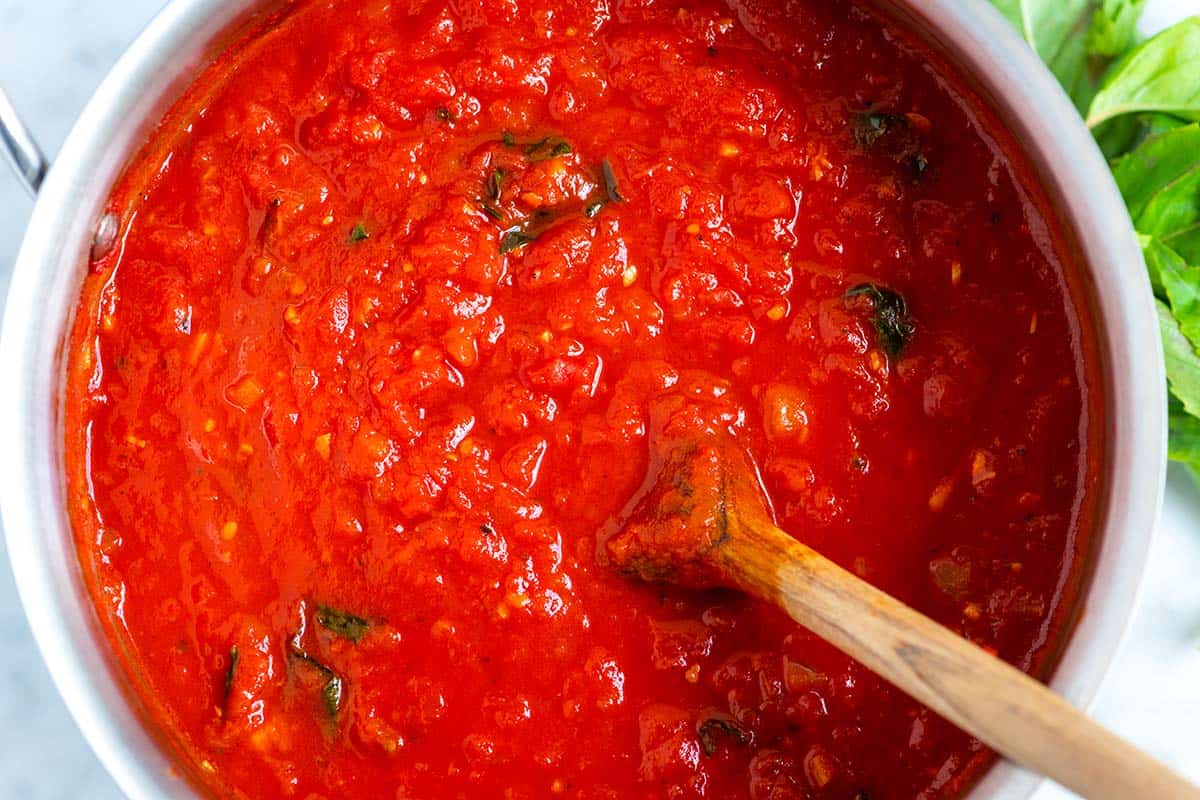 Related: See 24 must-try pasta recipes our family makes over and over again!
What's the difference between marinara sauce and this pasta sauce?
Our family eats a lot of pasta. We love red sauce and especially love this homemade version. This homemade pasta sauce freezes exceptionally well and tastes just as good (if not better) than your favorite jarred spaghetti sauces.
We've shared our recipe for marinara sauce already and love it. It's slightly lighter on the palate than this Italian-American-style sauce. Both are delicious, but we use the recipe that's shared below when we are in the mood for a red sauce that's more similar to jarred sauces. This sauce is richer and more complex than our marinara sauce.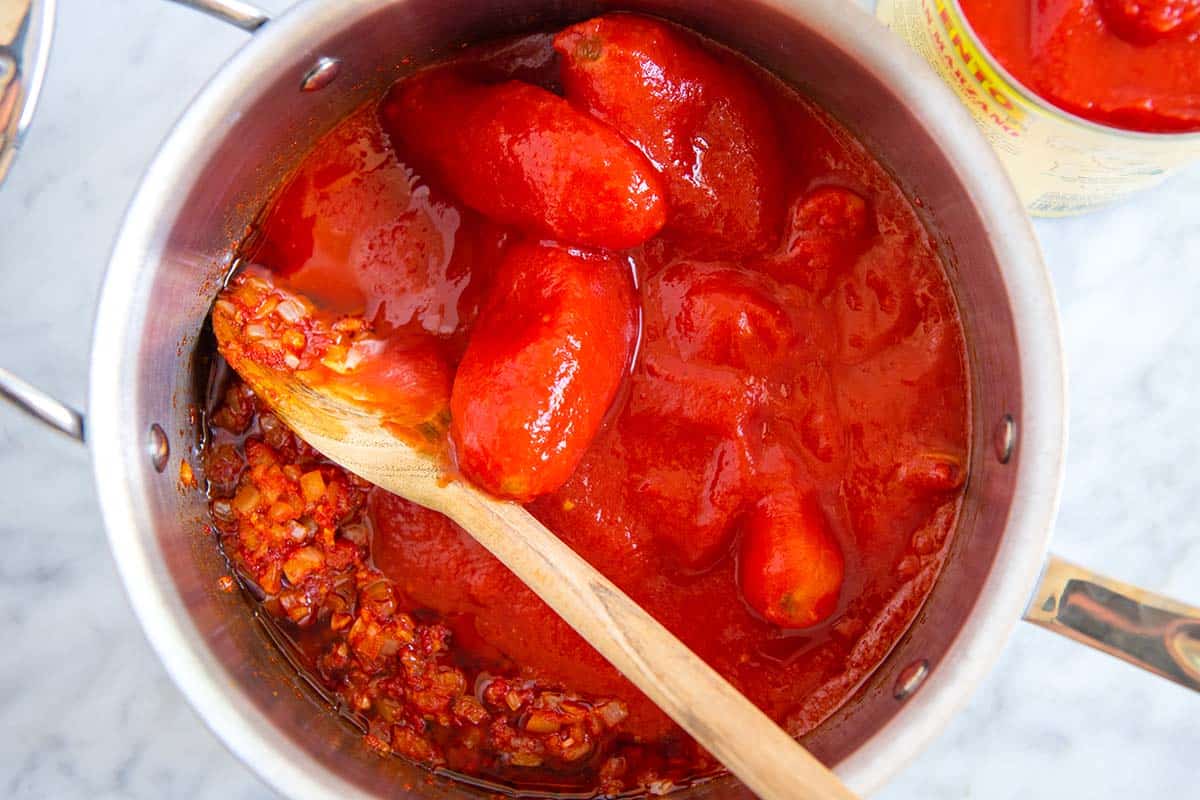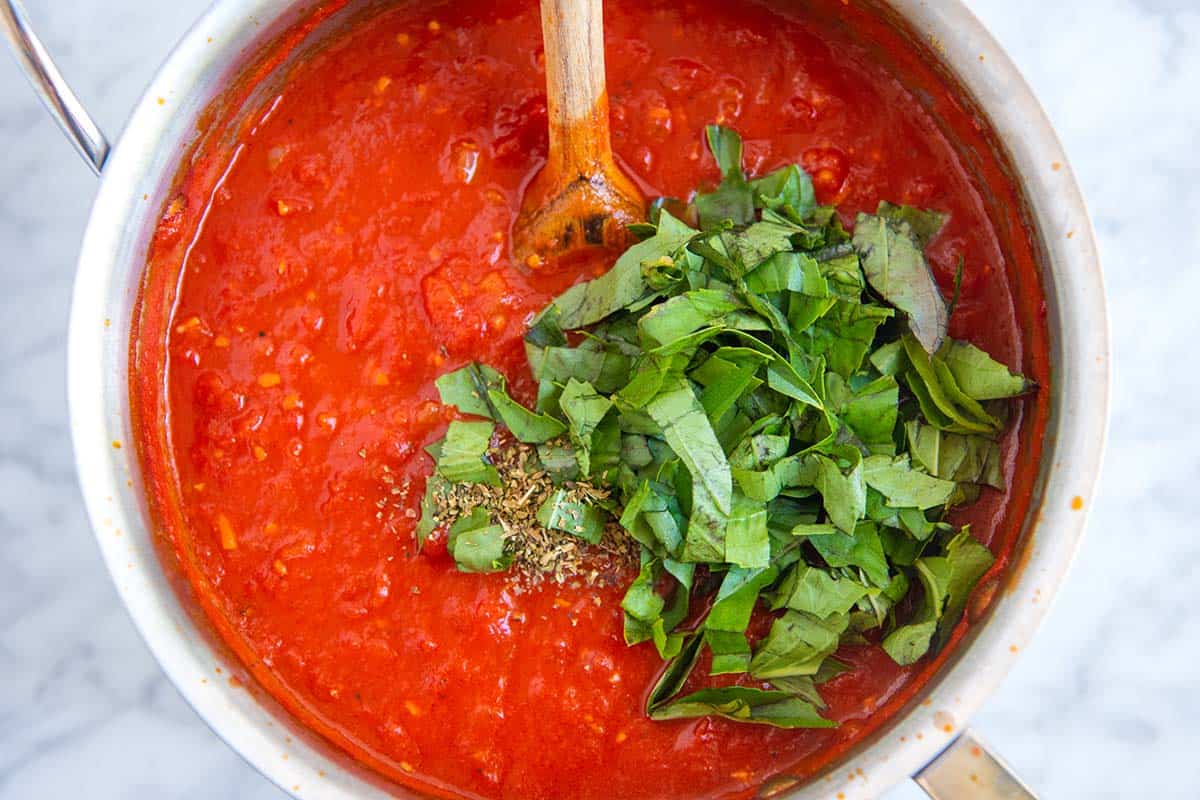 What are the best tomatoes to use to make sauce?
First, you can make this pasta sauce with canned or fresh tomatoes. We typically use canned tomatoes, but I have included tips for fresh tomatoes below.
Best Canned Tomatoes to Use for This Sauce
When strolling down the grocery aisle, you have likely seen canned whole peeled tomatoes, canned diced tomatoes, canned crushed tomatoes, and cans of tomato puree or sauce cans.
We prefer to use whole peeled tomatoes when making tomato sauce. I find that diced tomatoes are too firm in this sauce since they do not cook down as well as the whole tomatoes. In addition, crushed tomatoes aren't very consistent in flavor, and tomato sauce or puree doesn't taste as fresh as the whole peeled tomatoes.
As the whole peeled tomatoes cook, they melt down into the sauce. Using a spoon, in the beginning, to break them up a bit helps speed this along.
San Marzano tomatoes are a popular choice for spaghetti sauces. They are an excellent option if you can find them since they are rich in flavor and are less acidic than other varieties. Otherwise, we find that most whole peeled tomatoes sold at stores work perfectly well in this recipe.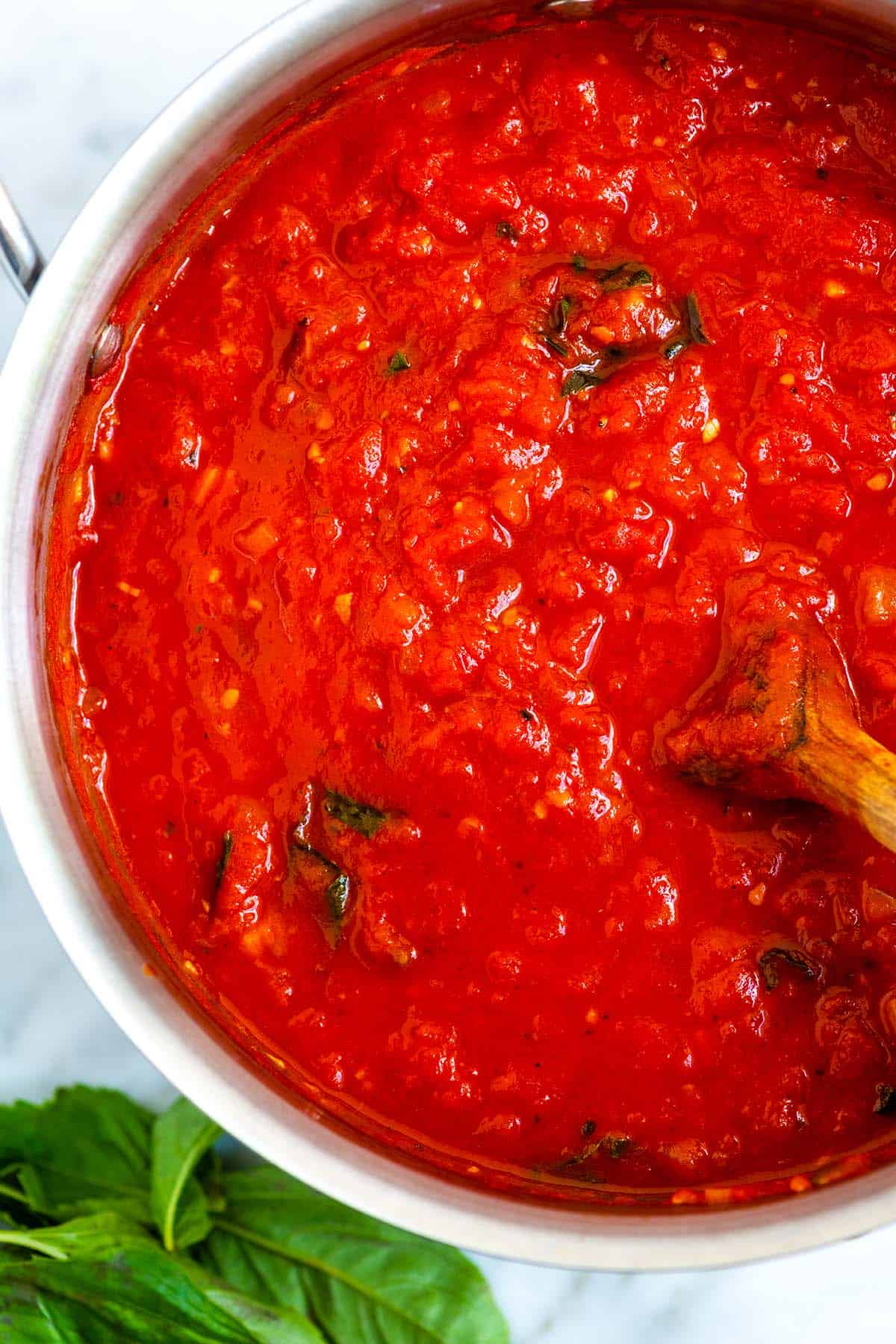 Using Fresh Tomatoes in This Sauce
When choosing fresh tomatoes for sauce, remember this. If the tomato already tastes good, it will make a lovely sauce. Sure, there are varieties of tomatoes explicitly grown for sauces, but you can still make tomato sauce even if you don't have those.
You have the option to peel the tomatoes before making your sauce. Peeled fresh tomatoes will produce a better sauce since you won't have any skins floating around. With that said, if you are short on time, you can leave the skins on. Yes, you will see bits of skins in your finished sauce, but it's not too big of a deal. I've left the skins on my tomatoes plenty of times when making sauce and even tomato soup.
If you do wish to peel the tomatoes, here's what to do:
Boil a large pot of water and prepare an ice bath (a large bowl with ice water).
Slice a shallow "X" on the bottom of each tomato.
Working in batches, drop the tomatoes into the boiling water, let them cook for 30 to 45 seconds, and then transfer them to the ice bath.
Use your hands or a pairing knife to peel the skins away from the tomatoes.
Making the sauce with fresh tomatoes: When adding skin-on tomatoes, cut each tomato into quarters before making the sauce. If you peel your tomatoes, you can add the tomatoes whole.
Ways to Use This Red Sauce
Anytime you would have reached for a jar of spaghetti sauce, you can use this simple tomato sauce.
To make a meat sauce, brown ground meat like beef or turkey in a skillet with some onions and garlic. Pour in the red sauce and simmer over low heat until the meat is fully cooked. This Spaghetti with Meat Sauce is helpful for reference.
To make a veggie sauce, sauté your favorite vegetables — I love onion, zucchini, and bell pepper. When the veggies are tender, stir in some pasta sauce and simmer for 5 to 10 minutes before serving over pasta. Here's our Veggie Spaghetti for reference.
We also love using this sauce when making lasagna, here's our easy lasagna recipe for you to look at.
Homemade Red Pasta Sauce
Italian-American red pasta sauce that's perfect for spaghetti, chicken parmesan, eggplant parmesan, and lasagna.
Make this homemade sauce with canned or fresh tomatoes. We typically use canned whole peeled tomatoes, but I have included tips for fresh tomatoes in the article above. When olive oil is used, this pasta sauce is naturally vegan. For a richer sauce, substitute the olive oil with butter.
Makes about 6 cups (48 ounces)
You Will Need
1/4 cup (60 ml) extra-virgin olive oil
1/2 cup (75 grams) finely chopped onion
2 cloves garlic, minced, about 2 teaspoons
2 tablespoons (35 grams) tomato paste
2 (28-ounce) cans whole peeled tomatoes
1 teaspoon fine sea salt, plus more to taste
1/2 teaspoon fresh ground black pepper
1/4 teaspoon dried oregano
1/2 cup chopped fresh basil leaves or 1 to 2 tablespoons dried basil
Dash fish sauce, optional, see tips below
Directions
1Heat olive oil in a large, heavy-bottomed saucepan over medium heat. Stir in the onions and cook until softened, 3 to 4 minutes.

2Stir in the garlic and tomato paste, then cook for a minute.

3Pour in canned tomatoes with all their juices, and then use a spoon or potato masher to gently break the tomatoes apart so that the sauce is chunky. Don't worry too much about the consistency now. You can adjust how smooth the sauce is once it has finished cooking.

4Adjust the heat, so the sauce is gently simmering, and then stir in the salt and pepper. You may need more salt, but one teaspoon is a good starting point.

5Cook at a low simmer until reduced by one-third, about 40 minutes. As the sauce cooks, taste it occasionally to see whether or not it needs additional seasoning.

6Turn off the heat and stir in the dried oregano and fresh basil.

7Use the sauce straight away or store it in the refrigerator for up to four days or freeze for three months. We leave our sauce a little chunky, but you can blend the sauce in a stand blender or use an immersion blender.
Adam and Joanne's Tips
Fresh tomatoes: Substitute 4 to 5 pounds of fresh ripe tomatoes for the cans of tomatoes called for in the recipe. Tips for preparing fresh tomatoes to use in the sauce are in the article.
If the sauce's flavor doesn't pop, you probably need a bit more salt.
If the sauce is too acidic, a pinch of sugar will do the trick.
If the sauce tastes light on flavor, think about adding a few dashes of fish sauce or a few minced anchovies (both add a rich, savory flavor).
Adding a leftover rind of a parmesan wedge to the sauce at the same time as adding the tomatoes adds richness and extra flavor. It won't completely melt; remove what's left before serving.
Nutrition facts: The nutrition facts provided below are estimates. We have used the USDA database to calculate approximate values.
If you make this recipe, snap a photo and hashtag it #inspiredtaste — We love to see your creations on Instagram and Facebook! Find us: @inspiredtaste
Nutrition Per Serving
Serving Size
1/2 cup
/
Calories
65
/
Total Fat
5g
/
Saturated Fat
0.7g
/
Cholesterol
0mg
/
Sodium
207.8mg
/
Carbohydrate
5.6g
/
Dietary Fiber
2.6g
/
Total Sugars
3.7g
/
Protein
1.2g