Green goddess dressing is a delicious creamy dressing made with lots of fresh green herbs. It's wonderful tossed into salads, spooned over roasted veggies, fish or meats and even doubles as a vegetable dip. This bright, green and flavorful salad dressing is perfect for using up fresh herbs in your kitchen or garden.
Watch the Video
Making the Best Green Goddess Dressing
I'm not the best vegetable gardener, but I do love growing herbs. We use them all the time in our recipes and I'm constantly reaching for them when we are cooking for our own family. It's our love of fresh herbs that brought us to making our own homemade green goddess dressing. You see, the dressing is packed with fresh, green herbs. Consider it a dumpster for any and all the green herbs you have in your kitchen or garden right now.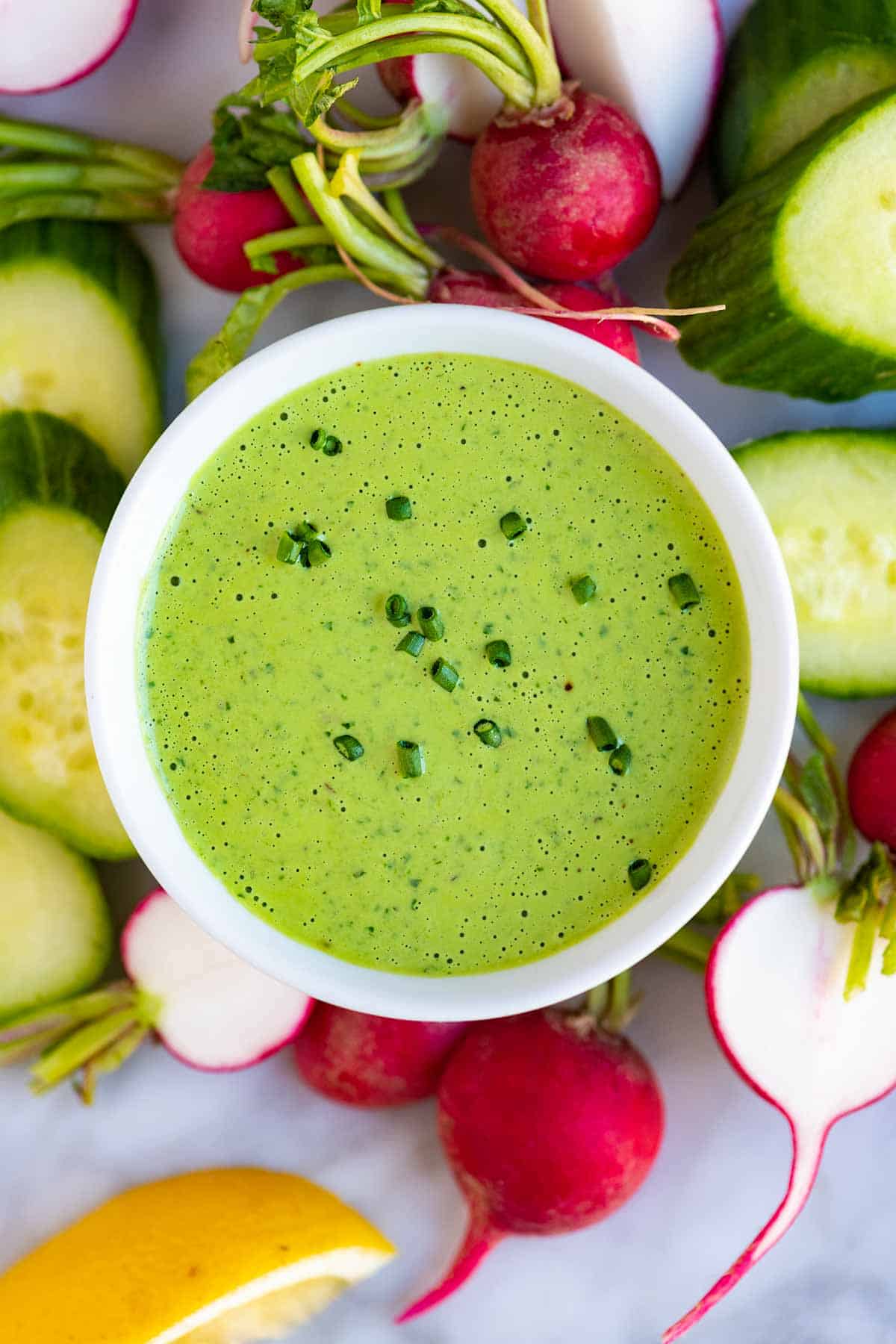 Green goddess is a classic salad dressing that was pretty popular in the 70s and 80s. I see why. It's fantastic tossed into any salad and works beautifully as a dip for veggies. Here's our version. We've stayed pretty close to the classic. Here's what you'll need:
Lots of green herbs. You can play around with which herbs you add and the proportions of each, but we especially love a big handful of parsley, basil, chives and a smaller amount of tarragon. We use less of the tarragon because it's a bit more pungent than the other herbs listed. Other green herbs like cilantro, mint, dill and even scallions are all options, too. Basic rule of thumb here is to use 1 ½ cups to 2 cups of fresh green herbs with almost half being parsley.
Mayonnaise and sour cream. Green goddess dressing is creamy so a solid base of mayonnaise is the best place to start. Since we don't like how heavy dressings made with 100% mayo can be, we always mix in a bit of sour cream to lighten it up. If you don't have sour cream, Greek yogurt and buttermilk are both excellent substitutions. We use this combination to make the dressing for our popular potato salad recipe as well as our homemade honey mustard sauce and love it! For vegan green goddess dressing, use a plant-based mayonnaise, cashew cream or tahini as the base and skip the sour cream.
Anchovies. I love anchovies in this. Just like when we make Caesar dressing, anchovies add a salty kick that salt alone just doesn't achieve. I highly recommend trying this recipe with the anchovies added, but if you don't eat fish or are against the idea completely, you can leave them out or substitute them with chopped capers. We use chopped capers when turning this dressing vegan-friendly.
Lemon juice, salt and pepper. Fresh lemon juice lifts all the flavors and makes the dressing tangy. Salt and pepper are essential for seasoning the mixture. I like a really generous amount of pepper. In the recipe, we also recommend a splash of rice wine vinegar. It's optional, but if you have it in your pantry, try it. It adds a different pop of flavor and works nicely with the lemon juice and herbs.
No garlic? Since the chives add an onion-like flavor to the dressing, we don't add fresh garlic to this dressing. If you'd like to add garlic, only use 1 small clove since fresh garlic can overpower salad dressings.
To make the dressing, you will need to blend all the ingredients together. You can do this in a food processor, by using an immersion blender or in a blender. If you don't have one of these blending devices, you can always finely mince the herbs and anchovies, and then mix them into the mayo and sour cream.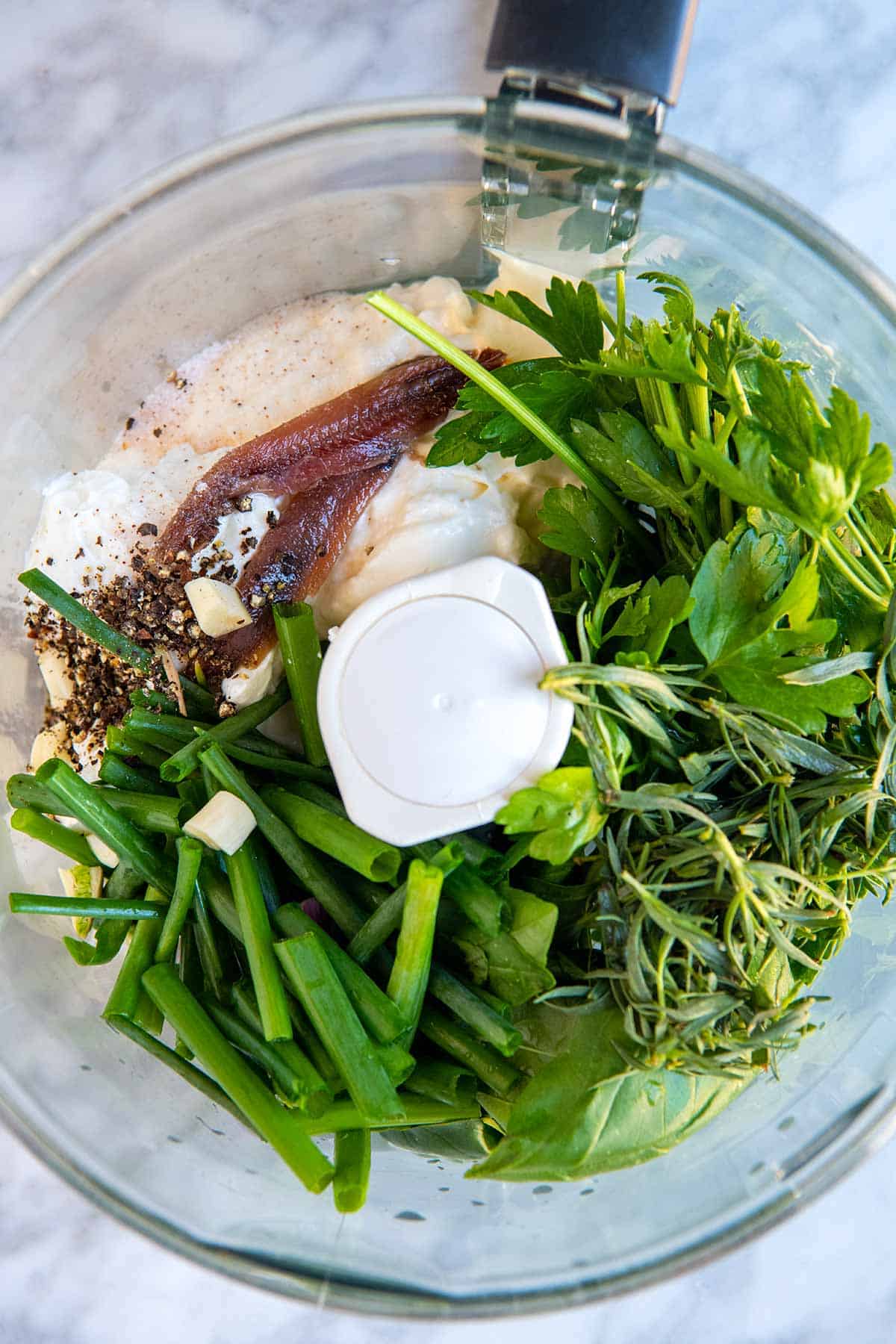 How to use green goddess dressing
Green goddess dressing is versatile. While we typically make it to use as a salad dressing, it almost always gets used as a sauce for whatever we have for dinner the rest of the week. Here are my favorite uses for the dressing:
More salad dressing recipes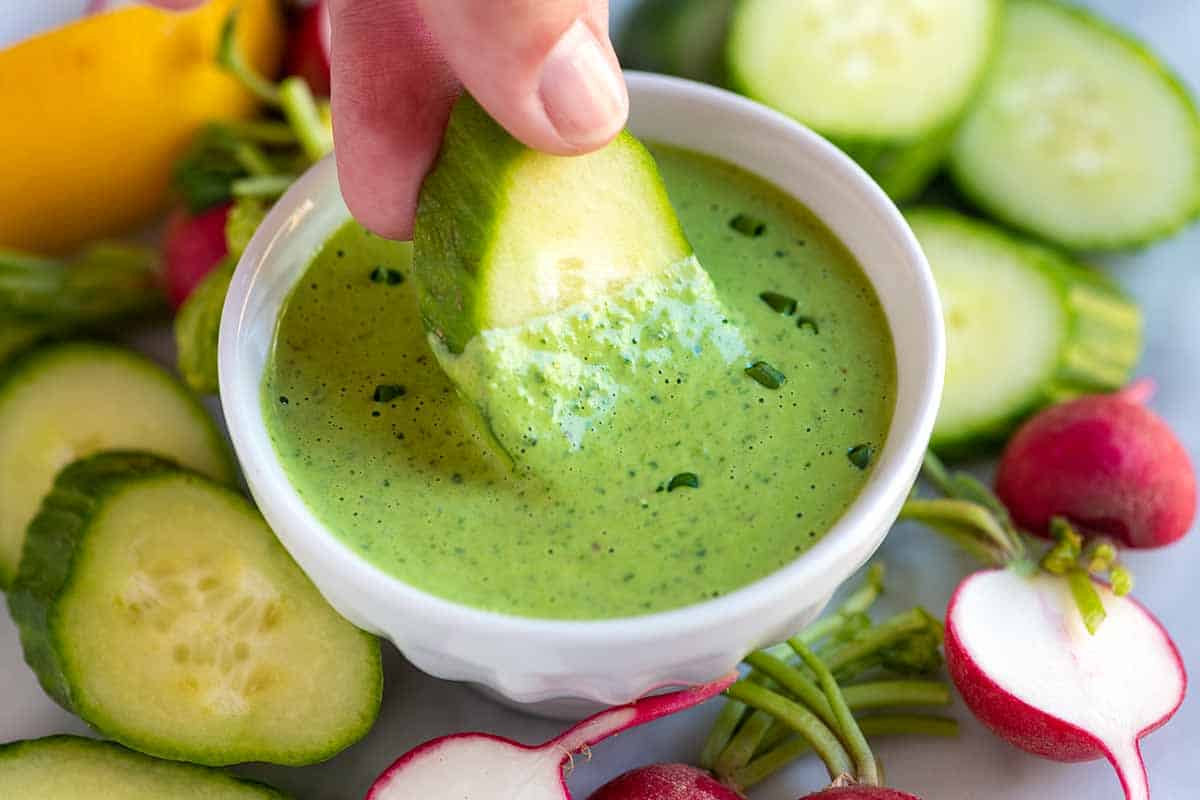 Creamy Green Goddess Dressing
Green goddess dressing is a delicious creamy dressing made with lots of fresh green herbs. It's wonderful tossed into salads, spooned over roasted veggies, fish or meats and even doubles as a vegetable dip. The varieties of herbs used is up to you. A good rule of thumb is to use 1 ½ cups to 2 cups of fresh green herbs with almost half being parsley.
*This recipe can be made vegan. See our tips section and substitutions for guidance.
Watch Us Make the Recipe
You Will Need
1/2 cup mayonnaise, see our homemade mayonnaise; see tips for vegan substitutes
1/3 cup sour cream, Greek yogurt or buttermilk; see tips for vegan substitutes
2 to 3 anchovy fillets or substitute 1 tablespoon capers
3/4 cup packed fresh parsley leaves and tender stems
1/2 cup packed fresh basil leaves
2 tablespoons fresh tarragon leaves or substitute 2 teaspoons dried tarragon
1/4 cup chopped chives cut into 1-inch pieces or substitute scallions
2 tablespoons fresh lemon juice
1 tablespoon rice wine vinegar, optional, adds extra tanginess
1/4 to 1/2 teaspoon fine sea salt
1/2 teaspoon fresh ground black pepper
Directions
1Add mayonnaise, sour cream, 2 anchovy fillets, parsley, basil, tarragon, chives, lemon juice, vinegar, salt and pepper to the bowl of a food processor. Process, stopping and scraping down the sides a few times, until the dressing is well blended. Alternatively, add the ingredients to a blender or use an immersion blender to blend everything into the dressing. To make this by hand, finely chop all the herbs and anchovies, and then stir into the rest of the ingredients.

2Taste the dressing. If it needs a bit more pop, add the last anchovy and an extra squeeze of lemon juice. If the dressing is too thick, thin it out with a little water, milk or buttermilk.
Adam and Joanne's Tips
Vegan/dairy-free/egg-free green goddess dressing: Use 1 ⅓ cups vegan mayonnaise or cashew cream instead of the regular mayonnaise and sour cream, and then use 1 tablespoon of capers instead of the anchovy fillets. You may need to play around with a little more lemon juice or herbs to get the flavors just right. You can also use tahini as the base, but you may find that it needs a little warm water in order to thin the tahini. Here is our homemade tahini recipe and here is our tahini dressing recipe to use as a guide for thinning tahini with warm water.
Avocado green goddess dressing: Avocado adds a creamy, plant-based element to the dressing. Simply add the flesh from one medium ripe avocado to the food processor or blender.
Nutrition facts: The nutrition facts provided below are estimates. We have used the USDA database to calculate approximate values.
If you make this recipe, snap a photo and hashtag it #inspiredtaste — We love to see your creations on Instagram and Facebook! Find us: @inspiredtaste
Nutrition Per Serving
Serving Size
2 tablespoons
/
Calories
120
/
Total Fat
12.4g
/
Saturated Fat
2.6g
/
Cholesterol
12.7mg
/
Sodium
221.4mg
/
Carbohydrate
1.5g
/
Dietary Fiber
0.3g
/
Total Sugars
0.6g
/
Protein
1.1g