We love this beginner-friendly kimchi recipe! So, if you've been considering making your own kimchi, now is the perfect time to give it a go! Trust us, it's easy, especially with our easy-to-follow recipe and helpful tips.
What is Kimchi?
Kimchi, also spelled kimchee, is a beloved Korean dish made from fermented vegetables. The most common variety of kimchi is prepared using napa cabbage (baechu). It is traditionally served as banchan (side dishes accompanying a meal). Kimchi is also used in kimchi fried rice, stews, dumplings, savory pancakes, and noodles. I also add it to sandwiches, wraps, and salad bowls and currently, my favorite way to enjoy kimchi is with scrambled eggs!
How to Make Kimchi at Home
We still have much to learn about making different kimchi varieties, and we love to taste and explore other options. Our kimchi recipe below is a great entry point. It can also be adjusted to your preferred spice level, depending on how much gochugaru (red chili powder) you use. We've worked on this recipe with Chef Richard Hattaway. Try it soon. You are going to love it!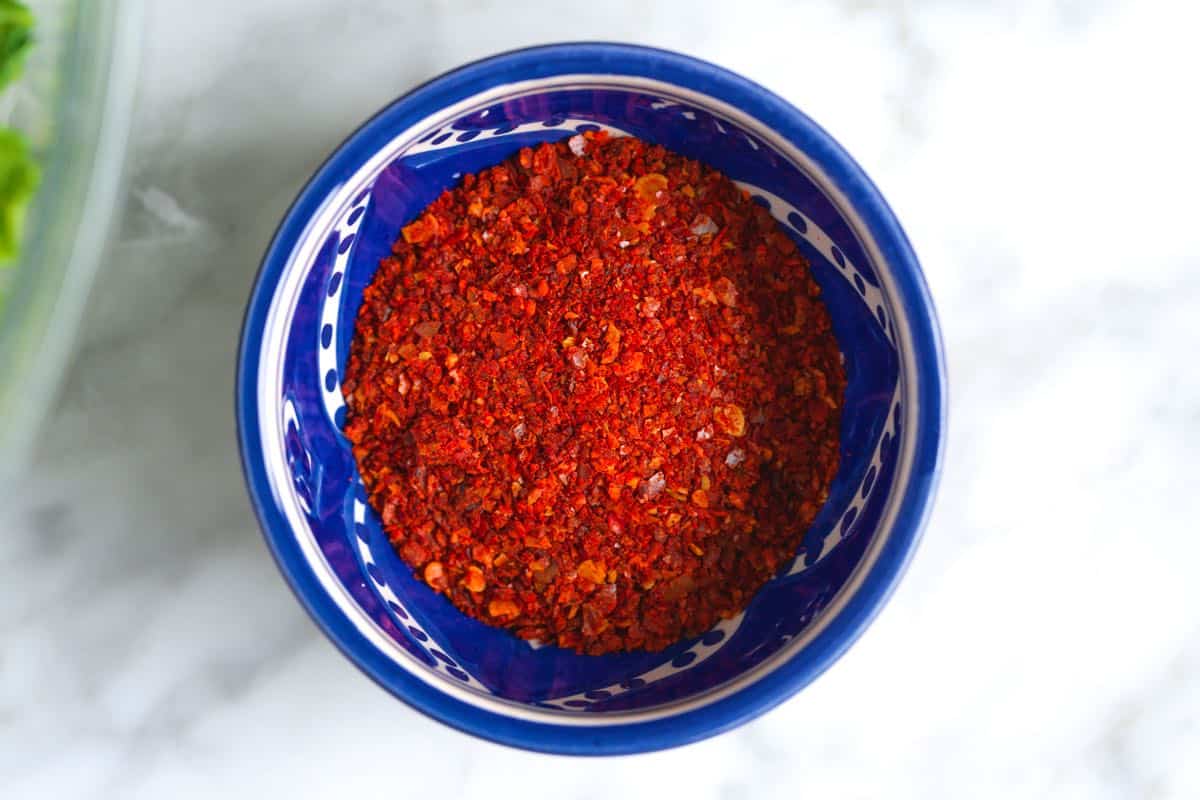 One of the best parts about kimchi is that it's delicious fresh (unfermented), or fermented. So you can make a batch, enjoy some as a salad, and leave the rest in a jar in your fridge to ferment.
Opinions on what makes the best kimchi are varied, and that's okay. Kimchi is a traditional dish that's had centuries to be tweaked from family to family. This recipe is our starting point. It calls for ingredients we typically have available in our area and makes the type of kimchi we crave.
When making kimchi, we'll need to follow two basic steps:
Cut and salt the cabbage. This kills any bad bacteria and helps to draw out excess water from the cabbage. Then, after allowing the cabbage to sit with salt, we rinse and drain it until it's mostly dry.
Massage a paste made from red chili powder (gochugaru) and other ingredients like garlic, ginger, fish sauce, and sugar into the cabbage. You can enjoy the kimchi fresh (straight away) or allow it to ferment. Fermentation will happen at room temperature or in the fridge. It's slower in the fridge, but fermenting in the fridge is our preferred method (it is hands-off and easy).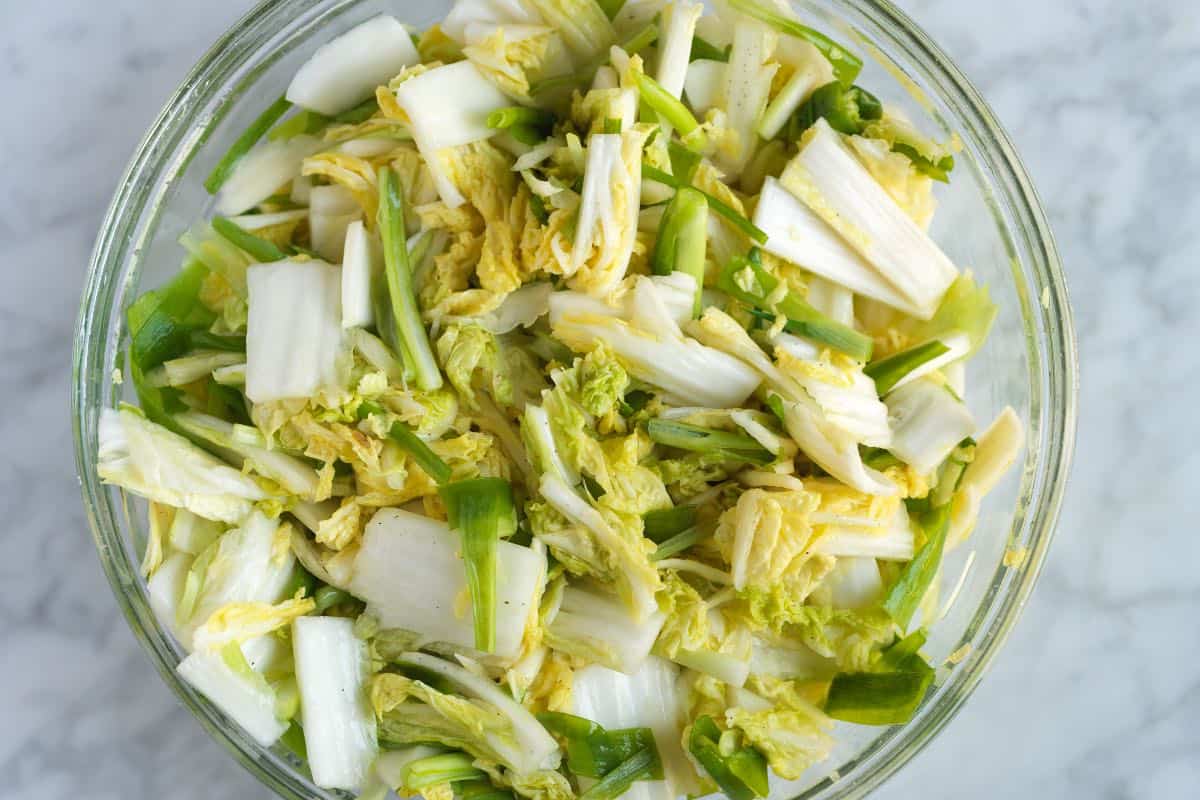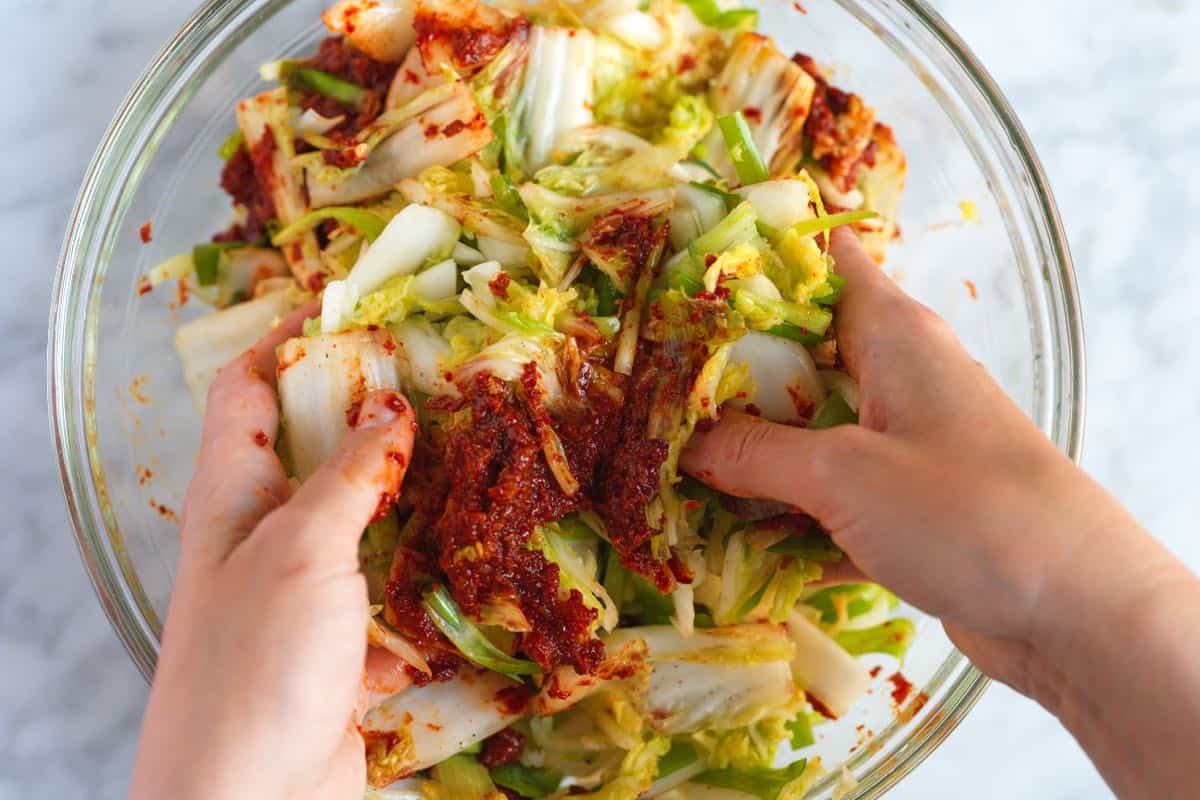 More Cabbage Recipes: Try our easy roasted cabbage or this quick homemade sauerkraut
How Long Does it Take to Ferment Kimchi?
The fermentation time for kimchi can vary depending on personal preference and the desired level of tanginess. Generally, fermentation takes 2 to 3 weeks in the fridge.
Some people allow the kimchi to ferment at room temperature for a day or more. This speeds up your fermentation, but we prefer to simply slide our jar into the fridge and let it ferment there. It's a little slower, but after a couple of weeks, the refrigerator-fermented kimchi has all the same sour, funky notes.
How Long Does Kimchi Last?
In the refrigerator, kimchi can typically stay fresh for several months. However, its flavor and texture will continue to change gradually over time. Some people prefer the taste of well-aged kimchi, while others enjoy it when it's relatively fresh. Personally, I prefer fresher styles of kimchi. Please note that our recipe below is not intended to be shelf stable (do not can or leave unrefrigerated for an extended period).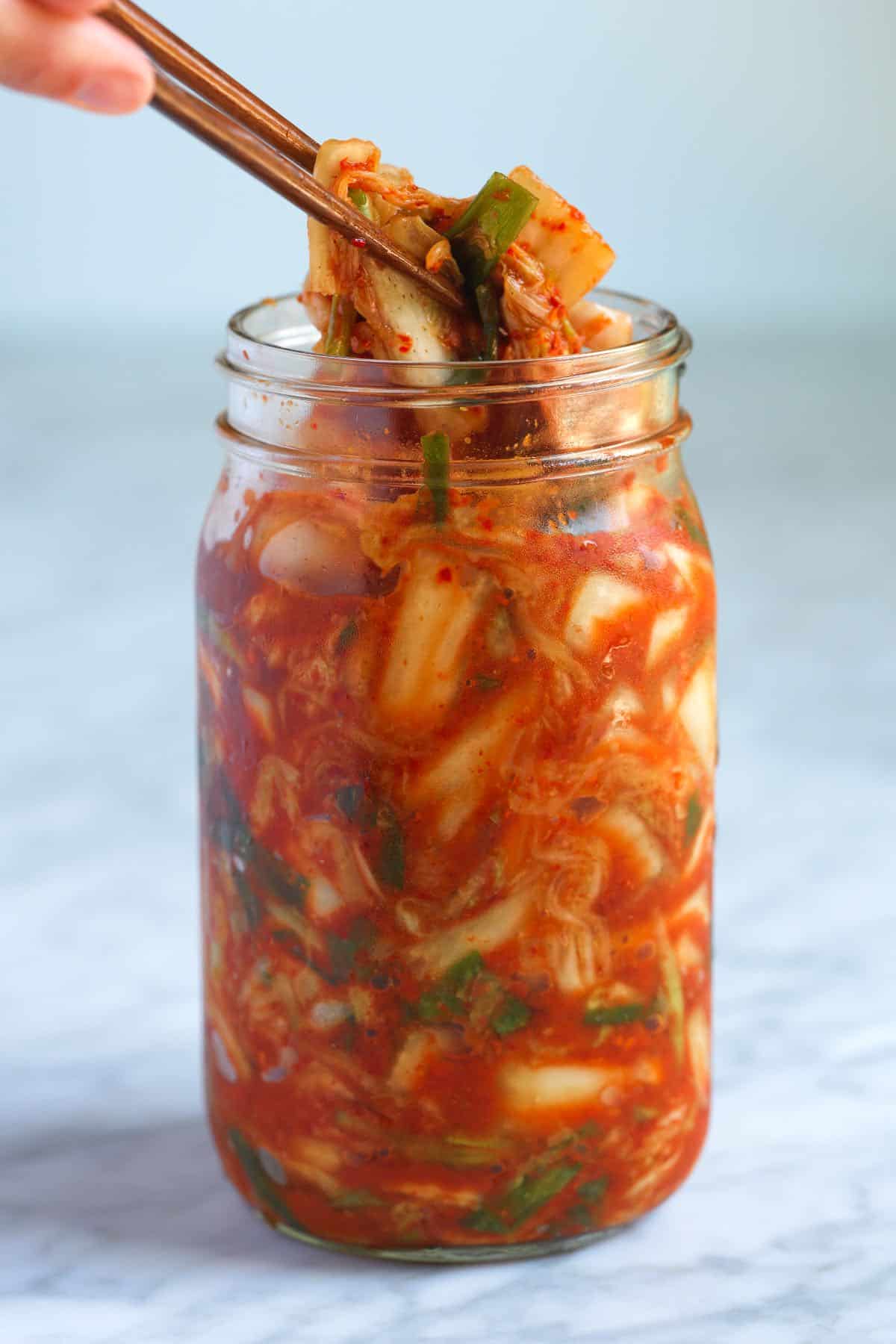 More Frequently Asked Questions
Do I need to use the rice thickener? While optional, the rice thickener, a porridge of rice flour and water, aids in the adhesion of our chili paste to the cabbage. To make it, simply cook sweet rice flour with water on the stovetop, similar to preparing oatmeal. We recommend buying sweet rice flour (we use Bob's Red Mill), but finely ground glutinous rice (often called sweet rice) or Jasmine rice can also be a suitable substitute (use a clean electric spice grinder or small blender).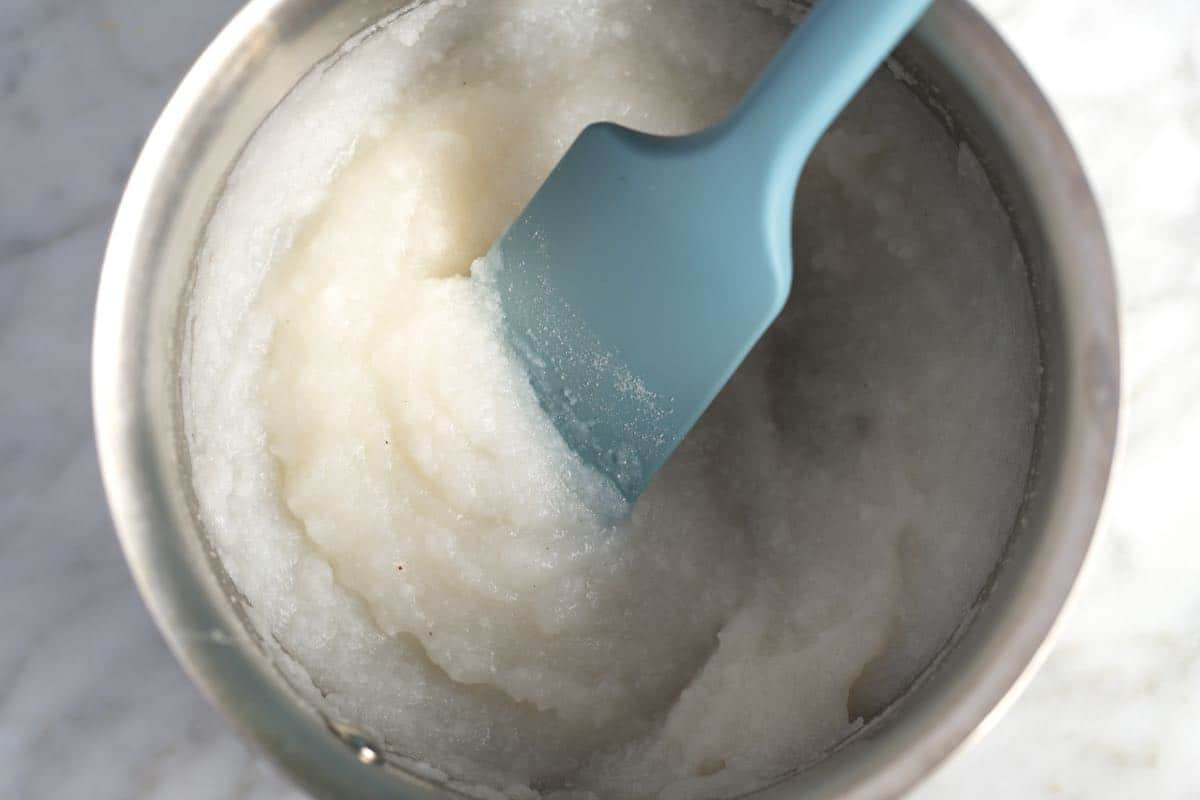 What's the fish sauce for? Kimchi often has a seafood component like fish sauce, oysters, squid, or salted shrimp paste. It's added for umami, a rich, savory flavor. We keep Red Boat fish sauce in our kitchen, so that's what we use, but if you have access to a Korean market, you can buy Korean fish sauce.
Can I Make Vegetarian Kimchi? Yes! It's pretty simple to adapt our kimchi recipe below to be vegetarian and vegan. In our recipe, we add fish sauce to add an umami flavor. You can leave this out for vegetarian kimchi, or to maintain some of that umami flavor, use miso paste (recommended amounts are in the tips section of the recipe below).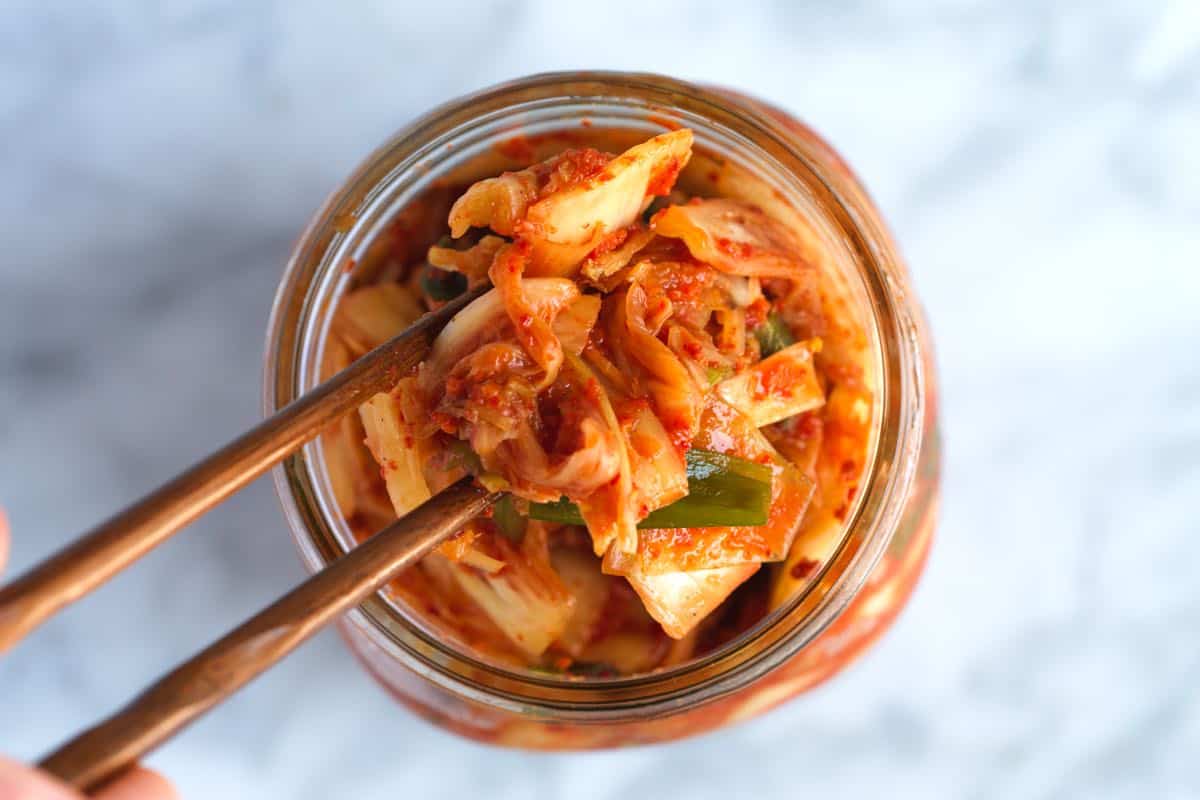 Homemade Cabbage Kimchi
Our kimchi recipe is beginner friendly. It's straightforward and can be adjusted to your preferred spice level, depending on how much gochugaru (red chili powder) you use. While some recipes leave the cabbage in wedges, we chop ours into bite-size pieces. This simplifies things and saves a bit of time during the salt brine. We typically make cabbage-only kimchi and don't add other vegetables (except garlic, ginger, and green onion), but feel free to add shredded Korean radish, daikon, or carrots.
You Will Need
Kimchi Ingredients
1 napa cabbage, about 3 pounds
2 ½ tablespoons (42 grams) fine sea salt
12 green onions
2 tablespoons rice thickener, recipe below
5 tablespoons (45 grams) gochugaru, Korean red chili pepper powder
8 cloves garlic, finely grated
One 2-inch knob fresh ginger, finely grated
2 tablespoons fish sauce
4 teaspoons sugar
2 tablespoons water
Rice thickener
1 tablespoon sweet rice flour
1/2 cup cold water
Directions
1Prepare the cabbage. Cut the cabbage in half, lengthwise, and remove the core. Cut the halves into small wedges, then slice crossways to cut the cabbage into 1 ½-inch pieces.

2Prepare green onions. Trim and discard the root ends and slice the green onions in half, lengthwise. Cut onion halves crosswise into 2-inch pieces.

3Place the cabbage and green onion in a large bowl (use two bowls if needed). Sprinkle the salt and toss well to combine. Cover with a clean dish towel, and let sit at room temperature until the cabbage is noticeably wilted, 1 to 2 hours. After 30 minutes, toss the cabbage to redistribute the salt.

4Meanwhile, make the rice thickener. Combine 1 tablespoon of rice flour and 1/2 cup of water in a small saucepan. Heat over medium heat and cook, constantly stirring, until the mixture is a thick paste. Remove from the heat and allow it to cool.

5Make the chili paste. Combine the gochugaru, garlic, ginger, fish sauce, sugar, and water in a medium bowl. Add 2 tablespoons of the cooled rice thickener. Stir until well blended. Store in the fridge until the cabbage is ready.

6When the cabbage is wilted, rinse it well under cold water (I rinse 2 to 3 times). Then, set the cabbage aside to drain for 20 to 30 minutes (or use a salad spinner to remove most of the water).

7Massage the chili and spice paste into the drained cabbage. Consider using gloves for this step. Continue to massage the paste into the cabbage until all of the cabbage is thoroughly coated.

8Pack the kimchi into a 1-quart jar (if you have extra, use a second jar or a smaller 16-ounce jar). Carefully press down on the kimchi until the liquid (brine) covers the cabbage. If your jar is full, leave at least 1 inch of space between the kimchi and the lid. If you have one, place a fermentation weight on top and seal the jar.

9Place the kimchi into the refrigerator to ferment. After a day, check on the kimchi and "burp" it using a clean spoon to press down on the tightly packed cabbage to push out any trapped air bubbles.

10You can enjoy kimchi at any point, but it will take on funky, sour notes after a week or two. As it ferments, you might see bubbles forming, and brine might seep out of the jar, so consider placing the jar inside a small bowl to catch anything.
Adam and Joanne's Tips
Vegetarian or Vegan kimchi: Leave out the fish sauce and add 1 to 2 tablespoons of white or red miso paste to the chili powder mixture before massaging it into the cabbage.
Salt: Use iodine-free salt. Iodine can prevent proper fermentation.
Gochugaru: Korean red chili powder or flakes add heat, flavor, and vibrant red color to kimchi. We used Mother In Law's Gochugaru in our photos since it is commonly available in local grocery stores. You can also find Gochugaru sold in International/Korean markets. If you have the choice between hot or mild, choose mild since you can add more and make your kimchi more vibrant without making it too spicy (tip from Maangchi).
Spicy kimchi: Increase the gochugaru in the recipe or use gochugaru that's labeled medium or hot to make your batch. You can taste the chili paste as you are making it to see if it is spicy.
Nutrition facts: The nutrition facts provided below are estimates. We have used the USDA database to calculate approximate values. Note that sodium is difficult to determine with this recipe.
If you make this recipe, snap a photo and hashtag it #inspiredtaste — We love to see your creations on Instagram and Facebook! Find us: @inspiredtaste
Nutrition Per Serving
Serving Size
1/2 cup
/
Calories
22
/
Total Fat
0.5g
/
Saturated Fat
0.1g
/
Cholesterol
0mg
/
Sodium
283.7mg
/
Carbohydrate
4.4g
/
Dietary Fiber
1.3g
/
Total Sugars
2g
/
Protein
0.9g