These sticky pork ribs are unbelievably tender and coated in the most delicious homemade hoisin glaze. These Asian-inspired ribs are surprisingly easy to make, and their incredible flavor will have you reaching for more. We absolutely love them!
Watch the Video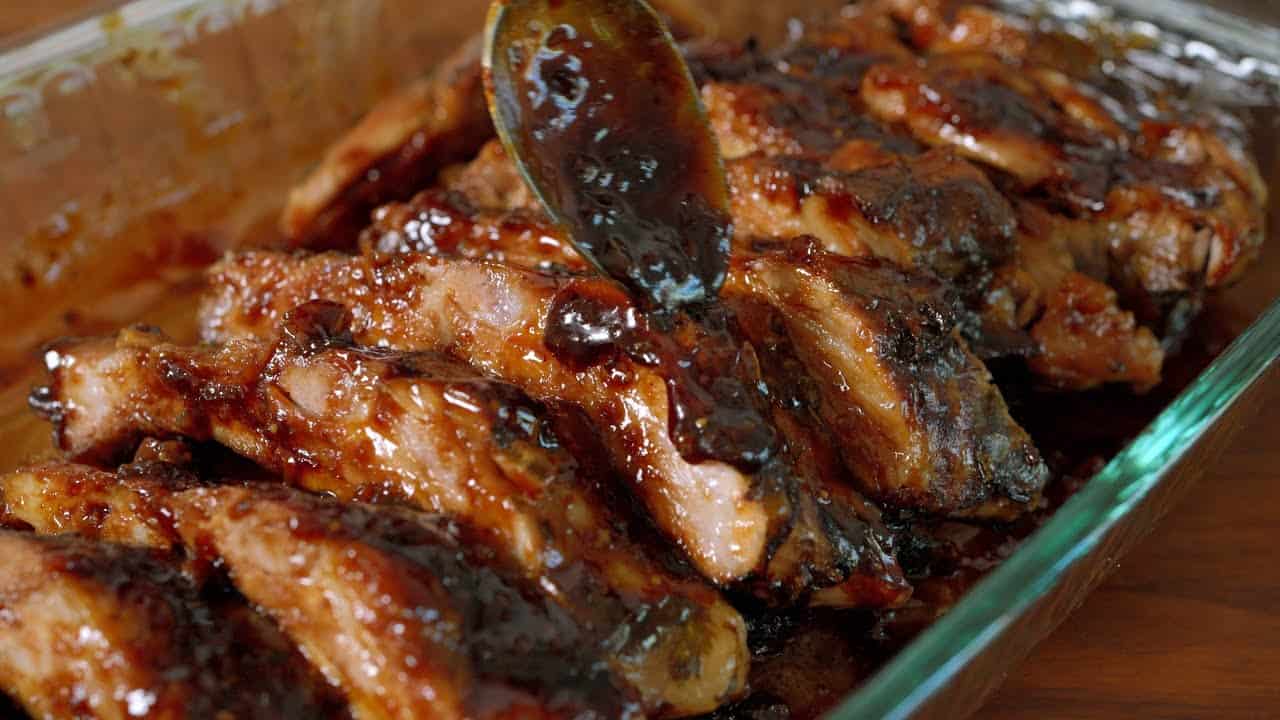 Related: We use the same sauce to make our ginger hoisin chicken lettuce wraps.
How to Make the Most Delicious Sticky Ribs
Let's talk about baking the ribs. It's practically hands-off. We start with pork ribs and typically use baby back ribs, but you can use other cuts of ribs in this recipe. That means baby back ribs, spareribs, and St. Louis-style ribs will work in the recipe below.
When substituting one type of rib for another, remember that cook time might vary a bit — baby back ribs tend to cook a bit quicker than spareribs since spareribs typically need a little more time to get tender.
Additionally, St. Louis-style ribs are slightly less meaty, so purchasing an extra rack might be a good idea to ensure everyone can enjoy seconds.
We already have an oven-baked ribs recipe on Inspired Taste with over 700 happy reviews. These sticky ribs have a similar baking method: low and slow. As discussed in the other ribs recipe, baking ribs at a lower heat for a longer time guarantees tender, almost falling-off-the-bone ribs!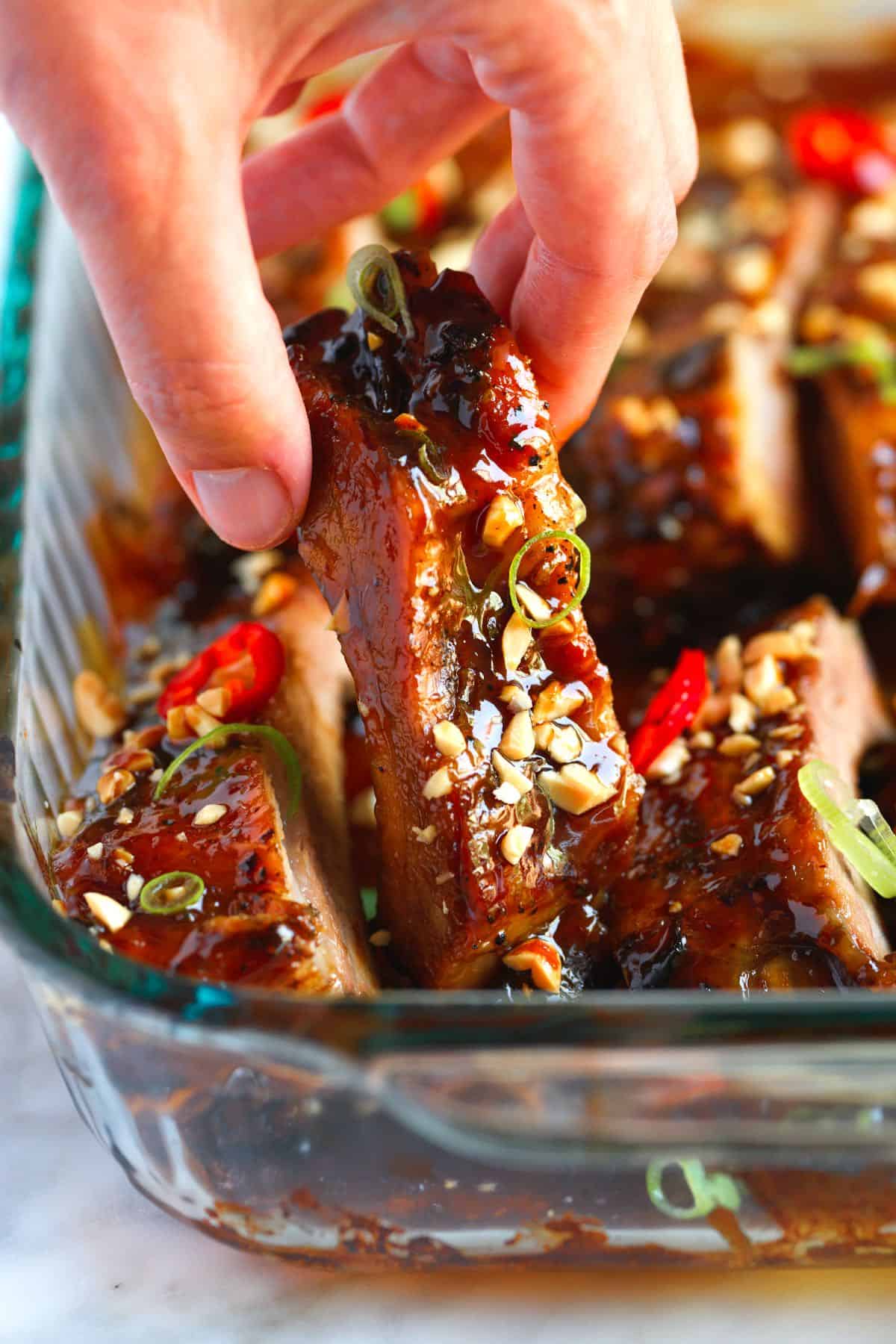 Amazing Sticky Ribs in Two Simple Steps
Bake the ribs until tender and allow to cool to room temperature.
Slather with sauce and bake until reduced and sticky.
We nestle the ribs on top of aromatic ginger, garlic, and cilantro and carefully wrap parchment paper around the ribs to create a snug packet. That packet gets wrapped once more in some foil to ensure the ribs are well wrapped.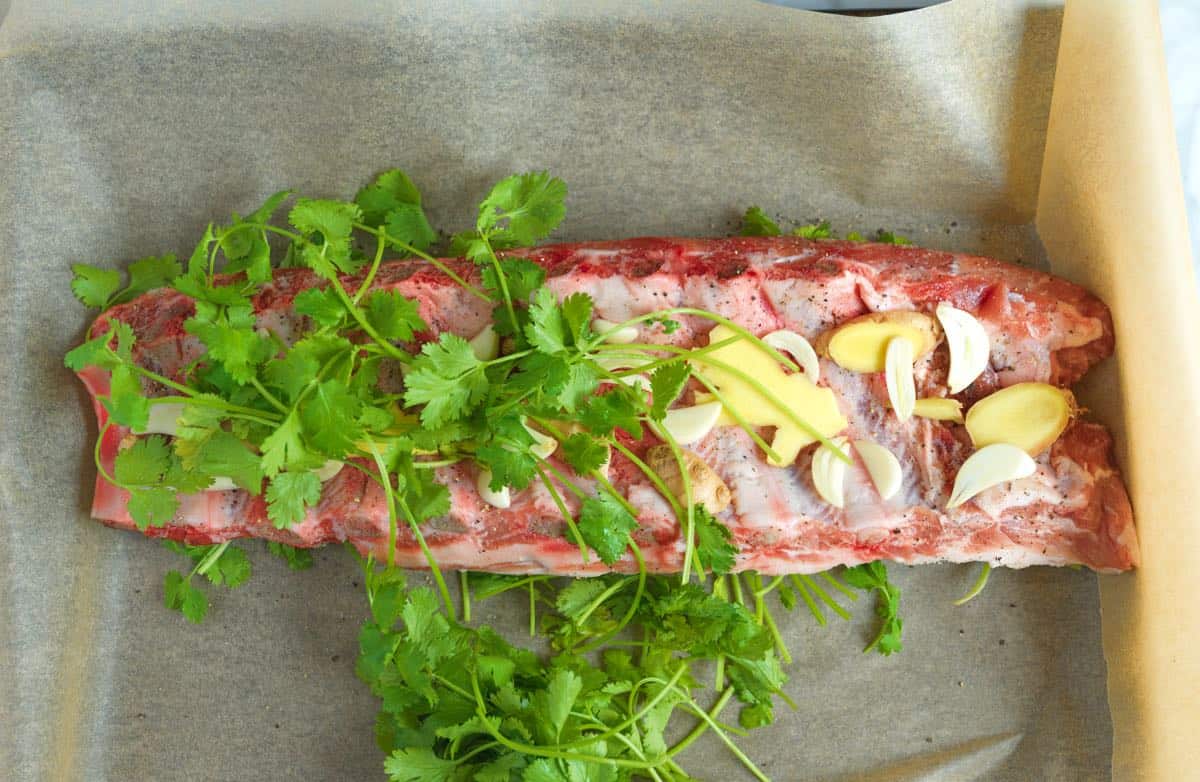 As the ribs bake to perfection, they transform, becoming unbelievably tender and infused with ginger, garlic, and cilantro. As they bake, the kitchen smells incredible!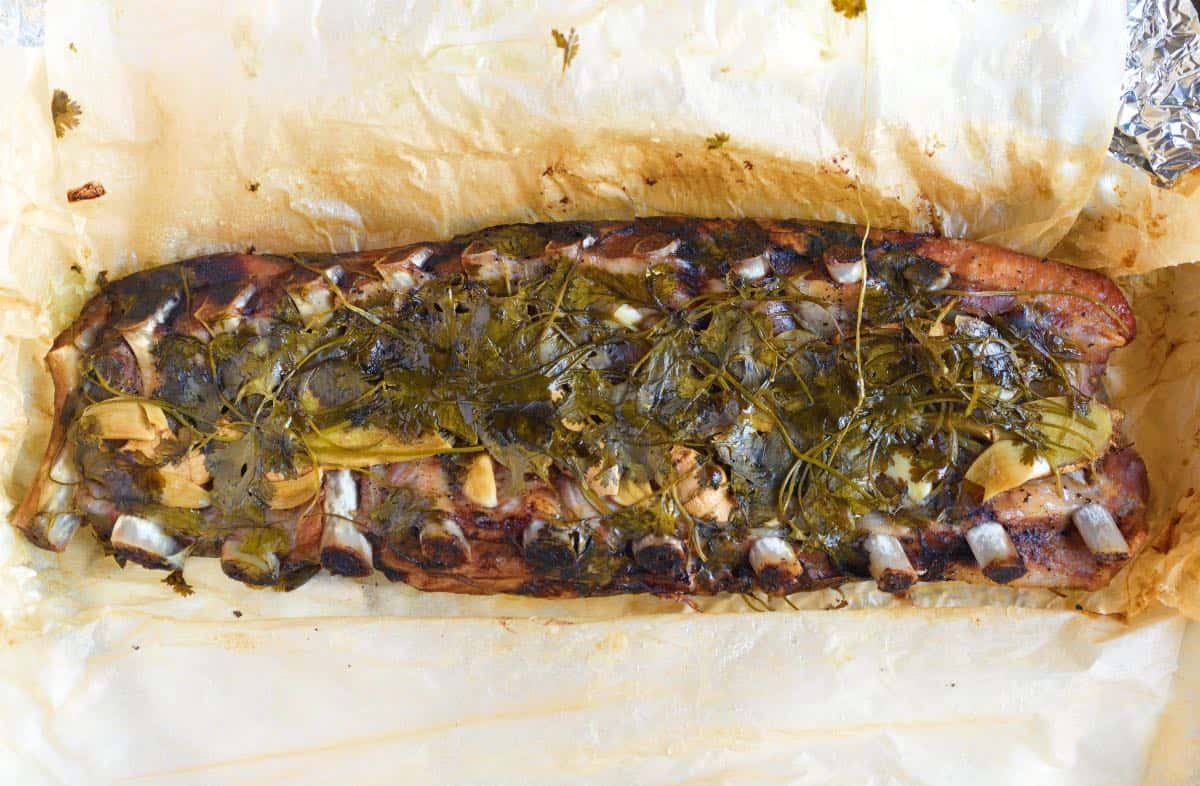 Once the ribs are baked and allowed to rest, we unwrap them and generously coat them in our homemade hoisin sauce. Then we slide them into a hot oven where the sauce will bubble, reduce, and transform into a delicious sticky glaze.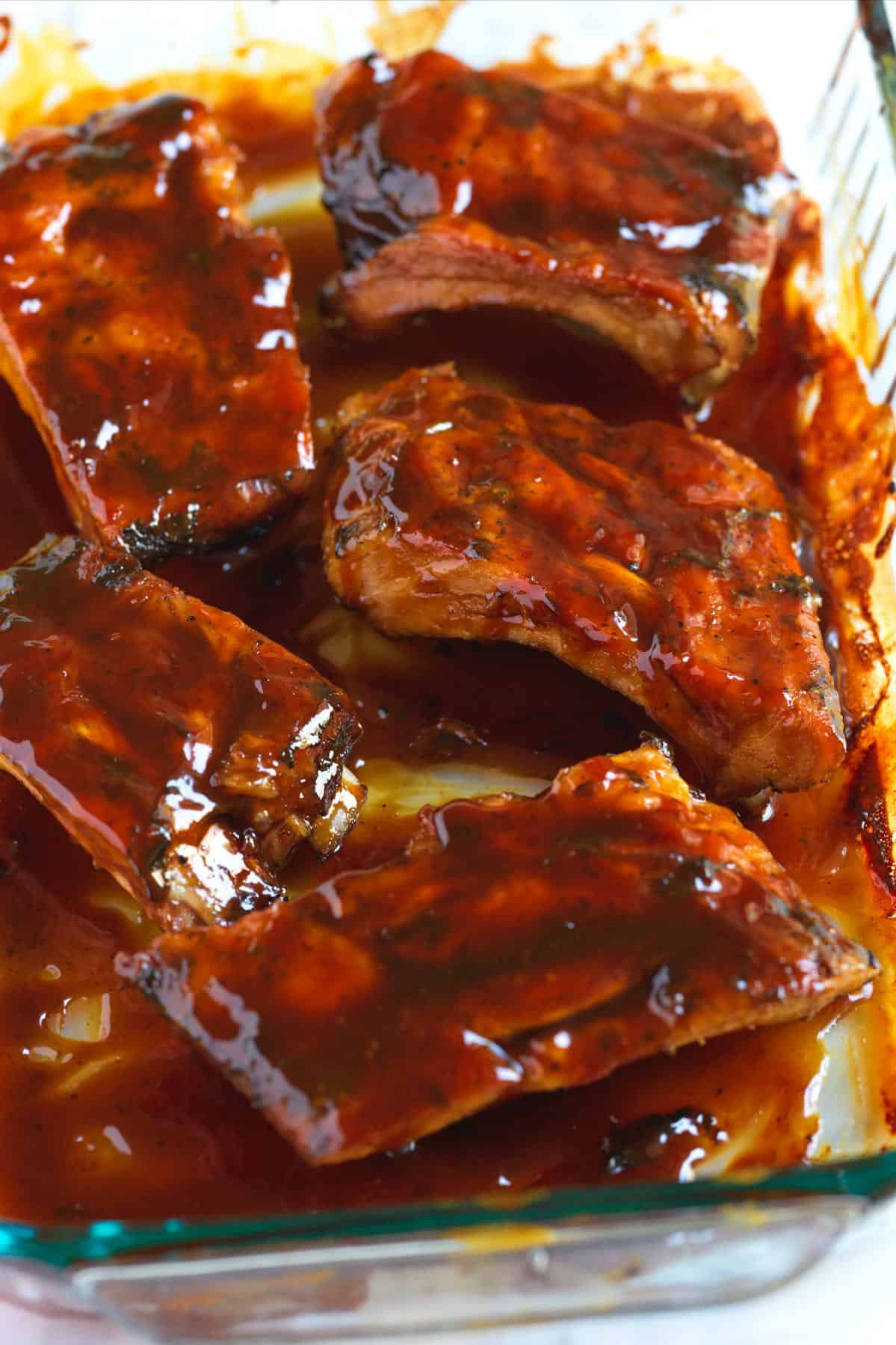 We worked on this recipe with Chef Richard Hattaway, and I must say, we had an absolute blast working on it! Although to be completely honest, we might have indulged in a few extra taste tests along the way (haha) simply because these ribs were seriously delicious.
He also worked on our hoisin sauce recipe, which makes that glistening, sticky glaze for our garlic and ginger infused ribs. It's very simple and made from mostly pantry ingredients like soy sauce, peanut butter, and molasses.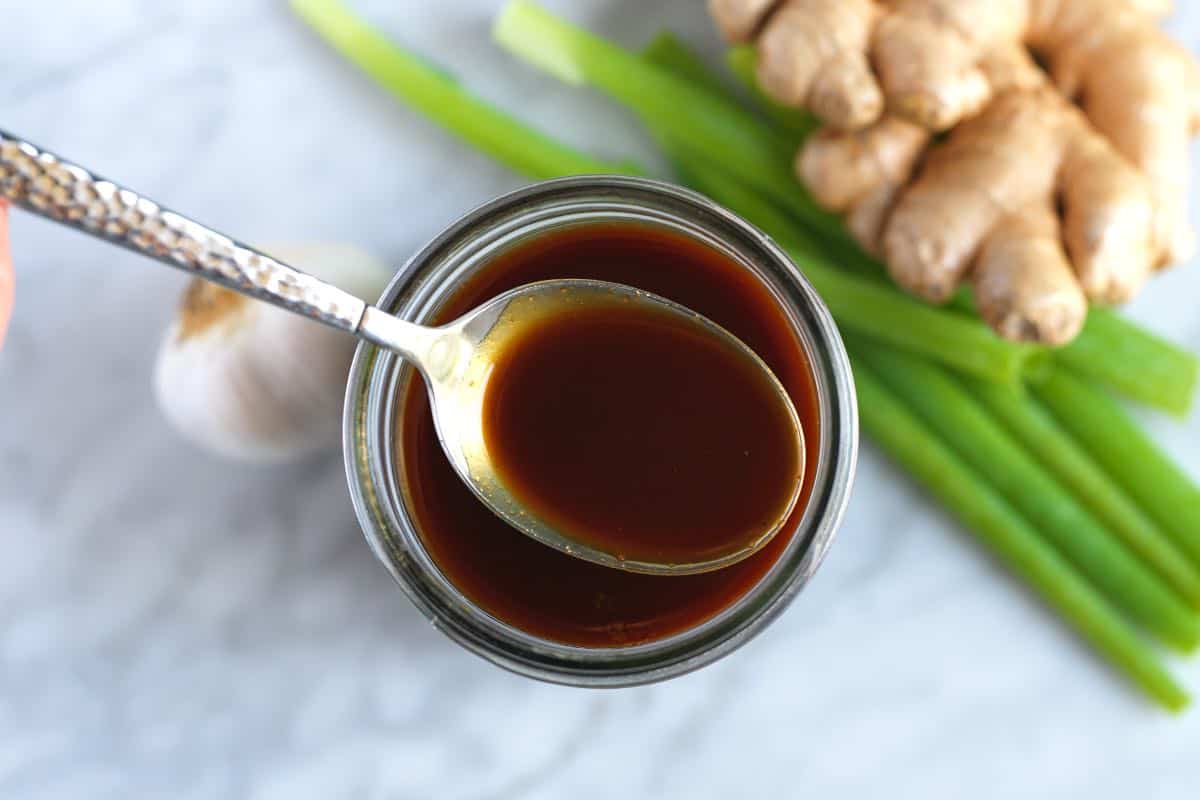 For these ribs, we recommend using our homemade hoisin sauce (pictured). Store-bought hoisin is typically thicker, saltier, and too sweet. The great thing about this sauce is that it lasts in the fridge for a month and works beautifully with other proteins like chicken, salmon, shrimp, and tofu! For a more traditional American-style BBQ sauce, try this sweet and tangy BBQ sauce.
Frequently Asked Questions
What are some serving suggestions for sticky ribs? We love serving these ribs as a main dish and love one or more of these sides to go along with them:
Can I make sticky ribs ahead of time? Yes, you can make these ahead of time. After baking, you can keep them wrapped and store them in the refrigerator for a day or two. Then, when ready to serve, unwrap them and add the hoisin sauce. Finally, bake the ribs in a hot oven until heated through, and the sauce becomes sticky.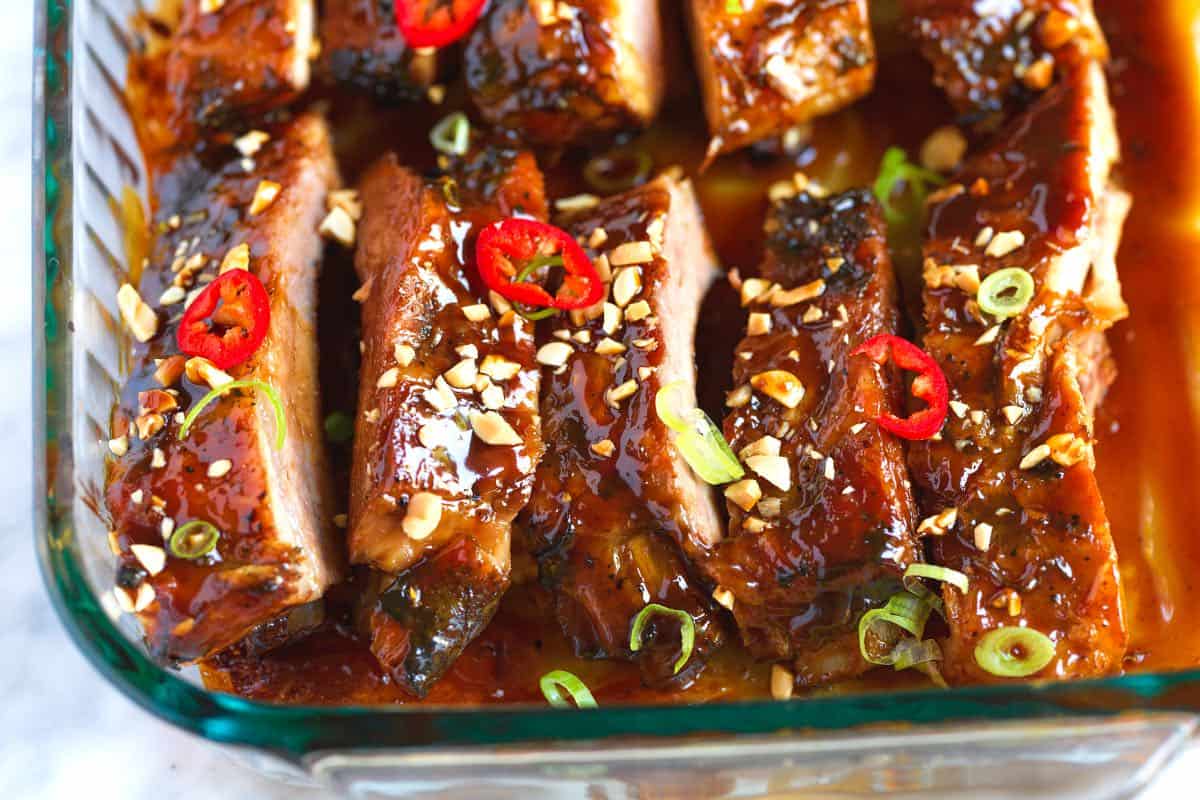 Irresistibly Good Hoisin Sticky Ribs
These sticky ribs are unbelievably tender and coated in the most delicious homemade hoisin glaze. These Asian-inspired ribs are surprisingly easy to make, and their incredible flavor will have you reaching for more. We absolutely love them! The sauce included in the recipe below makes the perfect amount for one rack of ribs.
FAQ: Although the recipe specifies baby back ribs, you can also use other types of ribs, such as spareribs, country-style, or St. Louis-style ribs. The cook time should be similar, but spareribs may require a little more time to become tender. We recommend checking the ribs periodically while they cook to monitor their progress.
FAQ: If you plan to double or triple the recipe below, there is no need to modify the method or bake time. However, you may need to use multiple pans for baking. Additionally, make a double batch of the hoisin sauce to ensure you have enough to accommodate the increased amount of ribs. The recipe below makes 1 cup of sauce, which is perfect for one rack of ribs.
Serves 4, 3 to 4 ribs each
Watch Us Make the Recipe
You Will Need
1 rack baby back ribs (loin back ribs), 2 to 2 ½ pounds
1 cup Homemade Hoisin Sauce, recipe below
8 cloves garlic, peeled and thinly sliced
Two 1-inch thumb-size pieces of fresh ginger, sliced thin lengthwise
Half a bunch of fresh cilantro
Salt and pepper
2 tablespoons finely chopped peanuts, optional
1 Fresno chili pepper, thinly sliced, optional
1 green onion, finely chopped, optional
Homemade Hoisin Sauce
1 tablespoon toasted sesame oil
2 cloves garlic, finely minced or grated
One 1-inch thumb-size piece fresh ginger, finely minced or grated
2 green onions, whites and light green parts only, finely minced
5 tablespoons (65 grams) light tamari or light soy sauce, plus more to taste
5 tablespoons (65 grams) pure maple syrup
2 tablespoons (30 grams) molasses
1 tablespoon (20 grams) peanut butter, try homemade peanut butter
1 ½ teaspoons Gochujang, see notes
1 teaspoon rice wine vinegar
1/4 teaspoon Chinese Five Spice, see notes
1/4 teaspoon cornstarch
Directions
Prepare and Bake Ribs

1Preheat the oven to 275° Fahrenheit (135°C) and get a large rimmed baking sheet ready.

2Trim excess fat from the ribs and remove any thin membrane on the back of the rack (Note: Some ribs may already have the membrane removed).

3Pat the ribs dry and season them with salt and pepper.

4Take a piece of parchment paper large enough to wrap around the ribs (you may need to overlap two sheets). On the parchment paper, spread half of the garlic, ginger, and cilantro. Place the ribs on top, meaty side facing down. Arrange the remaining garlic, ginger, and cilantro on the bone side of the ribs.

5Wrap the parchment paper tightly around the ribs, folding the edges to seal. Then, wrap the entire package with foil. Remember which side has the meatiest part of the ribs.

6Place the wrapped ribs, with the meatiest side facing down, on the prepared baking sheet.

7Bake the ribs in the preheated oven for 2 ½ to 3 hours. To check for tenderness, carefully unwrap the ribs and skewer them with a knife.
While the ribs are baking, you can make the hoisin sauce using the provided recipe instructions below.

8Allow the ribs to cool while still wrapped. Let them rest at room temperature or refrigerate the wrapped package on a baking sheet for up to two days.
Prepare Hoisin Sauce

1Heat sesame oil in a small saucepan over medium heat. Stir in the garlic, ginger, and green onion. Cook, stirring occasionally, until tender and translucent, 3 to 5 minutes. Set the saucepan aside to cool.

2Stir in soy sauce, maple syrup, molasses, peanut butter, Gochujang, rice wine vinegar, and the Chinese Five Spice. Return the saucepan to medium heat, and, while stirring, slowly bring to a simmer. Taste the sauce and adjust with 1/2 tablespoon to 1 tablespoon of soy sauce if it needs it.

3Make a cornstarch slurry by mixing 1/2 teaspoon cornstarch with 2 teaspoons water. Whisk the slurry into the sauce. As it simmers, the sauce will thicken. Once thickened, remove from the heat and let cool.
Finishing the Ribs with Sauce

1Heat the oven to 425° Fahrenheit (218°C).

2Gently unwrap the ribs and scrape away the cilantro, garlic, and ginger (these can be discarded).

3Cut the rack into individual ribs or two to three bone portions. Place them in a 13-inch by 9-inch baking dish.

4Spoon most of the hoisin sauce over the ribs, ensuring they are well covered (save a little sauce for later). Flip the ribs so the meaty side faces down and move them around in the sauce for even coating. Bake the uncovered ribs for 3 to 5 minutes or until the sauce is beginning to bubble.

5Remove the baking dish from the oven ad flip them so the meaty side faces up. Tilt the baking dish and gather as much sauce as possible to spoon back over the ribs. This time, the sauce will be thicker. I like to add a little extra sauce on top at this point. Optionally, garnish with chopped peanuts, sliced pepper, and green onion.
Adam and Joanne's Tips
Make ahead: The baked ribs can be refrigerated in their packet of parchment paper and foil for up to two days. The hoisin sauce can be kept in the refrigerator for a month.
Removing the membrane: Place the ribs meat-side-down on a cutting board. Locate the thin membrane covering the rack, which can be tough when cooked. To remove, use a knife to gently slide under the membrane. Then using your fingers, pull the membrane away from the bones. If slippery or difficult to remove, use a kitchen towel to take hold of it and pull.
Hoisin sauce: Please avoid using store-bought hoisin sauce as a substitute for our homemade sauce. Our homemade sauce has a thinner consistency and is less salty compared to the store-bought version. If you were to do a direct swap, the ribs may not turn out as well.
Gochujang and a substitute: Traditional hoisin sauce incorporates fermented beans. We've included Gochujang (a spicy Korean condiment with rice and fermented soybeans). Substitute miso paste and, if you'd like to add some spice, add a dash or two of hot sauce or chili paste like sambal oelek.
Chinese five spice: A fragrant combination of star anise, fennel seeds, Szechuan peppercorns, cloves, and cinnamon. It is commonly found in the spice aisle of larger grocery stores.
Nutrition facts: The nutrition facts provided below are estimates. We have used the USDA database to calculate approximate values.
If you make this recipe, snap a photo and hashtag it #inspiredtaste — We love to see your creations on Instagram and Facebook! Find us: @inspiredtaste
Nutrition Per Serving
Serving Size
1/4 of the rack (3 to 4 ribs)
/
Calories
643
/
Total Fat
37.9g
/
Saturated Fat
11.8g
/
Cholesterol
142.8mg
/
Sodium
1066.8mg
/
Carbohydrate
32.7g
/
Dietary Fiber
1.1g
/
Total Sugars
25.2g
/
Protein
45.3g