Prepare to fall in love with our favorite steak marinade (it's seriously the best). Crafted with garlic, soy sauce, lemon juice, and Worcestershire sauce, it's a thick and clingy marinade that sticks to your steaks. We adore it, and we're confident you will too.
Related: We love this better than store-bought steak seasoning.
What is the Purpose of Marinating Steaks?
I used to be a salt and pepper girl when it came to steak. No marinades for me. That was until our friend Richard introduced us to his secret mud-style marinade. This easy steak marinade is loaded with umami and guarantees flavorful, juicy steak. Whether you're cooking flank steak, skirt or hanger steak, sirloin, or even a New York strip (trust me, it's fantastic), this marinade will take your steaks to a new level of deliciousness.
Marinating steaks serves two primary purposes: First, our umami-rich marinade enhances the natural beefy flavor of the steak, and second since we spoon extra marinade over the steaks while cooking, it creates a caramelized crust and even juicier results.
How Long Should I Marinate My Steaks?
When using our special mud-style marinade, we recommend marinating the steaks for 1 to 2 hours—no longer. This is because the lemon juice in the marinade can break down the steak's exterior if left for an extended period. We keep the marinating time short to preserve the steak's texture and flavor.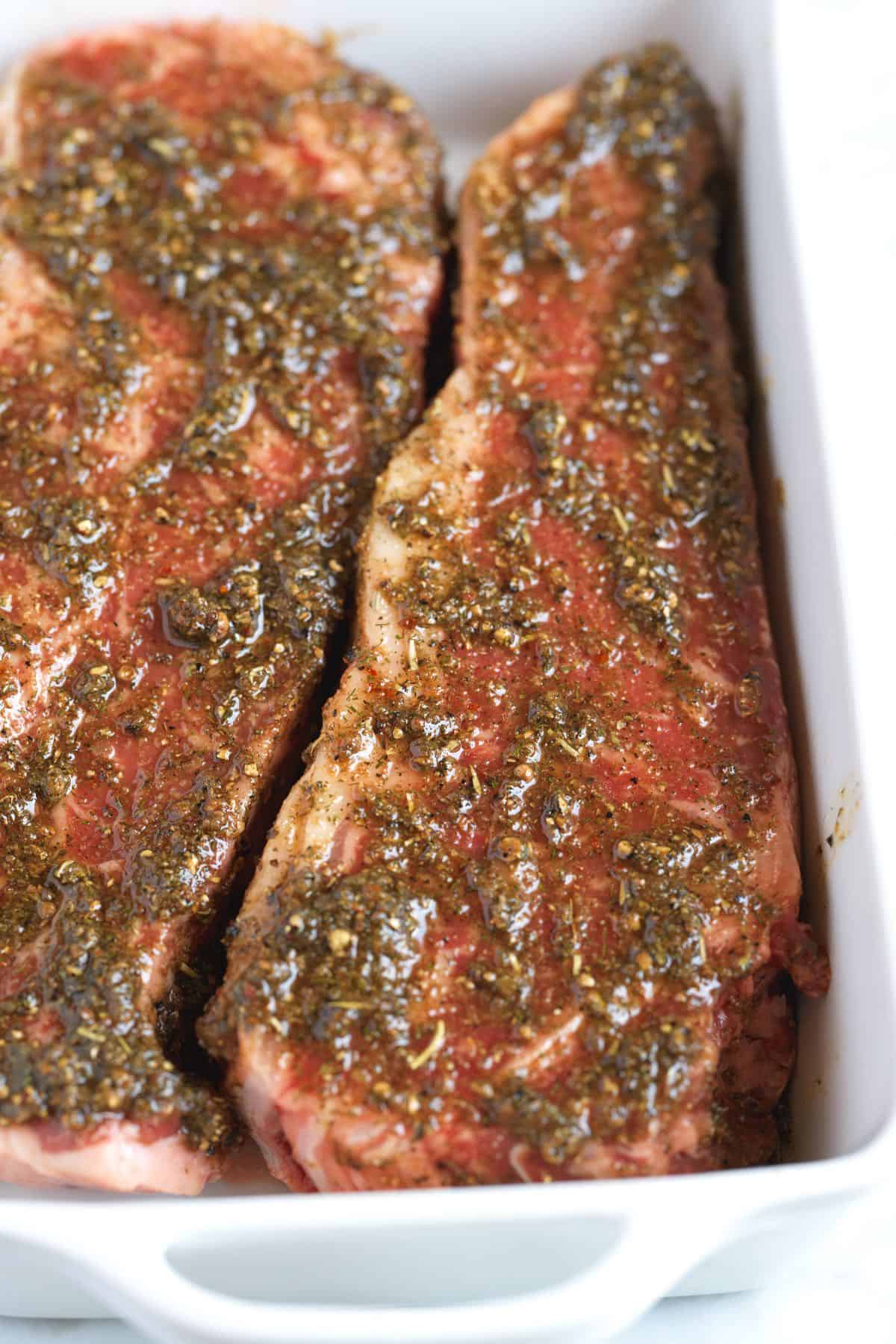 Steak Marinade Ingredients
I consider this one of the best steak marinades I've used. This particular marinade for steak belongs to the "mud" marinades group, known for its thick consistency and ability to stick to the steak. This guarantees that each and every bite is well coated, making it taste fantastic and look great. Our ultra-flavorful marinade calls for some key ingredients:
Our favorite steak seasoning creates the perfect balance of flavors. Feel free to use your favorite brand, but we highly recommend our homemade seasoning blend.
Garlic is classic and adds a lovely aroma.
Lemon juice brightens the flavors.
Soy sauce and Worcestershire sauce increase the richness and make the steak taste more beefy.
Can I Reuse the Marinade?
Just like when making our chicken marinade, we do not recommend reusing this marinade to ensure food safety due to the risk of cross-contamination from raw meat. It's best to prepare a fresh batch each time. We ask that you spoon the marinade over the steaks as they cook, but only while cooking. This makes sure that the marinade reaches an acceptable temperature.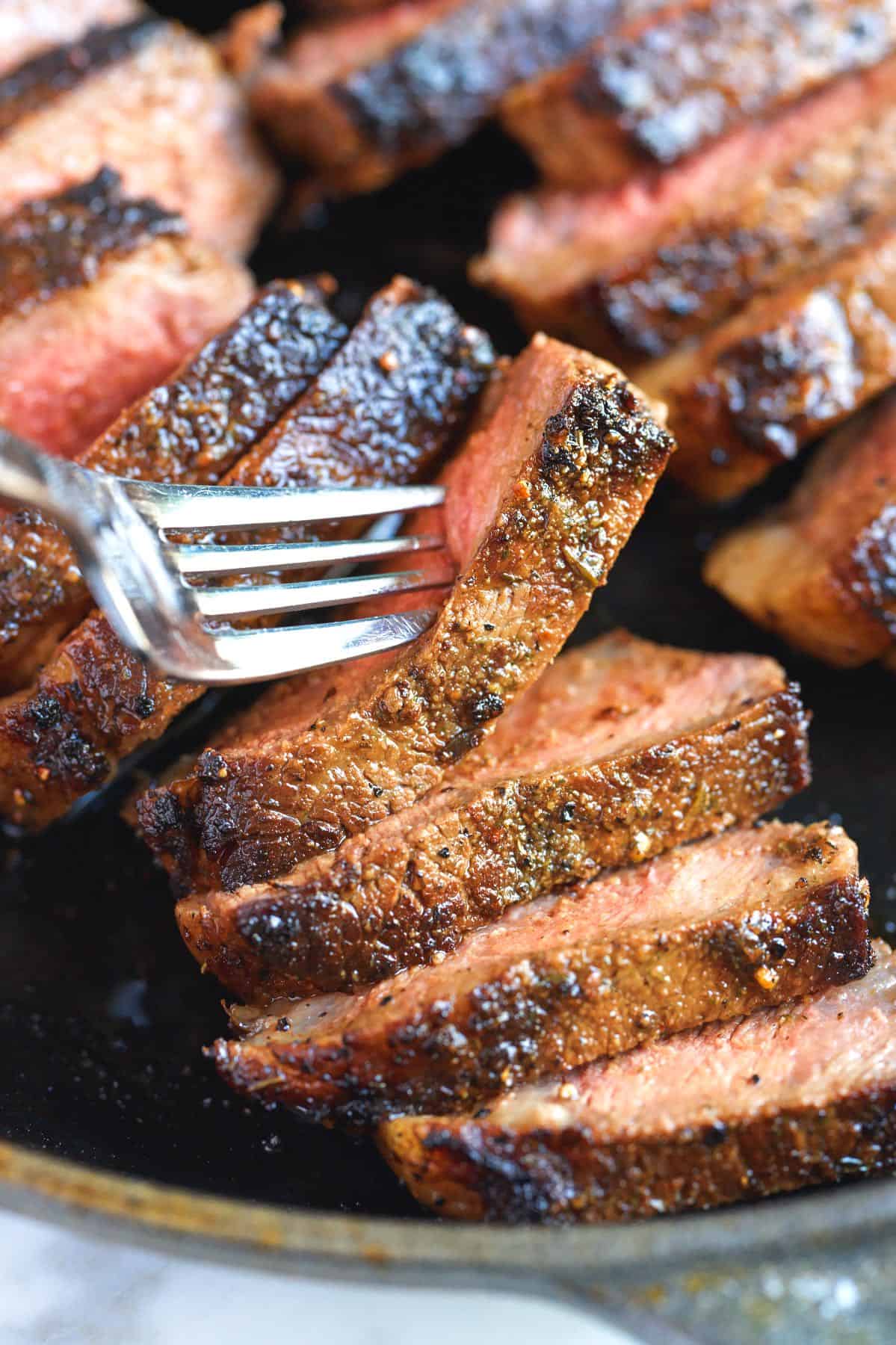 What Cooking Methods Work Best for Marinated Steaks?
This thicker, mud-style marinade works wonders on a barbecue or grill pan, infusing the meat with smoky flavors (see our recipe for grilled steak for tips on how to grill steak). Alternatively, you can achieve a beautifully seared crust while retaining juiciness by cooking the marinated steaks in a stainless-steel or cast-iron skillet. Both methods are explained in detail in our recipe below.
How Do I Determine the Doneness of Steak?
To ensure your steak is cooked to perfection:
Use an internal thermometer.
Remove the steak from the heat when it reaches the desired internal temperature: 125°F (52°C) for rare, 145°F (63°C) for medium, 150°F (66°C) for medium-well, or 160°F (71°C) for well-done.
Remember that the temperature will rise a few degrees during the resting period, so we have factored that into the temperatures mentioned above.
Our Favorite Steak Marinade
This easy steak marinade is a surefire way to enhance the natural flavors of your steaks. We highly recommend our homemade steak seasoning, but you can substitute your favorite store-bought seasoning blend. This marinade has a unique quality often referred to as "mud" due to its thicker consistency, which allows it to cling lovingly to your steaks.
Makes enough for two large or four small steaks
You Will Need
2 tablespoons steak seasoning; see our recommended homemade seasoning
2 tablespoons high-heat oil like avocado oil vegetable oil, or safflower oil
2 cloves garlic, grated or finely minced
2 teaspoons soy sauce
2 teaspoons lemon juice
2 teaspoons Worcestershire sauce
Directions
Marinating the Steak

1Combine the marinade ingredients and generously rub the mixture all over the steak. Allow the steak to marinate for up to 1 hour. While marinating for a bit longer is acceptable, we advise against exceeding two hours to achieve the best flavor, color, and texture.
Grilling or Using a Grill Pan

1Place the marinated steaks on the grill over medium-high heat and cook until golden brown and slightly charred, 4 to 5 minutes.

2Turn the steaks over and continue to grill until your desired doneness. Use the suggested internal temperature guide below. As the steaks cook, spoon the leftover marinade over them to enhance the flavors. If using an open flame, watch out for flare-ups.

3After cooking, let the steak rest for 5 minutes before serving or slicing.
Pan-Seared Steaks

1Preheat the skillet over medium-high heat (for 1 to 2 minutes), then add the marinated steaks to the pan. Cook the steaks, flipping them frequently, until they are well browned on all sides, including the edges. You can hold the steak sideways with tongs to sear any fat along the edges.

2Use the suggested internal temperature guide below to determine your preferred doneness. After cooking, allow the steak to rest for 5 minutes before serving or slicing.
Adam and Joanne's Tips
Internal temperatures and doneness: Keep in mind that steak continues to cook slightly after being removed from the heat.
Rare: Remove the steaks from the heat at 125°F (52°C).
Medium: Remove the steaks at 145°F (63°C).
Medium-well: Remove the steaks at 150°F (66°C).
Well-done: Remove the steaks at 160°F (71°C).
Gluten-free: Use certified GF soy sauce or tamari and Worcestershire sauce.
Nutrition facts: The nutrition facts provided below are estimates and are only for the marinade, not the steak. We have used the USDA database to calculate approximate values.
If you make this recipe, snap a photo and hashtag it #inspiredtaste — We love to see your creations on Instagram and Facebook! Find us: @inspiredtaste
Nutrition Per Serving
Serving Size
1/4 of the recipe, enough for 1 small steak
/
Calories
84
/
Total Fat
7.3g
/
Saturated Fat
1g
/
Cholesterol
0mg
/
Sodium
785.9mg
/
Carbohydrate
5.2g
/
Dietary Fiber
1.5g
/
Total Sugars
0.5g
/
Protein
1g