This simple steak seasoning is made in minutes and will last in your pantry for months. I love the citrusy notes from coriander and dill, and thanks to the onion powder, garlic powder, and salt, this steak rub really enhances the steak's natural flavor. We love it!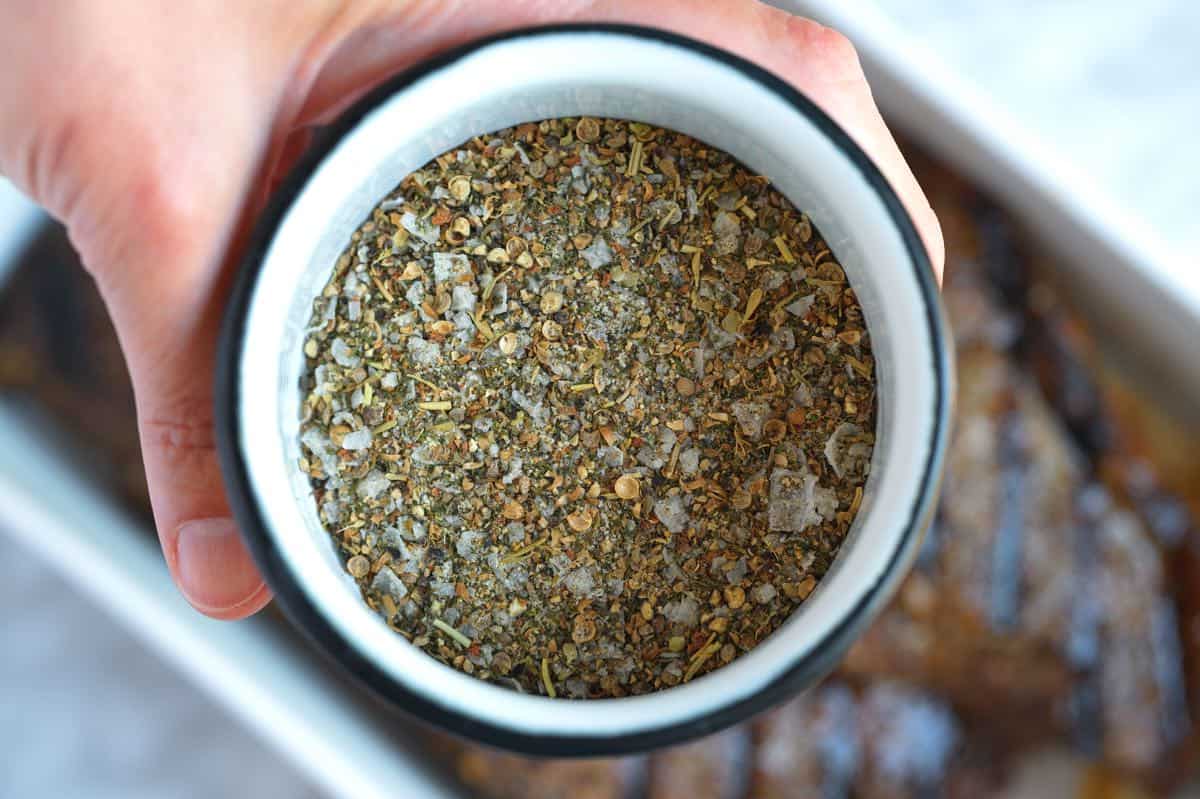 Related: We use this seasoning blend in our favorite steak marinade.
Steak Seasoning Ingredients
I'm thrilled to share this fantastic seasoning blend with you! You'll be happy to know that you probably have most ingredients in your spice cabinet. This blend has citrus, toasty, and savory flavors that perfectly enhance the natural taste of beef. Trust me. It's a game-changer!
Whether you're cooking flank steak, skirt or hanger steak, sirloin, tri-tip, ribeye, or even a New York strip, this rub will take your steaks to a new level of deliciousness. This recipe works for pan-seared steaks as well as a great grilled steak seasoning. Here's what you will need:
Black Peppercorns: Pungent and slightly spicy, black peppercorns add heat and complexity.
Coriander Seeds: Warm, citrusy, and slightly floral, toasted coriander seeds are my favorite addition to this blend.
Dried Dill: Dried dill lends a fresh, herbaceous taste with hints of anise and celery.
Onion powder and Garlic Powder: These savory staples provide umami notes and depth.
Italian Herb Seasoning (like McCormick): A blend of dried herbs like oregano, basil, thyme, and rosemary adds a Mediterranean flavor profile.
Flaky Sea Salt (like Maldon): Delicate crunch and balanced saltiness enhance the overall taste.
Cavender's Greek Seasoning or Generic All-Purpose Seasoning: Adds flavor and a mix of aromatic elements.
Aleppo Pepper or Red Pepper Flakes: Provides mild heat with fruity undertones.
To make the best steak seasoning, we toast peppercorns with whole coriander seeds until fragrant first. Then crush them until they are a course grind (use a bag and rolling pin, mortar and pestle, or spice grinder). Toasting these two spices enhances the flavor so much. Once they are toasted and crushed, we stir in the remaining spices. Easy!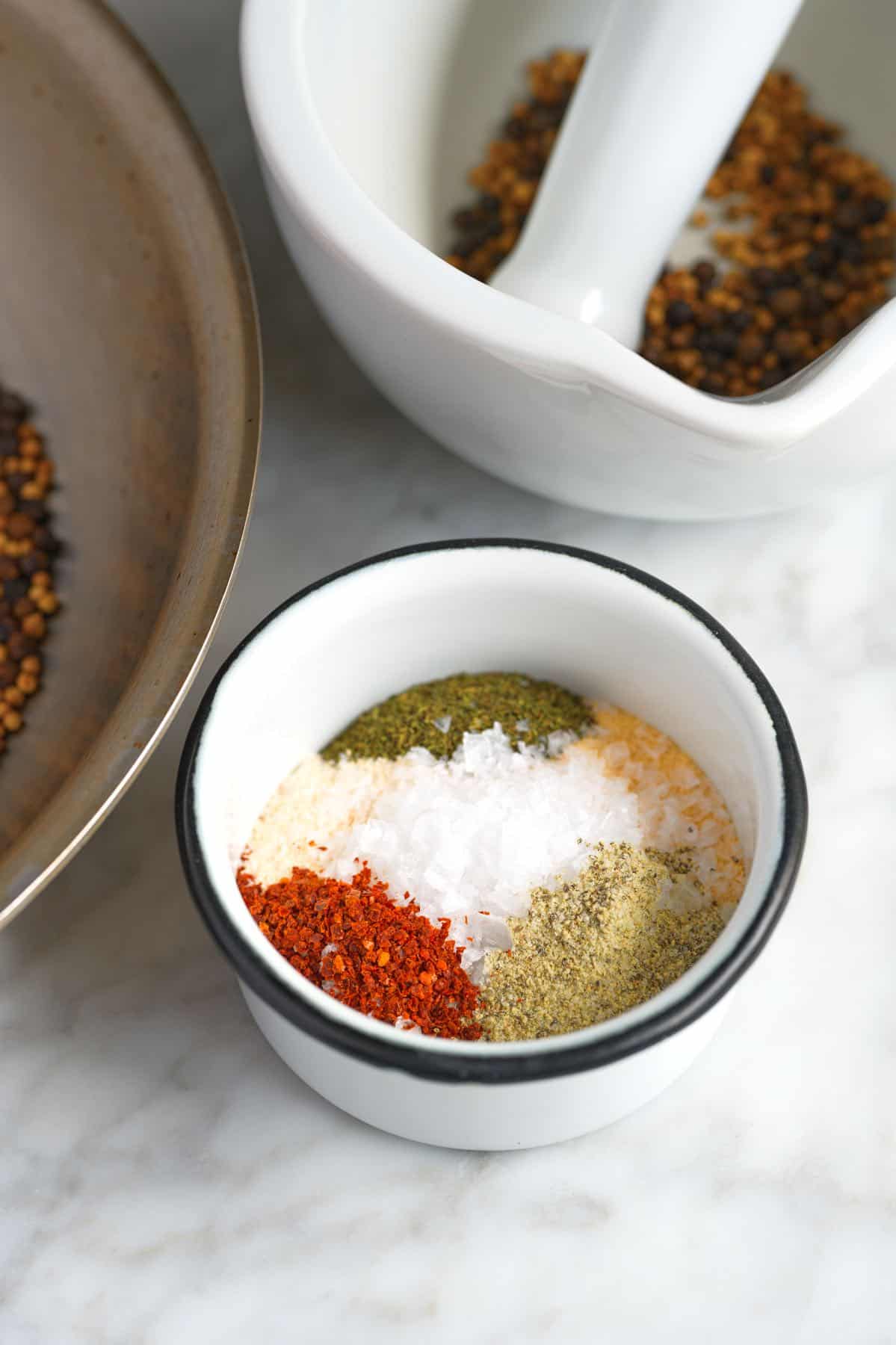 How to Use Steak Seasoning
I'm pretty liberal with how much seasoning I sprinkle onto steaks. Use a tablespoon of homemade steak seasoning per pound of steak (I know that sounds like a lot, but trust me).
This seasoning makes a great dry rub for steak. Sprinkle each side of your meat evenly (and generously) with the seasoning, and gently rub in the seasoning to thoroughly coat all of your meat. I usually rub a little high-heat oil over the meat, too. We use this steak rub in our grilled steak recipe.
We also use this seasoning blend to make our favorite steak marinade. It's fantastic. We mix it with extra garlic, lemon juice, soy sauce, and Worcestershire sauce to make an outrageously flavorful marinade.
You can also use this seasoning blend for other proteins like chicken, pork, and turkey. And my current favorite use for it: veggies! Honestly, this is my current go-to veggie seasoning.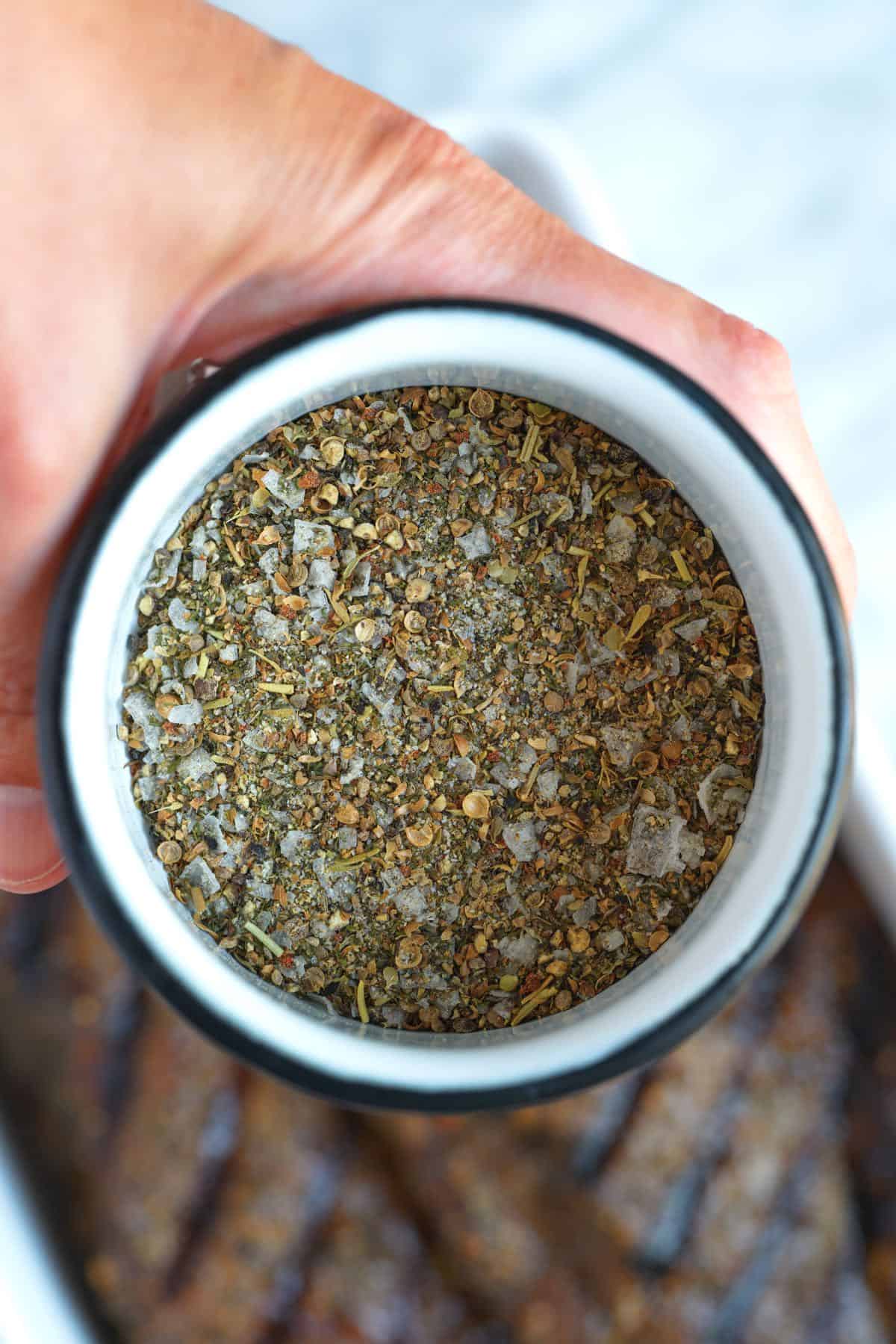 How to Store Homemade Seasoning Blends
This steak seasoning recipe makes about eight tablespoons, which should last for several steaks. To ensure its freshness and flavor, follow these three tips:
Use airtight containers that are clean and dry.
Label and date the container, then store in a cool, dark place. Avoid moisture and heat.
Use within 6 to 12 months.
For more homemade seasoning blends, take a look at Cajun seasoning no. 4, our essential mushroom powder, this easy seasoned salt, and our homemade chili powder.
Best Steak Seasoning (Better Than Store-Bought)
This homemade steak seasoning is quick to make and has a long shelf life. The combination of coriander, dill, onion powder, garlic powder, and salt brings out the steak's natural flavors.
You Will Need
1 ½ tablespoons whole black peppercorns
1 ½ tablespoons whole coriander seeds
1 tablespoon dried dill
1 tablespoon onion powder
1 tablespoon garlic powder
2 teaspoons Italian herb blend or Italian seasoning, like McCormick
1 tablespoon + 1/2 teaspoon flaky sea salt, like Maldon
1 teaspoon Cavender's Greek Seasoning or generic all-purpose seasoning like Mrs. Dash
1/2 teaspoon Aleppo pepper or red pepper flakes
Directions
1Place the peppercorns and coriander into a skillet over medium heat. Toast just long enough to become fragrant, about 3 minutes. Cool to room temperature.

2Add toasted peppercorns and coriander to a resealable bag and smash with a rolling pin. Alternatively, use a mortal and pestle or spice grinder if you have one. When they are cracked and smashed, mix them with the remaining spices.

3Store in an air-tight jar, in a cool, dark place, for up to 1 year. When using, we use 1 tablespoon of the seasoning blend for 1 pound of meat.
Adam and Joanne's Tips
Nutrition Per Serving
Serving Size
1 tablespoon
/
Calories
16
/
Total Fat
0.3g
/
Saturated Fat
0.1g
/
Cholesterol
0mg
/
Sodium
685.5mg
/
Carbohydrate
3.6g
/
Dietary Fiber
1.3g
/
Total Sugars
0.1g
/
Protein
0.7g