How to make a simple salad of greens, blueberries, blue cheese, walnuts and a creamy homemade dressing. Jump to the Simple Salad with Blueberries, Blue Cheese and Walnuts or read on to see our tips for making it.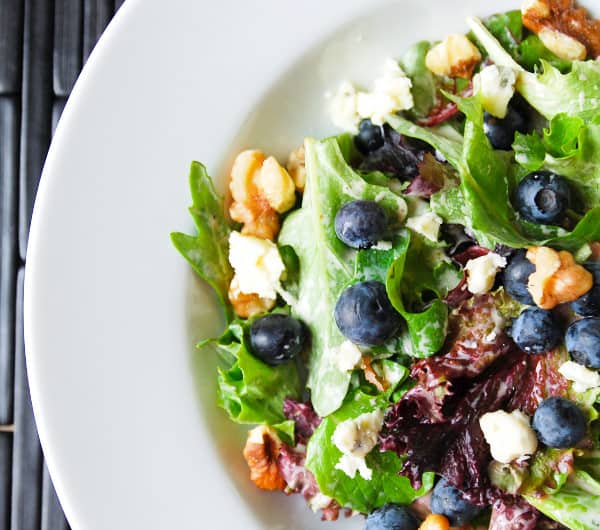 I know that buying the store-bought bottle of salad dressing is easy, but making your own dressing at home makes a better salad in the end. You get to control the acid and salt. I really love my oil to acid ratio — whether it is lemon or vinegar — to be higher on the acid side of things. That lets us add lots of extras to our salads like blue cheese and nuts without the salad feeling heavy.
For this salad, we go for a slightly sweetened creamy dressing. The acid is still kept high, but we balance it out a bit with some sour cream and strawberry jam. We've used jam before for homemade dressing — see our homemade strawberry balsamic dressing recipe.
As for the salad ingredients, you can add or take away what you like. I love crumbled cheese in salads — especially blue cheese, goat cheese or feta. The walnuts are nice and add a buttery crunch. You could always add some protein to this. Roasted shrimp or pan roasted chicken breast would be excellent.
YOU MAY ALSO LIKE: A mixture of lettuce, pasta, cool cucumber, red onion, olives and feta cheese is topped with a homemade creamy yogurt dressing. Jump to the Easy Greek Salad with a Creamy Yogurt Dressing.
Recipe updated, originally posted January 2010. Since posting this in 2010, we have tweaked the recipe to be more clear. – Adam and Joanne
Simple Salad with Blueberries, Blue Cheese and Walnuts
When it comes to the dressing, make sure you taste along the way. We love our dressings on the acidic side, but if that's too much for you, add a bit more sour cream, jam or olive oil.
You Will Need
2 tablespoons sour cream
1 tablespoon red wine vinegar
1 tablespoon extra-virgin olive oil
1 teaspoon Dijon mustard
1 teaspoon strawberry jam
Salt and fresh ground black pepper
4 cups baby lettuce leaves
1/2 cup blueberries
1/3 cup walnut halves, lightly toasted
1 ounce blue cheese, crumbled
Directions
1Toast walnuts in a dry skillet over medium heat, shaking frequently, until fragrant, browned, and not burned.

2In a large bowl, whisk the sour cream, red wine vinegar, olive oil, mustard and jam together. Taste and season with salt and a few grinds of black pepper. Pour out about half of the dressing into a small bowl. Add lettuce, blueberries, walnuts and the cheese to the large bowl and gently toss. Add more dressing as needed.