This roasted portobello mushroom recipe with eggs is perfect for breakfast, brunch, or dinner. Jump to the full Portobello Mushroom and Eggs recipe or read on to see how we make it.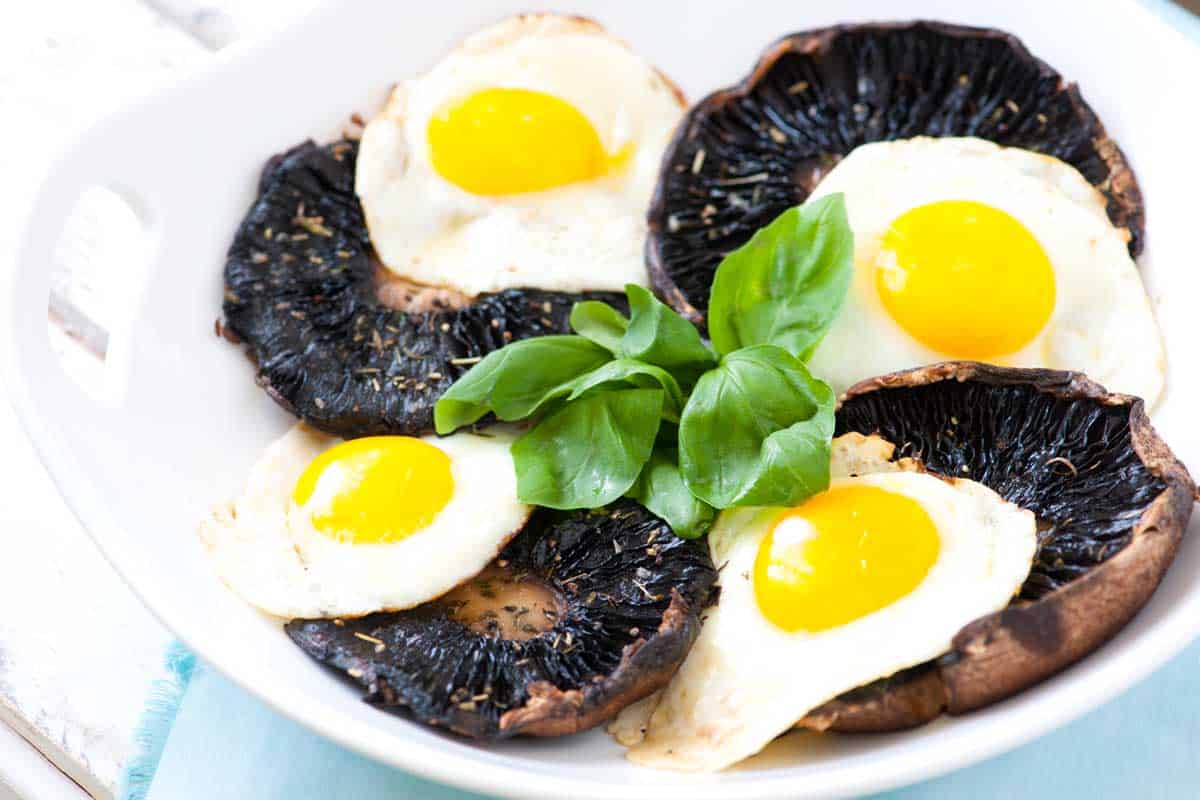 We are always on the lookout for easy and healthy portobello mushroom recipes. Portobello mushrooms are easily available year-round and even though they are low on calories, they pack a hearty punch. This combination of roasted mushrooms and eggs is one of our favorite healthy breakfasts. It's full of flavor, light on carbs, and keeps us full until lunch. This time, we've made our eggs sunny side up, but this is absolutely delicious with scrambled eggs.
If scrambled eggs are more up your alley, take a look at our secrets for making the best scrambled eggs. You could stuff the roasted mushroom caps with the scrambled eggs.
A Crash Course in Portobello Mushrooms
Before I get to the recipe, let me show you how we choose, prepare and cook portobello mushroom caps.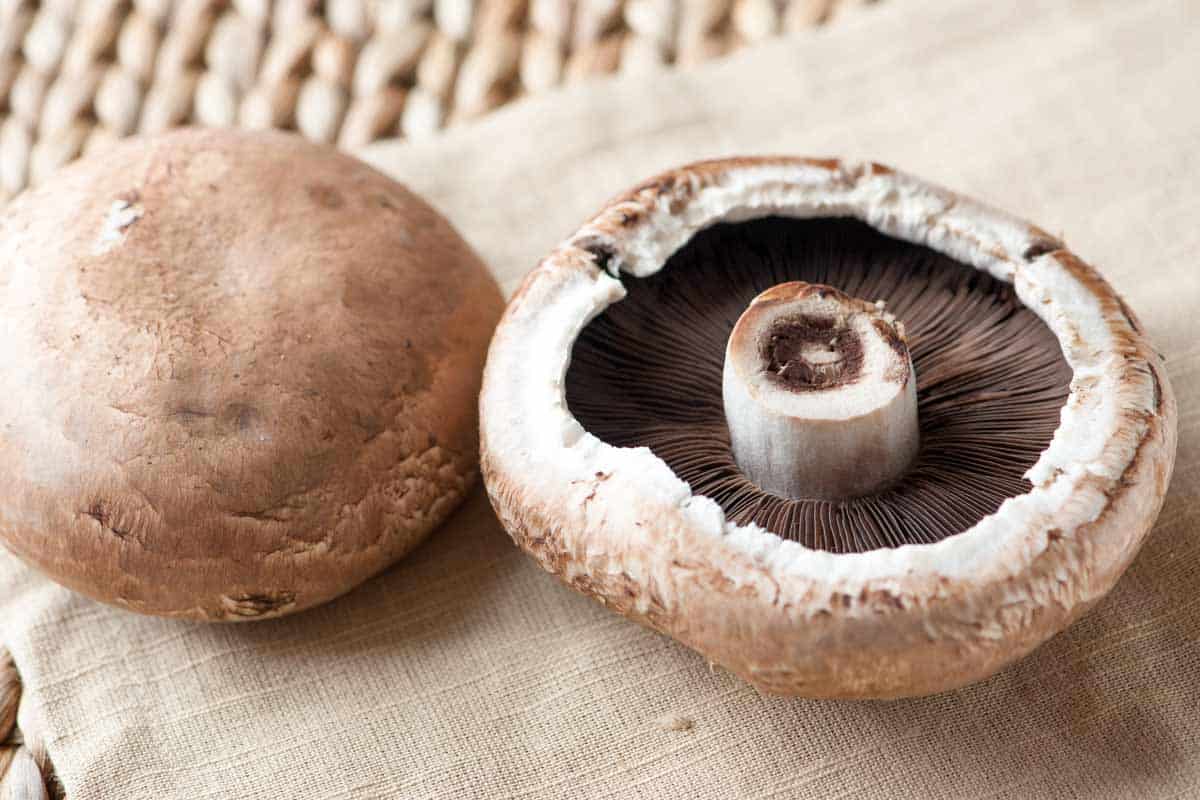 How to Choose and Store Them
When choosing portobello mushrooms, look for firm and plump mushroom caps. If you can, buy the mushrooms individually instead of in the wrapped packages. The unwrapped mushrooms always seem more firm and fresh.
By the way, when you get home from the store, consider removing any wrapping and arranging them in one layer on a plate or tray. Cover them with paper towels, and then store in the refrigerator. The mushrooms should keep for about 1 week this way.
How to Prepare Them
Whether you are roasting, sautéing, or grilling the mushrooms you will need to follow the following steps:
Remove the stem (it can be tough)
Wipe the top and sides of the mushroom cap with a damp paper towel to brush off any dirt
Lightly brush or coat with olive oil or other cooking oil
Sprinkle both sides with salt, freshly ground black pepper and, if using, some herbs.
Now you're ready to cook the mushrooms.
How to Cook Portobello Mushrooms
We love mushrooms cooked multiple ways, but our two favorite ways to cook portobello mushrooms are to roast them or grill them. In our portobello mushroom recipe below, we roast them.
To roast them, simply heat your oven to 375 degrees F and roast until tender, about 25 minutes.
If you were hoping to grill them, simply grill the mushrooms on a hot grill for a few minutes on each side.
Making our Roasted Portobello Mushroom Recipe with Eggs
This recipe is relatively hands-off. Once the mushrooms are in the oven, you really don't need to do anything until 5 minutes before they are done.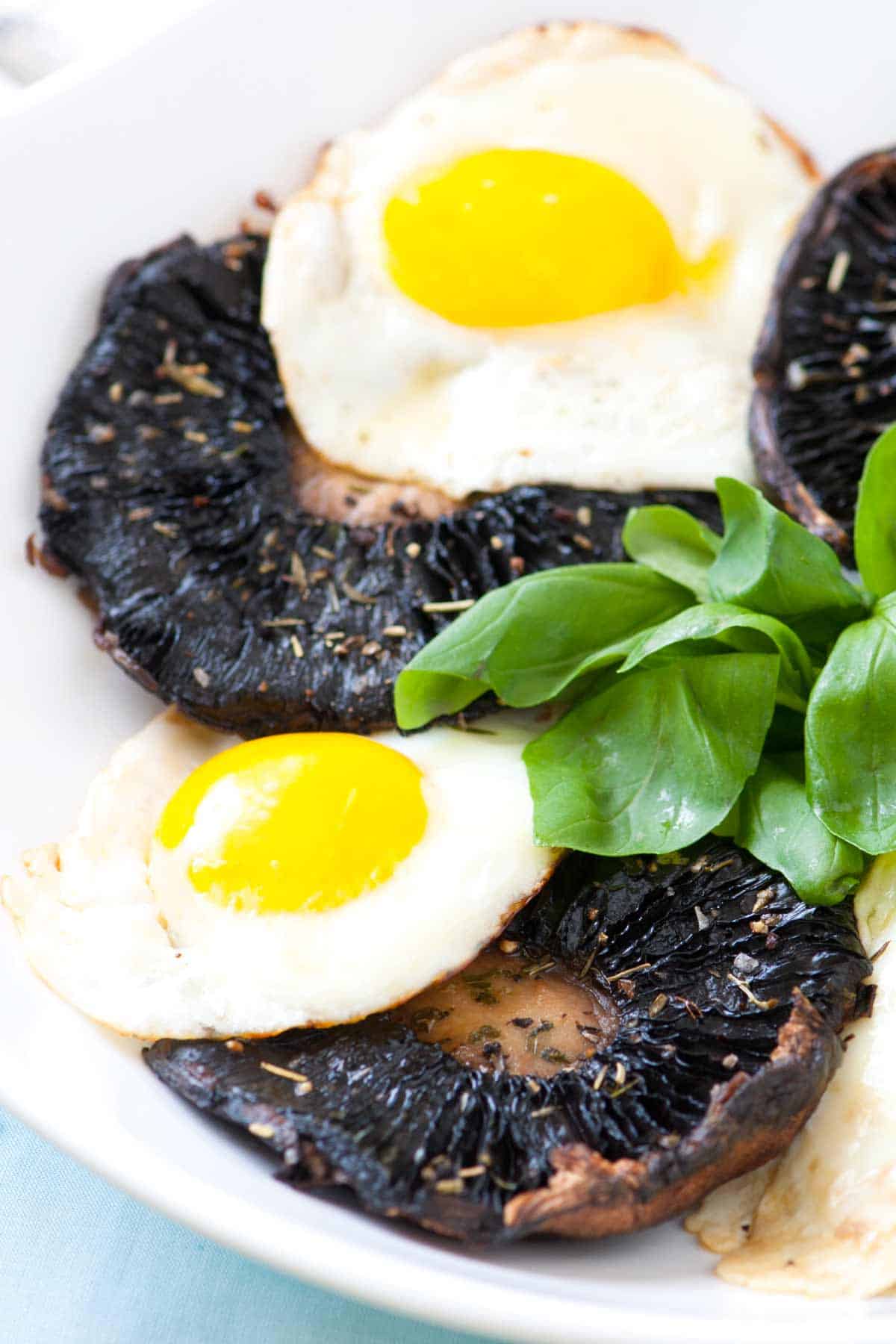 You can play around with different herbs and seasonings. For something meaty, try a steak seasoning or for mushrooms that taste smoky, add a pinch of smoked paprika or chipotle chile powder before roasting. Herbs such as rosemary and thyme are also delicious.
Recipe updated, originally posted May 2011. Since posting this in 2011, we have tweaked the recipe to be more clear. – Adam and Joanne
Easy Roasted Portobello Mushrooms with Eggs
This simple recipe for roasted portobello mushrooms and eggs works for breakfast, brunch, or dinner. For a heartier meal, serve with a slice or two of bread to soak up all the egg yolk and juices from the mushrooms.
You Will Need
4 medium portobello mushroom caps
Extra-virgin olive oil
4 large eggs
Salt and fresh ground black pepper
Directions
1Heat the oven to 375 degrees F. Line a baking sheet with parchment paper.
Remove the stem and wipe the top and sides of each mushroom cap with a damp paper towel to brush off any dirt. Lightly brush with about 2 teaspoons of olive oil and season both sides of the mushrooms with salt and pepper. Bake the mushrooms bottom-up until tender and juices are collecting in the center, about 25 minutes.

2Just before serving, heat a non-stick skillet over medium heat. Add a little oil, and then crack the eggs into the pan. Cook until the egg white is opaque and the yolk still runny, 1 to 2 minutes.
Adam and Joanne's Tips
For more flavor, add a spice blend or mixture of chopped fresh herbs to the mushrooms before roasting. Dill, rosemary, and thyme are a few of our favorites.
If you make this recipe, snap a photo and hashtag it #inspiredtaste — We love to see your creations on Instagram and Facebook! Find us: @inspiredtaste