Quick and easy baked ziti recipe with fresh spinach, artichokes, and a creamy pesto layer. Jump to the Easy Baked Ziti Recipe or read on to see our tips for making it.
If there's one thing that will instantly make our knees buckle, it's baked ziti. Just the thought of it makes us gasp. This easy version starts with pasta tossed with marinara sauce. We add lots of fresh spinach and a whole jar of quartered artichokes. Then we sneak a layer of sour cream mixed with pesto in the middle. It's ridiculously good!
YOU MAY ALSO LIKE: This Baked Ziti Recipe with Shrimp and Spinach. It's a little lighter and has perfectly cooked shrimp, feta cheese, and a light marinara sauce.
How to Make Seriously Good Baked Ziti with Spinach, Artichokes, and a Creamy Pesto Layer
This recipes comes together fast. Let me show you how to make it.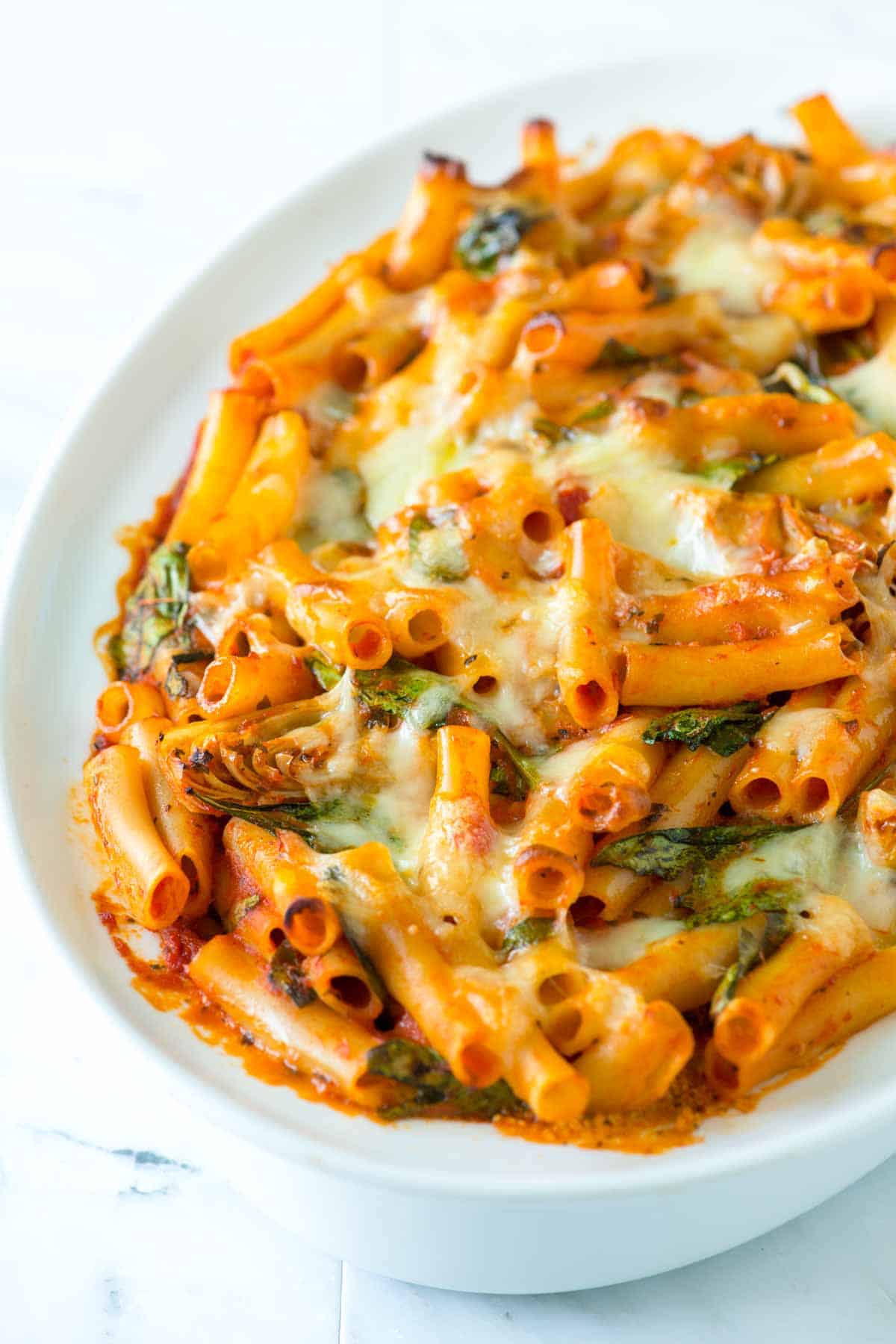 Start by cooking your pasta, but undercook it by 1 to 2 minutes. This way, when we toss it with the marinara sauce and bake so the cheese melts and browns, the pasta won't become mushy. Once cooked, drain the pasta, but reserve some of the hot pasta water for later. Then toss the pasta into a big bowl with marinara sauce, fresh spinach, and the artichokes. For the artichokes, we use canned artichokes that have been drained.
You'll notice that the spinach will begin to wilt from the heat of the pasta, but to wilt it down even more and to create a sauce, pour in some of the reserved pasta water.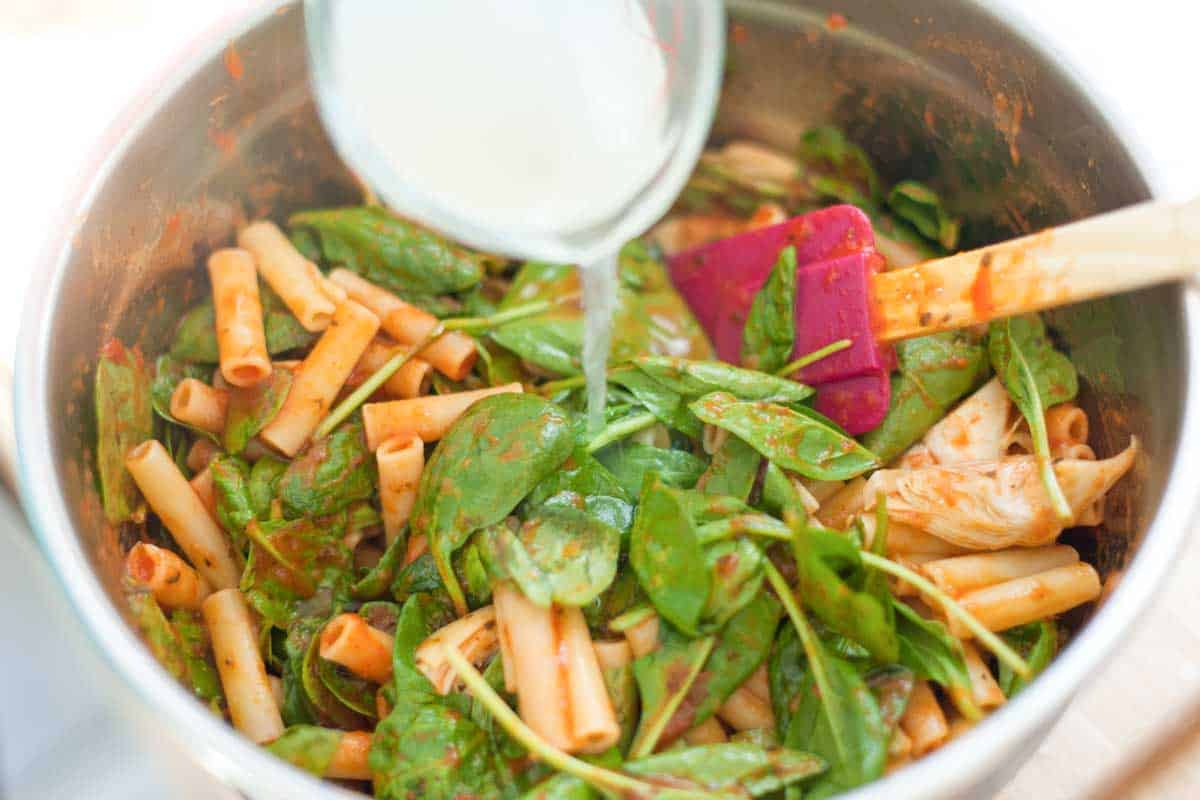 Spoon about half of the ziti, spinach, and artichokes into a baking dish then add a layer of creamy pesto. To make it, we stir sour cream and pesto together (it's so good).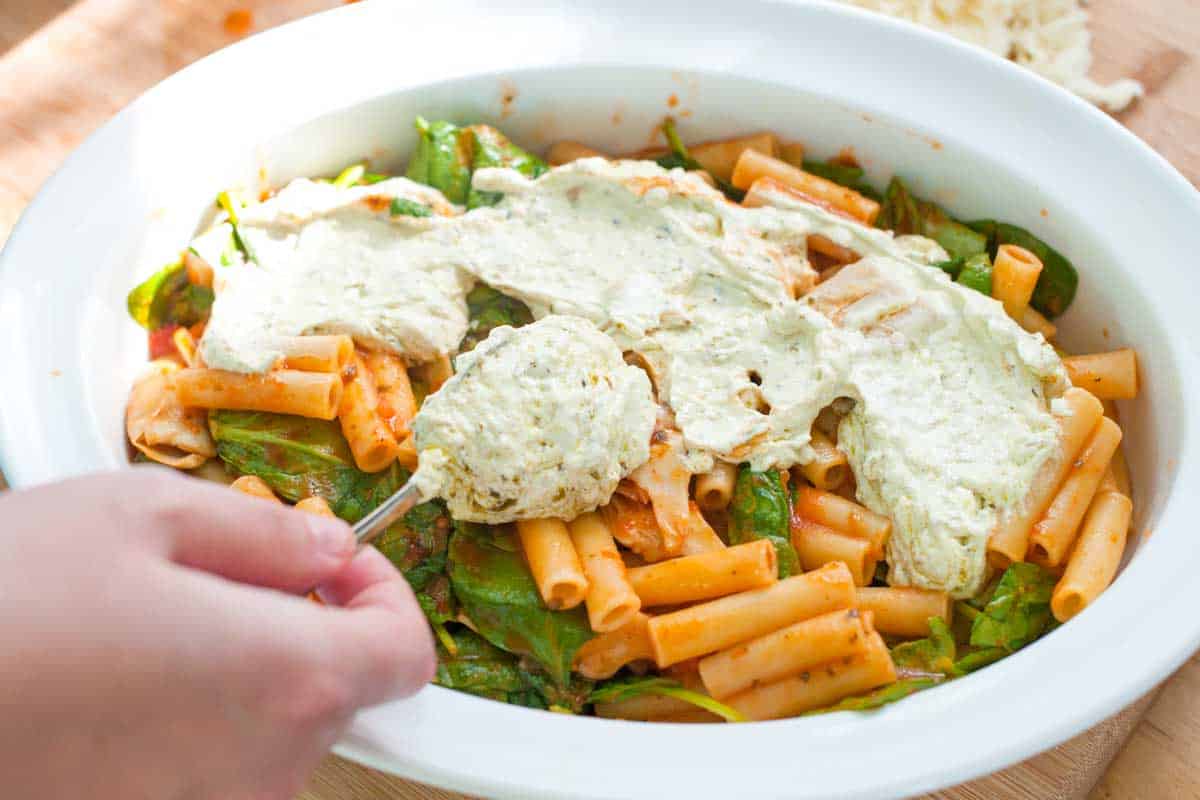 Add some mozzarella cheese then top with the rest of the ziti, spinach, and artichokes. Finish the top with more mozzarella then bake until the sauce is bubbling and the cheese has melted. We love this meatless, vegetarian inspired ziti and hope you will too.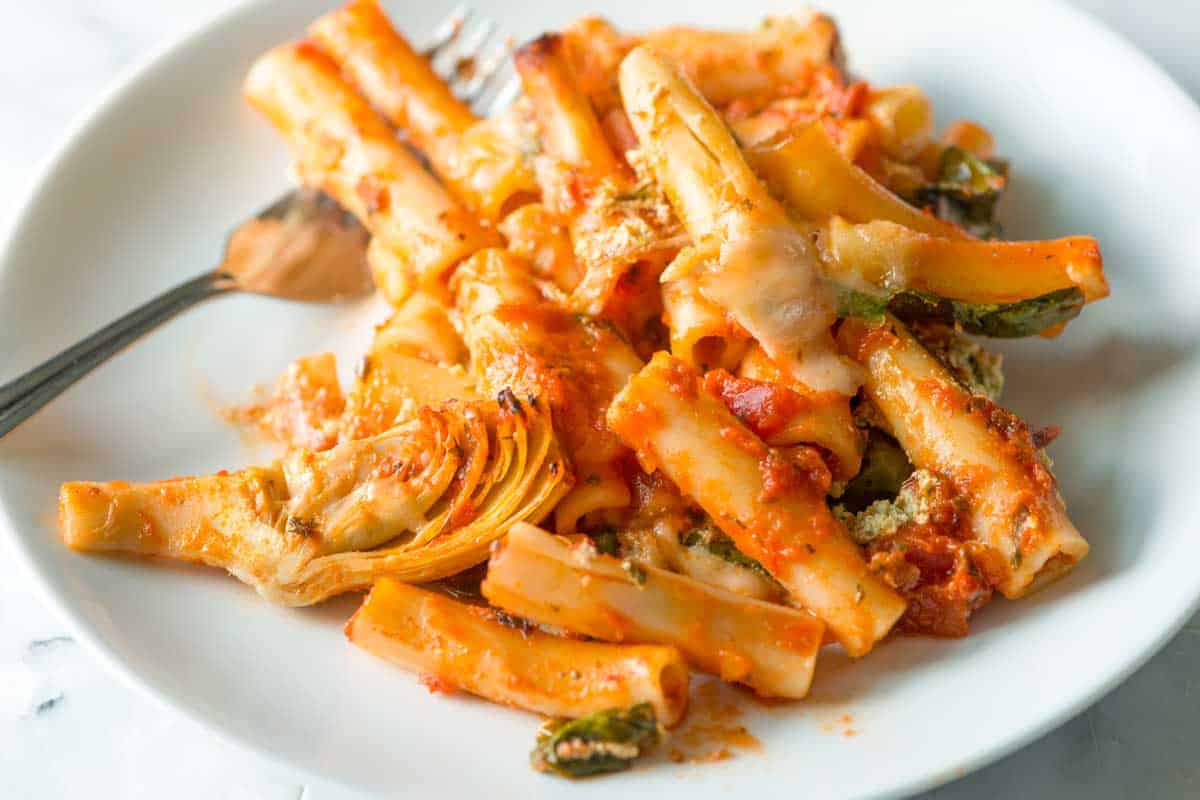 YOU MAY ALSO LIKE: Our popular recipe for Stuffed Shells with Sausage and Spinach. Pasta shells are filled with a mixture of sausage, spinach and ricotta cheese. Delicious!
Recipe updated, originally posted October 2012. Since posting this in 2012, we have tweaked the recipe to be more clear. – Adam and Joanne
Easy Baked Ziti Recipe with Spinach
With about 15 minutes of hands-on time this easy baked ziti is perfect for busy nights. A layer of sour cream, pesto, and cheese is sandwiched in the middle of the ziti, making it extra good. If you do not have sour cream, substitute with cream cheese, cottage cheese, or ricotta cheese.
Makes approximately 8 servings
You Will Need
1 pound pasta, such as ziti, penne, or rigatoni
Salt
3 cups marinara sauce, see our homemade marinara sauce recipe (or substitute one 26-ounce jar store-bought sauce)
1/4 cup basil pesto, see our homemade basil pesto recipe
3/4 cup sour cream
6 ounces baby spinach
One 12-ounce jar artichokes, drained and roughly chopped
4 ounces mozzarella cheese, coarsely grated (about 1 cup)
Directions
Prepare Ziti

Heat oven to 350 degrees F. Butter a 3-quart baking dish or spray with non-stick cooking spray.

Bring a large pot of salted water to the boil, add the pasta then follow package directions, but cook 1 to 2 minutes less than the package calls for. Reserve 1/4 cup of the pasta water then drain.

Meanwhile, warm the marinara sauce in a saucepan over medium heat.

In a small bowl, stir basil pesto and the sour cream together until well blended.

Add the cooked pasta to a large bowl with the spinach, artichokes, warmed marinara, and the reserved pasta water. Toss until the spinach has wilted and everything is well combined.

To Finish

Spoon half of the pasta and spinach mixture into the baking dish. Spread the sour cream and pesto mixture over the pasta and scatter with half of the mozzarella cheese. Top with the remaining pasta, lightly press everything down into the baking dish, and then scatter remaining mozzarella cheese on top.

Place the baking dish onto an aluminum-lined baking dish (just in case any sauce drips over the sides of the baking dish). Bake until the cheese has melted and the sauce is bubbling; about 30 minutes. Let stand about 10 minutes before serving.