Banana, peanut butter and chocolate sandwiches are perfect for a snack and even dessert. Jump to the Banana, Peanut Butter and Chocolate Sandwiches Recipe or read on to see our tips for making them.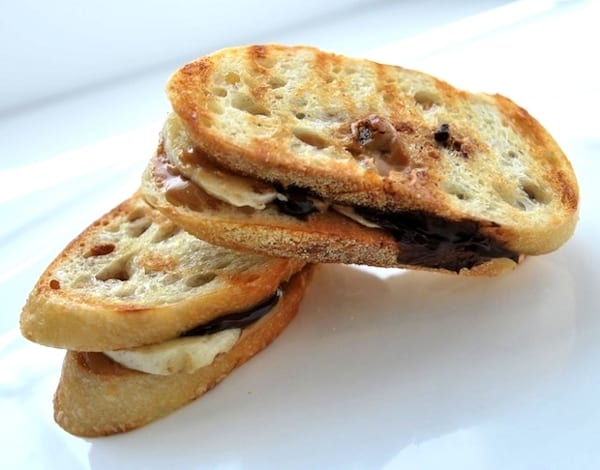 These are just a easy as making a grilled cheese, but instead of the cheese, we spread peanut butter on the bread and top with sliced bananas and chocolate. After grilling we add a little sea salt on top.
YOU MAY ALSO LIKE: Let's talk about why you need to make peanut butter at home. It's simple to make — all you need is a food processor and 15 minutes. Jump to the full Peanut Butter Recipe
Recipe updated, originally posted September 2009. Since posting this in 2009, we have tweaked the recipe to be more clear. – Adam and Joanne
Banana, Peanut Butter and Chocolate Sandwiches
Try sprinkling the finished sandwiches with a little sea salt. The peanut butter can be swapped for any nut or seed spread.
You Will Need
4 slices bread
2 to 3 tablespoons peanut butter, see our homemade peanut butter recipe
1 medium banana, sliced
Chocolate bar, broken into squares
Non-stick cooking spray or melted butter for cooking
Sea salt for tops
Directions
1Heat a griddle or pan over medium heat.

2Spread peanut butter onto all four bread slices. Layer the banana and chocolate pieces on two of the bread slices and top with second slice of peanut butter slathered bread.

3Spray griddle or pan with cooking spray (or melt butter) and then cook 2 to 3 minutes on each side, or until the chocolate is gooey and the bread is lightly toasted. Lightly sprinkle sea salt on top.