How to make stout beer burgers topped with a homemade stout barbecue sauce. Jump to the Stout Beer Burger Recipe or read on to see our tips for making it.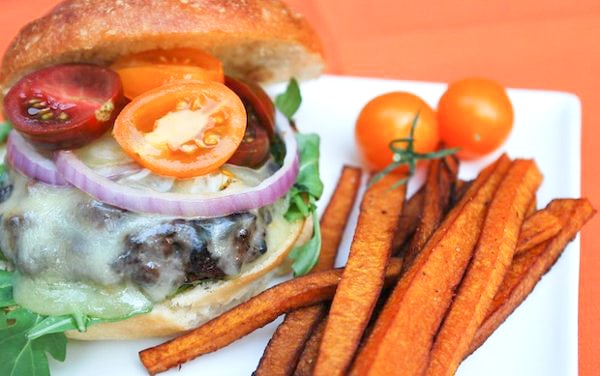 We love burgers around here — big, juicy burgers. We've even shared our tips for making them best. This burger recipe pulls out all the stops. We add stout beer, mustard and garlic to the meat before forming the burgers then we add a homemade barbecue sauce on top after they are cooked.
YOU MAY ALSO LIKE: Learn our best tips for making a better hamburger including the best meat to use, how to cook them, and when to know they are done. Jump to the Simple Hamburger Recipe.
The barbecue sauce is made with one of Adam's favorites — Guinness stout beer. It's really easy to make — just throw the beer, vinegar, tomato puree, spices and some molasses into a saucepan and simmer until thick.
To go alongside the burgers, we love making butternut squash fries. They're so delicious — if you've ever had sweet potato fries, these are very similar. We fried them this time, but baking works, too.
YOU MAY ALSO LIKE: Perfectly grilled burgers topped with homemade queso sauce, salsa and avocado. Jump to the Queso Blanco Burger Recipe.
Recipe updated, originally posted October 2009. Since posting this in 2009, we have tweaked the recipe to be more clear. – Adam and Joanne
Stout Beer Burger Recipe with Butternut Squash Fries
Choose your favorite stout beer for this, we love using Guinness.
You Will Need
Beer Burgers
1 pound ground beef (80% lean)
1 tablespoon olive oil, plus more for brushing the grill
1 egg, whisked
1/4 cup Stout beer
2 teaspoons prepared Coleman's mustard
1 garlic clove, minced
1/2 teaspoon sea salt
1/2 teaspoon black pepper
4 slices cheese
4 burger buns, buttered and toasted
Arugula, tomato and sliced onion for serving
Barbecue Sauce
1 tablespoon olive oil
1 medium onion, chopped small
1/4 cup molasses
1 (12-ounce) can stout beer (Guinness)
1/4 cup apple cider vinegar
1 (6-ounce) can tomato puree
1 teaspoon red pepper flakes
1 teaspoon cumin
1 tablespoon brown sugar
Salt and fresh ground black pepper
Squash Fries
3 to 4 cups peanut oil or a neutral oil like canola, more as needed
1 large butternut squash, peeled with seeds removed
Salt and fresh ground black pepper
Directions
Make Burgers

1Heat the grill to medium (or place a grill pan over medium heat).

2In a large bowl, stir the olive oil, egg, beer, mustard, garlic, salt and pepper. Add the beef and gently mix until blended. Form beef into four hamburger patties. Use your thumb to imprint a dimple into the middle of each burger. (This prevents the middle of the burgers from puffing up while cooking).

3Lightly brush the grill with oil and place each burger patty down onto the oiled grill. Leave the patties for 4 minutes, flip and cook for another 4 to 5 minutes or until desired doneness (4 to 5 minutes on each side should be cooked to medium). Transfer burgers to a plate and top with cheese, loosely cover with aluminum foil and rest 5 minutes.

4Place a handful of arugula on the bottom of each bun. Add the burger, spoon stout barbecue sauce on top and finish with sliced onion and tomato.
Make Barbecue Sauce

1Heat oil in a saucepan over medium heat. Add onions and cook until softened, about 5 minutes. Stir in the molasses, beer, vinegar and tomato puree, red pepper flakes, cumin and the sugar. Bring to a simmer. Add salt and pepper to taste — we usually add about 1/2 teaspoon of salt and 5 to 6 grinds of black pepper.

2Reduce the heat to medium low and cook at a low simmer until the sauce thickens into a glossy sauce, about 20 minutes.
Squash Fries

1Pour oil into a deep, heavy-bottomed pot with a lid. Do not fill the pot more than 1/2 full with oil. Heat oil over medium-high heat to 320 degrees.

2Set a rack on a baking sheet or tray.

3Cut the squash in half, and then into long fries. Working in small batches, fry the squash fries in the oil until floppy, about 3 minutes. Transfer to the rack to drain.

4Increase the temperature of the oil to 375 degrees. Place the fries back into the oil (again, in small batches) and cook until crisp and golden brown, 2 to 3 minutes. Transfer to the rack to drain. Season with salt and pepper.
Adam and Joanne's Tips
Baked Butternut Squash Fries: Preheat the oven to 425 degrees. Toss the fries in a little olive oil, salt and pepper. Bake in the oven 25 to 35 minutes or until golden brown, flipping the fries once during cooking.
If you make this recipe, snap a photo and hashtag it #inspiredtaste — We love to see your creations on Instagram and Facebook! Find us: @inspiredtaste