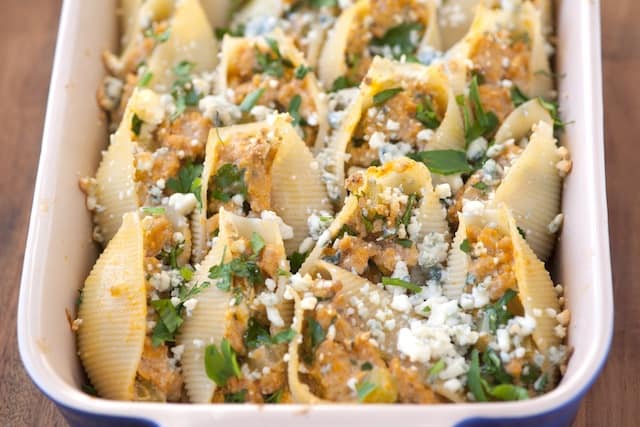 We couldn't help ourselves. After Taco Stuffed Shells and Sausage and Spinach Stuffed Shells, we were craving another version. Since Adam has been contriving various ways to make hot wings again, he jumped at the chance to suggest all those flavors should go into their own shell.
How to make Buffalo Chicken Stuffed Shells
Start by heating a large frying pan over medium-high heat, add some olive oil and the ground chicken (you could totally use beef or turkey here). Once the chicken has browned, add some garlic powder.
Throw in some diced celery. Cook the celery until tender, but not mushy.
Now, for the star Frank's Cayenne Pepper Sauce. We add 6-7 tablespoons. You should add a tablespoon at a time, tasting after each until you are happy with the level of spice. Just remember, we are going to add some ricotta cheese, which cools everything down a bit.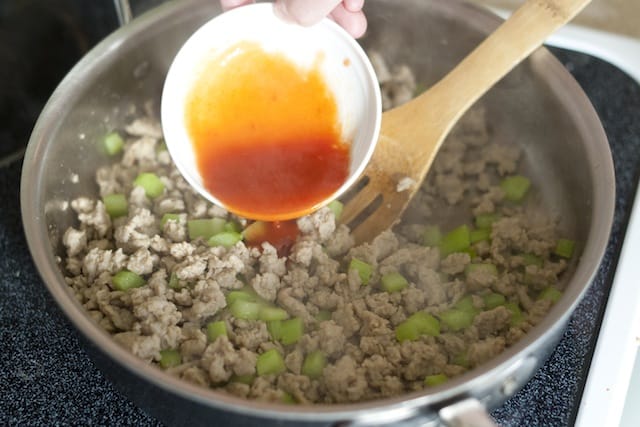 Take the pan off the heat and stir in ricotta cheese.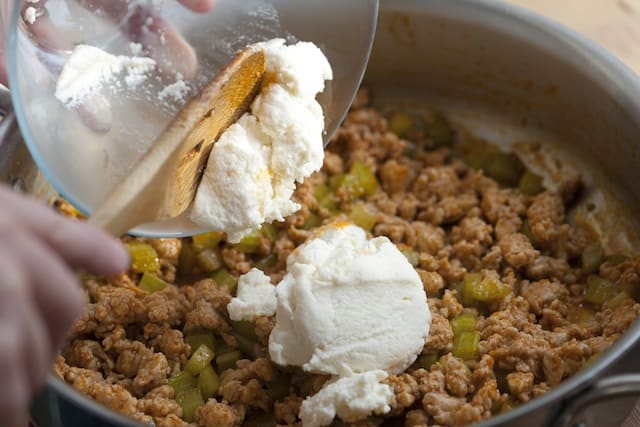 Add some blue cheese crumbles.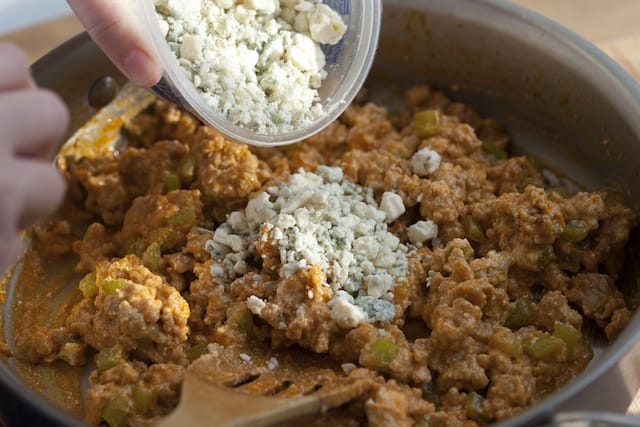 And finally, some chopped fresh parsley. Oh. Yum.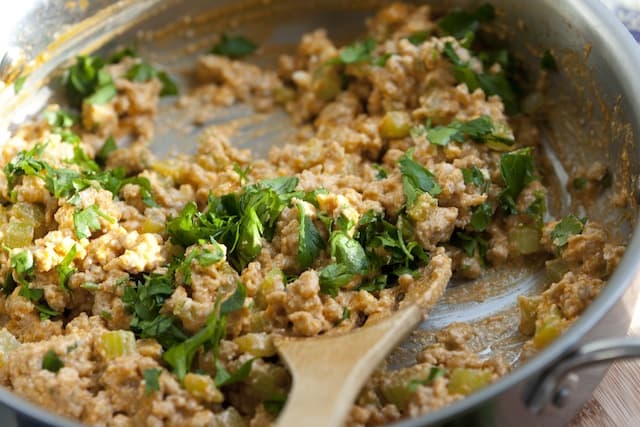 Buffalo Chicken Stuffed Shells
These stuffed shells are perfect for dinner, but make the perfect appetizer when watching the game. The stuffing is not very gooey, so you can easily pick up a shell with your fingers and take a bite without mess.
Created By:
Adam and Joanne Gallagher
You Will Need
16 large pasta shells
1 pound ground chicken
1/4 teaspoon garlic powder
3/4 cup diced celery
6-8 tablespoons Frank's Cayenne Pepper Hot Sauce
1/2 cup part skim ricotta cheese
1/4 cup + 2 tablespoons blue cheese crumbles
1/4 cup chopped fresh parsley
salt to taste
Directions
Preheat oven to 350 degrees F. Bring a large pot of salted water to a boil then cook pasta shells according to package directions. Drain cooked shells then add to a large bowl of ice water until ready to fill.
In the meantime, add olive oil to a large frying pan over medium-high heat. Add ground chicken and use a spoon to break the chicken apart, cook 5-8 minutes until brown. Add garlic powder and celery and cook another 3-4 minutes until tender
Remove pan from the heat then stir in hot sauce, ricotta cheese, 1/4 cup of blue cheese crumbles and parsley. Taste for seasoning, add salt if necessary.
Use a spoon to fill each pasta shell then arrange shells in a baking dish (10-1/2 by 7 inch baking dish works well). Sprinkle tops with 2 tablespoons of blue cheese then bake in the oven 25 minutes until cheese has melted and tips of shells begin to crisp and brown.