Rigatoni pasta is tossed with a creamy sauce made with goat cheese and sun-dried tomatoes then baked in the oven until bubbly. Jump to the Sun-Dried Tomato and Goat Cheese Rigatoni Pasta Recipe or read on to see our tips for making it.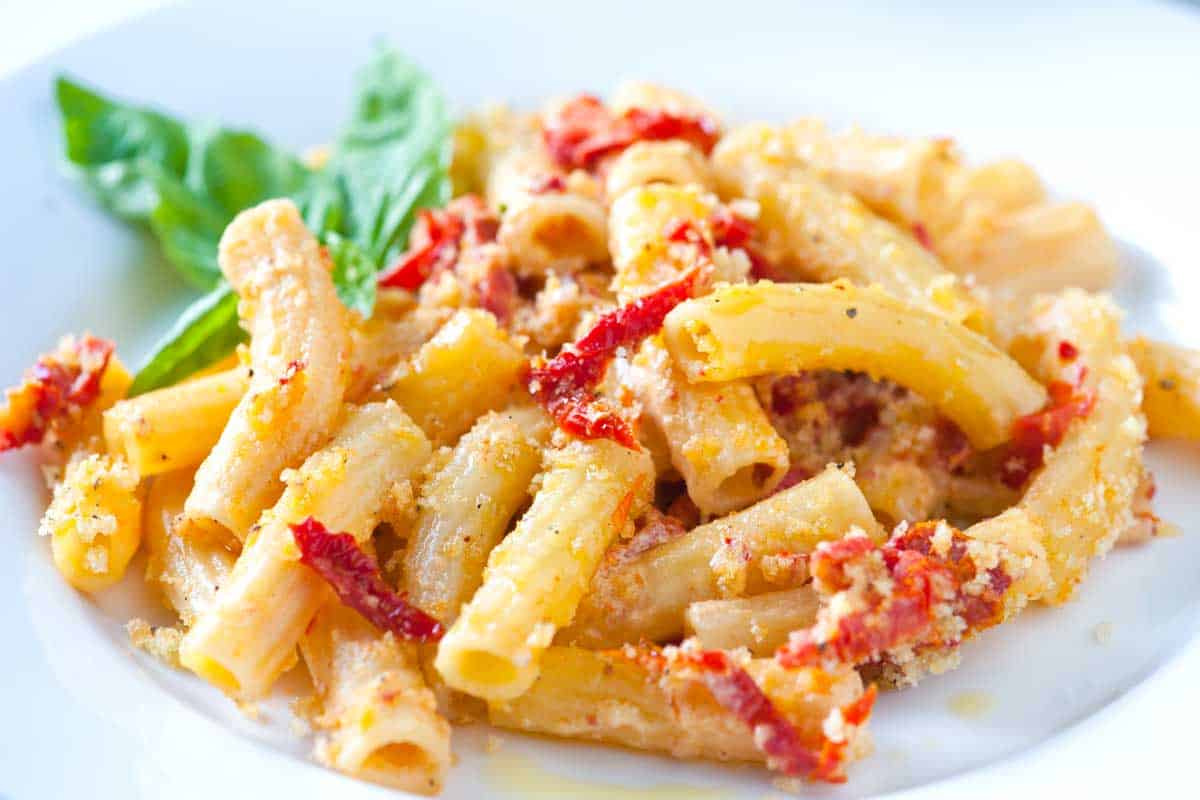 I bet if you checked our fridge any day of the week, you would find goat cheese. We love it. We eat it as is, cook with it, spread it, pour honey over it, smoke it and do whatever we can to eat it! This recipe is a fantastic excuse to add some goat cheese to your fridge, don't you think?
How to Make Creamy Rigatoni
The rigatoni pasta actually gets a little bake time in the oven before serving. After tossing in a creamy sauce made with cream and goat cheese, we top the it with a sprinkling of breadcrumbs.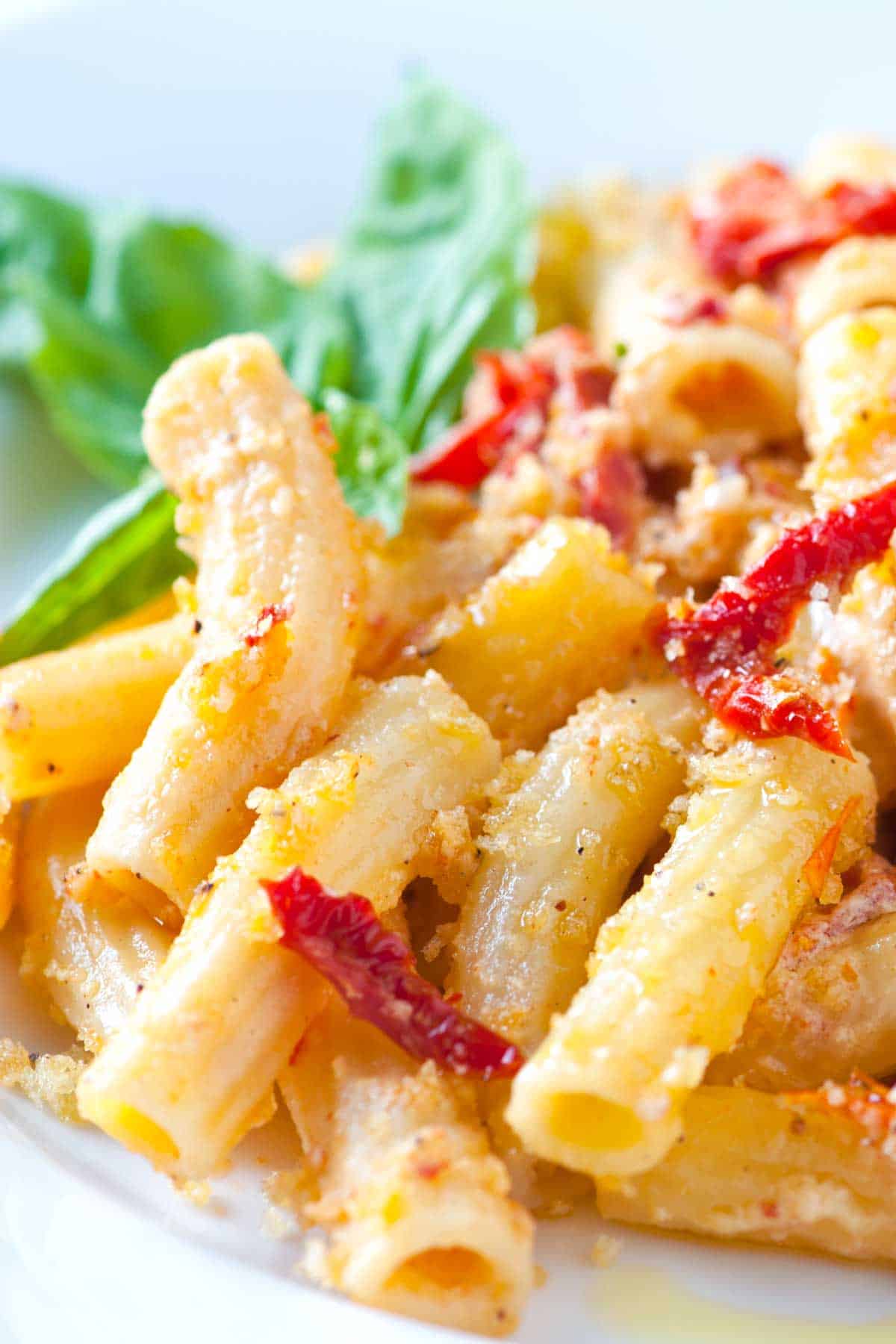 The sauce comes together quickly. To make it, we cook garlic, red pepper flakes, and sun-dried tomatoes in a little olive oil then we add cream and the goat cheese. In goes cooked rigatoni pasta and then we add everything to a baking dish and top with the breadcrumbs.
YOU MAY ALSO LIKE: How to make baked ziti with shrimp, spinach, and feta cheese. Jump to the Baked Ziti Recipe with Shrimp.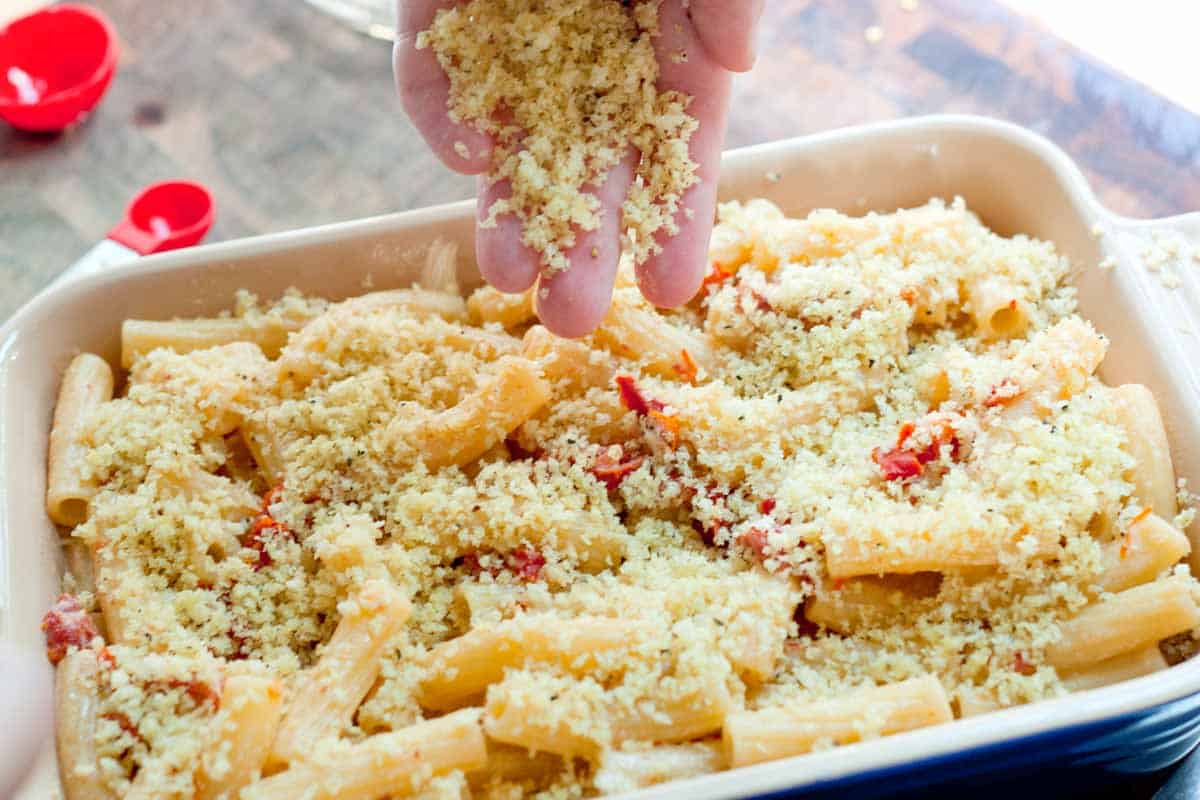 Recipe updated, originally posted October 2011. Since posting this in 2011, we have tweaked the recipe to be more clear. – Adam and Joanne
Sun-Dried Tomato and Goat Cheese Rigatoni Pasta
The easy rigatoni pasta recipe comes together quickly. Try adding cooked chicken, shrimp or roasted vegetables – just toss them into the sauce at the same time as adding the pasta.
Makes approximately 4 servings
You Will Need
8 ounces rigatoni pasta
2 tablespoons extra-virgin olive oil
1/3 cup bread crumbs
1 garlic clove, minced
1/4 teaspoon red pepper flakes
1/4 cup sun-dried tomatoes, cut into 1/4-inch slices
1 cup heavy cream
4 ounces goat cheese
1/8 teaspoon nutmeg
Salt and fresh ground black pepper
Directions
1Heat oven to 350 degrees F. Butter a 2-quart baking dish or spray with non-stick cooking spray.

2Cook the pasta in boiling salted water until it is tender but not mushy. Drain.

3Meanwhile, in a small bowl, toss the bread crumbs with 1 tablespoon of oil and lightly season with salt and fresh ground pepper.

4Heat 1 tablespoon of olive oil in a wide skillet over medium heat. Add the garlic, red pepper flakes and sun-dried tomatoes. Cook for 1 minute. Whisk in the cream, goat cheese and nutmeg. Bring to a simmer and cook until the cheese has melted into the sauce, about 5 minutes. Taste and adjust with salt and/or pepper.

5Add the rigatoni to the cream sauce and toss until well coated. Spoon the pasta into baking dish, top with bread crumbs and bake, uncovered, until the breadcrumbs turn golden brown; about 10 minutes.