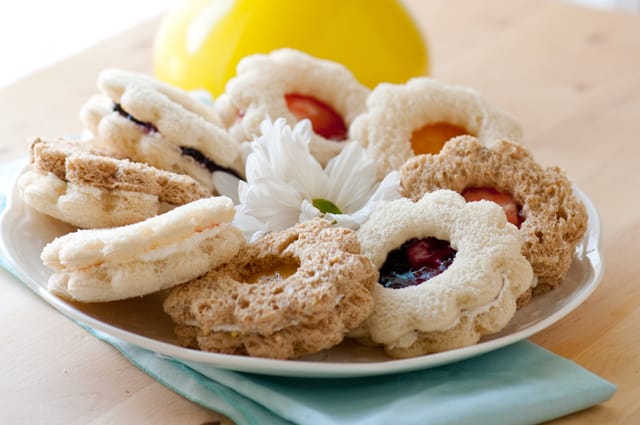 How cute are these? We made these little guys for last summer's issue of maché magazine and completely forgot to share! Wouldn't these be just perfect for a child's birthday party? You could use any shape/size of cookie cutter. You could even fill the sandwich es with something different. Here, we used cream cheese and an assortment of jams, but ham and cheese, peanut butter and jelly or even tuna would work really well. These would be pretty adorable at a baby shower, too… oh, how I love these sandwiches!
-Joanne

Make these on the fly when your children's friends come over or make them the centerpiece for their next birthday. Chose any large cookie cutter shape. You can make these ahead of time, just over each sandwich with a slightly damp paper towel. Store ahead of time up to 2 hours.
Created By:
Adam and Joanne Gallagher
You Will Need
20 slices bread
3/4 cup softened cream cheese
1/2 cup jam, any flavor
Directions
Spread one side of 10 slices of bread with softened cream cheese. Spread jam over cream cheese. Cover jam with remaining 10 slices bread. Using a 2 1/2-to-3-inch flower cookie cutter, cut out the sandwiches, avoiding the crusts.